There Is More Than One Way
To Make Anguilla Johnny Cakes!
Pit Stop At A Glance
Pit Stop offers chicken and ribs, a good BBQ spot. We love Pit Stop for their home-made Johnny cakes cooked the "old fashioned" way.
More on Anguilla Johnny cakes here!
More on Pit Stop, below...
For years, I have measured Anguilla Johnny Cakes by Veya standards.
Veya makes one of the best Anguilla Johnny Cakes.
Light, fluffy, piping hot, all dipped in a not-too-greasy deep fry. Perfect!
Every Anguilla Johnny Cake I have sampled has been cooked like Veya's, but just doesn't measure up in one way or another. Whether it was too greasy, or overly "bready," Veya has consistently kept the title of one of the best Anguilla Johnny Cakes.
I say one of the best, because there's another contestant in town...
Joan and Cyril's BBQ Pit Stop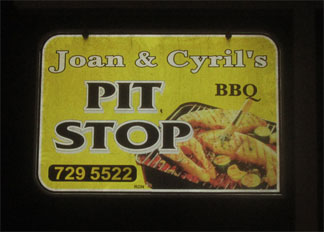 Quite literally a "pit stop" on Shoal Bay's backroad, you will find Joan & Cyril's BBQ Pit Stop.
Now, I don't know much about the BBQ, but I have heard review, after endless, raving review of Joan's Johnny Cakes.
I always thought, "How could anything be better than Veya's Anguilla Johnny Cakes?"
After all, the battered and deep-fried Anguilla Johnny Cake was all I knew.
It was time to find out!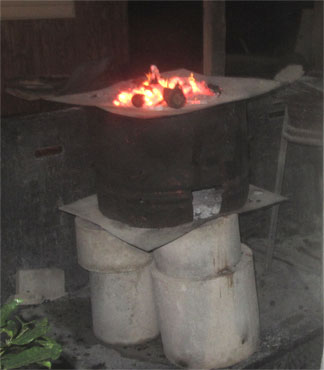 Now, I realize, it is not a question of better or worse.
They are simply different.
All Anguilla Johnny Cakes I had sampled up until Joan's were battered and deep fried.
Joan's Johnny Cakes are not.
Joan rolls out her dough and bakes her Johnny Cakes in a traditional, old coal oven, as they would do way back when.
You can see the oven in the photo to the left.
The result...
Joan's Anguilla Johnny Cake!

The verdict...
Yuki Biting In!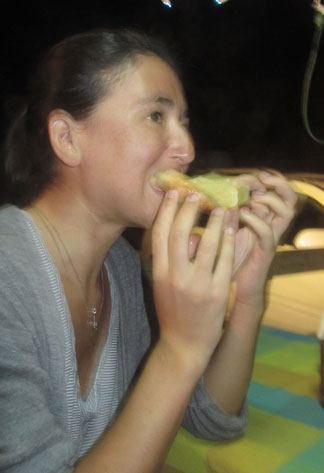 One of the best!
It feels like a biscuit, it looks like a biscuit, but it tastes like a Johnny Cake, with a cornmeal base. Its flavor is enhanced, deep and rich, by the coal oven.
Joan splits it in the middle, and slathers it with butter! The warm, buttery center just melts in your mouth.
My friends recommend asking Joan to slide in a slice of cheese or turkey!
Joan is famous for her old-style Anguilla Johnny Cakes.
Distinctly different, Joan & Cyril's Pit Stop and Veya Cafe make the best Anguilla Johnny Cakes.
On your next trip to Anguilla, be sure to take the Anguilla Johnny Cake test and share you top Anguilla Johnny Cake!
Directions, Hours & Contact
Directions: Pit Stop is located on the road that extends between Shoal Bay and Island Harbour.
Pit Stop
Good for homemade, baked johnny cakes.
Tel: 264-729-5522