Cap Juluca Anguilla
Update: Anguilla resort Cap Juluca re-opened and is back on top!
Since 1988, the name Cap Juluca Anguilla has inspired dreams of the remote Caribbean island.
Without hesitation, Cap Juluca Anguilla was referred to as the "#1" resort of Anguilla luxury resorts and hotels, and often even the Caribbean.
The well heeled traveled to Anguilla for the resort alone. Cap Juluca became a destination.
For fifteen years it reigned as the premier hotel. However, in the early 2000s luke warm reviews of the resort surfaced, claiming it was slipping, losing its prestige and extravagant (yet ever enigmatic) edge. That is when hotelier Adam Aron stepped in and purchased Cap Juluca. When a professional hotelier who is also a regular customer of a resort, purchases that resort, you know he must have a grand vision.
Sure enough, in 2008, he embarked on a $22 million renovation.
Word of restoration sparked curiosity within my Dad and me. He had heard wonderful compliments about the renovations, which was moving ahead at a rapid pace until it was slammed by Hurricane Omar in Fall 2008. They carried on, Mr. Aron doubled his efforts to both clean up and rebuild what had been damaged by Omar.
Despite the set back, Cap Juluca Anguilla opened only one month behind its projected date. We continued to hear great things about the restoration of this Anguilla luxury resort, so we called Mr. Gary Thulander (the new general manager) for a tour...
The Beginning: Lobby, Shops, & "The Dome"
We met our sweet and knowledgeable host, Tamara Gumbs, in the resort's refurbished lobby...
She walked us through the cool, Morocco-inspired walkway, pointing out the hotel's two new shops.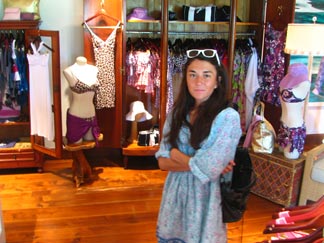 "Cap J" carries sundries and the Anguilla resort's brand name clothing.
Across the limestone tiled floor is "Zemi", their luxury clothing shop.
They carry fine linen clothing, beachwear and various accessories including exotic jewelry and sunglasses.
If you're in need of the latest in brand name shopping they carry La Perla, Dior, Marc Jacobs and Gucci, amongst others.
Zemi has some beautiful selections! I couldn't put the tour on hold for shopping purposes, but I will be back.
Before clearing the aisle, all the way down to the enticing golden bulbs (seen in the photo above), there were two more sets of doors leading to...
The Entertainment Rooms


The entertainment rooms feel like true studies, with rich wood cabinets and desks. Inside there are over 1000 DVDs and 2000 books you can borrow whenever you would like, plus high speed Internet access. (I even saw some boxed sets for my favorite TV shows: Family Guy and Seinfeld!)
Beyond the entertainment rooms we came to a clearing, finally under the magical, gold, ornaments (handcrafted in Morocco, made special for Cap Juluca!). They hung from what Tamara called, "The Dome"... A breezy, tent-like structure at the end of the corridor.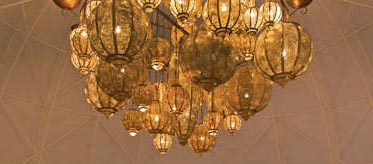 Phoo Credit: Cap Juluca
To our left was the new reception room. A more private, relaxed environment for checking in. To the right?...
"Maundays Club", the lounge that serves complimentary coffee until 9:00 am, has bar service from 11:00-1:00, complimentary tea from 4:00-6:00, and night entertainment including live music until 11:00 pm. The club serves a variety of mixed drinks, rare scotches, cigars and tasty treats for nibbling.
Inside Maundays Club

Every aspect of this Anguilla resort takes a feeling of exclusivity and luxury to a new level... It is truly upscale.
Fitness & Spa
Down the steps of "The Dome" and to your left you will find Cap Juluca's impressive spa and fitness room.
We didn't get a chance to see the spa (someone was having a treatment!). It seemed like a secluded spot, tucked away behind a heavy, majestic wooden door.
The fitness center was state of the art...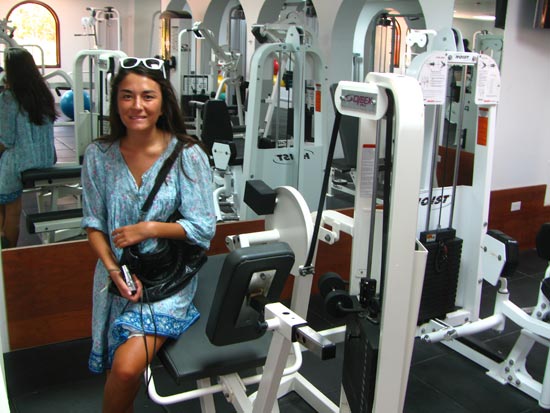 The gym features a room of cardio machines (with a TV on each one!), strength machines of all kinds, swimming pool and tennis courts.
They also offer yoga and pilates classes.
The Restaurants
Back in "the day", Cap Juluca had three restaurants: Kemia, Pimms and George's.
Kemia was one of our favorite Anguilla restaurants, but since the renovations, has been replaced by "Spice".
Tamara & I Outside "Spice"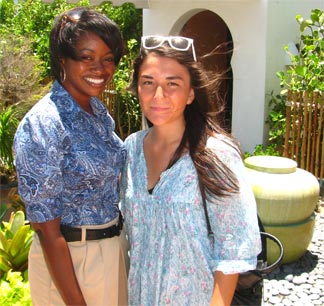 Spice offers "Pan-Asian" cuisine, its decor embracing Eastern elements, while maintaining Arabic undertones and influences. Their menu features exciting items like lobster sashimi, Vietnamese summer roll, Hibachi lamp chops, and shrimp Pad Thai. They serve a late lunch from 3:00-6:00, and dinner from Sunday to Thursday.
Definitely a must-try, expect a review on this restaurant shortly.
Top chef, Chef Bajeux brings "Eurobbean" to Pimms... European and Caribbean fusion. The "hand cut parpadelle" with "channel shrimps, shitake mushrooms, oven dried tomato and roasted garlic" sounds mouthwatering!
The view of Maundays Bay from Pimms is particularly pretty, especially at night with the Moorish villas lit up, dotting the beach. And a special surprise for wine connoisseurs seeking an intimate setting, a private dinner in their wine room can be arranged.
Blue

A little ways from Pimms and Spice (they share a setting on Maundays Bay's rocky eastern tip) is Blue (formerly George's, in the middle of Maundays Bay). For this "trek", Tamara invited Lynval. He kindly drove us in a solar powered mini cart (one is given to each guest upon arrival!).
It is a beach-side restaurant that covers all of your daily eating needs. Breakfast, lunch, kids menus, drinks and desserts... If hunger strikes, Blue will beckon you.
Breakfast is my favorite meal of the day. I'm drawn to their "Morning Surf and Turf"... grilled petite filet, crab cake, and Creole potatoes.
As Tamara pointed out, the restaurant is much more open and breezy than George's. More "fun" too, with the colorful tables and chairs!
The Beach
No matter how many millions were poured (and are to be spent!) nothing can match the natural beauty of Maundays Bay. Here, the sea seems to shine an extra special shade of turquoise.
The Hobie Cat sail boats you see in the picture are all brand new. The old ones were still in good condition, but thankfully, were not scrapped. They were donated to the Anguilla sailing school, received with many thanks!
Cap Juluca is a great corporate citizen, very Anguilla conscience. They are the biggest employer for Anguillians, and even kept a full staff after Hurricane Omar, despite being a month late opening.
A portion of the budget also went into the beach chairs (almost mini-beds right on the sand!) and the beach bars that scatter the shoreline. You never have to go far to refuel.
Cap Juluca Anguilla graces Maundays Bay, complementing it wonderfully, its subtle architecture slipping right in with the lush foliage.
The Rooms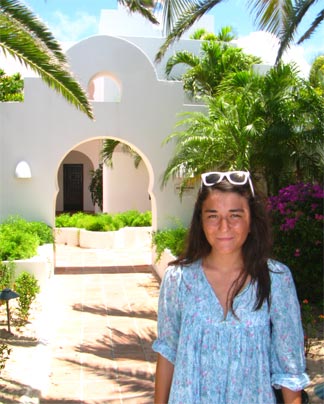 Renovations on the rooms are beginning. So, Tamara took us on a "before" and "after" tour. My Dad and I both agreed that we would be so comfortable in the "before renovation" rooms...
"Before" Room

"Before" Room Views


As I mentioned above, I can't identify with the less favorable reviews about Cap Juluca. The rooms may be a tad dated, but they are well appointed, embracing that Moroccan mystique.
Then Tamara took us on a tour of the first room that was nearly completion, the "after renovation" room. They are nothing short of spectacular and will surely restore Cap Juluca to its top spot in the Caribbean.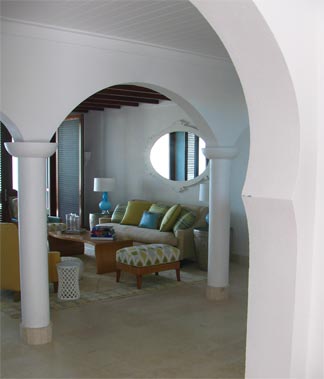 "After Living Room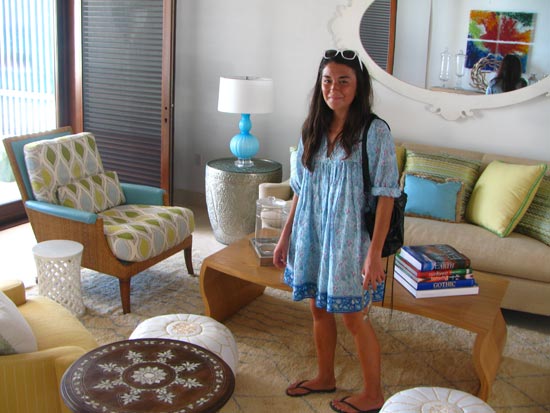 "After" Bedroom
Me and Lynval
The post-renovation room is the ultimate in luxury Anguilla resorts... As far ahead in its class as Cap Juluca must have been in 1988. The suite delivers an experience that is unique, exotic and most upscale. Every piece... pillows, carpets, lampshades, paintings... was chosen with ultimate care and the finest taste.
They will be steadily renovating the rooms, suites and villas over the next 2-3 years.
Last Stop: Wedding Pavilion
The model villa was the highlight of the tour, but there was still one stop to go.
Cap Juluca is home to many Anguilla weddings and Anguilla honeymoons! While many wed on the beach, the resort does provide a special "wedding pavilion" on a beautiful, green bluff...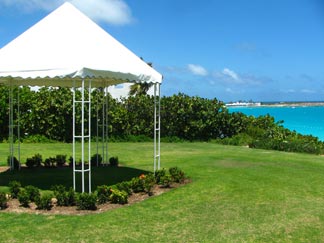 Anguilla weddings sound like magical events... One at Cap Juluca must truly be a special experience!
With that, it was back to the main house. We thanked Tamara and Lynval dearly for the wonderful (and very comprehensive) tour.
Cap Juluca remains a competitive, luxurious hotel, providing special amenities, impressive attention to detail, and an exotic atmosphere. Once the renovations are complete, Cap Juluca will once again be a cut above any Anguilla resort... It will be back to its spot as #1 in luxury across Anguilla and the Caribbean.
More Information on Cap Juluca