<![endif]-->
Roy's New Place
Without The Anguilla accommodations
Roy's At A Glance
This casual, beach-side spot serves up the best fish and chips on the island, and one of the best Sunday Roasts, too.
More on Roy's, below...
Once tucked away on Crocus Bay, with a quiet location, the best fish and chips on the island, and even Anguilla accommodations, there was the most charming English pub.
It was then known as Roy's Place.
Today, Roy's Place is known as Roy's Bayside Grill, and he's located down on Sandy Ground...
Roy's Bayside Grill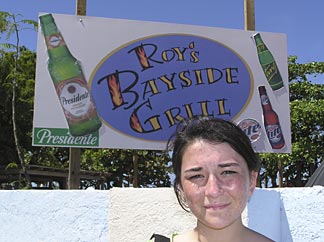 Back when Roy's first opened up on Sandy Ground, we first heard of Roy's "new place" through Jackie Pascher, our favorite Anguilla real estate agent. A few days into our vacation, she called us up, "let's do lunch!"
A little while later, our Jeep pulled to a halt in Sandy Ground. We were about to try, what we thought, was a new grill. Little did we know, we were already big fans!
We entered the cool shade of the restaurant and saw Jackie already seated.
We said our "hellos" and "how are yous", and then came the most pressing question of the whole afternoon, "what's good here?!"
"Go with the fish and chips. You won't be disappointed."
Our minds were churning... "fish and chips"... "Roy." This place sure had a lot in common with Roy's Place on Crocus Bay (at that time they were both still open - since then, Roy's on Crocus Bay has closed). But we never did put two and two together... until...
It arrived!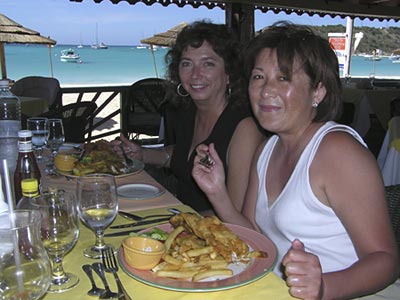 Upon the first forkful of fresh, soft cod enveloped in light, hot, crispy batter, we knew something was fishy! (haha!)
Roy's Bayside Grill served just-as-good, if not better, fish and chips than Roy's Place. Jackie then piped up...
"Roy owns and runs the Bayside Grill too. It's his "new place".
Bad news if you're looking for a cheap sleep on the beach, though. Unlike his "Place" on Crocus Bay, there are no Anguilla accommodations.
But, the fish and chips are terrific and is there a better location than Sandy Ground?"
We certainly were not about to argue.
With our eyes feasting on Sandy Ground's beauty and our mouths on true British fish and chips, we were in heaven!
Directions, Hours & Contact
Directions: Roy's is located in Sandy Ground. Take the Sandy Ground round about and stay straight. The road will bend and then fork. Take the left fork. Roy's will be on your right. Use the map below for exact location.
Roy's
Good for fish and chips, pub-style food and Sunday roasts.
Hours: Breakfast, lunch and dinner daily.
Tel: 264-498-0154,