Anguilla Real Estate: The Guide...
Corito Bay
Welcome to the beach with "the boat", Corito Bay. Corito bay is one of the most overlooked beaches on Anguilla. At the very end of a road, with only a few Anguilla villas dotting the shores ("the boat" being one of the,), it's easy to miss!
Let's see where we are on the island...
Corito Bay has oceanfront which will yield the occasional conch shell. You'll notice them lining the walls of the Anguilla villas in the area.
Speaking of villas in the area. There is one rather special villa...
It's known as "The Boat House". And one day that house will indeed be a boat. Erosion has put it virtually in the water. One good storm and...
Ships Ahoy!
The Boat House
On Corito Bay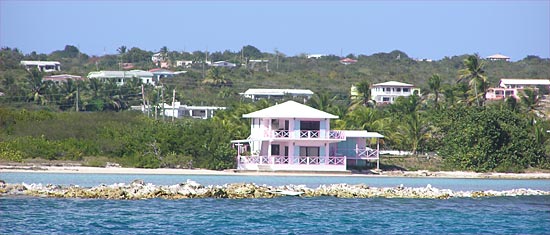 The Boathouse!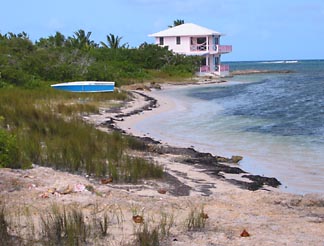 I kid you not...
This one bedroom villa actually sits right on the water. It's the closest you can get to sleeping on the sea, without getting wet!
While this is the most unique Anguilla villa on Corito Bay, there are many other villas and private homes in the area.
The beach here is a quaint, calm, shallow, snorkeling paradise! If you're looking for a tranquil spot for your home, Corito Bay would be perfect.
The area isn't very developed, and has room for a few more homes! Also, there is some rocky waterfront on the bay, but I'm sure if any is available for sale. Jackie Pascher can keep an eye open for you if you like the area.
In any event, let's look around...
Rocky Waterfront
The Boathouse villa is as close as you can get
to the Caribbean without being in a boat!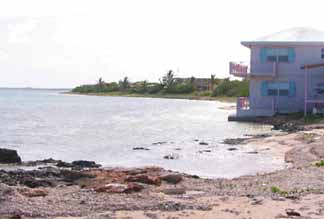 Ah... Such a Relaxed Atmosphere...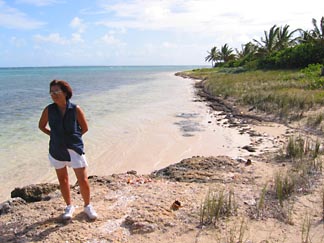 This is a simply adorable area. The beach gives off a low-key, laid back vibe!
If this is the type of environment you're looking for, Corito Bay might be right for you.
To see more of Corito Bay, watch the video below...