Anguilla Real Estate: The Guide...
Mimi Bay
Welcome to the wild, wild ocean of Mimi Bay. While rather remote and a smaller scale beach, don't misjudge it's wave action - they're rough! But the fun part is that the break is about 50 yards offshore, beyond which the water is calm.
Let's see where we are on the island...
The name "Mimi Bay" sounds so innocent.
And at a first glance it is...

Small and reserved, right? Yes, after the reefs break up some rather sensational wave action. Take a look at this shot from the sea...
Wild Waves!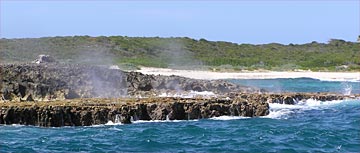 Swimming gets dangerous further out, but close to shore you should be fine.
And you will have the beach and its waters all to yourself.
The beach itself is devoid of villas, restaurants, and people!
There is a community nearby, though, which has one of the island's most luxurious villa rentals.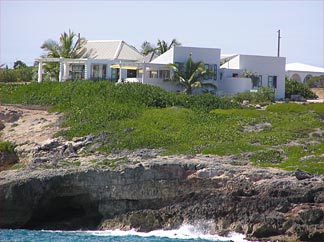 You can see more of Mimi Bay in the video below...
Mimi Bay sure is small, wild and has great views out to St. Martin and the wide open ocean!
There is Anguilla real estate opportunities in the fair-sized and growing community located inland, above the bay. And there is rocky oceanfront at either end of the charming sandy beach.
This is a beach worth examining more closely for real estate opportunities...
The High View...
Breakers of Mimi Bay, St. Martin in the distance?

Another High View of Mimi Bay

The High View...
Mimi Bay to the West
(See the rocky ocean front?)

The High View...
Mimi Bay to the East
(More rocky ocean front!)


As you can see the beach does not lack rocky ocean front! There are some great opportunties here, although the drive down to the beach is a bumpy, potholed drive down.
It's a rocky drive to Mimi Bay. And it's easy to miss this road sign -- no wonder it's undiscovered! Mimi is definitely "up there" on the secluded beach list.