Combing Anguilla's Beaches for the Best
Anguilla Beach Lovers brings you the latest additions to one family's experiences of the "best of all things Anguillian."

If you like this e-zine, please do a friend and me a big favor and "pay it forward."

If a friend did forward this to you and if you like what you read, please subscribe by visiting...
---
Thank You
From Bright Lights!
Thank you, thank you, thank you.
Today marks the end of our first annual Bright Lights Fundraiser. What a tremendous success it has been. Not only did we pass our first goal (raising $10,000), we passed our second goal too (raising $15,000)!
Together, we raised over $16,000 for our Bright Lights Award recipient.
Thank YOU for all of your support and generosity. Without you, this would never have been possible! :-)
This morning at 10:00AM EST we drew the winning name and introduced the Bright Lights Award recipient LIVE via Google Hang Out. If you missed it, click here to watch the recording.
A big congratulations to the raffle prize winner, Ron Marino!
And, a big congratulations to the Bright Lights Award recipient, Kumakie Parris.
An exceptional young Anguillian with a strong vision for Anguilla's future, Kumakie is remarkable. Under difficult life circumstances, he turned his life around and started his own successful chef catering business in Anguilla, while also doing extensive outreach work with Anguilla's youth.
Now, he's going to school at Argosy University to refine his skills before coming home to Anguilla where he plans on working to strengthen community bonds and helping Anguilla's youth. Your donations will go a long way to help him pay for his education.
To follow Kumakie online, click here.
---
Going Forward...
This year's inaugural event was so successful we look forward to holding it again next year. Until then, the fund will stay open until June 30, 2014. You can continue to donate to Bright Lights by using this donation box. All funds received will be transferred to the Bright Lights Award winner.
A special thank you to our gracious contest sponsors, Carimar Beach Club, Viceroy, Straw Hat, Mango's, Blanchards, Hibernia, Veya and Calypso Charters! You can read more about them and the Bright Lights Fund below.
Here's to Anguilla and all of our Bright Lights!
Nori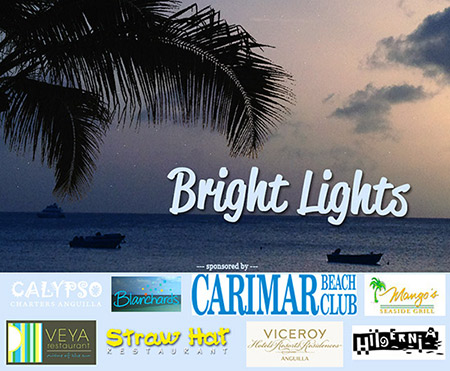 ---
The Background
The Bright Lights Fund supports one exceptional young Anguillian with the drive, will and a plan to make a difference.
Anguilla is home to hundreds of extraordinary young people with passion and vision. These are young people with unique skills that are leveragable with some financial aid. Their plans and actions have the power to generate "ripples" that can improve the lives of many Anguillians.
The recession, though, has hit hard. While these bright lights deserve a chance to shine, the money is not there to help.
In this pilot year, Bright Lights seeks to help just ONE exceptional person, the one who we believe has the strongest blend of idea, skill set, integrity and tenacity to realize his/her realistic plan to make a difference in Anguilla.
The fund is dedicated to these people and to the future of Anguilla.
---
A Note On Transparency
This fund does not have any "administrative fees." All money collected is dispersed directly to the recipient, monthly, through PayPal.
Proving that to you is extremely important. Therefore, an unbiased third-party, with relevant experience in this area, will be publishing statements on a volunteer basis.
Peter and Sallie Lilienthal are the Bright Lights fund auditors. More on Peter and Sallie here.
---
The Sponsors
Carimar Beach Club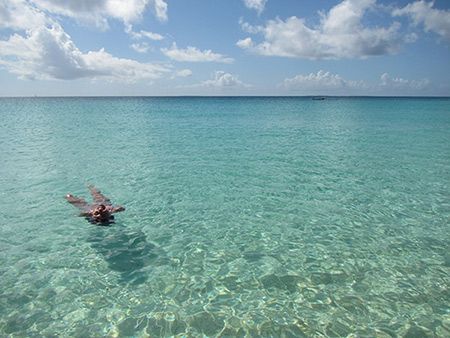 Waking up to that sparkling Caribbean Sea every morning sure is a dream. Set right on Meads Bay's shores, Carimar Beach Club's location is one of the very best. Here, everyday is a beach day.
Surroundings aside, the hotel is known for its welcoming and accommodating service. Inside, suites are large, clean and tastefully decorated with a fresh Caribbean theme. It's no wonder Carimar is one of the top-rated hotels in Anguilla.
Calypso Charters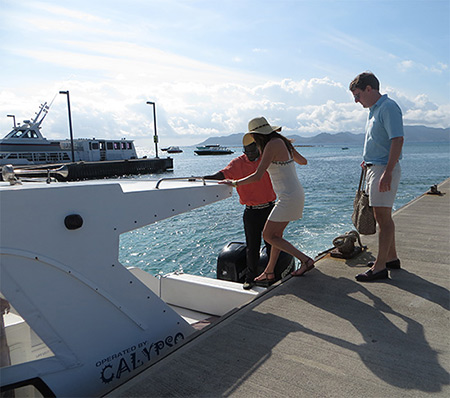 Customer-focused, Calypso Charters handles my "am I going to miss my plane" panic calmly and graciously. Professional and reliable, they always get me there on time!
Viceroy's Coba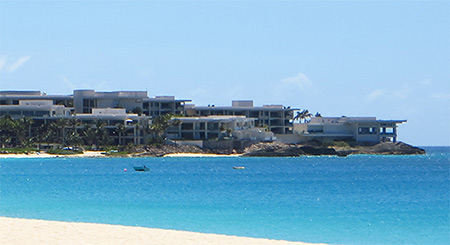 Have you seen a more majestic setting? Perched between Meads Bay and Barnes Bay, Viceroy's signature restaurant, Coba catches the eye. Trendy and five-star, this is the place to "see and be seen!" Food-wise, Coba's menu is diverse (seafood "on ice", steaks, fresh fish, etc.). Everything is flawlessly and elegantly prepared by Chef Cliff Denny.
Straw Hat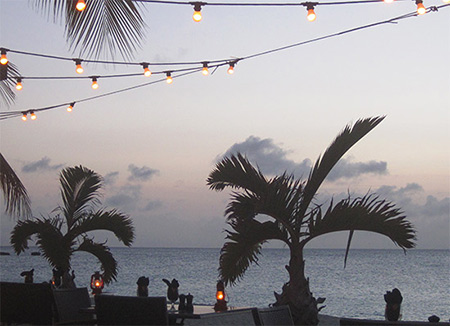 Under the Caribbean sky, open to the Caribbean sea, dining at Straw Hat is a blissfully calm experience. With friendly and unpretentious service, and creative Caribbean cuisine on the menu, it's a top choice for a laid-back, yet luxurious meal.
Veya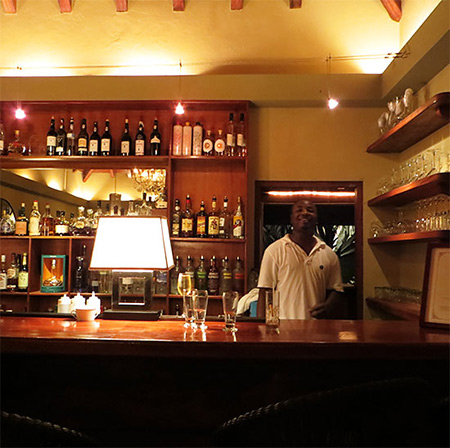 Set in a lush garden, Veya sparkles something special. Lit up by twinkling lights and accented by Koi Ponds, the vibe is calm and cool. The menu is one of the most unique on the island, blending flavors of all kinds to perfection. Tip: Don't miss the Moroccan shrimp cigars.
Hibernia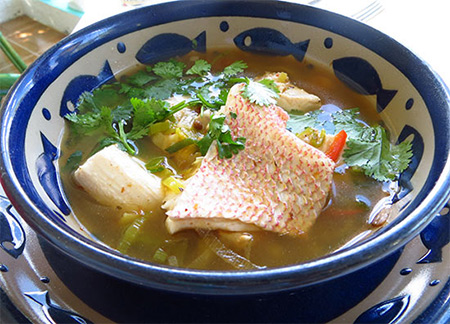 Classic and quiet, Hibernia encapsulates a collision of cultures. Influenced by the owners' travels through Asia, this restaurant is distinguished by its exotic Asian-Caribbean feel. Recommendation: Smoked fish (freshly smoked), Tom Yam Pla and the rich rum raisin ice cream.
Mango's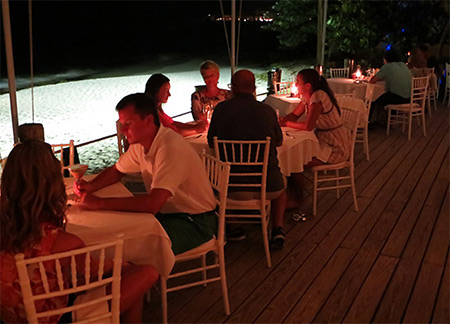 Mango's has THE most intimate seaside setting. On a wooden deck right at sea level, the waves kiss the sand just a few meters away. The cuisine more than lives up to the challenge of the first impression, too! The focus is fresh, local seafood. Sesame Snapper is my Mom's #1 choice.
Blanchards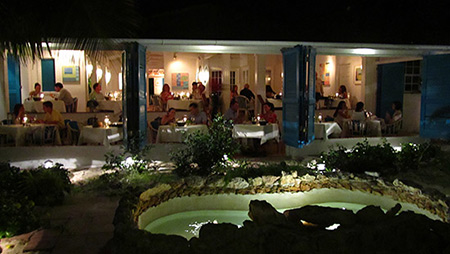 Perhaps the most popular restaurant on the island, dining inside Blanchards' upscale, Caribbean-cottage style dining room really feels like being a guest in Bob and Melinda's (the owners) home. Complete sweet hearts, they take care of your every need. And, my mouth waters just thinking about Melinda's American-Caribbean creations!
---