Combing Anguilla's Beaches for the Best
Anguilla Beach Lovers brings you the latest additions to one family's experiences of the "best of all things Anguillian."
If you like this e-zine,, please do a friend a favor and "pay it forward."
If a friend did forward this to you and if you like what you read, please subscribe by visiting...
---
Issue #113, November 30, 2018
There is "clear." There is "crystal clear." And then there is "Anguilla clear"...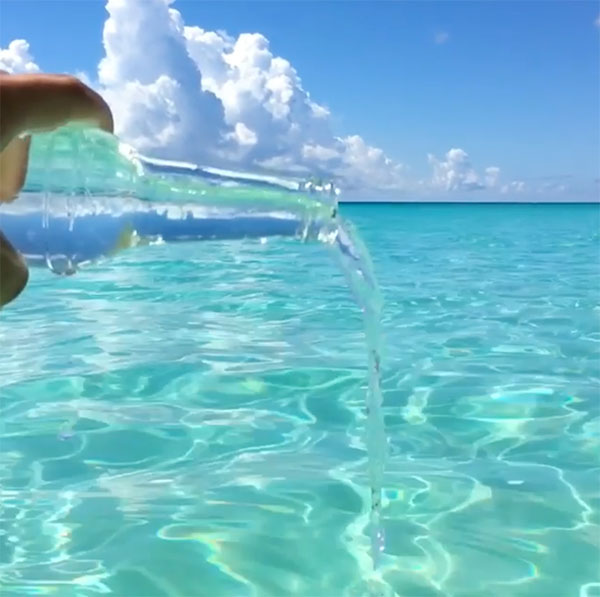 (Click here for a video of exactly what I mean. ;-))
One look at these turquoise waters proves that motto over...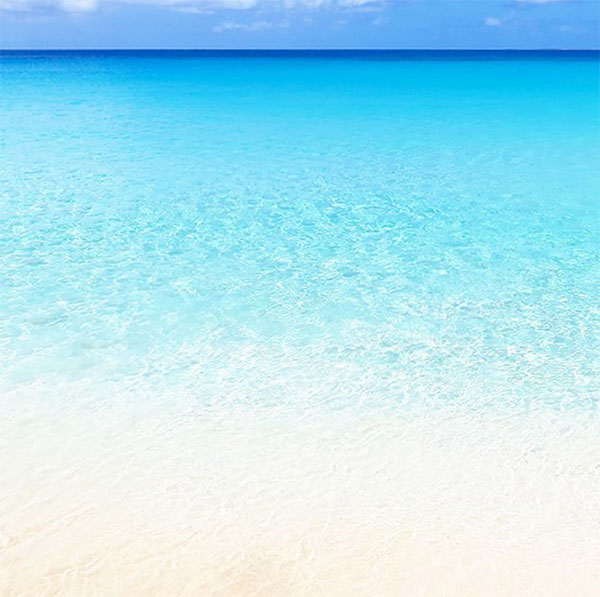 And over again...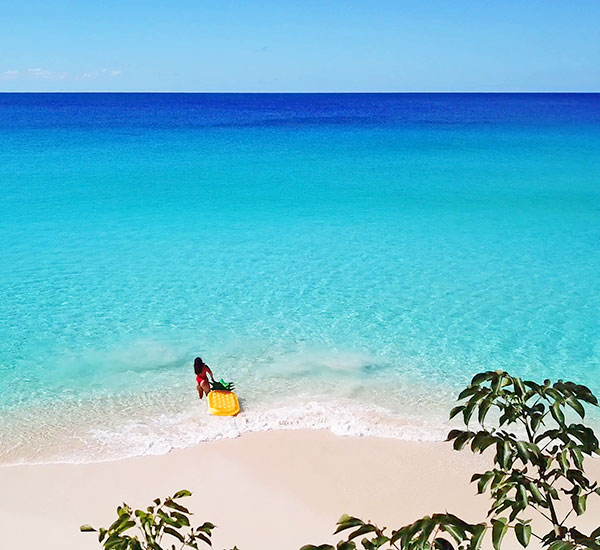 Anguilla sure is sparkling and buzzing with excitement! Blanchards, Mango's and the The Dune have all re-opened (The Dune is serving lunch on Sunday afternoons).
CuisinArt Golf Resort & Spa has re-opened (full update coming soon) and Cap Juluca and Malliouhana are on track to re-open within the next couple of weeks. Yep, it is safe to say Anguilla is glowing!
What's new since last time?
---
NEW From YouTube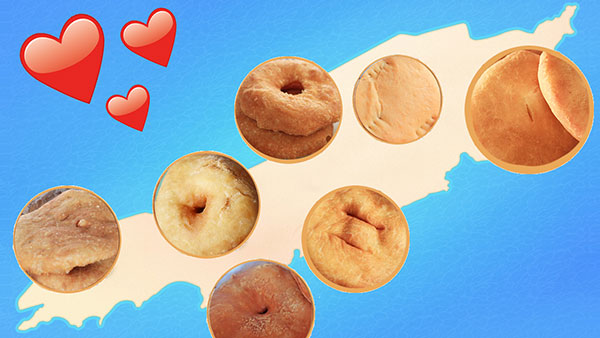 Buckle up for a tasty island tour! Louise and I dive into the mouthwatering world of Anguilla Johnny cakes.
Served piping hot, fried or baked, thin or doughy, crispy or flaky, these pillowy pieces of heaven just may be our favorite Anguilla food. From Nat's Palm Grove, to da'Vida's Bayside Grill, Ken's BBQ, Valley's, Roy's, B&D's and Tasty's, no two Johnny cakes are ever alike.
Click here to take the tasty tour and be sure to comment with your favorite spots for Johnny cakes!
30 Minutes of Shoal Bay Relaxation
This video's destination? Relaxation. Put on your headphones and get ready for 30 minutes of beach meditation, Shoal Bay-style!
Shoal Bay East is one of the top beaches in the Caribbean. It is protected by a large set of offshore reefs that create a calm, turquoise bay. The waters are some of the bluest you will ever see. That pure azure hue is beautifully complemented, of course, by Shoal Bay's powdery white sand.
Click here for Shoal Bay relaxation.
Stay tuned for more relaxation videos, interviews and Anguilla adventures coming soon!
To never miss an Anguilla video, click here to subscribe to our YouTube.
---
NEW Anguilla Food
Mosaic Restaurant at CuisinArt Golf Resort & Spa
NEW to CuisinArt Golf Resort & Spa is the beautiful and blue, Mosaic Restaurant!
Formerly Café Med, Mosaic Restaurant is modern, chic and open air with a menu that boasts tons of variety and flair. A few of our favorite dishes?
Lobster Mac & Cheese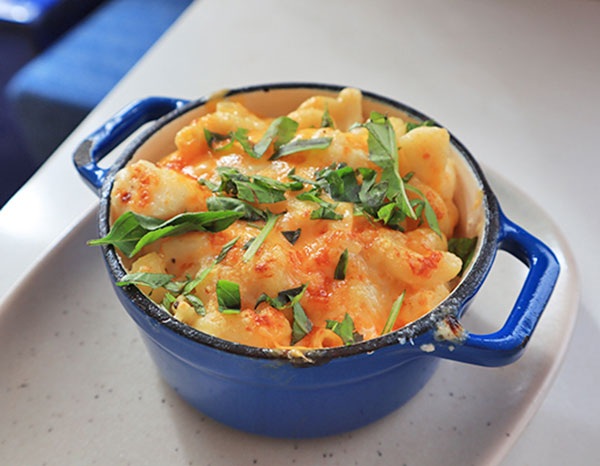 This dish is a show-stopper. Local rock lobster is mixed in with the oh-so rich and creamy mac & cheese. Baked to perfection, the blend of cheesy, seafoody flavors is mind-blowing. If there is any "new dish" to try in Anguilla, this is it!
Jumbo Shrimp & Crayfish Cocktail
Especially fresh, this dish features baby lettuce, avocado crema and Cruzan rum maryrose sauce. The avocado crema is a brilliant touch, enhancing the dish's light flavors.
Half & Half Flatbread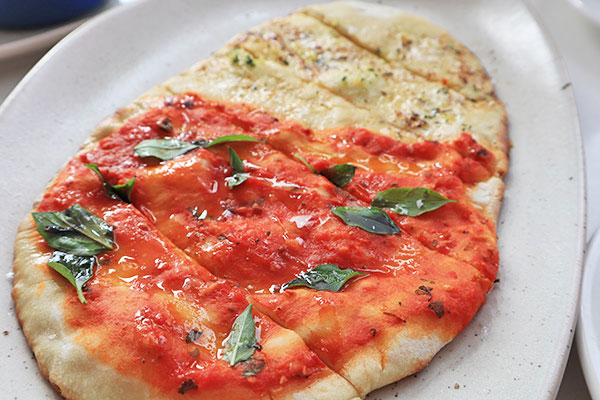 Mosaic's flatbread pizzas are thin with an addictive crunch and just enough "chew." The Half and Half, half garlic butter and half tomato sauce with basil, is highly recommended "to share" as a starter.
10oz Dry Aged Angus Prime Striploin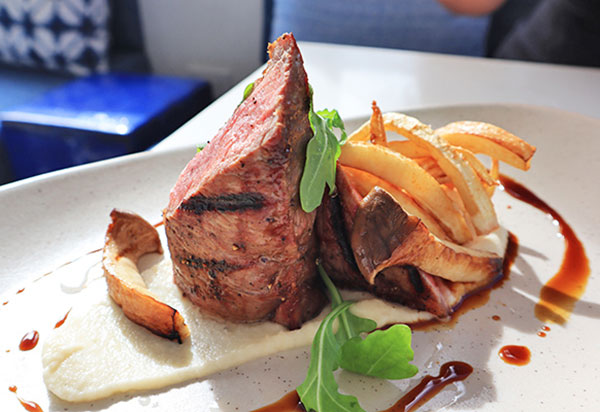 It is perhaps the juiciest, most buttery steak we have had yet. Chef serves it in a cauliflower-truffle puree which pairs perfectly with the sumptuous steak. It is served with parsnip fries and grilled king oyster mushroom.
Found at SHARKY'S: One of THE Best Dishes in Anguilla
Chef Lowell Hodge's chunky lobster cakes go down as one of THE all time best dishes in Anguilla! Chunky lobster, crispy cake, tomato tartar... no words, just 😍😍😍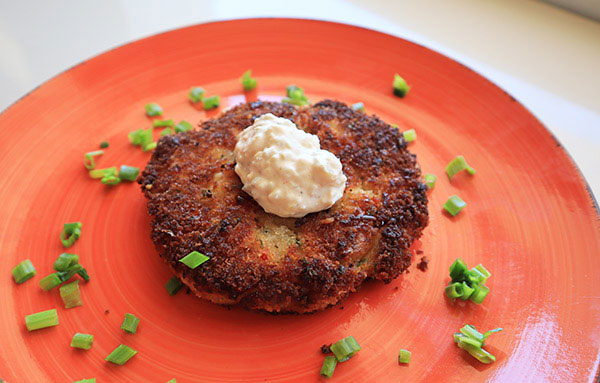 Our personal favorite dish at Sharky's Restaurant, we had to ask Chef Lowell to show us the magic, to show us how he makes them!
A careful process, Chef Lowell does it all with passion and love! From preparing the cake's breadcrumbs from scratch, to carefully washing and preparing the thick chunks of lobster, to thickening the batter...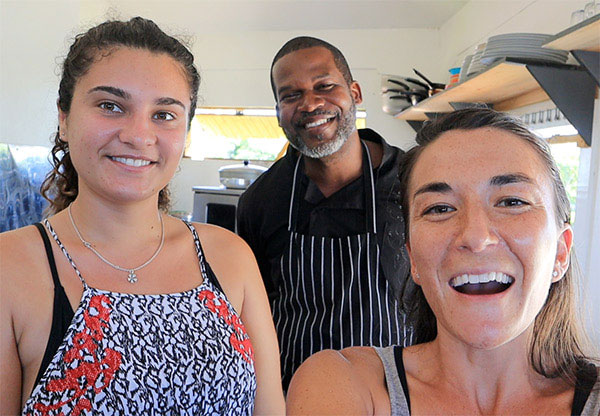 ... it is no surprise these lobster cakes are addictively good! Lowell's secret ingredient is his passion :-)
Stay tuned for a full video on how to make Chef Lowell's famous Lobster cakes. Until then, don't miss out on Chef's lobster cakes at Sharky's when you are in Anguilla!
For more Anguilla Food, follow our Anguilla Food page on Instagram.
---
Update From Meads Bay
It is 100% progress at Tranquility Beach Anguilla on Meads Bay!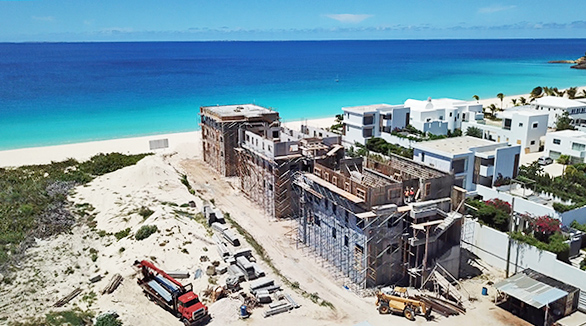 All roofs have been poured. The office basement has been poured. The parapet walls are being poured. Cisterns are being poured. And now it is almost all plaster work...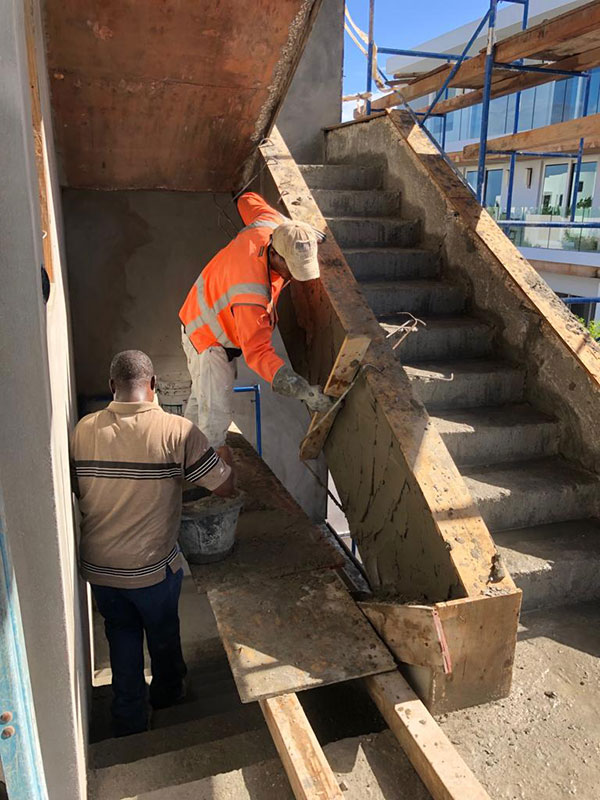 The progress at Anguilla's luxury condo development continues!
To follow Tranquility Beach Anguilla's progress and updates, click here.
At the same time, Meads Bay is in full swing. Jacala, Straw Hat and Blanchards have all re-opened and the yachts have returned to majestic Meads Bay.
Smack dab in the middle of all of the Meads Bay action, Tranquility Beach Anguilla is poised to be the epicenter of the epicenter of Caribbean luxury living.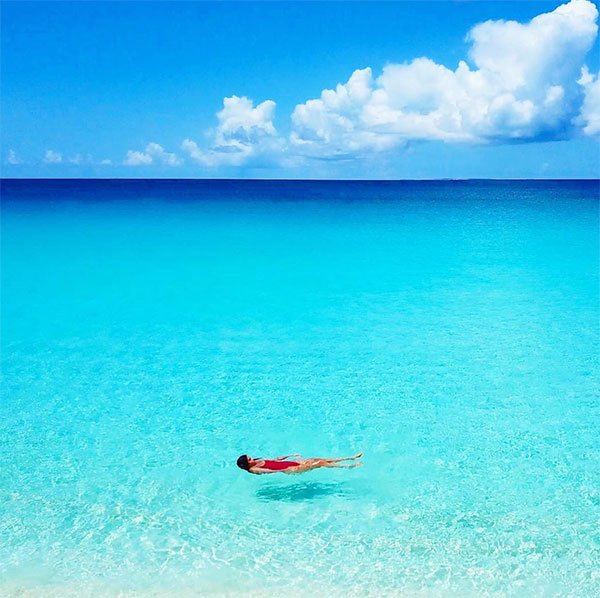 If you are coming on-island and would like to own a piece of Meads Bay, Tranquility Beach Anguilla is operating site tours weekly. See below for details.
Monday-Friday: 1-4pm
Saturday: 10am-3pm
By appointment: 1-264-476-8488 / 235-3666
---
An Affordable Way to Stay on Meads Bay
Speaking of the luxurious and majestic Meads Bay, Carimar Beach Club has winter availability!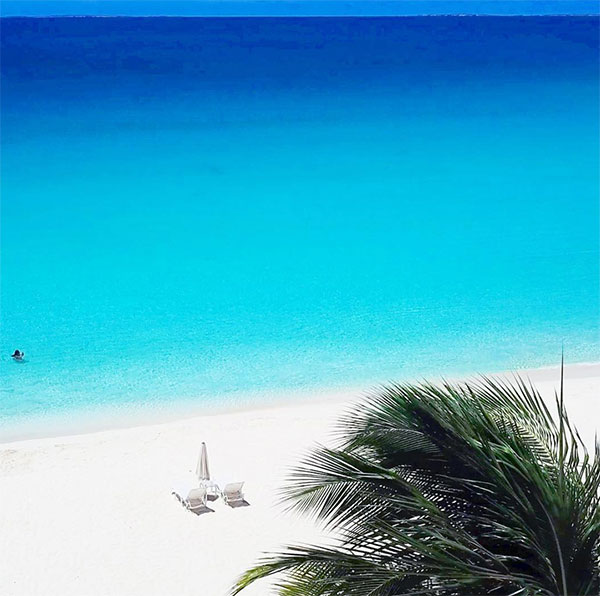 Set right on the powdery-fine shores of this destination-beach, Carimar wins on location alone. Combine its location with comfortable units, complete with full kitchens and air conditioning, and exceptional staff who make you feel right at home...
Carimar offers unbeatable value.
Click here for Carimar's rates.
---
Winter Availability at Champagne Shores: The Villa
Set at the edge of the Caribbean Sea, Champagne Shores is a sanctuary of tranquility.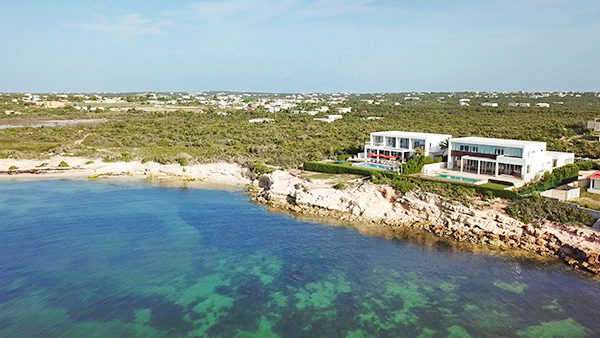 Plush outdoor and indoor living areas and five sumptuous suites lay out over 7,000 square feet.
All-air-conditioned, the villa boasts some of Anguilla's most panoramic views from its unique location.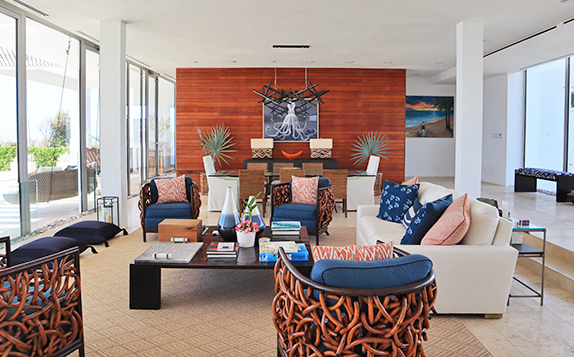 It is the only villa of its kind to also provide an all-day personal service attendant, in addition to 24/7 concierge service.
Modern in look, Caribbean in feel, and with every need tended to...
At Champagne Shores, you often find yourself thinking, "I didn't even know I needed that."
For a video tour of this sensational villa, click here.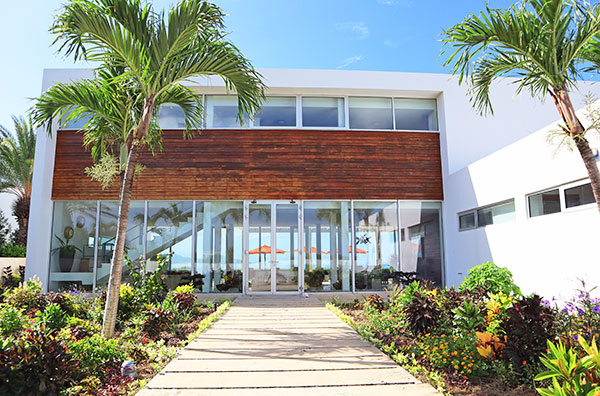 Champagne Shores still has availability this December and January!
---
Update From Jackie Pascher
On the note of rentals in Anguilla, our favorite real estate and good friend, Jackie Pascher of Island Dream Properties has moved offices!
You can now find Jackie at the former marble company building, just before Grand Vins de France and Village Bake House. (Photo: Island Dream Properties)
The woman who always has your back when it comes to rentals and real estate, click here for more on Jackie's Island Dream Properties.
---
High-Value Finds: Short Term & Long Term Rentals
Want to stay on Crocus Bay for $169/night? The Cottages at da'Vida are the way! Simple and sweet, with a host of thoughtful amenities, they are a high-value alternative to affordable Anguilla hotels. Breakfast and housekeeping included in the nightly rate.
Looking for a long-term rental in Anguilla? Nothing comes close to the value offered by Ocean Terrace Condos.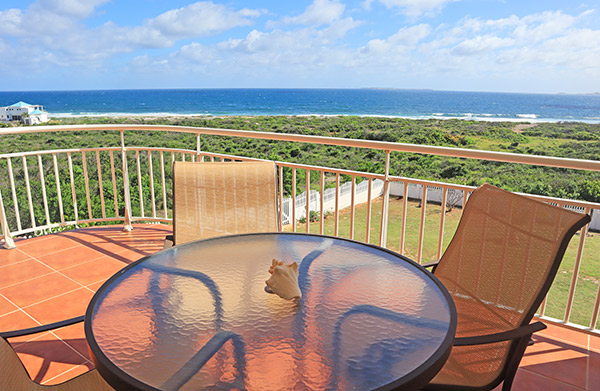 Bright and spacious 2 bedroom, 2 bathroom, 2 balcony units with Caribbean Sea views
WiFi
Air conditioning
On-site pool
On-site gym
Parking included
Weekly housekeeping included
It is hard to believe that rental price for year-long rentals starts at $3,000/month (all included)!
If you are visiting Anguilla for 2-4 weeks, it is also of excellent value. Call owners, Ambrose & Paula for details: (264) 584 4083 / (264) 772 8043
---
Anguilla Card: 2019
Last but not least, we have been hard at work on the 2019 Anguilla Card!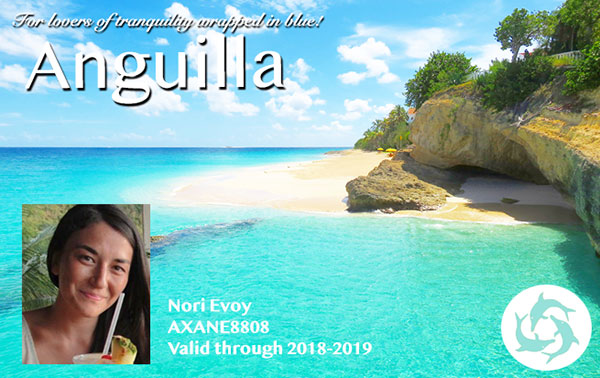 With brand new partners and features for the 2018-2019 season, stay tuned for updates on the NEW Anguilla Card next week!
To get your Anguilla Card now and begin saving right away, click here.
---
That's all for November!
Sending you lots of sunshine & talk to you soon with more Anguilla news,
Nori
---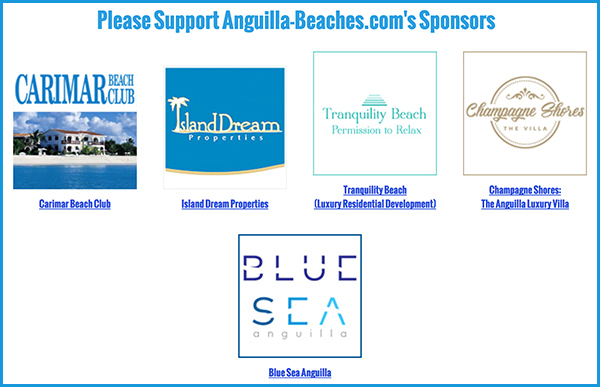 Anguilla-Beaches.com
---