Combing Anguilla's Beaches for the Best
---
Anguilla Beach Lovers brings you the latest additions to one family's experiences of the "best of all things Anguillian."

If you like this e-zine <>, please do a friend and me a big favor and "pay it forward."

If a friend did forward this to you and if you like what you read, please subscribe by visiting...
---
The season is winding down. That's the feeling in the air as I write from Provincetown, Cape Cod.

The brisk air, the crisp smells and the clear light of October makes it one of the nicest times to be on the Cape, if not a little bittersweet.
Already, "Closed For the Season" signs hang in some shop windows, confirming that it's almost over.
Yes, the bad news is that winter is coming.
The good news is that winter is coming, but not in Anguilla. It's still the off-season, right through November, even though restaurants are starting to open again!
For the next 2 months (until December 18), escaping the cold weather is cheaper than before!
Carimar Beach Club, the best value hotel in Anguilla, is featuring their Fall Specials: Stay for 7 nights, pay for 5, through December 18, 2010.
They have also announced their Winter Specials: Every 6th night free, from January 1-25 and March 12-31.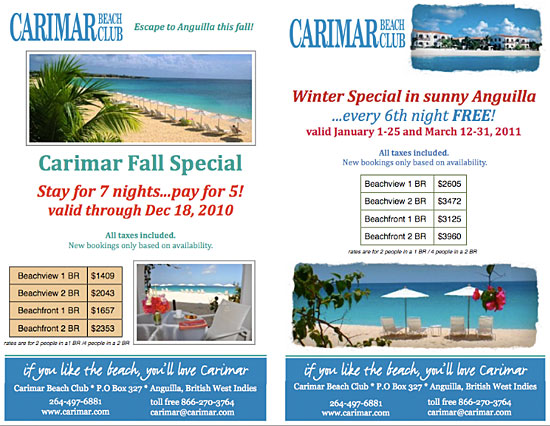 Carimar Beach Club offers truly supreme value, even without these specials. Right on Meads Bay's sandy shores, spacious and well appointed rooms all at an extremely reasonable price makes this gem of a spot our favorite Anguilla hotel.
You can't go wrong with Carimar. Here are a few links for more information on Carimar...
Click here to visit my review (my parents, Yuki and I spent a most pleasant time).
Click here for visitor reviews.
Click here to visit Carimar Beach Club's official website.
I hope to see you on the beach as the weather gets colder here in the States! Meanwhile...
Bundle up and keep warm,
Nori
Anguilla Beaches Home Page
---
New!

Comments Have your say about what you just read! Leave me a comment in the box below.