Carimar Beach Club...
Best Value Anguilla Hotels
The Top Deal on Anguilla Vacations
Carimar Beach Club At A Glance
Carimar Beach Club was reviewed by Nori Evoy.
Nori's Rating: 5 out of 5
Known for delivering pure relaxation and serenity, Carimar Beach Club is one of a kind.
Spacious units, right on majestic Meads Bay's sandy shores, just steps from some of Anguilla's tastiest eateries, and all at under $300-550 per night.
With warm and friendly staff, and their experienced and hospitable General Manager, Rolf Masshardt, Carimar has a unique, welcoming atmosphere that makes you feel right at home.
The reviews speak for themselves... :-)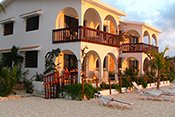 Yes, this idyllic Anguilla hotel has placed #2 in the entire Caribbean for TripAdvisor's Travelers' Choice for Top Small Hotel.
It is no surprise!
Carimar Beach Club is a favorite for long-term Anguilla lovers and first-time visitors alike.
More on Carimar Beach Club, below...
Visit Carimar Beach Club's website...
Outstanding Anguilla hotel value? It all starts and stops with three little words...
Carimar Beach Club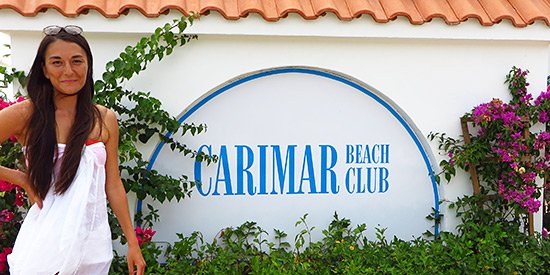 Carimar Beach Club is a true Anguillian landmark. It competes for #1 at TripAdvisor against hotels that cost several times more!
This oft-overlooked gem, known to a fierce and loyal following, sits on magnificent Meads Bay. Here it is, just on the edge of Meads Bay's clear blue water...
Carimar Beach Club on Meads Bay

Carimar was built shortly after Malliouhana in 1985, making these two of the original Anguilla hotels and resorts.
Ever since it opened its doors, Carimar has kept up with its mission: to provide high-value accommodations on a beach that boasts perfect white sand, sparkling-clear waters, and some of the islands top restaurants
Over the years, Carimar has built a wide following of true Anguilla-lovers. Some of the resort's visitors have been enamored since day one, others new to the Anguilla hotel, are just starting to fall captive to Carimar's charm.
For an overview of this loyally-loved spot, take a look at their beautiful video below.
Let's step inside Carimar and find out what makes this Anguilla hotel a "love of a lifetime"...
The Ambiance
What do you first notice as you step foot on-property? The quiet of Carimar! The sounds of the waves gently hitting the shore, birds calling to one another, rustling palms... the aural tapestry of nature. Peaceful, relaxing.
Beachfront at Carimar

Carimar is made up of 24 condo-style suites (1 or 2 bedroom units, beachview or beachfront). They form a semi-circle around the hotel's lush courtyard. The property's blossoming gardens enhance the atmosphere with a gentle, floral aroma.
Carimar's Beachfront Units (foreground)
& Beachview Units (background)
Plentiful bushes surround each building, flowery vines running down the white columns. The layout provides intimacy, a real feeling of community, and of solitude all at the same time.
It's a spot where you can retire to the seclusion you desire. Or stay out, befriending your neighbor on her beach chair, calling up to the condo above, making friends with those neighbors, and their neighbors.
Beach Days at Carimar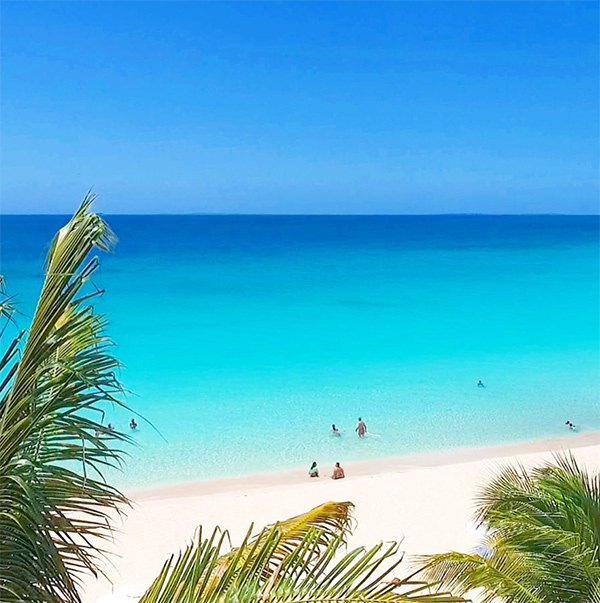 The resort exudes a warm, calm, family feel.
The Accommodations
Carimar Beach Club offers a variety of units...
One bedroom/one bath beachfront
One bedroom/one bath beachview
Two bedroom/two bath beachfront
Two bedroom/two bath beachview
Each condo has a living room, dining room and a full kitchen (fridge, microwave, toaster, utensils, pots, pans, coffee maker, blender). Spacious and well appointed, the units are rich in Caribbean flavor.
The Living Room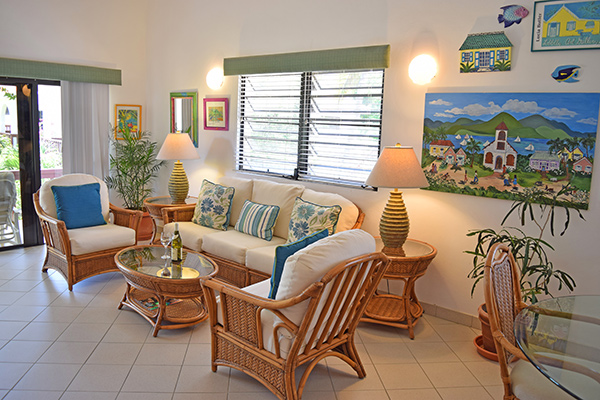 Because Carimar's units come with a fully equipped kitchen, eating in is always a possibility and a great way to cut your budget on an Anguilla holiday.
The Dining Room

When it comes to amenities, Carimar's team of staff have thought of it all. Hair dryers, clock radios, ceiling fans and air conditioned bedrooms, reading material, beach towels, daily housekeeping, wireless Internet, safes, and outdoor grills complete the experience!
Master Bedroom with King Bed

The bedrooms exude a marked feeling of calm. Tranquil and cool, they are most peaceful. As for the bathrooms? Truly luxurious!
Luxurious Bathroom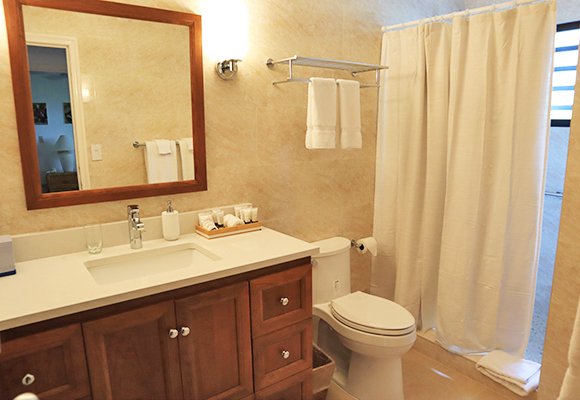 These Anguilla hotel rooms are most comfortable, boasting plenty of space and filled with the comforts of home. The extra-special cherry on top?...
Direct Access To Meads Bay

In a beachfront unit, your room opens directly onto the sands of Meads Bay. In a beachview unit? You are merely 30 seconds from the sand. Whichever room you choose, Meads Bay is at your fingertips.
We are consistently impressed by the tremendous value Carimar has to offer! The rates are low, the location is prime, and the rooms are spacious, clean, and nicely furnished.
For such low rates, this is the ultimate deal to be had on Anguilla...
Tip: It's best to book early. Carimar fills up fast with a long list of regulars.
And, the rooms are just the beginning...
Location: Meads Bay
Meads Bay is picture-perfect every moment of the day!
Bathing in that turquoise blue...
Could you ever have enough?
The beauty of Carimar's location, apart from its raw, natural beauty of course, is that you can comfortably stay on this beach for a week without a rental car, without ever leaving the property, and still have a tremendous vacation.
The beach is popular, yet quiet, with many activities... waterskiing, sailing, SUP.
And there is nothing more relaxing than simply walking the full stretch of the beach, tip to tip and snoozing the afternoon away, day after day.
For a full look at Meads Bay beach, see the video below.
After sunning, swimming and snoozing?
Meads Bay Restaurants Call!
Meads Bay is home to Anguilla's best restaurants!
Beachy Cocktails at Leon's

Off the beach, many more great restaurants and resorts for drinks and dinner aren't too far. Meads Bay is in Anguilla's west end, with local favorites like B&D's BBQ and Picante nearby.
What comes after dining under the stars?...
Straw Hat by Night Fall

Sweet Touches & Amenities
... breakfast at Carimar!
Carimar impresses around the clock! Yes, Carimar guests can enjoy fresh French pastries without leaving the hotel. Simply place your order before 8pm (selections include French croissant, chocolate croissant, raisin roll, almond croissant and apple turnover) and pick up your order at Carimar's front desk.
The hotel's host of amenities don't end at breakfast.
SUP on Meads Bay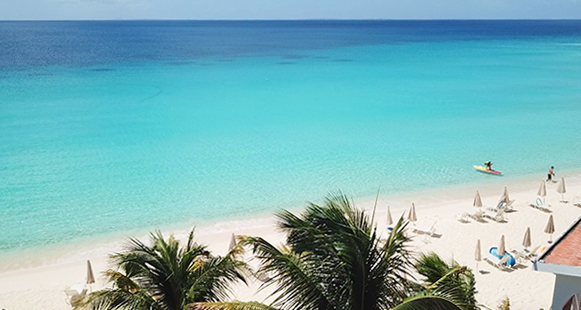 Carimar's team of staff will arrange boat tours, deep-sea fishing, watersports, spa pampering... anything your heart desires!
The property also features immaculate tennis courts, just a few steps in the opposite direction away from the sea.
Perfecting My "Game"

After a match? Dig your toes in the sand and plunge into the #1 "Anguilla amenity"...
Meads Bay's Sea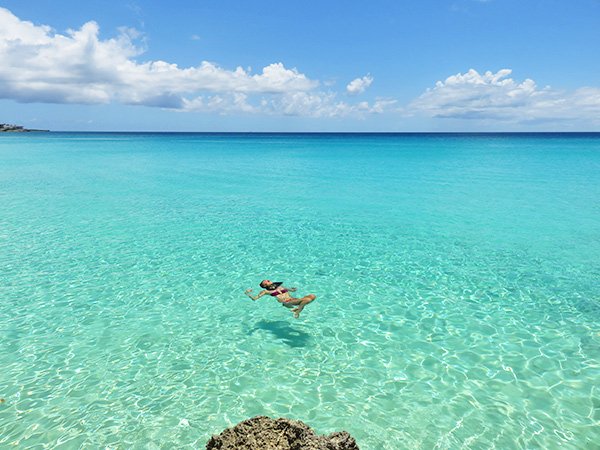 Carimar provides all towels, beach chairs, umbrellas and even noodles and floats to maximize the beach experience!
As I was saying earlier, Carimar is an unpretentious resort that focuses on what it does best: true value accommodations and hospitality. No doubt about it, Carimar Beach Club is the best deal to be had on Anguilla.
Loyally-Loved By Many
And, I'm not the only one who feels that way.
Just ask long-term Carimar visitor, Shelli Goldberg-Albert. Over 20 years ago she was introduced to Carimar by chance. What a lucky find. A lover of the beach and the sun, nothing compared to the peace and quiet of Carimar. You can read her touching story and how she fell in love with Carimar here.
Stories of this kind are many when it comes to Carimar. Carimar Beach Club is so loyally loved, with over 75 families visiting over and over for the past 28 years. THAT is the highest form of praise and a true dream come true.
Picture Perfect Carimar Beach Club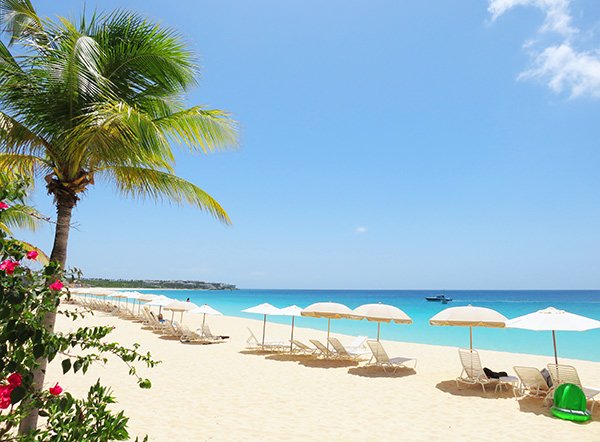 That love doesn't go unrecognized by the hotel. On your tenth stay, guests are given an "Honored Guest Award" plaque AND five complimentary nights in a beach-view suite.
Carimar is one hotel that really cares and gives back :-)
Share Your Stay at Carimar Beach Club
Carimar Beach Club is the best value Anguilla hotel you will find on the island, right on one of Anguilla's most magnificent beaches. If you've stayed at Carimar Beach Club, please share your experience. Tell your story in the form below, and I'll be happy to publish it.
More Carimar Beach Club stories...
Click below to read reviews from other Carimar Beach club lovers...

Fabulous Anguilla Hotel
at a Fabulous Price

I happened to stumble across this Anguilla hotel while looking for places to stay in Anguilla. It sounded too good to be true. Not one bad review! Well, …
Carimar Beach Club

Arriving at the pristine stretch of beach on Meads Bay, we somehow felt as though we'd visited Carimar before. The welcome was warm; our luggage was graciously …
Carimar Beach Club - Meads Bay

We were recently invited to Anguilla to visit our long time friend, Greg Winegar of Diamonds Intl. With lucky planning, we were fortunate enough to arrive …