Carimar Beach Club...
Best Value Anguilla Hotels
The Top Deal on Anguilla Vacations
Carimar Beach Club At A Glance
Carimar Beach Club was reviewed by Nori Evoy.
Nori's Rating: 5 out of 5
Known for delivering pure relaxation and serenity, Carimar Beach Club is one of a kind.
Spacious units, right on majestic Meads Bay's sandy shores, just steps from some of Anguilla's tastiest eateries, and all at under $300-550 per night.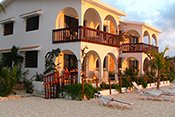 With warm and friendly staff, and their experienced and hospitable General Manager, Rolf Masshardt (their former General Manager, Fred Thompson, the winner of the Anguilla Hotel & Tourism Association's most prestigious award, Hotelier of the Year, retired in 2015), Carimar has a unique, welcoming atmosphere that makes you feel right at home.
It's no wonder Carimar Beach Club is a favorite for long-term Anguilla lovers and first-time visitors alike.
Update 2019: A HUGE congrats to Carimar Beach Club! This idyllic Anguilla hotel has placed #2 in the entire Caribbean for TripAdvisor's Travelers' Choice for Top Small Hotel. Let's hear it for Carimar!
More on Carimar Beach Club, below...
Visit Carimar Beach Club's website...
People say some of the best things in life are free... Cloud formations in the sky, ripples on the sea, the sun's warm glow in the late afternoon.
And some of the best things in life are almost free ... Anguilla BBQs, Caribbean style pasta, Anguilla sailing.
But where do you find outstanding Anguilla hotel value? Many think of Anguilla as an island for Wall Street's top financiers and Milan's top supermodels. But they aren't the only ones who visit Anguilla.
So, "for the rest of us," our family has found....
The Best Value Anguilla Hotel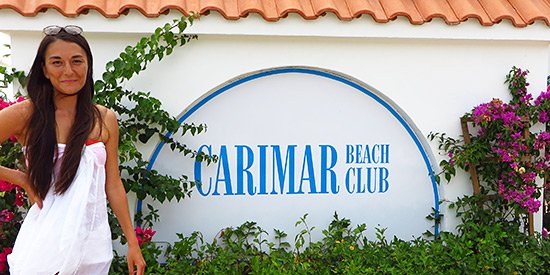 Carimar Beach Club is a true Anguillian landmark. It competes for #1 at TripAdvisor against hotels that cost several times more!
This oft-overlooked gem, known to a fierce and loyal following, sits on magnificent Meads Bay. Here's a photo of it bathing in the setting sun...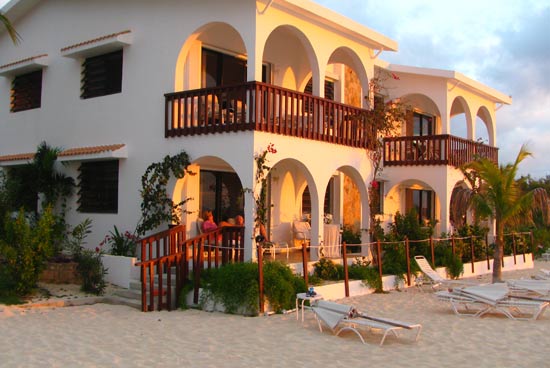 Carimar was built shortly after Malliouhana in 1985, making these two of the original Anguilla hotels and resorts.
And Carimar has kept up with its mission, providing high-value accommodations on a beach that blends perfect white sand, rolling waves, and some of the islands top restaurants
Since its first days it has built a wide following of true Anguilla-lovers. Some of the resort's visitors have been enamored since day one, others new to the Anguilla hotel, are just starting to fall captive to Carimar's charm.
For an overview of this loyally-loved spot, take a look at their beautiful video...
We decided to spend a night and find out what makes this Anguilla hotel a "love of a lifetime"...
The Ambiance
Charmed, we were!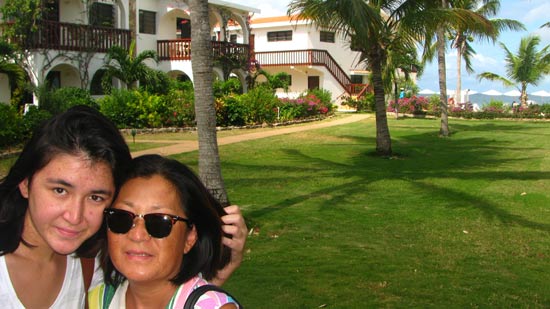 What I noticed first? The quiet of Carimar!
The sounds of the waves gently hitting the shore, birds calling to one another, rustling palms... the aural tapestry of nature. Peaceful, relaxing.
We checked in with Carimar's very hospitable hosts...
Laverne and...
Laverne!
And both of these lovely ladies wear glasses too!
Good luck identifying the original Laverne ;-)
After warm introductions and getting us familiar with the resort, Laverne (the original Laverne!) brought us to our Anguilla hotel room...
Carimar is made up of 24 condo-style suites (1 or 2 bedroom units, beach-view or beach-front), that form a semi-circle around their lush courtyard, with gardens enhancing the atmosphere with a gentle, floral aroma.
Plentiful bushes surround each building, flowery vines running down the white columns.
The layout provides intimacy, a real feeling of community, and of solitude all at the same time.
It's a spot where you can retire to the seclusion you desire...
Or stay out, befriending your neighbor on her beach chair, calling up to the condo above, making friends with those neighbors, and their neighbors...
The resort exudes a warm, calm, family feel.
The Accommodations
Up, up, up we went!
We were staying in a 2 bedroom beach-view unit.
Each condo has a living room, dining room and a full kitchen (fridge, microwave, toaster, utensils, pots, pans, coffee maker, blender).
My favorite part? Every unit has a full balcony or patio with outdoor dining furniture and chaises.
Hair dryers, clock radios, ceiling fans and air conditioned bedrooms, reading material, beach towels, daily housekeeping, wireless Internet, safes, and outdoor grills!
Because Carimar's units come with a fully equipped kitchen, eating in is always a possibility and a great way to cut your budget on an Anguilla holiday.
Your condo may have 1 or 2 bedrooms as well as 1 or 2 bathrooms.
We entered with anticipation...
The Living Room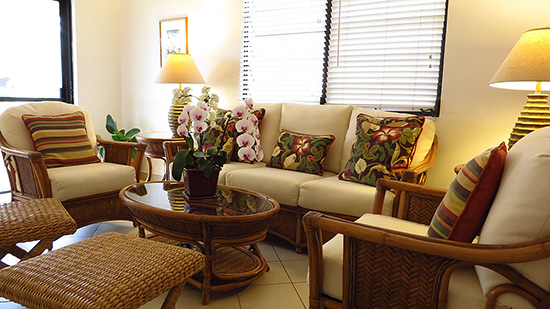 Lovely Touches
(Finishings vary from suite to suite. I loved these orchids!)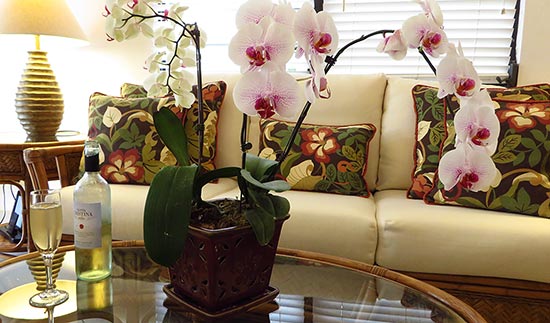 The Dining Room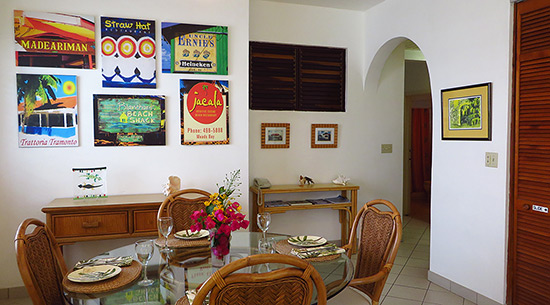 Kitchen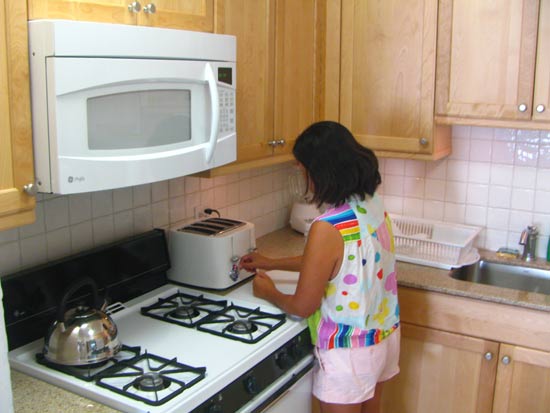 Master Bedroom with King Bed and Bathroom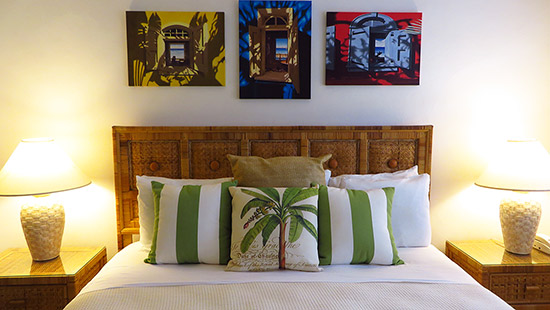 Second Bedroom with Twin Beds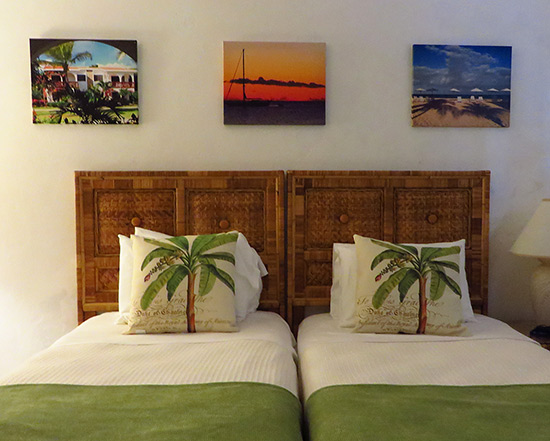 Bathroom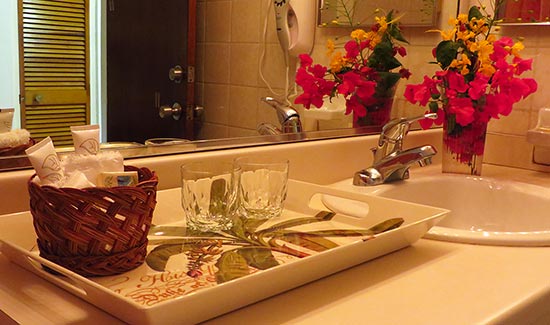 The units are charming and well appointed, decorated with a Caribbean flavor. The choice of furnishings lend a Caribbean feel reminiscent of Anguilla as it was, embracing the typically Anguillian open air concept between the kitchen/living/dining areas, and allowing for so much space!
These Anguilla hotel rooms are truly comfortable, being so spacious, and filled with the comforts of home... a full kitchen, bath soaps, shampoos, books, a flat screen TV with cable, and of course, wireless Internet connection throughout the hotel.
For such low rates, this is the ultimate deal to be had on Anguilla...
Beach-front 1 bedroom for as low as $325 on Meads Bay out of season and for only $540 in season? One of the best beaches in the Caribbean?
We relaxed on their colorful couches, awe-struck.
(As you can see, Yuki was in need of a nap! She fell asleep the minute her head hit their Caribbean-inspired cushions!)
Try and suggest that rate to any other Anguilla hotel or Anguilla condo complex on Meads Bay, and they will laugh, "You're kidding, right?"
How Can Carimar Offer These Low Prices?
This is a super-comfortable, make-yourself-at-home, solid 4-star experience at the price of a 2-star. "How," I later asked the manager, Fred Thompson, can you deliver so much for so little on such a wonderful location.
He told us that since the beginning they have focused on what most travelers want. So this is not a "luxury" hotel.
Nor is there a hotel restaurant for them to maintain and staff. You are only a short walk from so many terrific restaurants (more on this below). Stock up your full kitchen and you won't find yourself missing room service.
In short, Fred summarizes, "We focus on you having the best possible experience on Anguilla for the dollar." And that is exactly the vibe I felt.
My favorite part of our Anguilla hotel room?
The view from our porch

We were truly taken by the tremendous value Carimar has to offer! The rates are low, the location is prime, and the rooms are spacious, clean, and nicely furnished.
It wasn't over yet!
Eager to see the rest of the resort, my Dad and I left Yuki and my Mom to read and settle in. Off we went...
Update:
Meet Carimar's Current General Manager, Rolf Masshardt
Carimar Beach Club's General Manager for years, Mr. Fred Thompson retired in 2015. A kind and smart man, Mr. Thompson brought great warmth to Carimar and was even the winner of the Anguilla Hotel & Tourism Association's Hotelier of the Year award.
He is followed by Mr. Rolf Masshardt, who many may know as the original owner and manager of La Serena (later - Anacaona Boutique Hotel).
Meet Mr. Rolf Masshardt

Mr. Masshardt had lived in Anguilla for 20 years before moving to his home country, Switzerland where he owned and managed several boutique hotels. Today, he has returned to his true home, Meads Bay.
With decades of experience behind him, he is a wonderful addition to Carimar!
The Location
We had arrived just in time. The sky was light in the west, a blend of pinks, blues and oranges stained the sky.
Malliouhana to the East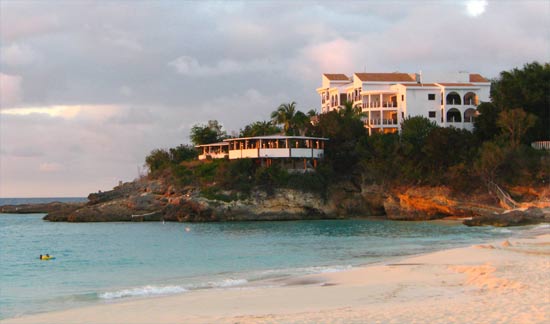 We sure envied the lucky ones enjoying the sights from the beach-front units! The extra dollars for that location sure seem worth it. But once the sun sets, we all hear and enjoy the same ocean. So... you pick!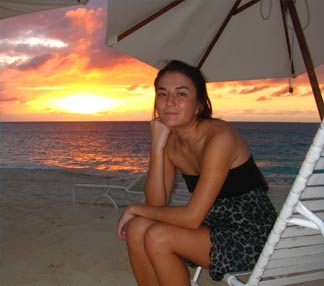 It's best to book early. Carimar fills up fast with a long list of regulars.
Mr. Thompson did tell me that you can sometimes book a room within a few weeks of your planned trip. So give it a try.
Meanwhile, back to our sunset beach arrival...
We hung around to catch the last light of the day.
Picture-perfect!
"How many idyllic sunsets had those visitors watched from their sandy steps?" I thought... Could you ever have enough?
Note: To get an idea of what Meads Bay is like during the day, take a look at the video below.
You can spot Carimar Beach Club at 24 seconds

As the day's light dissolved, our churning stomachs served as (another) friendly reminder of the coming night... It was supper time!
Meads Bay Restaurants
Another of Meads Bay's wonderful features?
The hotel may not have a restaurant, but you will never starve on Meads Bay... Meads is the beach with most "top Anguilla restaurants."
Breakfast at Carimar
Carimar guests can enjoy fresh French pastries without leaving the hotel. Simply place your order before 8pm (selections include French croissant, chocolate croissant, raisin roll, almond croissant and apple turnover) and pick up your order at Carimar's front desk!
Mouthwatering AND affordable lunch right
next door to Carimar at Blanchards Beach Shack!

And, many more great restaurants and resorts for drinks and dinner aren't too far. Meads Bay is in Anguilla's west end, with local favorites like B&D's BBQ and Picante nearby.
Our choice for the night? We gave Peter a call at Straw Hat... The snapper and mashed potato was already calling my name.
Straw Hat by night fall...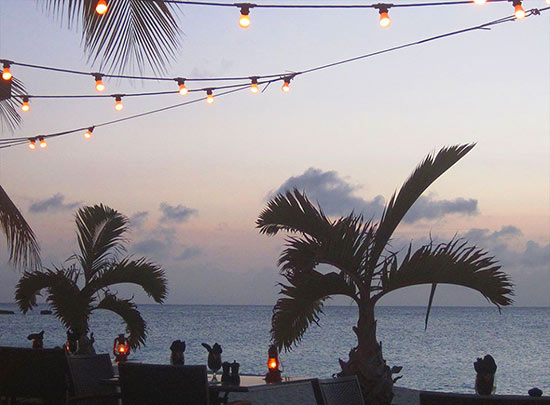 Things To Do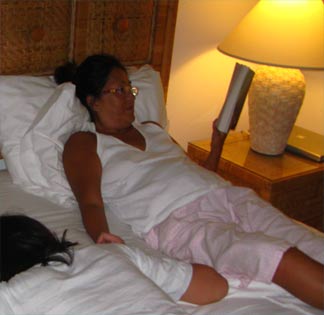 After one of the best meals I have ever had!, I was pre-comatose.
My Mom, Dad and Yuki were not far behind.
Quick shower.
Turn on air con.
Collapse on super-comfortable bed.
Sleep like rock.
Awake to the gentle chirping of morning birds.
Throw pillow at my sister, Yuki (just "because").
My Mom was up early, checking her emails on the porch. My favorite view!
The question of the day? What do you feel like doing today?
The beauty of Carimar's location, apart from its raw, natural beauty of course, is that you can comfortably stay on this beach for a week without a rental car, without ever leaving the property, and still have a tremendous vacation.
The beach is popular, yet quiet, with many activities... waterskiing, sailing, even surfing if the waves get big enough. Walk the full stretch, tip to tip...
To the East

To the West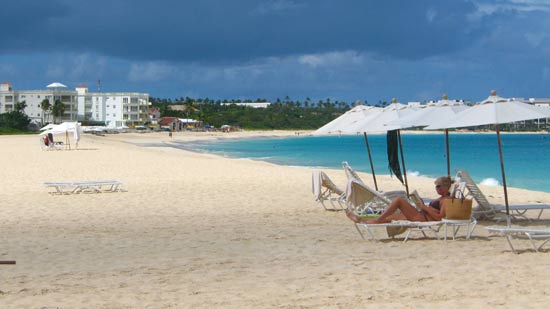 Carimar provides beach chairs and certain water activities. They can also arrange boat tours, deep-sea fishing, anything you want (you can make good use of all those extra dollars you've saved!).
As I was saying earlier, Carimar is an unpretentious resort that focuses on what it does best... true value accommodations and hospitality!
There's no pool here. Who needs one? Dig your toes in the sand and plunge into the sea.
Yuki floating in Meads Bay's crystal waters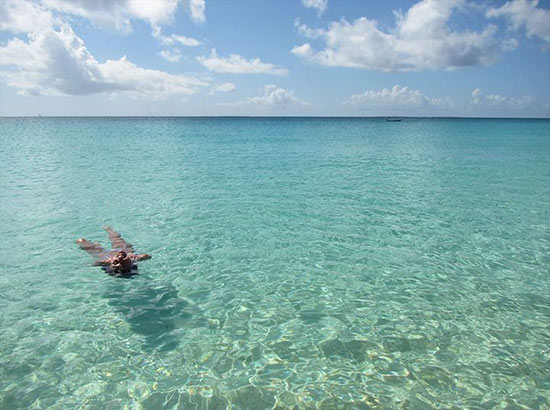 Want some spa pampering? The Carimar staff will set you up at Viceroy's Spa, just a 2 minute drive away.
The tennis courts are a few steps in the opposite direction away from the sea.
Perfecting My "Game"

Offloading "frills" is a brilliant strategy for delivering a low-cost, high-value Anguilla vacation.
Our choice for the day?
Swim in the sea, lounge in the beach chairs, and eat, of all things, bratwurst at a BBQ being held by one of the regulars at the hotel. They invited us, and others staying at Carimar, for an afternoon BBQ and fun in the sun.
Community!
Meads Bay

With Friends on the Beach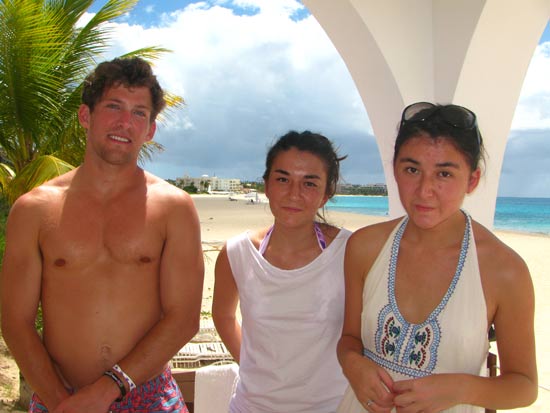 Swimming, sunning, eating, drinking, grilling under the sun, and in good company... the day was drawing to a close.
As the sun started to fade, we headed to our car and turned to catch a last look at the sea...
"Nope, you never can get enough," I thought.
No doubt about it.... Carimar Beach Club is the best deal to be had on Anguilla.
Loyally-Loved By Many
And, I'm not the only one who feels that way.
Just ask long-term Carimar visitor, Shelli Goldberg-Albert. Over 20 years ago she was introduced to Carimar by chance. What a lucky find. A lover of the beach and the sun, nothing compared to the peace and quiet of Carimar. You can read her touching story and how she fell in love with Carimar here.
Stories of this kind are many when it comes to Carimar. Carimar Beach Club is so loyally loved, with over 75 families visiting over and over for the past 28 years. For any hotelier (or any business for that matter), THAT is the highest form of praise and a true dream come true.
That love doesn't go unrecognized by the hotel. On your tenth stay, guests are given an "Honored Guest Award" plaque AND five complimentary nights in a beach-view suite.
Carimar is one hotel that really cares and gives back :-)
Bringing Carimar Home: Carimar's Signature Tote Bags
The Lovely Laverne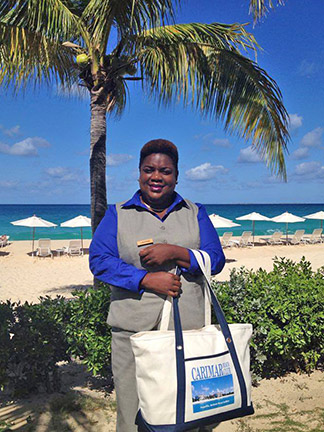 Now you can take the warm memories of Carimar home and bring them with you wherever you go :-)
Carimar Beach Club has introduced a beautiful tote bag, perfect for the beach.
The totes are made of a strong canvas, making them durable and able to weather sun, sand and sea-spray.
They are spacious, too, with plenty of room for towels, water bottles and other beach accessories.
As shown in the photo below, the front of the tote bags features Carimar's picture-perfect setting on Meads Bay.
The back? Carimar's classic tagline, if you like the beach, you'll LOVE Carimar!
And, with nautical colors, their design is reminiscent of days spent by the sea.
Tote Bags' Front & Back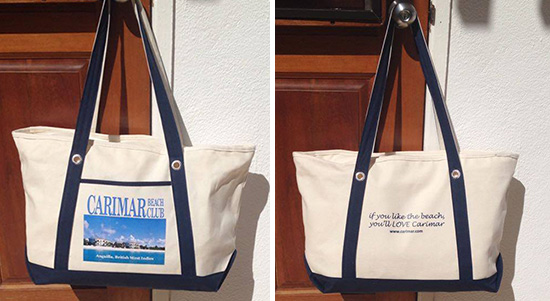 Totes can be purchased at Carimar for $30 USD.
Share Your Stay at Carimar Beach Club
Carimar Beach Club is the best value Anguilla hotel you will find on the island, right on one of Anguilla's most magnificent beaches. If you've stayed at Carimar Beach Club, please share your experience. Tell your story in the form below, and I'll be happy to publish it.
More Carimar Beach Club stories...
Click below to read reviews from other Carimar Beach club lovers...

Fabulous Anguilla Hotel
at a Fabulous Price

I happened to stumble across this Anguilla hotel while looking for places to stay in Anguilla. It sounded too good to be true. Not one bad review! Well, …
Carimar Beach Club

Arriving at the pristine stretch of beach on Meads Bay, we somehow felt as though we'd visited Carimar before. The welcome was warm; our luggage was graciously …
Carimar Beach Club - Meads Bay

We were recently invited to Anguilla to visit our long time friend, Greg Winegar of Diamonds Intl. With lucky planning, we were fortunate enough to arrive …