Bob & Melinda's Blanchards Restaurant...
An Anguilla Restaurant of Passion and Impact
"You're the reason we ever came to Anguilla, even found Anguilla!," You hear guest upon guest gush to Bob Blanchard, co-author of A Trip to the Beach.
Bob and Melinda are people of impact. We could have never known at the time, but they set our lives on a new path back in 2002 when my Dad first picked up their book. He fell in love with their story, and Anguilla.
With Bob and Melinda Blanchard

Originally from Vermont and New York City (respectively), Bob and Melinda ditched the "rat race" and moved to Anguilla to pursue new dreams, different dreams. In their nationally-recognized book, Bob and Melinda tell the story of how they came to own and operate one of Anguilla's finest restaurants.
Upon our first visit to Anguilla, our family's hearts fell captive to the island. We followed that feeling, and moved to Anguilla (selling everything in Canada) in 2008.
Without their story, would ours exist?
But, I digress. After all, this is not an article just about passion and dreams and following your heart. It's about good food too! ;-)
Blanchards Anguilla, Meads Bay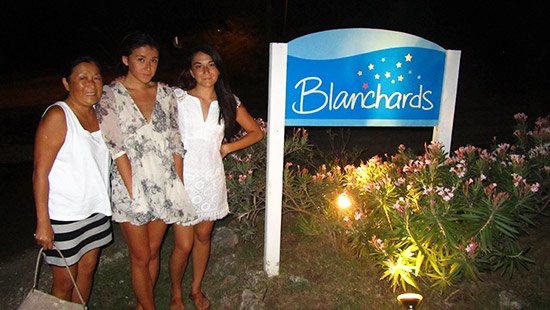 Stepping Inside Blanchards
Blanchards exudes a certain charm that puts you at ease.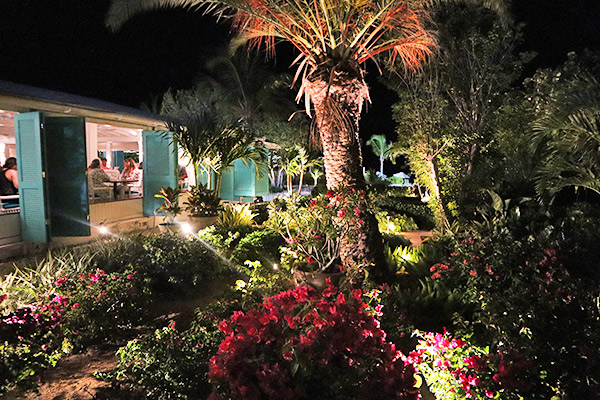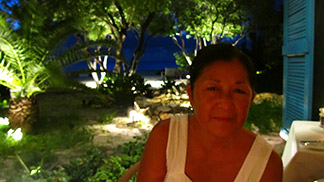 The space has a sweet beach house feel, somewhere between a Caribbean cottage and a spot you would tuck into in West Hampton.
Maybe it's the painted wooden shutters.
Maybe it's the wooden fixtures and the glowing lights.
The restaurant's soft and easy feeling is complemented by uplifting artwork inspired by many landscapes.
The Bar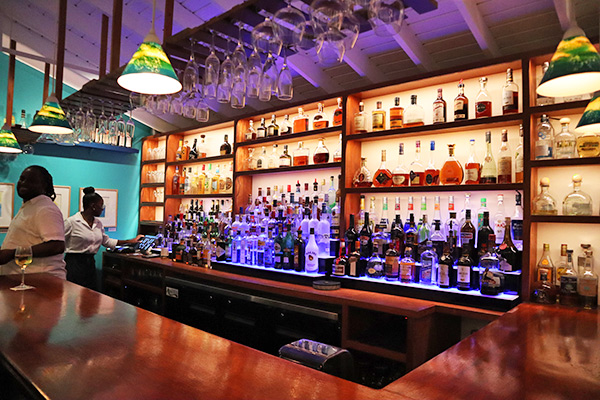 The restaurant opens into a charming bar area that leads into the dining room. Here, you are overlooking the sands of Meads Bay.
Insider Tip: Reserve the table on the restaurant's lower level that is closest to the sea, in the far left-corner. Tucked away, it feels significantly more private and intimate, with a pretty view of the well-kept gardens, the ocean in the near distance.
The Dining Room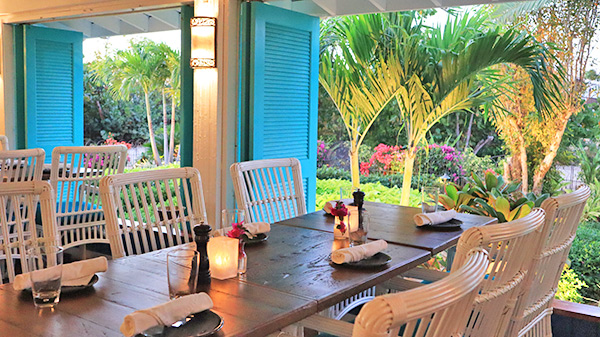 Blanchards also features outdoor patio dining. If you want to dine al fresco, there is no spot more magical than beneath these dazzling string lights!
Patio Dining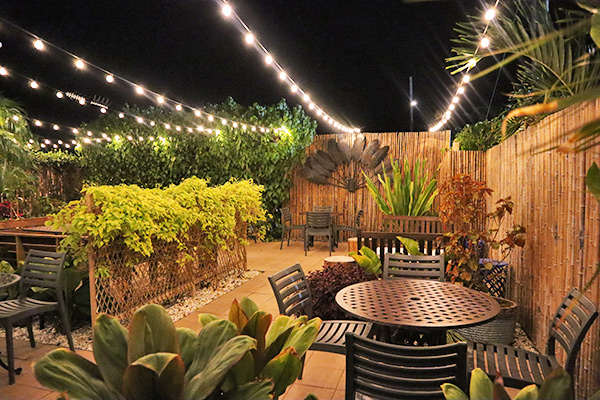 In A Trip to the Beach, Melinda and Bob wrote about their intentions for the restaurant. Something that made people feel "at home" was their aim. The Blanchards have accomplished just that. The restaurant is without a doubt high end and upscale, but without imposing airs or feelings of intimidation or expectation.
The setting is simply picturesque.
Looking at Blanchards Restaurant From the Sea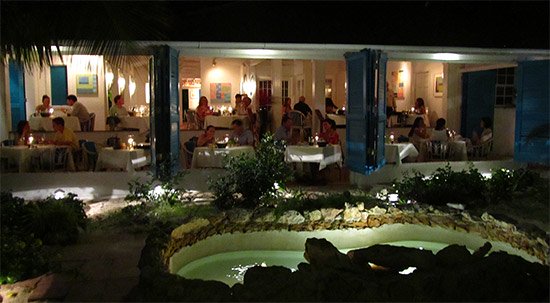 From the minute you arrive and are given your menus, the staff makes a warm impression. The whole team is so attentive and friendly. And, of course, if you have the read books, you will recognize the staff. Much of the staff have been at the restaurant since it opened in 1994, and have been mentioned over and over in the Blanchards' books.
Rum punches, white wine and sparkling water coming up!
We stick with cocktails and wine by the glass, but many rave over Blanchards' well varied and sophisticated wine list.
Cocktails at Blanchards

As you look over the dinner menu, a basket of fresh-baked rolls is placed on your table. Along with it, an unexpected, yet certainly welcomed and ultimately devoured, dish of homemade hummus.
The menu has two sections. First up, Small Plates...
Nibbles: Plantain chips, warm marinated olives, sweet and spicy nuts
Chilled Seafood: Tuna poke crisps, crayfish ceviche
Salads & Veggies: Brussel sprout "Caesar", pan-roasted cauliflower, sautéed Thai asparagus, crunchy iceberg
Crispy: Chickpea fritters, calamari, lobster & shrimp cakes, grilled octopus, Medjool dates, arancini
Shrimp & Lobster Cakes

My Dad and His Lobster and Shrimp Cakes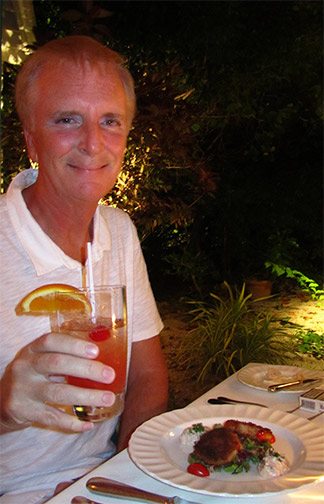 The Small Plates menu is so fantastic, it makes for a tasty tapas-style meal in and of itself!
Admittedly, though, even choosing just a few Small Plate dishes is tough.
Melinda's specialty is taking classic dishes, familiar favorites, and spinning them into one-of-a-kind meals that leave you pining for more.
Her lobster & shrimp cakes is one of the most famous dishes on the menu.
Dipped in a tomato tartar sauce, they are unforgettable.
They are a must-order.
The Small Plates menu doesn't end there.
Roasted: Thai red curry mussels, charred Shishito peppers
Pasta: Five-cheese ravioli
Grilled & Seared: Coffee-crusted steak crostini, pork tenderloin, Char Siu ribs, burger sliders, Jerk shrimp
Burger Sliders With Goat Cheese & Sun-Dried Tomatoes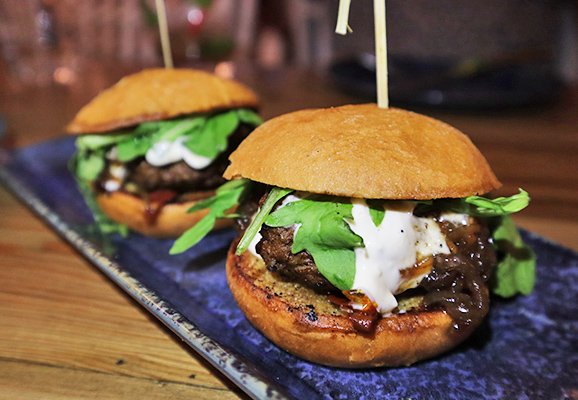 The burger sliders and steak crostini are two of our favorites. The sliders are especially sumptuous. Melinda elevates these sliders by adding goat cheese, sun-dried tomatoes and caramelized onion. If it is steak you prefer, these zesty bites are coffee-crusted and infused with balsamic and tarragon.
Coffee-Crusted Steak Crostini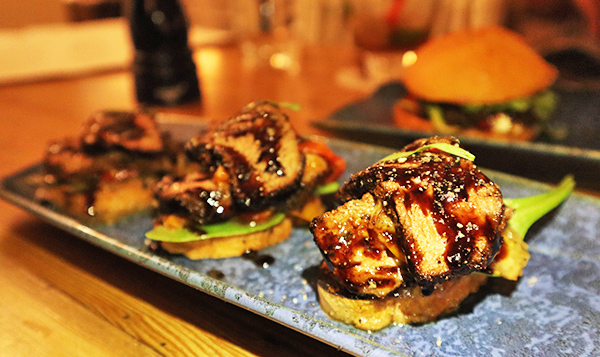 The second half of Blanchards' menu features Signature Dishes. These are the classic Blanchards dishes, the ones that put the restaurant on the map.
A Note on Service & Atmosphere: On that note, Blanchards is undoubtedly one of Anguilla's most famous restaurants. Bob and Melinda are among the most famous residents. Even on a quiet summer evening, the restaurant is usually full, a rarity for Anguilla, as the island quiets right down in the off season. The evening's pacing is always well timed. This is one of my favorite aspects to dining in Anguilla. There is no rush with nothing to worry about during dinner, and no where to go after dinner. It is all about unwinding and enjoying.
Signature Dishes include...
Sesame Crusted Sea Bass with a corn purée and a ginger-lime drizzle
Grouper Nicoise with olives, capers and tomatoes
Citrus Chicken with roasted shallots and squeezed oranges, limes and lemons
Anguilla Crayfish with Parmesan potatoes
Caribbean Sampler - a sampling of crayfish, citrus chicken and Grouper Nicoise
Caribbean Sampler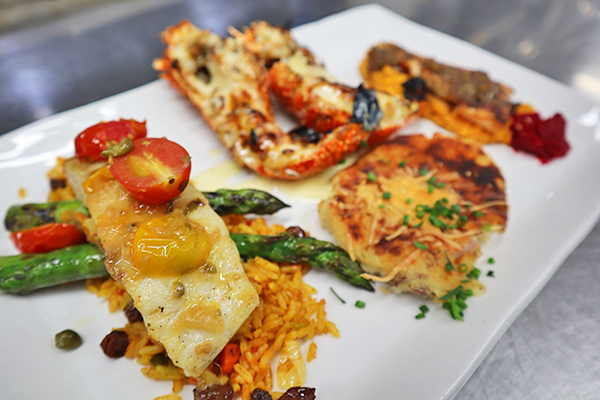 Yuki and I have always loved Melinda's chicken scaloppine served with mashed potatoes. With the perfect blend of citrus flavors, it is one of our favorite dishes on the island. The flavors make your tastebuds sing!
For a taste of that citrus chicken, and to not miss out on Anguilla "staples" (like crayfish!), order Melinda's Caribbean Sampler (photo above). The dish is a sampling of crayfish, citrus chicken and Melinda's famous grouper.
Dinner is Served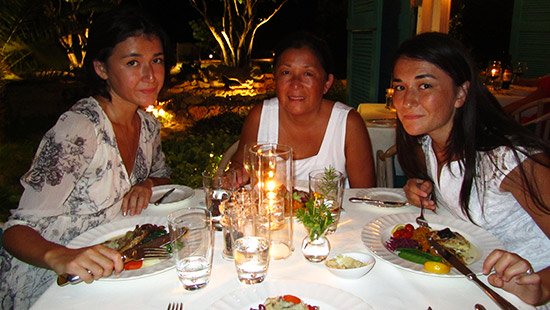 The food is always excellent. So excellent in fact, you need to order dessert - even if you are bursting at the seams.
First up? The cracked coconut is one of the most iconic desserts in Anguilla!
The Cracked Coconut

Creamy vanilla ice creams lies inside a thick chocolate, coconut-style shell dusted with toasted coconut shavings. It is served with a shot of Bailey's. It is positively decadent, without being overwhelming. Light and refreshing, it is the perfect Caribbean-night dessert.
Next? The Ultimate Carrot Cake.
Ultimate Carrot Cake

The name does not lie. This is THE ultimate carrot cake, the best carrot cake of all time, bar none. Standing six layers tall, this luscious cake is frosted with coconut frosting and served with dabs of lemon curd and raspberry puree. It just may be THE best dessert on-island.
Last but not least, and rounding out the trio of must-have Blanchards desserts...
Triple Lemon Cake

Fluffy lemon cake is beautifully complemented by a vanilla bean ice cream. Light and citrusy, and in Blanchards' style, it is a classic dish, but infused with Caribbean flavors. It is something you can only get here, in Anguilla, at Blanchards.
Decades after their opening (in 1994), Blanchards' food, setting and service still shines strong. The restaurant glows inside and out, from the building itself to the owners and staff. With exceptional food, Blanchards delivers a flawless evening.
Thank You, Blanchards
Before heading home, we always thank Melinda personally - for a perfect meal, her story and inspiration. Forever beaming, Melinda has the kind of warmth that stays with you. Melinda and Bob make for unforgettable pair. The Blanchards deliver memorable experiences that last well beyond the dinner table.
Directions, Hours & Contact
Directions: Located on the road that runs behind Meads Bay, Blanchards is right next door to Carimar Beach Club. See the map below for exact location.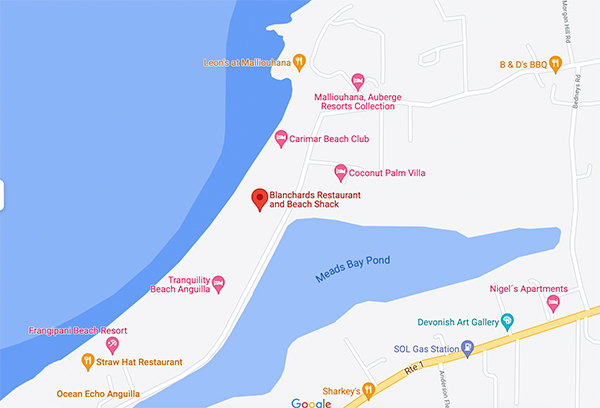 Hours: The restaurant is open for dinner starting at 6:30pm, Monday - Saturday (closed Sundays).
Tel: 264-497-6100
Menu: Click here