Anguilla Car Rentals
When we're in Anguilla, we love to bounce around the backroads, even off the back roads and across the open fields.
Getting off "the beaten track" will deliver sights and experiences that you don't find in the tourist books!
But you can't do it without a car. And, you can't bring your own!
(Looking for Anguilla scooters? More info here on scooter rentals.)
So the solution is obvious...
Anguilla's Island Car Rentals
When in need, we always rent from Island Car Rentals. They have fast, friendly service, reliable cars, and will go to just about any extent to keep their customers happy!
A Glance at Island Car Rental's Fleet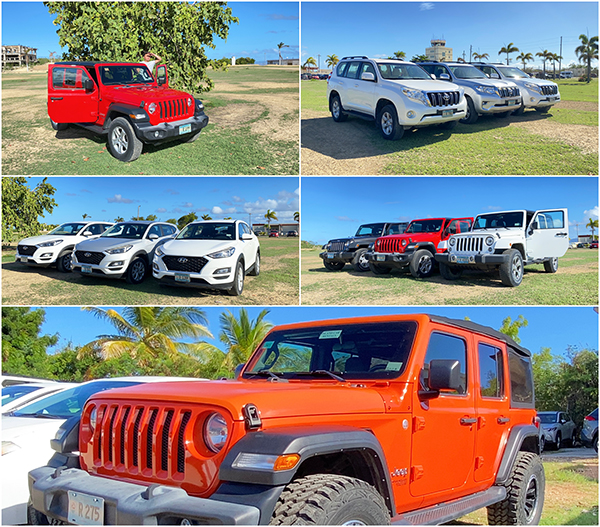 For example, let's say you're coming into Anguilla later in the afternoon, after their office closes. They'll leave the car at their lot, with your name on the windshield and with the keys in the car. Just take care of the paperwork a day or two later, whenever it suits your schedule. (Can you imagine that in New York?)
Our #1 vote among Anguilla car rentals.
And they're just across the street from the airport!
Just 30 Seconds From the Airport


Now, if you're worried about reliability, well... Island Car Rental has my Dad's seal of approval.
We've driven over the worst terrain you can imagine (I probably shouldn't say this because the Island Car Rental folks might faint!) and their Toyotas just kept on rolling.
A Peek at Island Car Rental's Fleet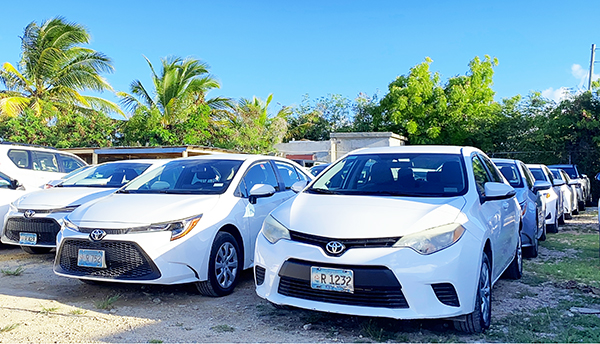 Another example of their excellent service? They've even fixed a flat for us on a Sunday when everything was closed!
The Island Car Rentals Fleet
That's not all. Their cars are immaculately maintained and they are always upgrading their fleet.
Toyota Corolla Cross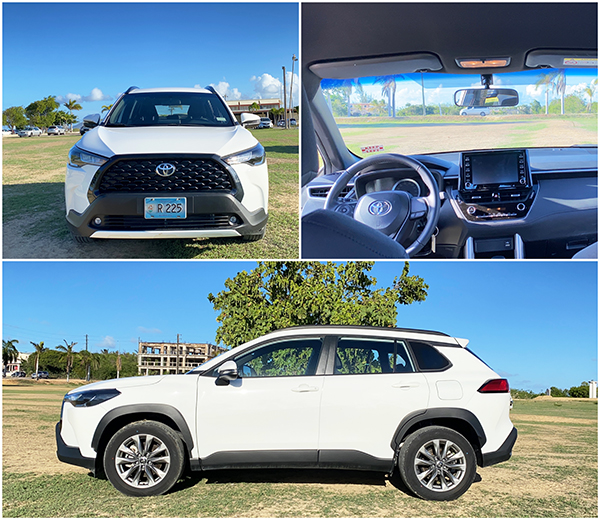 Today, they have a whole host of terrific 4x4s, including Wranglers (hard top and soft tops), Pathfinders, 8 seater Sienna Wagons and Landcruisers.
Midsize SUV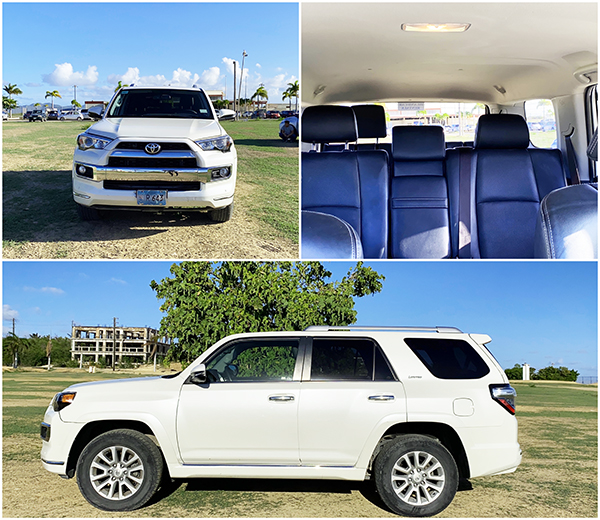 All I can say is... Island Car Rental is our choice for Anguilla car rentals forever!
To book a car, jeep or bus with Island Car Rentals, e-mail the form below directly to them...
Email Island Car Rental
More on Driving in Anguilla
More Anguilla Car Rentals
---
---
Junie's Car Rental
Junie of Junie's Car Rental
with Daughter, Keneesha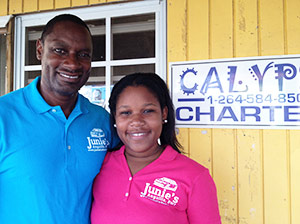 The Team...
A family-owned and operated business, Junie's Car Rental is run by the warm-spirited and friendly Junie himself, his partner, Nancy, his daughter, Keneesha, and a new member of their team, Trisha.
Either Junie or Trisha are waiting for you at Blowing Point upon your arrival (just look for them outside of the arrivals area near Calypso Charters).
Nancy works behind the scenes, setting you up with your booking and reservation.
And now, Keneesha has gone to pursue her higher education. A huge congratulations, Keneesha!
Trisha of Junie's Car Rental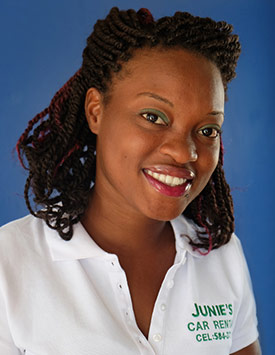 Their Fleet...
They offer a variety of right-hand vehicles, including hard-top small and large cars (Cube, Nissan March, Honda Saba, etc.), convertibles (Peugot), SUV-style 4x4s (Subaru Forester, Isuzu Wizard, etc.) and mini vans/busses (Mazda Premacy, etc.).
Prices start at $40 per day for standard, four-door cars and go up to $60 per day (for the mini van/bus).
Their Location...
Operating out of Blowing Point, Junie's is an especially convenient option if you are coming over from St. Martin for the day, or if you are arriving via Blowing Point.
Just look for Junie at Calypso Charters (to your right when you walk out of the arrival area) and they will get you set up with you car right there in Blowing Point.
Junie Special Additions...
On top of that...
If all of your luggage doesn't fit in your rental car when you arrive at Blowing Point, Junie and his team will personally escort you to your resort/villa!
Junie's Umbrellas, Chairs and Coolers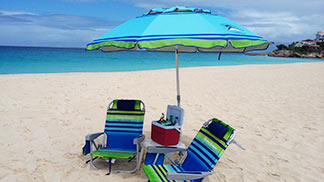 And now they have an extra-special offer... 2 Beach Chairs, 1 Beach Umbrella and a Cooler for US $10/per day (with a security deposit of $50 that is refunded when rentals are returned) AND 1 complimentary drink per person.
More on Junie's Car Rental here.
Tel.: (264) 235-6114 or (264) 235-3720
Email: info@JuniesCarRental.com
Website: Click here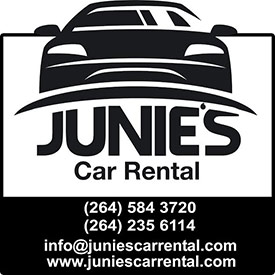 Andy's Auto Rentals
Andy's of Andy's Auto Rentals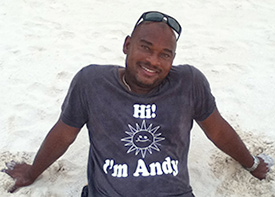 Operated and owned by the husband of Ronya Foy Connor, a friend of ours and a leader in Anguilla's Gender Affairs Unit, meet Andy!
Established in 1998, Andy's Auto Rentals is a well-established auto rental based out of the convenient location of the Blowing Point Ferry Terminal. Just ask for Andy when you exit the terminal.
Andy and his team offer a variety of vehicles, including...
Nissan March, Toyota Vista, Toyota Mark II, Isuzu Wizard, Toyota Rav 4, Honda Odyssey, Nissan Elgrand and Jeep Wranglers.
Rates start at a competitive $35/day (for the March and Vista) and go up to $60 (for the Elgrand and Jeep Wranglers).
They will soon be adding convertibles to their fleet (for the 2015-2016 season), and will continue renting a variety of beach gear, including snorkeling equipment, umbrellas and chairs.
For more information, visit Andy's Auto Rentals.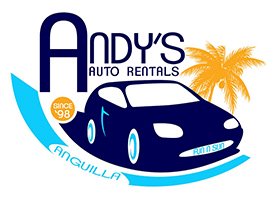 D&D Car Rental & Scooter Rental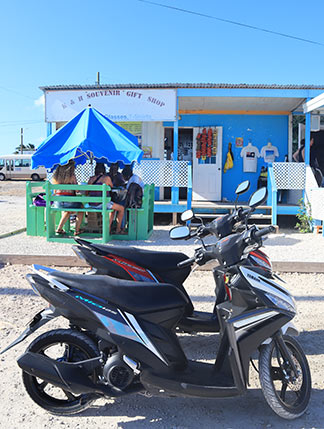 Operated by the sweet and friendly, Desmond Mussington, D&D brings quality car rentals and scooter rentals to Anguilla!
Desmond's operation is conveniently located right at the Anguilla ferry. Hop off the boat and your car rental or scooter rental is waiting right for you. Their fleet is high quality and the service? Always so friendly.
Car rental options include the Suzuki Swift, Toyota Corolla, Nissan March, Nissan Note, Suzuki Vitra and the Honda Odyssey. Book your car rental here.
D&D is also the only operation on Anguilla that rents scooters. Their scooters are high-quality! For speed, rent the sleek Yamaha models, for style choose the chic mopeds (coming soon).
D&D Car Rentals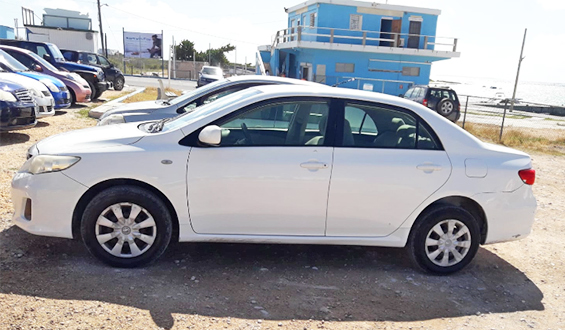 We can't recommend Desmond's scooters highly enough. They make for a most fun and adventurous way to travel around Anguilla.
More on D&D and their scooter rentals here.
Bass Car Rental
Bass Car Rental is known as the Anguilla car rental company with the highest quality vehicles and the widest selection.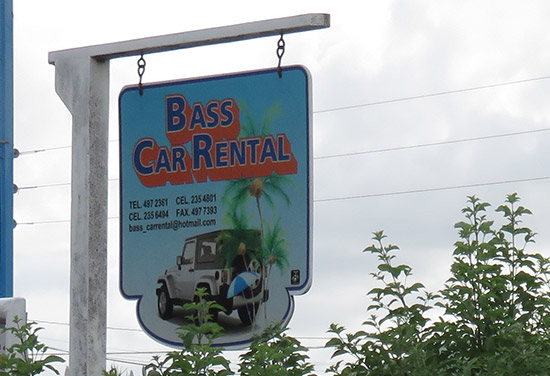 Whether traveling solo, as a couple, a family or with a large group, Bass Car Rental has something for every traveler.
Their regular car line up ranges from the compact-sized Hyundai Getz and Accent to the family-sized Hyundai Elantra and i20, along with the Toyota Yaris and Corolla.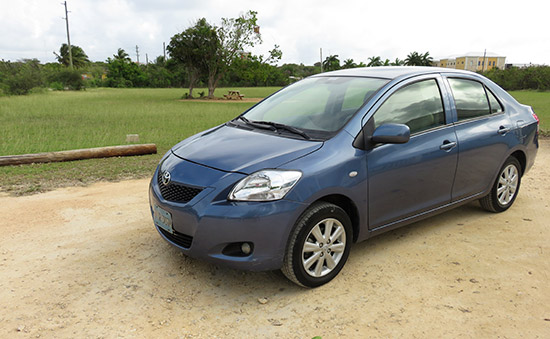 At a slightly higher end, they also offer the Hyundai Sonata, i30 and the more recent Toyota Corolla. (Bass Car Rental is always expanding their line up and purchasing new cars!)
They offer a healthy number of SUVs, too, including the Daihatsu Terios. And, most exciting of all? They offer both soft top and hard top Jeep Wranglers. Tackle Anguilla's backroads in style!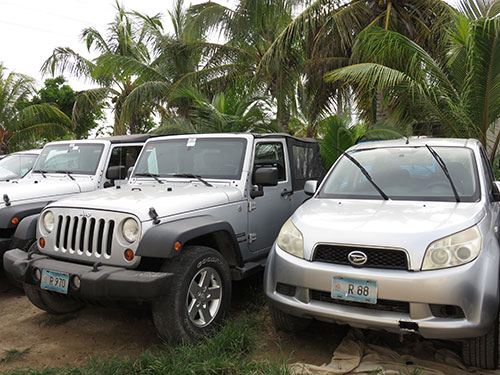 The Hyundai Tuscon, Hyundai Santa Fe and the Suzuki Grand Vitara are also available. And, for larger parties, Bass carries 12-seater and 9 seater Hyundai H1 minibuses.
Spotless!

Their five-star reputation doesn't only come from their wide selection. They also carefully maintain their vehicles to ensure top performance!
The kind folks at Bass go above and beyond, too, ensuring your vehicle meets your needs, and arranging rental car drop off and pick up at your convenience.
Rates vary by size and season, starting at $40/day, $240/week, to $95/day and $570/week, depending on the type of vehicle you desire.
For more info, contact Bass Car Rental at...
Tel.:264-497-2361 / 7393
Tel.:264-235-6494/4801
Email: bass_carrental@hotmail.com
Best Choice Car Rental
Efficient and convenient, Best Choice Car Rental goes above and beyond to get your car rental to you.
On top of excellent customer service (they open according to when you arrive on-island), Best Choice Car Rental offers a plethora of car rental options.
Their fleet includes...
Best Choice Car Rental Fleet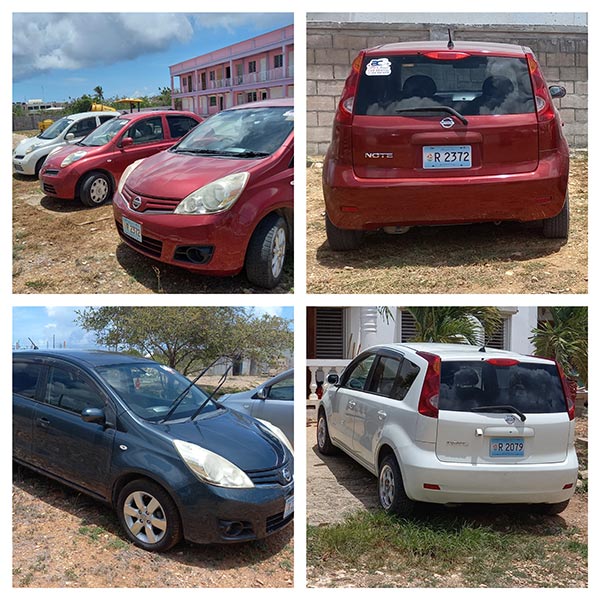 For more info, contact Best Choice Car Rental at...
Tel.:264-584-6019
Email: bccarrental1@gmail.com
---
Archived Articles
Jeep Car Rental 2004 Island Car Rental update.