Anguilla Real Estate...
Buying & Building
Soon after our first vacation to Anguilla (2002), our family settled enthusiastically into the idea of living here. Coming from Montreal, Anguilla met all our criteria for "the perfect home"...
always warm, the temperature rarely goes below 70°F (21°C) on winter nights or above 90°F (32°C) on the warmest summer days
friendly and safe
no income tax
a 20-minute ferry ride takes us to duty-free shopping and fine dining of the "french Caribbean Riviera" (St. Martin)
"city life" (ex.. New York and Paris) is just one 3-6 hour flight away (we think of SXM as our international airport)
and the price was right, too!
However, my parents had looked at land in many places we have visited, from Hawaii to Nova Scotia. Why were they serious this time?
As my Dad said to me once, "Nori, Anguilla ticks all the checkboxes for our perfect home."
Update 2015: Since writing this journal, my parents decided to add city living to their life after discovering Panama City three years ago. They fell in love with it and will be splitting their time between tranquility wrapped in blue and the buzz of Panama City. I will be staying here, renting a spot that's big enough for their frequent trips back.
Our home is too big for me alone and my parents don't want to maintain two residences. Looking forward to mixing it up, they have always lived their lives in 10 year cycles, so this is just about on schedule for a new life experience. That means that someone is going to get one of the most carefully built villas, our villa...
Anguilla Beaches' Villa $1.38 Million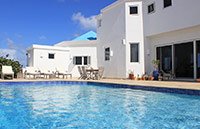 NEW to market, Anguilla Beaches Villa is now for sale and includes...
Anguilla Real Estate Price History
Since 2002, we have witnessed Anguilla real estate prices move through three phases...
under-priced gem (2002-2003)
boom period, starting in 2004 until the over-priced bubble burst in 2008
steadily decreasing prices (2009), levelling off to current low prices of 2012-2015.
We have covered a lot of ground (so to speak) on this site...
Today (2012-2015)? Excellent land is once again available at reasonable prices and building prices have decreased. It is an excellent time to be buying and building.
Our Story of Buying Land and Building in Anguilla
Jackie had found land for my Dad a few times before, some very nice oceanfront. Each time, though, he was too busy for "another project" and Anguilla's Internet was still too slow for his Internet-based business.
Three-and-a-half years after our first, fateful trip to Anguilla, we did ultimately find and buy land (high-speed access became available just before prices really soared, luckily). And we built our home in Anguilla, where we now live.
If you want to buy Anguilla real estate or rent a villa, I can't recommend Jackie highly enough. Use this form to reach her directly. You can also use it to sell your land or villa through Jackie (which is how we came to find the location for our new home!)
I'll let Dad tell the story from here, in the form of his "Caribbean construction journal." It's our detailed story about building and buying in Anguilla.
Building In Anguilla: The Journal
This section of Nori's Web site will grow until our Anguilla home is a reality. I hope you find it useful if you have decided to build on Anguilla. Here we go, step by step, from buying land in Anguilla to turning the key the door of your new home!
1) Anguilla real estate for sale!
2) We buy!
3) Outline Planning Permission, Caribbean Home-Building Books
4) Alien Land Holding Application and Anguilla Attorneys
5) Preparation: From Anguilla Lawyers to Caribbean Architects to A Great Team Of Builders
6) Tropical Building! We break ground.
7) Building In The Caribbean Really Starts: The Big Dig
8) Our First Attempt At Building In The Tropics: AKA "Mike's Home"
9) The real building in Anguilla starts: Batter boards, cistern and the first cement pour!
A Side Trip
Anguilla Native Stone: We've found some beatiful local stone for our patios and terraces... and an exciting, passionate story!
10) An Intoduction To The Anguilla Builders and We Pour The Footings: An introduction to this fine team of men who I am beginning to know. And the perimeter footings are poured. I can see the outline of our future home!
11) Caribbean Construction Makes Steady Progress: The team forms and pours the cistern walls and footings.
12) Building In The Caribbean Continues: We lay foundation block.
13) Our Anguilla Homes Foundation Is Finished and Backfilled.
15) Anguilla Exterminator Sprays For Prevention
16) First floor concrete slab reinforcement
A Side Project
Anguilla Septic System: We switch to a reusable septic system and the team starts building.
18) Anguilla Electrician Wires Us!
19) Pouring the first floor of our Anguilla home
20) West Indies Concrete and pouring the ICF walls
21) Our Anguilla home's second floor slab
22) ... And then the pouring of our home's second floor ICF walls
23) The last big step: Our Anguilla home's three peaked roofs
24) We seal up the rest of the house, adding the hurricane windows and doors
25) Moving outside to the Caribbean pool and pool deck
26) Finishing the exterior and interior walls of our Anguilla home with a special system
27) Now onto building a tropical building's quintessential feature... Pergolas!
28) Caribbean construction, time to tile!
29) We're here... The last step... Our Anguilla pool
30) Our Anguilla home is complete! Mom takes us on a tour of our beautiful, safe and sturdy home, completed by Mike and the team, TurnKey construction.
31) Thoughts after living in our Anguilla home for a year
Present Day: A Final Note from Dad
Update 2015: We have enjoyed, and continue to enjoy, living in Anguilla, more than we ever expected. We could never move back to a cold and over-taxed country (i.e. most of the developed world). However, it is time for Janice and me to blend in some city living.
Three years ago we discovered Panama and fell in love with the country, Panama City and its entrepreneurial, thriving energy. We bought a 2 story, 6000 square foot penthouse with a magnificent view of the bay and ships as they line up to go through the canal.
We plan on spending time in both Anguilla and Panama City - talk about opposite ends of a spectrum! However, the home in Anguilla is too big for Nori alone, who will be staying in Anguilla, and we do not want to maintain two residences.
Therefore, our meticulously built Anguilla villa is for sale!
Please see this website for more information.
---
I hope you find the journal to be useful if you are interested in building your own life, or seasonal villa, on this best of all Caribbean islands. If you do choose to live here, here is some information about living in Anguilla
And, to reach Jackie for information on real estate, send her an e-mail...
SOLD We've built a second villa, a project to keep the crew working for another year during the recession that has hit Anguillians hard. If you are intrested in buying rather than building, this anguilla villa for sale is probably the best value on-island. Contact us directly from that page.