Anguilla Stone: Native Stone For Tiles
And Other Anguilla Home-Building Purposes
Cleophas Gumbs is a fascinating Anguillian who is living his dream, turning native stone into beautiful tiles, counter tops, even steps. With the current home-building boom in Anguilla, he had the right dream at the right time.
I met "Cleo" while sourcing local materials for the home we are building in the tropics. I'd like to build, as much as possible, using Anguillian material.
And that's how I came across this interesting man.
Welcome To Anguilla Native Stone

Cleophas Gumbs & The Saw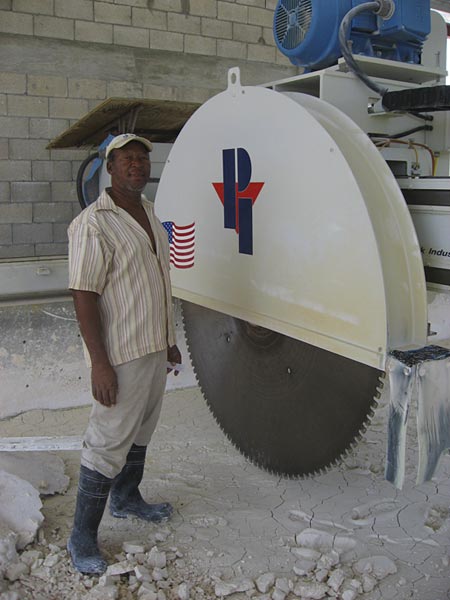 Cleo is not only the brains behind Anguilla Native Stone, but he does a lot of leg work too.
Anguilla Native Stones delivers customers sheets of beautiful, natural Anguilla stone. With a high-powered saw, massive Anguilla stones are sliced down into sensational slates that can be used to adorn your home.
This is the saw Cleo uses...
The Stone Cutting Saw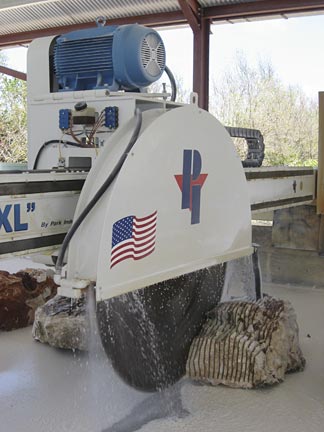 The saw's blade moves at extremely high speeds, while the saw itself moves slowly across the stone to prevent the stone from cracking. At the same time, water sprays slowly down onto the rock to also prevent it from splitting.
And then, the pre-final product...
Sliced Anguilla Stone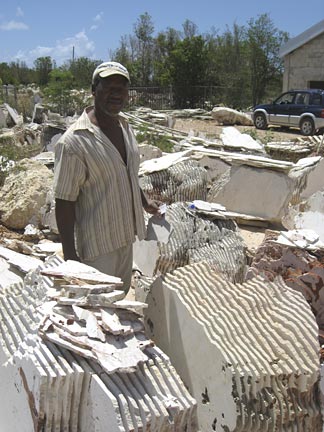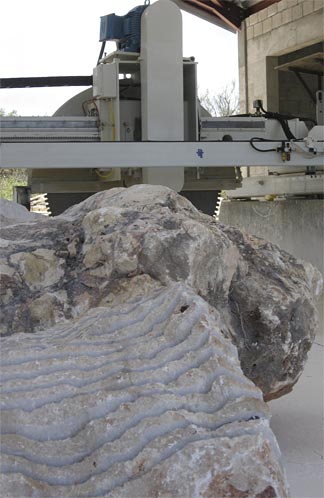 Once the stone has been sliced, Cleo polishes and perfects the slates of stone to your specification, whether you need them to be counter tops, terrace tiles or anything else.
After a tour of the facilities of Anguilla Native Stone, I asked Cleo if Nori could call him for an interview. He graciously accepted. Here is Cleo's story...
Nori: "What did you do before you started Anguilla Native Stone?"
Cleo: "I worked on different projects here and there... I was involved in construction and I was an electrician too."
Nori: "So what made you decide to start Anguilla Native Stone?"
Cleo: "Many years ago my brother was down in the Virgin Islands and discovered a business that produced sheets of sliced stone from solid rocks. He called me and told me that I needed to see this. When I did, I wanted to do the same thing on Anguilla. The only thing stopping me from starting my business was the saw you need to cut the stone. It's an expensive piece of machinery, so I had to wait and save for nine years. It took me nine years to save for the saw that I use to slice Anguilla stone."
Nori: "Wow! A nine year plan... Where do you find your raw materials, your stones?"
Cleo: "They all come from the lands in Anguilla."
Nori "And once you've sliced them people use them as tiles?"
Cleo: "Yes, or in their kitchen as counters or as decorations outside or inside on their walls."
Nori: "Do you polish the stone too?"
Cleo: "Yes, of course."
Nori: "So what are your future plans for Anguilla Native Stone?"
Cleo: "Well, we've been up since the beginning of 2006 and we just want to keep growing our business."
Nori: "Would you ever leave Anguilla to set up another business on a different island?"
Cleo: "No, no I would never leave Anguilla. I want to expand the business to get orders from people on other islands and around the world. When that happens, I'll just ship them worldwide!"
Nori: "Wow, what a fun business! Thank you so much for your time and I look forward to meeting you on our next trip to Anguilla."
What a fascinating story! A nine year plan shows true commitment and passion. Cleo is a nice, warm-hearted man with a special and unique business.
My Dad loves the look and feel of the stones, not to mention the idea of using real, native, Anguilla stone, instead of imported materials. He plans to buy all of his outdoor tiles, second floor terrace tiles, as well as some indoor tiles, from Cleo during the building of our Anguilla home.