How to Really
Cut Your Anguilla Food Bill
Your Anguilla food bill will add up to a surprisingly big part of your vacation spending. We love eating at the luxurious 5 Star restaurants, and we've found some great little cheap restaurants, too.
But here are our best discoveries for putting a big dent in your Anguilla food bill...
Grocery Stores
Load up on groceries and cook your own meals. There are several grocery stores on the island. They all have a good selection, each with its own strength that you'll discover.
You will even find an excellent variety of gluten free products and fine French wines!
Online Grocery Delivery
Order groceries directly to your villa rental? Look no further than Villa Eats.
*One special tip... the big container boat arrives once a week, on Wednesday. So do your Anguilla food shopping Thursday afternoon or Friday morning to get the freshest food.
Obviously, you'll need accommodations with a large fridge and freezer, one more great reason to rent a villa rather than stay in a hotel.
Here are our favorite grocery stores on the island (each has its own strengths, which you'll find out as you shop)...
J.W. Proctor's in 2002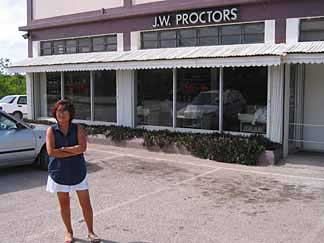 J.W. Proctor's Today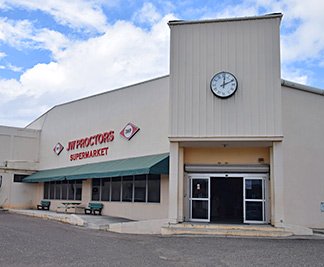 Fresh Fruits & Veggies at Proctor's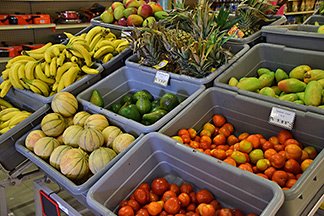 Proctor's is a favorite for fresh and local fruits and vegetables. They also carry excellent Indian food from Good Korma and sushi from Cha Cha San on select days. They are open daily, closed Sundays.
Albert Lake's Then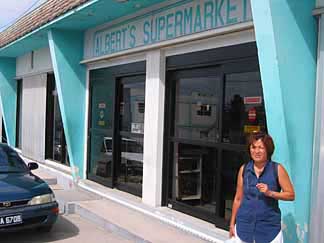 Albert Lake's Now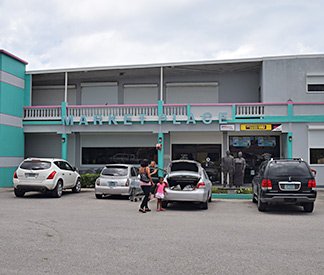 Lake's carries a nice variety of wines and spirits, as well as a good assortment of cleaning products and veggies like spring onions. On Fridays, pay cash and save 10%. Western Union on-site.
Best Buy West End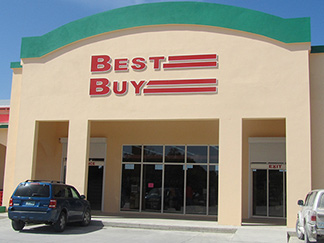 Best Buy has two locations. The original is in East End on Long Path Road. Known and loved for its wide variety and excellent prices, the East End location has the best and freshest meats. Best Buy has also opened a second location in West End. Their West End grocery store offers even more selection (more gluten free options) in a more modern atmosphere. More information on Best Buy West End here.
Ashley's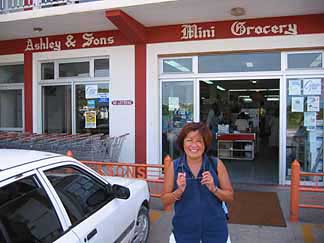 Foods Ninety-Five... Then
(the owner is so friendly!)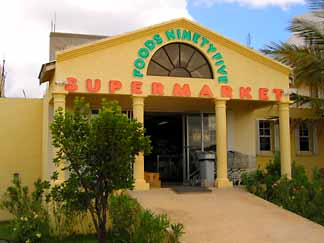 Foods Ninety-Five... Now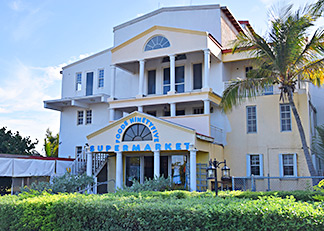 Markets, Fruits & Vegetables
While you're out shopping, these are some top "markets" for meat, fish, and fruits/vegetables...
Merchants Market
A wholesale place that sells retail. Load up at the start of your vacation though, because you have to buy in some volume. They even have the Hebrew National kosher franks, which barbeque so deliciously and New York bagels.
The Fishery
We popped in, and the counters were lined with fresh fish on ice. It's in the George Hill/ Waterswamp area on the main road, not far from the roundabout that leads down to Sandy Ground. TIP: You can also find fresh fish on select days by the airport round about and just near the People's Market.
Fruity Web - Caribbean Fruits and Vegetables
Here you can buy the freshest greens on Anguilla! All of the haut-chefs at private Anguilla villas and resorts shop at no other market...
Gourmet Anguilla Food
Here's an original option to Anguilla restaurants...
Fat Cat
Fat Cat Circa 2002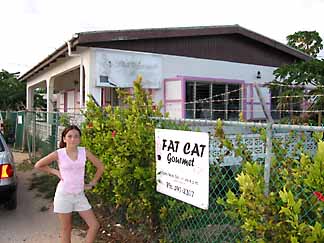 This is a gourmet frozen food shop, about 20 minutes from West End (Barnes Bay / Meads Bay).
They have all sorts of fresh salads and eats like roasted chicken, Jamaican patties and fish balls.
I recommend the shrimp salad and the roasted chicken!
It makes for excellent picnic-at-the-beach food.
Fat Cat Today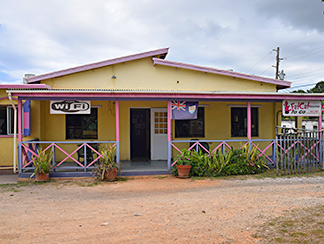 ... along with their tasty desserts like, cake, pie, and cookies.
They also have a selection of frozen, ready-made meals including stewed chicken and goat and rice & peas.
You buy the food you want, then just store it in the freezer for later.
The price is reasonable, although not super-cheap, but it is delicious.
Just thinking about the roast chicken makes me hungry! And my dad swears by the carrot cake. More on Fat Cat.
Fine Wines and Spirits
The perfect accompaniment to Fat Cat's gourmet treats? Fine wines and spirits! With the widest selection of French and international wines and liquors, Grands Vins de France is the island's leading wine shop.
Teas
Carrying everything from classic black teas, to oolong's, to green teas, iced teas and house blends (like local bush tea and lavender tea), Tea Box Lounge boasts Anguilla's widest selection of teas, served up in a soothing zen-like setting (and complete with sweet tea treats!).
Bakeries
Le Bon Pain Anguilla Bakery
One of the best French bakeries in Anguilla, serving the best pain au chocolat, croissant and buttered baguette.
Geraud's Patisserie
Home to the best sandwiches in Anguilla! Geraud's is not just famous for its gourmet sandwiches, though, but also for their pastries and tasty lunch specials and breakfasts (Eggs Benedict anyone?). Yum! 2018 update: Geraud's tasty creations are now available via online ordering directly to your villa or hotel room. (Patisserie storefront is closed.) More on Geraud's outstanding service here.
Village Bakehouse
A gem of a spot specializing in fine breads (viennoise, ciabatta, 12 grain, baguettes) and pastries, all served in Anguilla's historic Koal Keel building.
Mary's Bakery
Locally-loved, come to Mary's Bakery for baked treats, fresh sandwiches, rotis and some of the softest bread on the island.
Hall's Unique Bakery
Locally-loved for its Johnny cakes, Saltfish Saturday Breakfast and famous coconut tarts, Hall's Unique Bakery is a top choice for Anguillian favorites.
More!
Villa Eats
Groceries delivered directly to your villa rental, for pre-stocking before you arrival on-island or re-stocking while you're here!
The Gift Box
A tasty way to say "thank you," "I love you," and just about everything else! The Gift Box is a go-to for quality gift baskets.
All in all, you can eat quite cheaply by doing what the Anguillians do... buy Anguilla food at groceries, markets, bakeries, and so forth. Then bring it home to cook. And, on that note...
Anguilla Recipes
Saltfish Recipe Salted and dried, saltfish is a dish commonly found in Anguilla restaurants, served in a number of ways. Tasty and easy to prepare, here's how to do it!
---
ARCHIVES:

Gone But Not Forgotten

Cake Divas
Not a bakery per se, Cake Divas' beautiful creations are worth a mention! They are the artists to call on for cakes, cupcakes and special treats of all kind for special events.

Frankie's Fabulous Anguilla Tomatoes
Hungry for fresh organically grown fruits and vegetables? Frankie's are not only fresh and grown without GMOs or hormones, they are delicious, ripe with passion!

Island Bowls AXA
Chilled all-natural fruit bowls are delivered right to your doorstep. An excellent and affordable way to eat healthy!

Sensational Flavours
A product of passion, Sensational Flavours is not to be missed if you are seeking organic produce. Every Saturday their farm and market is open to the public. Enjoy juices, baked goods and other treats (soups, Johnny cakes, fried fish, etc.) while you shop for organic produce.

Sugar & Spice Bakery and Bistro
Conveniently located on the highway that runs parallel to the airport runway, this bakery and bistro serves up sweet and savory treats and fresh fruit juices and smoothies.

Veya Café
Veya is one of Anguilla's top five-star restaurants. Many claim that it is by far the best for taste and ambiance, loaded with gourmet treats!

Anguilla's bakeries, from Gee Wee's to Koal Keel.