The Best of Anguilla Sandwiches?

Update 2018: Geraud's tasty sandwiches, pastries and fine French dishes are now only a click away with his NEW catering service. More on Geraud's catering here.

NOTE: The bakery and shop mentioned below is closed.
Geraud's At A Glance
One of the best French cafes on the island with a large variety of baked goods and tasty lunch and breakfast options.
More on Geraud's, below...
Anguilla is home to many bakeries, cafés and sandwich shops.
They all have their specialties.
Fat Cat for potato salad and pasta salad.
Village Bakehouse for sugar donuts and ciabatta.
Le Bon Pain for croissants and baguettes.
And sandwiches?
One of the best of Anguilla sandwiches, island wide, are found...
Chez Geraud's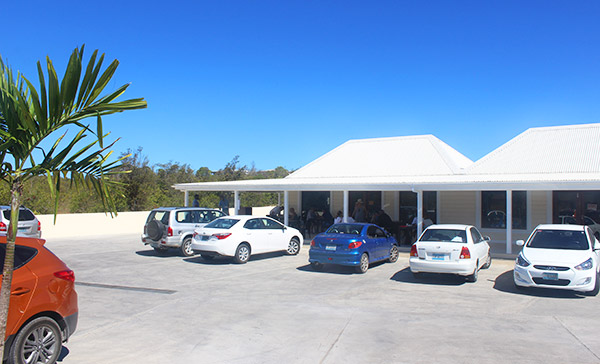 Geraud's is on Anguilla's main road between CuisinArt Anguilla Resort & Spa and Cha Cha San.
Keep your eyes open, it's in the same complex as Grands Vins de France.
Meet Geraud
Geraud was born in France and started a career in pastry early. He has traveled around the world, working for five-star restaurants and hotels. He teaches the art he has mastered, too. In 2004 Geraud came to Anguilla, working as the Executive Pastry Chef at Koal Keel.
With Geraud in 2004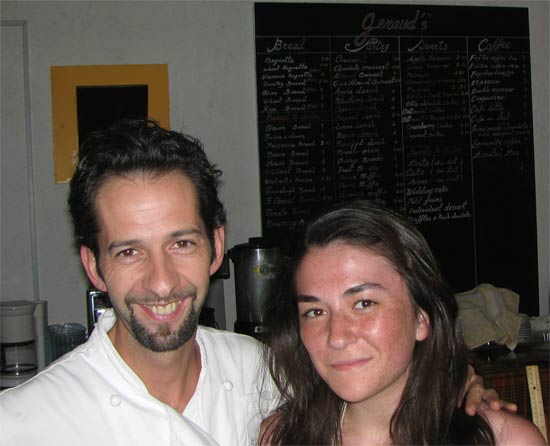 Now, he has a thriving business of his own.
Geraud's Plethora of French Treats
For breakfast Geraud serves a variety of pastries: chocolate croissants, almond croissants, turnovers, danishes, bagels, and so on. There are daily breakfast specials, too! From a full English breakfast to a croissant and a café au lait... Breakfast at Geraud's cannot be missed.
Geraud also serves a delightful lunch. His menu is full of fresh salads, soups, and specials that vary from lasagna to Asian chicken salad. Over time I have learnt that everything at Geraud's is up to the standards of the rich and famous he has catered to in the past.
More on Geraud's breakfast & lunch options here.
From the lavish desserts, to the flaky croissants, to the ever changing daily specials, my never changing, permanent favorite?
Geraud's Sandwiches!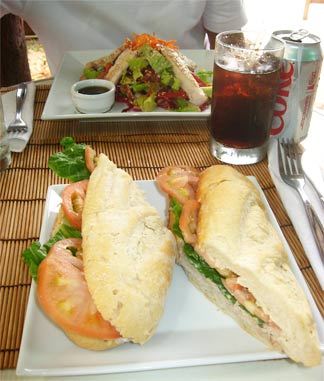 The sandwiches are served on baguette.
Unlike most baguette, Geraud's is softer and wider. Ideal sandwich bread!
They are not hard to eat, like many French bread sandwiches I have devored (with slight difficulty!) in the past.
The tomato and lettuce are fresh.
Your choice of ham, turkey or tuna. And, you cannot forget the cheese and mayonnaise!
Bring it home, or have a pleasant afternoon meal chez Geraud's, in his roomy, comfortable evironment.
Geraud makes some of the best of Anguilla sandwiches!
Geraud's Steak Sandwich, My Friend Kirmani's Favorite

Now that I have tried it, I never veer from my tuna sandwich. I won't even sample another kind of sandwich. Sooner or later I am going to have to start trying Geraud's other tasty treats again.
What can I say? I'm smitten for his tuna sandwiches!
Do you have a favorite sandwich shop on Anguilla? Click here to tell me all about your favorite sandwich shop on Anguilla!
Directions, Hours & Contact
Directions: If you are heading west from the Valley, Geraud's is located in a small, chic complex on the right-hand side of the road, a few minutes before you reach the CuisinArt Golf Resort & Spa entrance.
Geraud's
Good for tasty breakfast and lunch options and baked goods.
Hours: Tuesday to Friday 5:30 am to 1pm. Saturday 5:30am to 12:00pm and Sunday 8:00am to 12:00pm. Closed on Monday.
Tel.: 264-497-5559