CuisinArt Golf Resort & Spa...
Anguilla's Leading Luxury Resort
Update 2021: CuisinArt will be re-opening as Aurora Anguilla Resort & Golf Club Nov. 2021. Stay tuned for updates!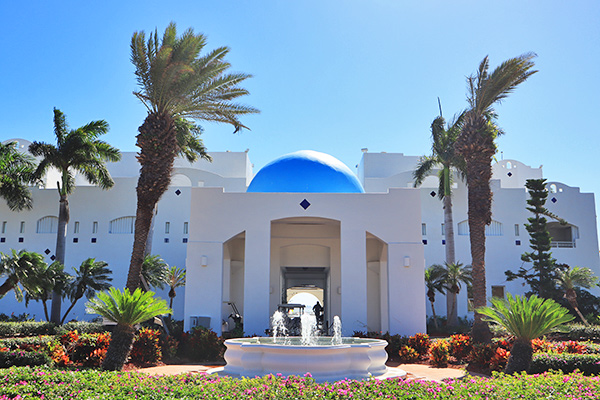 Amidst swaying royal palms and blossoming bougainvillea, CuisinArt Golf Resort & Spa surpasses the term Anguilla luxury resorts.
The five-star beachfront property has long been considered a "Caribbean best."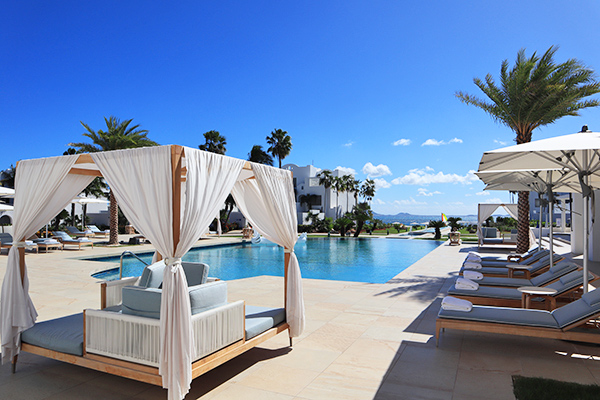 Its iconic blue domes and white buildings line the powdery-fine sands of Rendezvous Bay like a Mediterranean dream...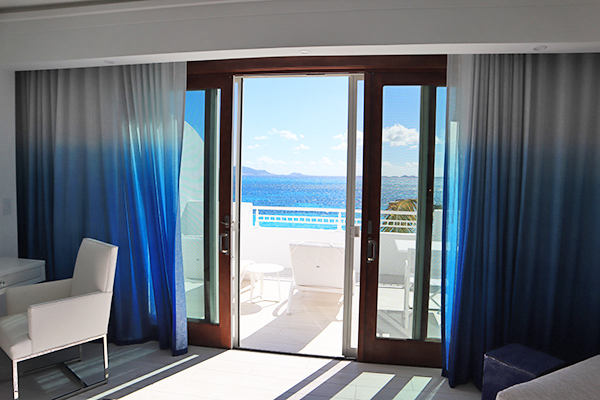 Its pool gazes out to the mountains of St. Martin while sparkling in a million shades of blue...
Its suites provide the most jaw-dropping vistas to the Caribbean Sea...
World-class cuisine, Greg Norman golf course and award-winning spa round out the CuisinArt experience.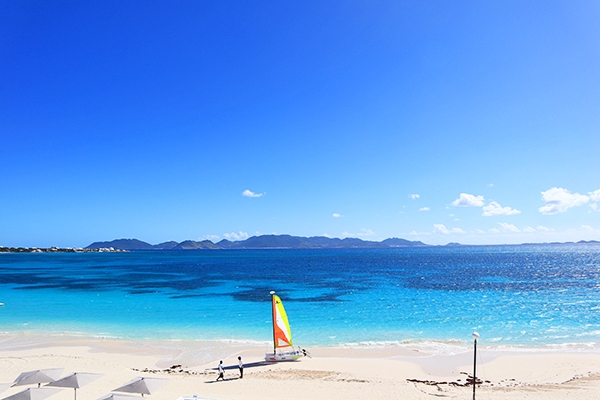 The exclamation point? Fourteen months of large-scale renovations (2017-2018) have secured CuisinArt as one of the top hotels region-wide.
Let's take a look inside this leading Anguilla luxury resort.

More on CuisinArt Golf Resort & Spa, below...
Visit CuisinArt Golf Resort & Spa's Website...
Welcome to CuisinArt Golf Resort & Spa
CuisinArt Golf Resort & Spa has long been our family's favorite luxury Anguilla hotel. It all began back in 2006, when my Dad fell in love with CuisinArt's sumptuous suites. Falling asleep to the sound of the sea, waking up to the views of Caribbean blue... CuisinArt stole all of our hearts.
The CuisinArt love affair has continued since. Our love for CuisinArt, the property and its family of staff burns ever stronger today. Fourteen months of vast renovations were carried out by the whole local CuisinArt team. The essence of family is built into the resort's foundation. CuisinArt is where the heart is.
Before we get started, see the video above for a full look inside.
Keep reading for more on CuisinArt Golf Resort & Spa...
Step Inside CuisinArt Golf Resort & Spa
As you approach CuisinArt Golf Resort & Spa's familiar blue domes, a sense of calm washes over you.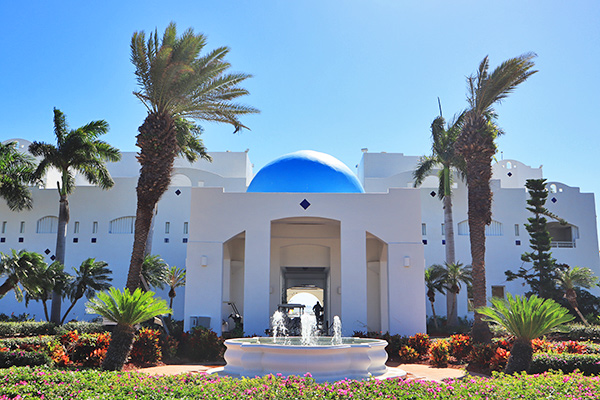 Arriving at CuisinArt is like coming home. It is a credit to the CuisinArt family. Each person has been integral in the resort's transformation. With pure enthusiasm to assist and share the beauty of the re-imagined resort, at CuisinArt you are in loving hands.
Welcome to CuisinArt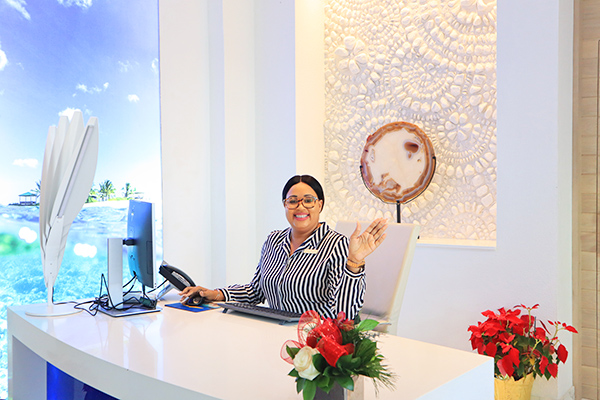 The lobby itself has been completely re-designed. Its striking corridor runs through the lobby, all the way to the sea. That walkway has long been one of the most iconic points of view in Anguilla.
The rest of the space has been entirely overhauled. The first element that catches your eye after the window to the sea?...
Sparkling Chandelier

A breathtaking chandelier, dancing in blue and white greets you as you step inside. A discreet check-in area sits to your right with a plush sitting area to your left.
Check-In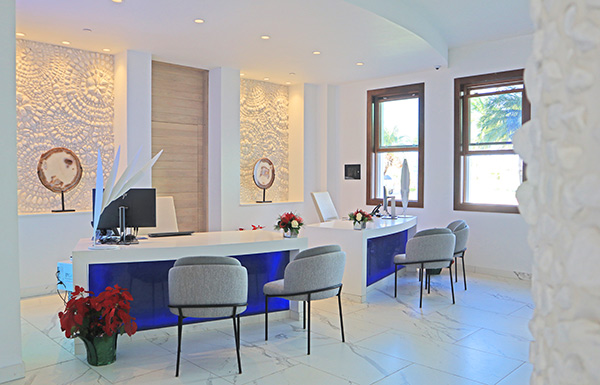 Modern Lobby Seating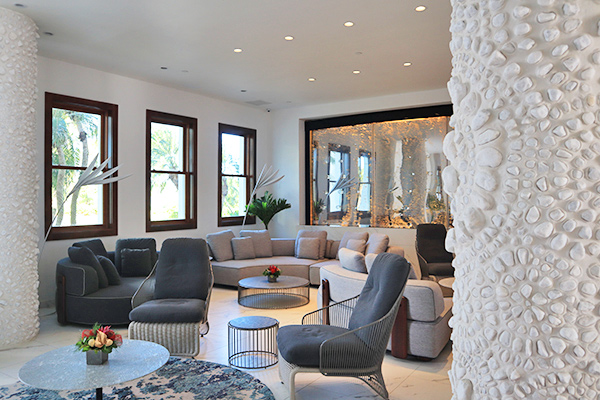 Fresh, crisp white walls are offset by textured backdrops and pillars. It is all accented by sharp imagery of Anguilla's serene waters and a wall of mesmerizing dancing bubbles.
Concierge Desk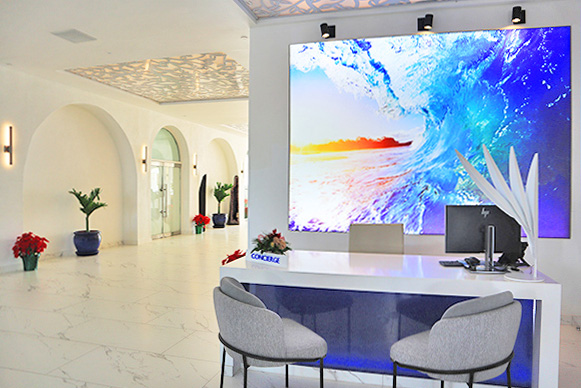 The media room is tucked just off of the lobby. Modern in feel, it is one of the resort's most comfortable gathering points.
The Media Room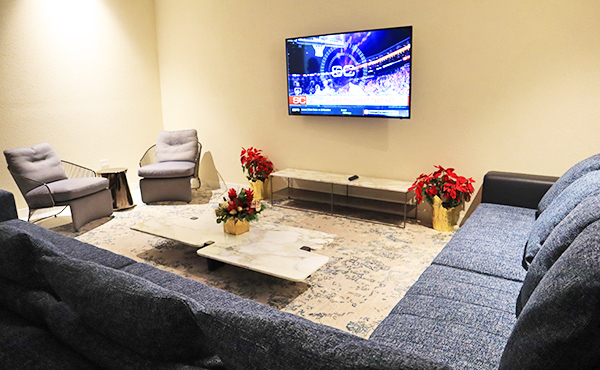 With central air conditioning, an oversized flatscreen TV, iMacs with printer...
iMacs and Printer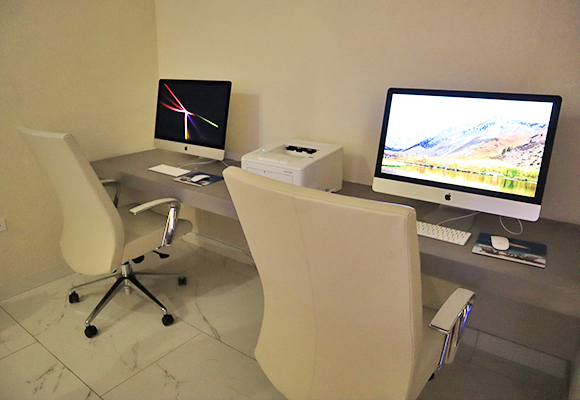 ... once you settle in, be warned. A room so plush, you may never want to leave.
The Boutique & Grand Ballroom
Back through the lobby, CuisinArt's chic boutique is to your right.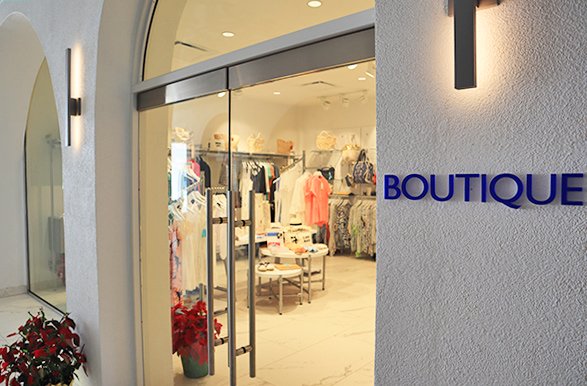 The boutique is ripe with trendy beach bags, beach wear, shoes and accessories all fit for an Anguilla vacation. Don't be shy to ask for assistance. The shop keepers are friendly and always happy to make a suggestion or find your size.
Inside The Boutique

Across from the boutique is the resort's conference room. CuisinArt is fully outfitted for functions and large groups.
The conference room is conveniently located next to the resort's grand ballroom. The vast space dazzles the eye...
Dazzling Ballroom Lighting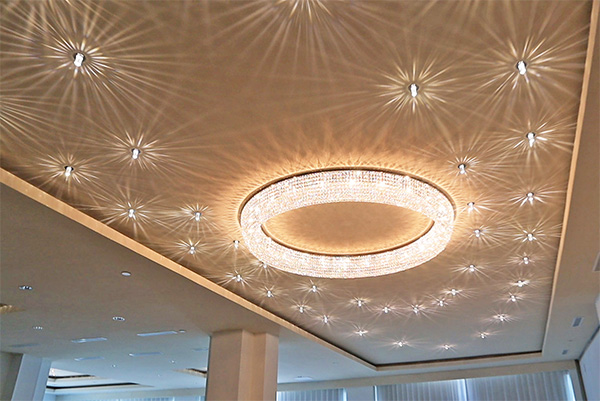 The grand ballroom takes the place of Le Bistro at Santorini. (Santorini has moved to the Golf Club.) Like Santorini, it opens onto the resort's oversized terrace and largest pool in Anguilla.
The Pool & Kids' Splash Pad
Spanning the width of the main house, CuisinArt's terrace is expansive. It is dotted with luxurious loungers, oh-so-comfortable and cute swinging egg chairs and private cabanas complete with billowing curtains. It is the ultimate spot for a mid-day snooze before diving into CuisinArt-blue.
The Pool Terrace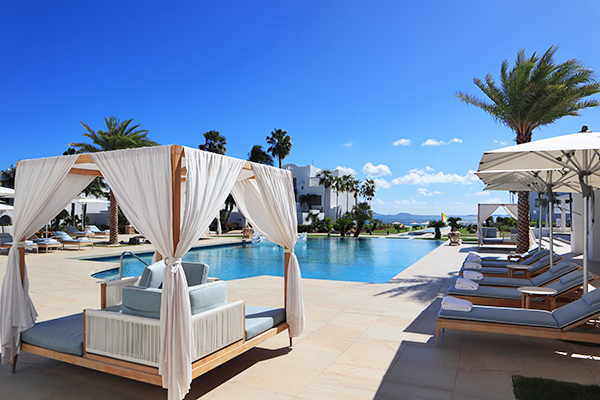 Sparkling in a million shades of blue, the pool gazes out to the Caribbean Sea and St. Martin in the distance.
Pool Views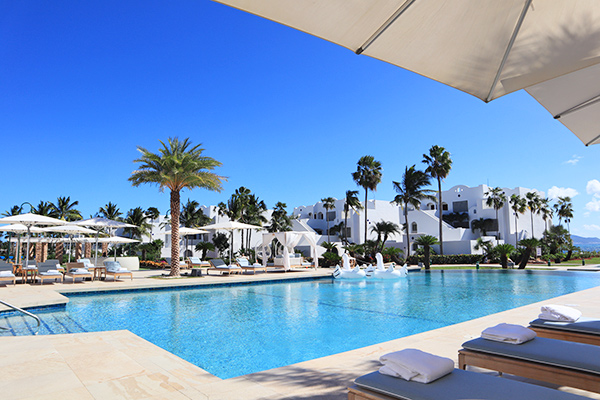 The main pool tiers into a second, shallower pool below. It wraps the main pool, complete with built-in bench seating. Steps lead out and to the hot tub, perfect for those who seek extra-heat. ;-)
The Second Pool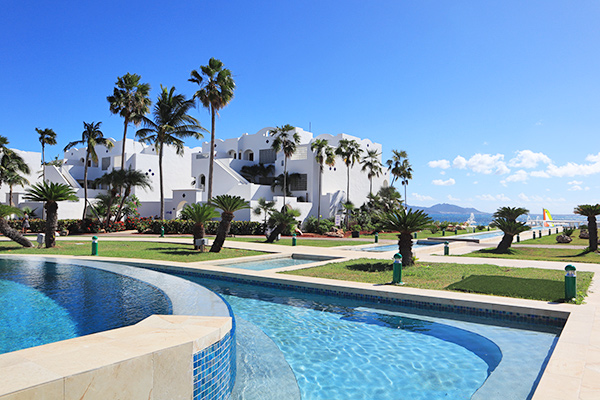 Food and beverages are all available pool-side.
Tucked away from the pool is an area every kid can't get enough of...
The Play Ground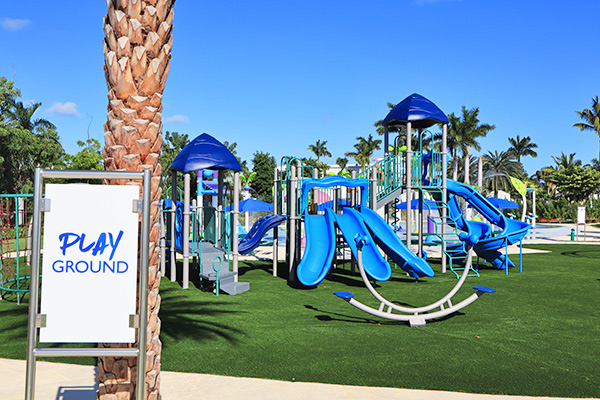 And...
The Splash Pad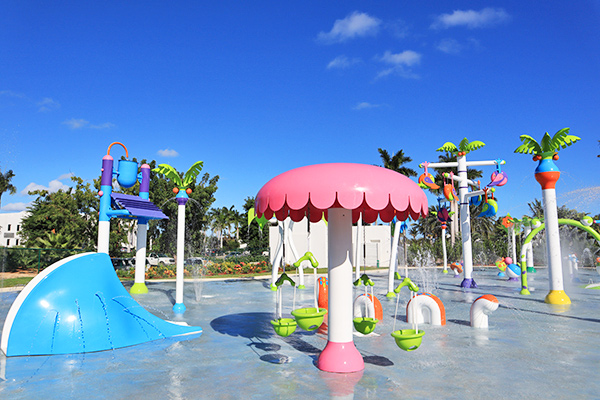 Swings, slides and teeter totters are just the beginning. The Splash Pad takes the experience notches higher with a slide, a water mister and so much more. See the video above for a complete look at The Splash Pad. It's buckets of fun!
Five-Star Dining
Getting hungry? CuisinArt Golf Resort & Spa boasts the finest resort dining in Anguilla. From Chef Daniel Orr, to Chef Jasper Schneider, the property has always put heavy emphasis on their cuisine. Today, Chef Alan Larch heads up CuisinArt's fantastic and varied dining experiences, including...
The Moroccan-styled Kaz Bar sets a whimsical mood, dressed in purples and blues.
Kaz Bar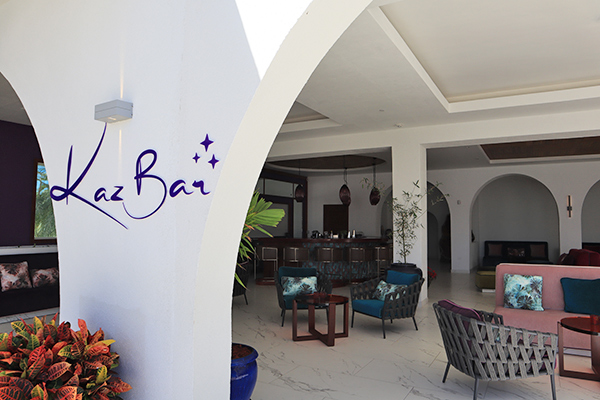 Whet your appetite with a cocktail at Kaz Bar before popping over to Mosaic.
Mosaic Restaurant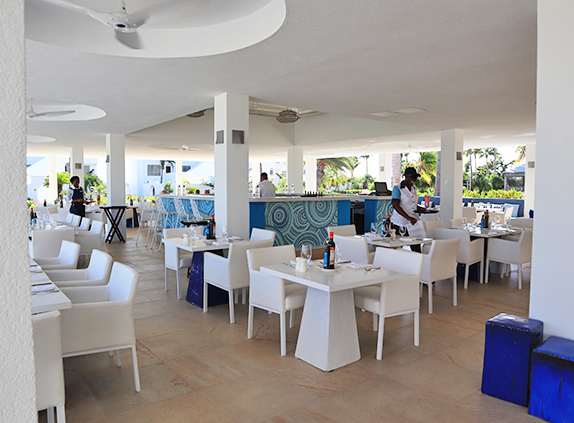 Open for breakfast, lunch and dinner, Mosaic's menu boasts a wide variety with plenty of flair. Think: Lobster Mac 'n Cheese and one of the best steaks in Anguilla, a 10oz. Dry Aged Angus Strip served with a cauliflower puree.
More on Mosaic Restaurant here.
For beach eats, head to The Beach Bar & Grill. The famous circular bar on the beach serves up some of the most refreshing (yet potent!) frozen cocktails!
The Beach Bar & Grill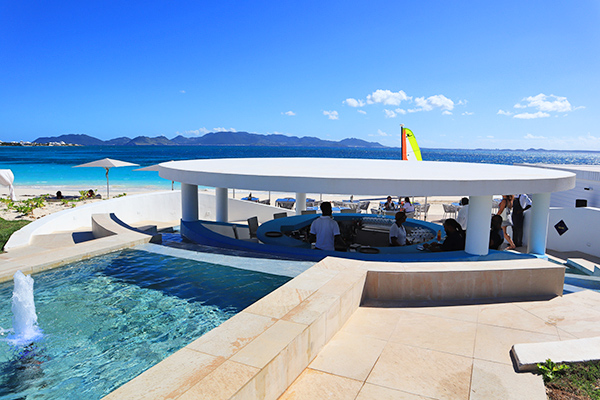 Out on the expanded deck, classic beach eats and Caribbean specialties are the flavor of the day. Perhaps the Flying Fish Cutter, a favorite Bajan sandwich? Or a chicken roti, a Trinidad classic? The menu also features Mediterranean-inspired dishes. The chorizo and shrimp kebab is a "must-do" while looking out to RendezBLUE.
With cabanas and couches dotting the expansive deck, it is the spot for an indulgent beach day.
More on CuisinArt's Beach Bar & Grill here.
Cabana View of Caribbean Blue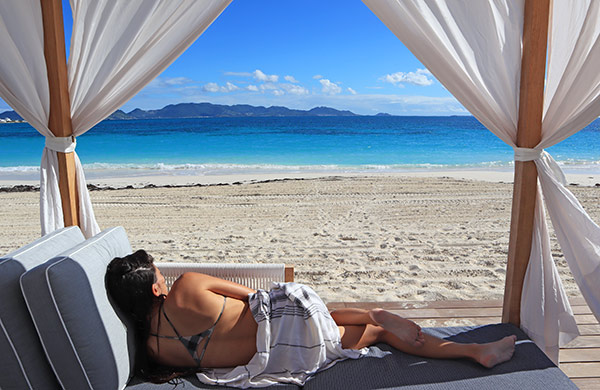 For dinner? The entire property, CuisinArt Golf Resort & Spa and its sister property, The Reef, boast an additional three dining experiences. These include, The Yacht Club (for seafood), Tokyo Bay (for Japanese cuisine) and Santorini (for exquisite Mediterranean dishes). Stay tuned for our NEW reviews on Tokyo Bay and Santorini coming soon.
Sumptuous Suites & Beachfront Rooms
When it is time to rest your head, CuisinArt's sumptuous suites answer.
True Beachfront Suites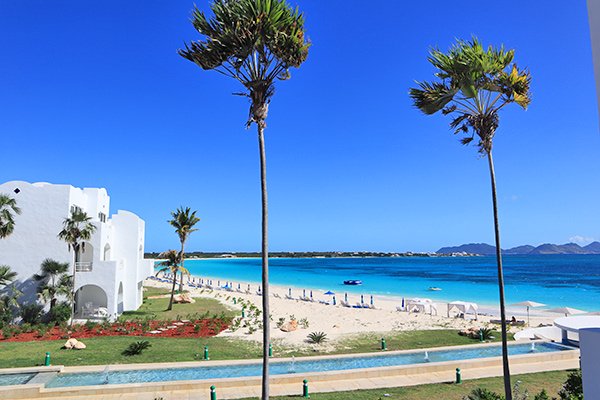 CuisinArt offers a number of suites...
Villa Suites
Seaview Penthouse Suites & Junior Suites
Beachfront Suites & Junior Suites
Villa Suites boast extraordinary space and extra privacy. The Seaview Suites have exceptional views. And the Beachfront Suites? Those are our personal favorites.
The beachfront buildings sit right on the sweep of Rendezvous Bay. Here, the sights and sounds of the Caribbean Sea surround you.
There are four types of beachfront suites...
Beachfront Junior Suite
Deluxe Beachfront Junior Suite
Beachfront One Bedroom Suite
Beachfront Two Bedroom Suite
One Bedroom Beachfront Suite Living Room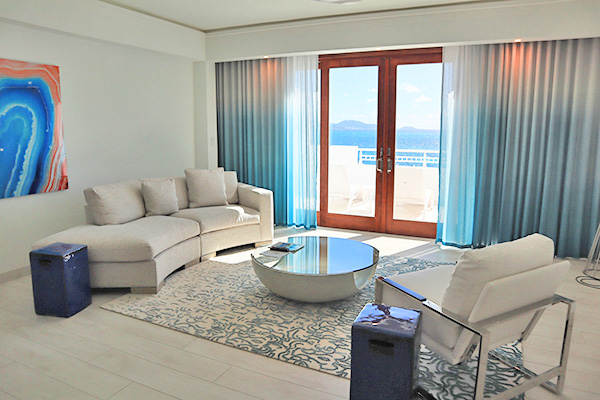 Junior suites are located on the first and second floors of the beachfront buildings. The deluxe junior suites are set on the third floor, along with the one bedroom suites. The deluxe junior suites and one bedroom suites can be adjoined to make a two bedroom suite.
Running from 920 square feet to 2800 square feet, the suites are spacious.
Deluxe Junior Suite's Endless View of Blue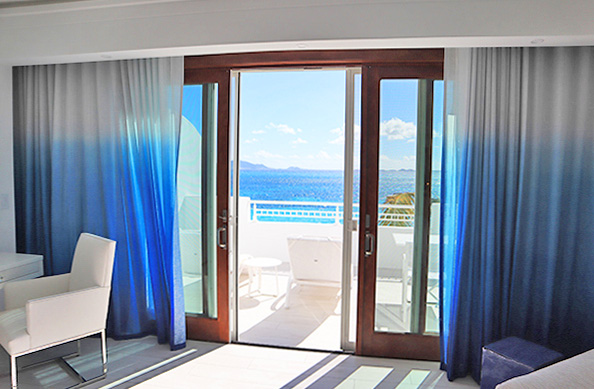 They are the brightest hotel room suites in Anguilla with the most breathtaking views. The rooms catch the sun, filling them with natural light and endless views of Caribbean blue. All the while, central air conditioning keeps you cool. (I recommend, though, leaving the doors open to hear the soothing sounds of the sea.)
CuisinArt's design enhances that celestial feel. Surrounded by white walls, and with billowing ombre blue curtains, each suite is a slice of heaven.
The free-standing king beds, your cloud...
"Your Cloud" in The One Bedroom Master Suite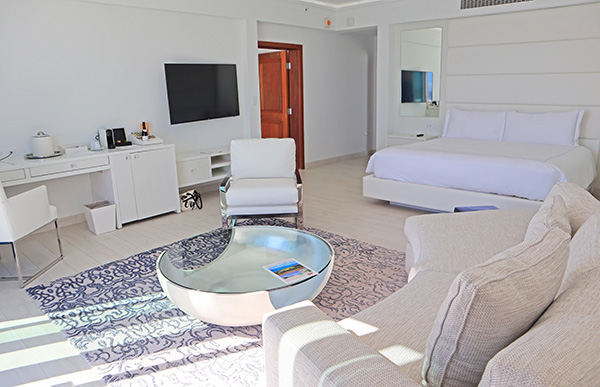 Your Heavenly View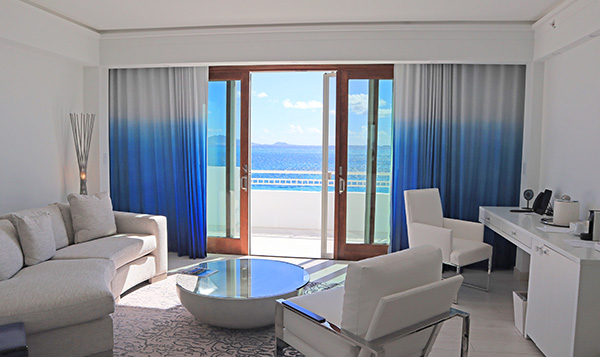 Suites are complete with large walk-in closet, outdoor lounge chairs and tables, WIFI, flatscreen TV and Nespresso machine, as well as the most luxurious bathrooms. Oversized, the master suites feature deep sink tub, walk-in shower, outdoor shower and solarium.
Master Ensuite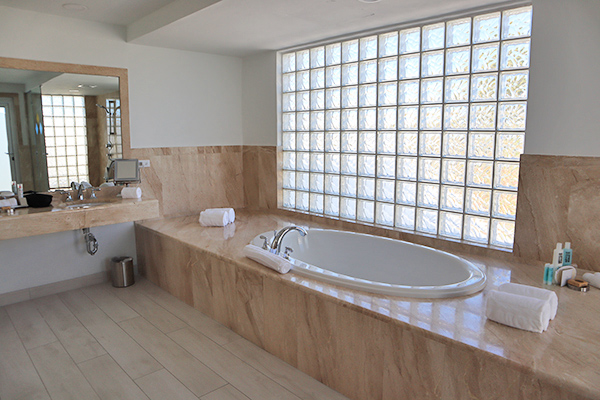 Simply, heavenly.
The Best Beach in the Caribbean: Rendezvous Bay
Back outside, it is all easy access to Rendezvous Bay.
Rendezvous Bay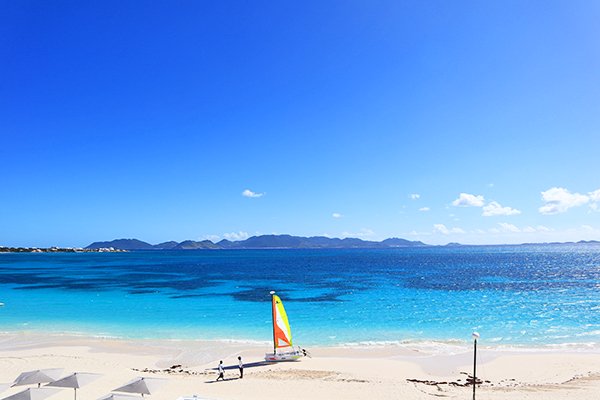 Rendezvous Bay has been voted the Caribbean's #1 beach time and time again. A half mile stretch of powdery-fine white sand gives way to the turquoise Caribbean Sea. This beach's point of view is most unique, gazing out to the majestic mountains of St. Martin.
CuisinArt takes full advantage of this location. Laze the day away on your lounge chair (cocktails are served to your beach chair and water is complimentary) or on CuisinArt's floating sun deck. To kick things up a notch? Water trampolines, sailing and snorkeling are all available.
If it is entertainment you seek, CuisinArt is in good company. Two of Anguilla's most popular beach bars are just a short beach stroll away, The Sunshine Shack and Bankie Banx's Dune Preserve.
Floating on Blue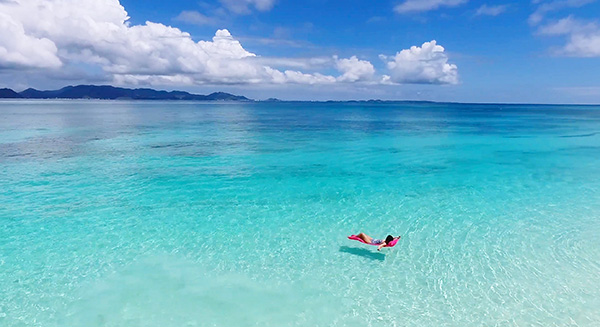 How can it get better than that? CuisinArt answers in two more ways...
World-Class Golf
First, CuisinArt is home to the island's only golf course. A Greg Norman design, it is often referred to as one of the Caribbean's top golf courses. A course with challenging holes (see video below), it hosts the Anguilla Open annually which attracts hundreds from around the region and the United States.
Best of all? As a CuisinArt guest, rounds of golf are only $100 and include use of clubs!
Award-Winning Spa & Fitness Center
Second, The Spa by CuisinArt. Named the "Most Excellent Spa Hotel" by Condé Nast Johansens', CuisinArt's spa is one of a kind.
It is the island's largest spa with the most specialized and thorough treatments. The equipment is some of the most impressive, with facilities for hydrotherapy, Cranio Sacral therapy and anti-aging treatments. Spa Director Catherine Phillips embraces all-natural experiences. Think: LED gel manicures and LED facials.
See below for the full Spa experience.
Beyond The Spa, CuisinArt features a full fitness center with the latest technology. Yoga and water fitness classes, including water kickboxing are all available.
---
Yes, this is luxury Anguilla resort living at its highest value. And, it doesn't end there. All stays at CuisinArt also include...
Full daily breakfast at Mosaic (or served in your suite)
Free high speed WiFi
Access to tennis courts
Access to fitness center
Access to non-motor watersports
The family at CuisinArt Golf Resort & Spa exceeds expectations at every turn.
Location & How To Book
To book CuisinArt Golf Resort & Spa...
CuisinArt Golf Resort & Spa is set directly on Rendezvous Bay, one of the best beaches in the Caribbean. See exact location below.
CuisinArt Golf Resort & Spa