Tokyo Bay at Aurora Anguilla
When it comes to Japanese cuisine, Louise and I are fervent fans.
Super soft pieces of nigiri, innovative rolls, Japanese appetizers like gyoza and tempura, these dishes rank as some of our all time favorites.
Welcome to Tokyo Bay

Press "play" above for a taste of Executive Chef Joe Richardson's flavorful menu!
As you can imagine, we breathed a deep sigh of relief when we heard that Tokyo Bay was re-opening under Aurora Anguilla.
Then? We breathed an even deeper sigh of relief when heard that a familiar face would be leading the team...
Welcome Back, Chef Joe Richardson
Executive Chef Joe Richardson brought Tokyo Bay to record highs when he ran the restaurant under CuisinArt Golf Resort & Spa back in the day.
When Aurora took over and planned to re-open the iconic restaurant in 2022, there was no better man for the job.
It is with a heart full of love and belly full of hunger that we say a resounding...
Welcome Back to Executive Chef Joe Richardson

A graduate of the Le Cordon Bleu College of Culinary Arts in Portland Oregon, Chef Joe is passionate about Japanese cuisine. Having presided over kitchens at top and renowned international sushi restaurants, including Sushi Samba, Zuma and BARMasa, his experience speaks for itself.
Let's settle in...
The Setting
As you might expect from a modern Japanese restaurant, Tokyo Bay is a step into a world super sleek.
Bar Dining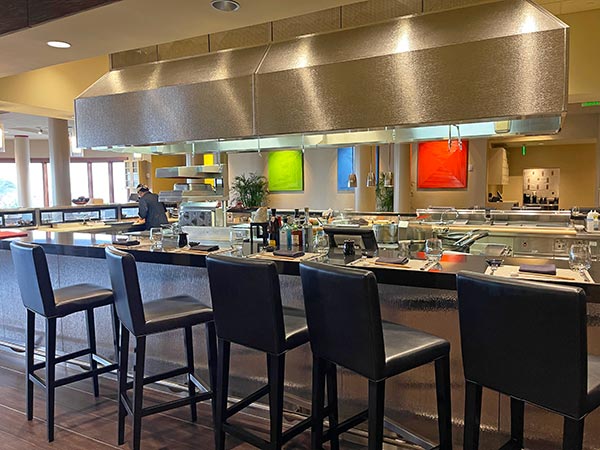 Located on the top floor of Aurora's spa, the restaurant overlooks the resort's grounds. Air-conditioned, ultra-modern, with the sushi bar greeting you as you step out of the elevator it is the place to be on Friday and Saturday nights.
Dining Room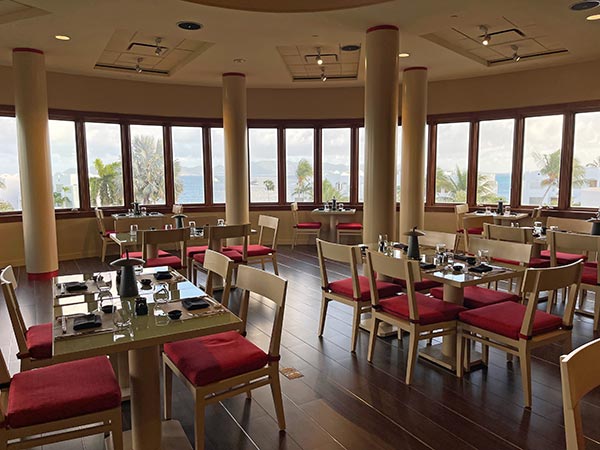 The curved windows gaze out to Aurora's property and St. Martin in the distance.
While the view is all Caribbean, the fine-line, contemporary style fits right in with high-end sushi bars in the likes of New York City, Los Angeles and London.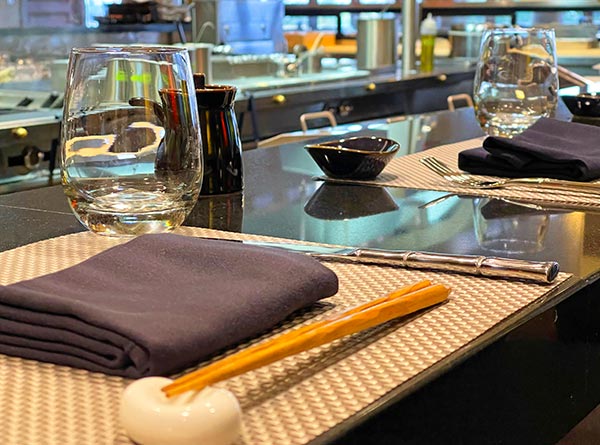 The Menu
Tokyo Bay's menu is rich with choice.
Short rib gyoza on a bed of dashi purée, fresh spiny lobster roll with Shiso garlic butter, pork belly ramen in a homemade broth. These are just three outstanding dishes on the menu.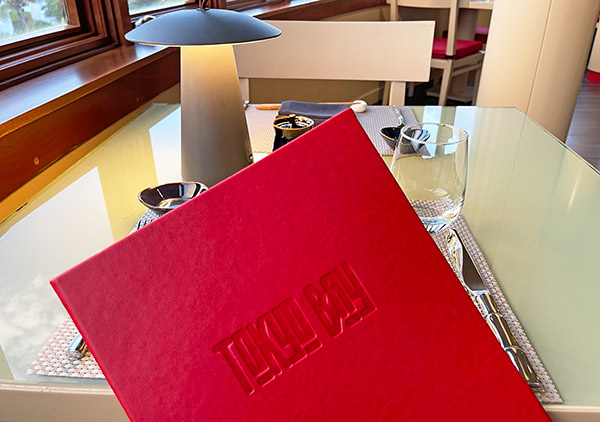 My advice? Follow the good word of Chef Joe. "Our menu is meant for sharing," he explains. The one rule when it comes to dining is to always follow Chef's orders.
Bold Beginnings
To best begin your meal at Tokyo Bay, start with...
Garlic Spicy Edamame

This steaming dish will catch you off guard. It makes a bold statement, "Prepare for a meal packed with flavor."
Tossed with Japanese pepper, garlic soy sauce and Shiso butter, these edamame are decadent. So buttery and rich, it is hard to get enough of this dish. Don't be surprised if you find yourself sucking on the edamame shells long after the bean is gone.
Sake Selection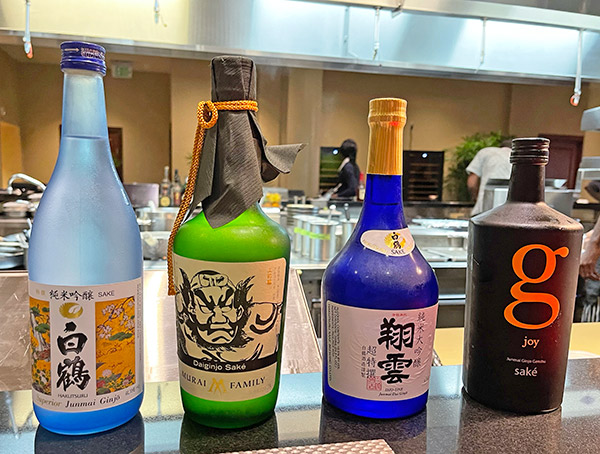 For most relaxing results, pair the edamame with a cool cocktail or carafe of sake while you look over the menu.
We recommend the Shiso Mojito. The sweetness of the Shiso enhances the fresh flavors key to a mojito. Unique and delicious!
If it is sake you prefer, Tokyo Bay has a varied selection of bottles, along with reasonably priced carafes of house sake.
Sumptuous Starts at Tokyo Bay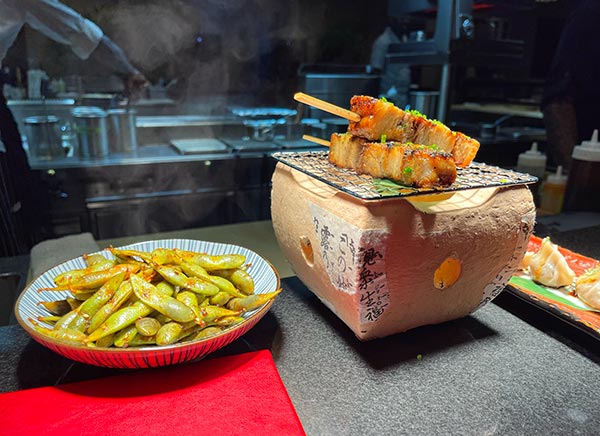 The edamame is located on the "From The Garden" section of the menu. In addition to the edamame, the menu features a number of salads, including Goma spinach salad, seaweed salad and tofu cucumber salad.
Robata Grill
After whetting your appetite with buttery smooth edamame, go for an order of gyoza.
Short Rib Gyoza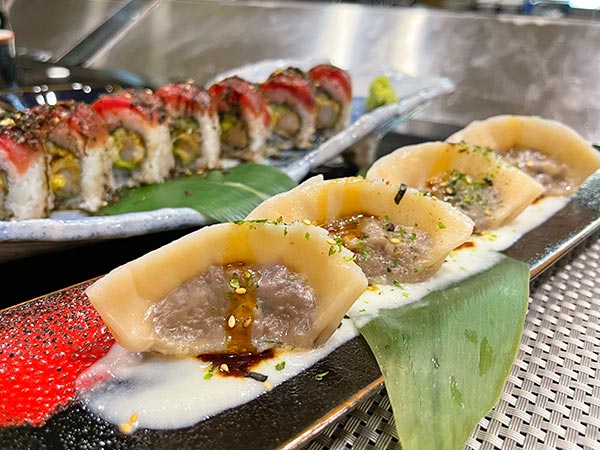 Homemade and hand-folded, these dumplings are prepared with love. Soft and steamed on top, and lightly fried on the bottom, they are stuffed with braised short rib and served on a bed of dashi onion purée laced with sweet soy demi.
Short Rib Gyoza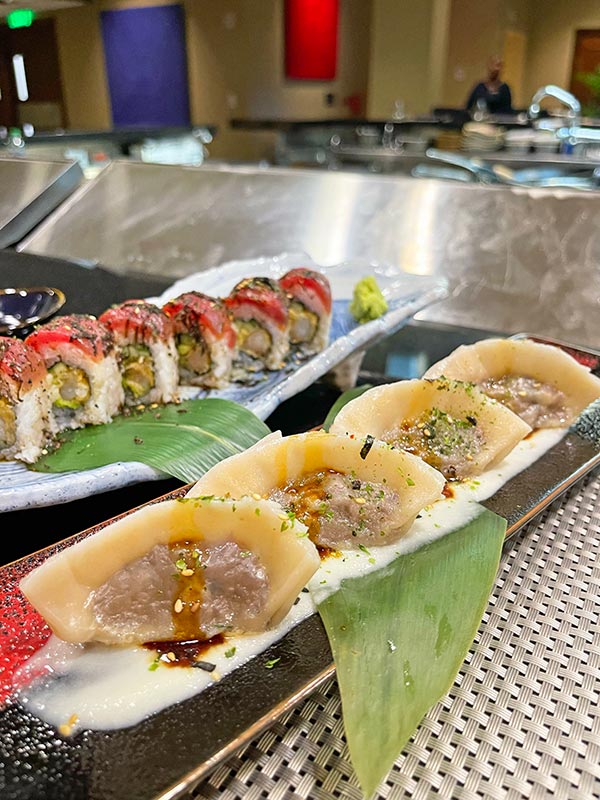 The flavors are a complex and luscious mix of rich short rib, light dashi and savory sweet soy. If it wasn't for the rest of the menu, I could eat these all evening.
Also from the grill are dishes of local lobster, king salmon, sweet corn, beef tenderloin and a number of skewers including...
Pork Belly Skewers

These may be one of the most popular items on the menu. Succulent chunks of pork belly are grilled over Japanese coal and glazed with caramel miso.
Tempura
Another must at any Japanese restaurant...
Shrimp Tempura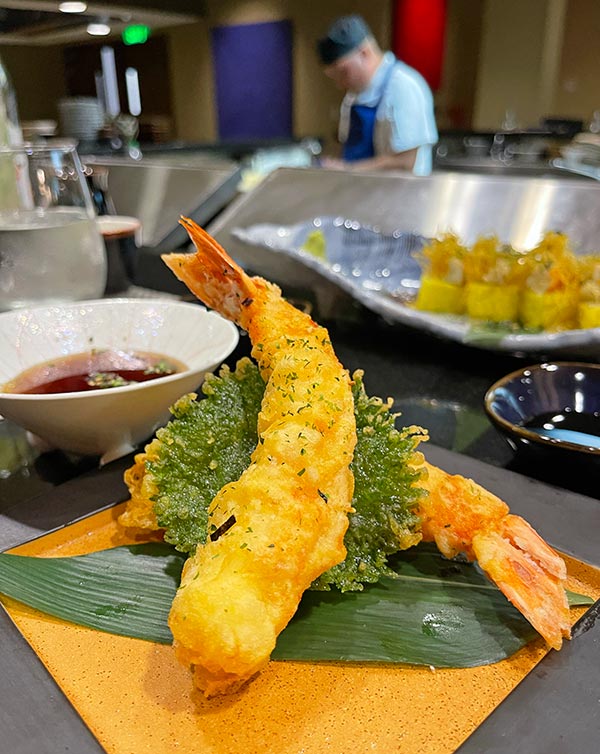 So hefty you almost have to hold them with two hands, there is nothing "shrimpy" about these prawns!
They are battered and fried golden-brown, topped with Yuzu salt and served with a light tempura sauce, along with a deep fried Shiso leaf.
Before we move onto sushi and sashimi, we have to mention...
Ramen & Rice
I am normally ramen averse. Despite growing up as the daughter of a Japanese mother, I never could wrap my tastebuds around a bowl of ramen.
After a visit to Tokyo Bay, however, that all changed. Yes, Chef Joe has made me a believer. The broth can make or break ramen. Chef Joe's? It's a homerun!
Pork Ramen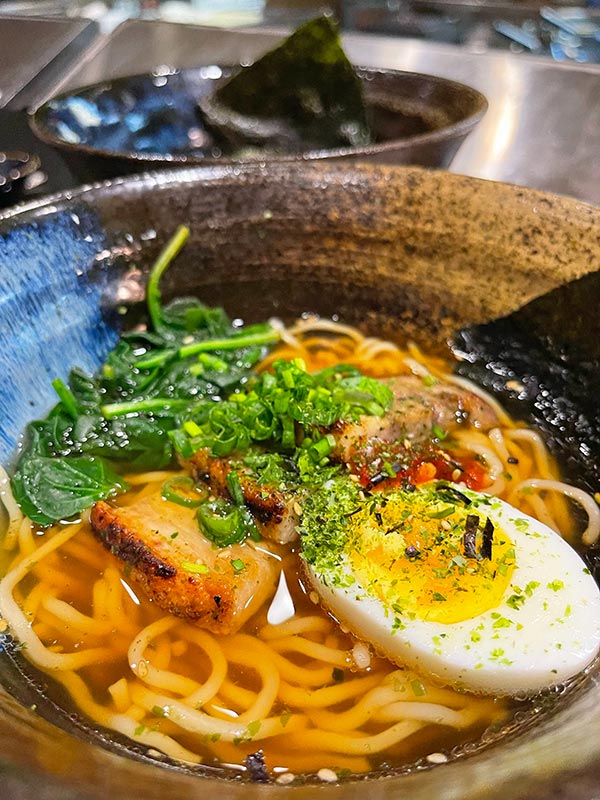 His homemade broth is exquisitely light yet steeped in savory flavors and aromas. He accents his pork broth with black garlic oil, and serves his ramen with a soft boiled egg, negi and roasted pork belly.
A warm hug bowl of goodness, this soup makes you feel right at home in Chef's sushi restaurant.
In addition to ramen, Chef has a number of rice dishes including creamy lobster rice prepared with sake-steamed rice and creamy lobster sauce.
Sushi & Sashimi
Now, the true test... the fish!
Cuts of Tuna, Hamachi & King Salmon

Chef Joe does not mess around with his fish. He has beautiful cuts of tuna, hamachi and tuna belly all expertly broken down from a 1500 lbs tuna.
His cuts of fish don't end there. Vibrant salmon, cuttle fish, scallops, spiny lobster, Alaskan King crab and so much more fill the windows of his sushi bar.
The menu features a number of sushi and sashimi pieces and dishes, in addition to a variety of innovative rolls. One of our favorites?...
Lobster Roll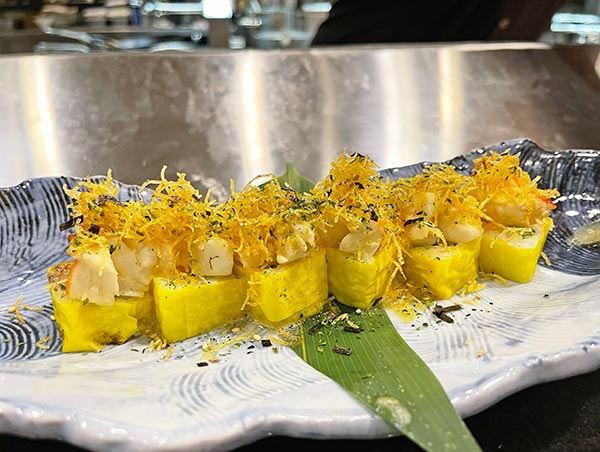 The lobster roll melts in your mouth. A chunk of super soft, fresh lobster is placed atop a cucumber shrimp tempura roll wrapped in soy paper. The sushi is served with a drizzle of Shiso butter for good measure.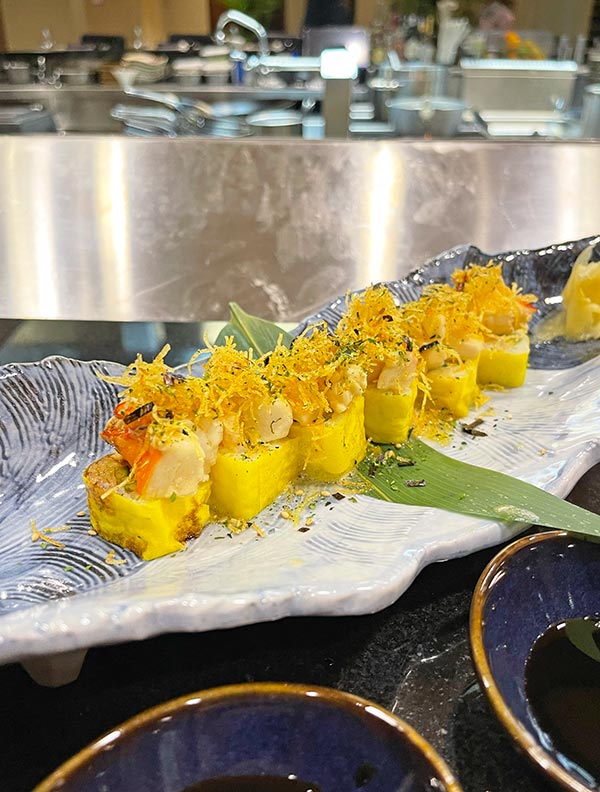 The succulent lobster and Shiso butter make a delightful match. The richness is offset brilliantly by the freshness of the cucumber and the light soy paper wrapping.
For even more flavorful results, dip in Chef's soy sauce.
Special Note: Did you know that Chef Joe brews his own soy sauce? It's true! House-made, it is yet another sign of Chef's hyper attention to detail.
Another winning combination...
Rendezvous Roll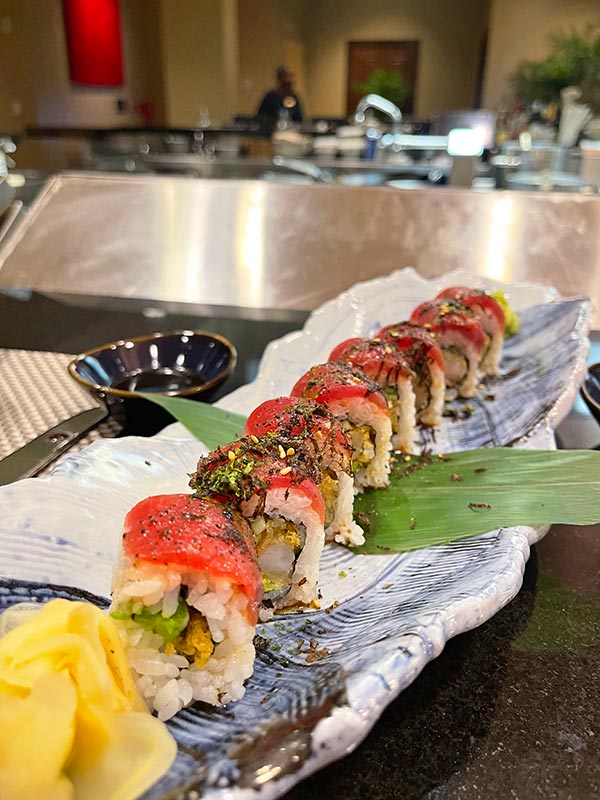 Shrimp tempura, avocado and cucumber are rolled and topped with fresh tuna. The tuna competes with the lobster to be your favorite item on the menu.
So delicate and soft, you barely need to chew. It simply dissolves in your mouth.
With a hint of spicy ginger garlic ponzu, the combination of flavors and textures will have you singing a happy tune.
If you like spice...
Hamachi Jalapeño

Hamachi is layered atop and inside a roll of roasted shishito pepper, cucumber and black lava salt.
The crunch of the cucumber, the zest of the pepper and the freshness of the hamachi all work together in harmony.
Last but not least, arguably the top roll on the roster...
Land and Sea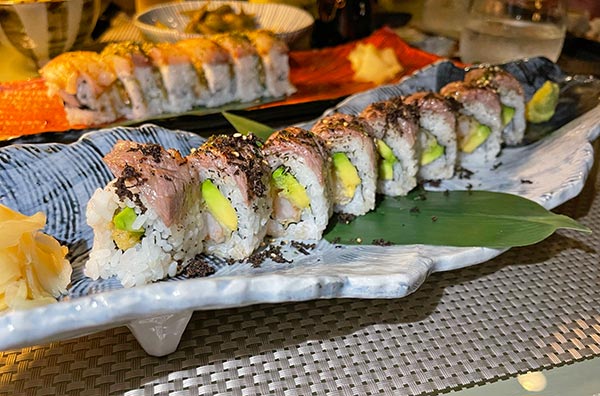 Shrimp tempura and avocado are topped with seared A5 wagyu beef. The decadence does not end there. Chef drives the roll home with truffle ponzu and fresh truffles.
A Closer Look

The flavors penetrate your tastebuds and your nose. The aroma of truffles fills your nostrils, enhancing every bite.
Flavor wise, the profile is spot-on. Truffle is wagyu beef's natural and best companion. The beef itself boasts a rich, smokey flavor from the Japanese charcoal.
When it comes to texture? Chef's wagyu is as soft as a summer's day.
No soy sauce needed for this roll. It is that extraordinary.
Dessert
Evenings at Tokyo Bay are always so special that you need to round them off with something sweet.
Each dessert fights for your attention. First...
Tofu Cheesecake

The Tofu Cheesecake get my vote. Isn't it picture perfect?
Manageable and light, it is not a heavy dessert. The base of the cake crumbles like a cookie, so fun to eat. The interior is gentle. Only slightly sweet, its flavors are enhanced by its cumquat marmalade.
Louise's top pick is...
Miso Creme Brûlée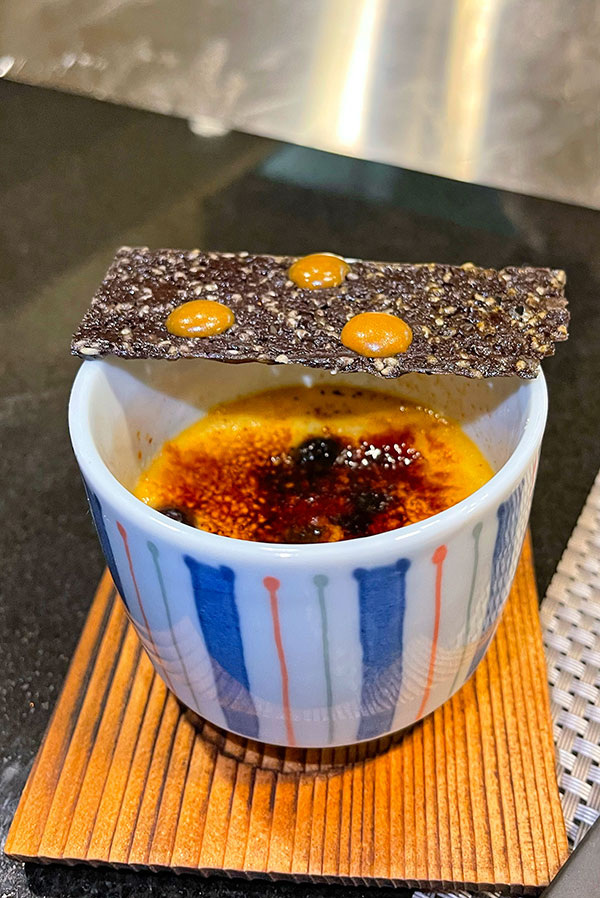 Lovers of Creme Brûlée will want to eat this dish all day. Chef serves this classic with a black sesame tuille.
Seeking something super light and bright?...
Mango Lime Sorbet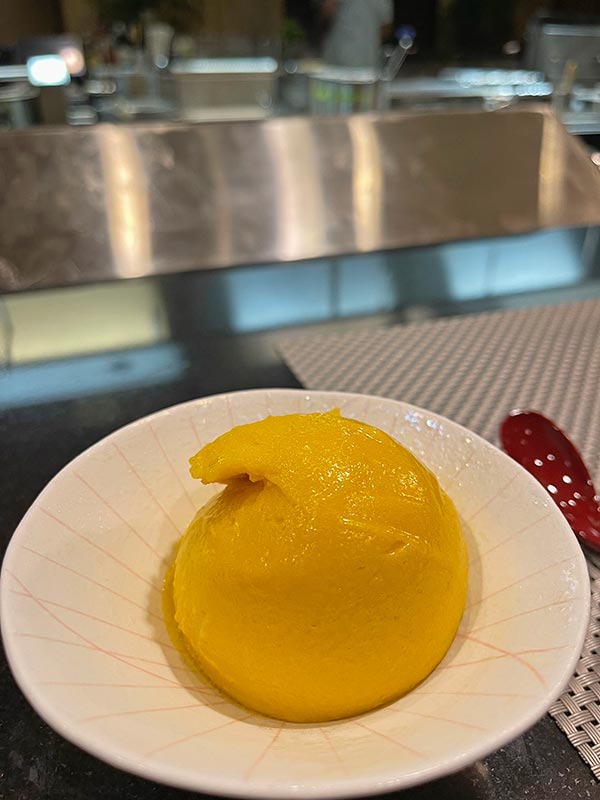 Tokyo Bay serves a number of creative sorbets and house-made ice creams.
Final Thoughts on Tokyo Bay
With Chef Joe, you are in excellent hands. He brings a true passion for Japanese dining to the island. Innovative and detail-focused, his cuisine is unparalleled.
Each course at Tokyo Bay gets better and better as you dine. And then, you reach the pinnacle of the meal where Chef Joe and his team are put to the true sushi chef test! The ratio of rice to fish is perfect, the cuts of the fish flawless.
It leaves you with but one thing to say...
Thank You, Tokyo Bay!

We have only accolades for Chef Joe and his team. On a tiny island where many ingredients need to be flown in, they consistently deliver true Japanese dining with a fun yet sophisticated, gourmet edge.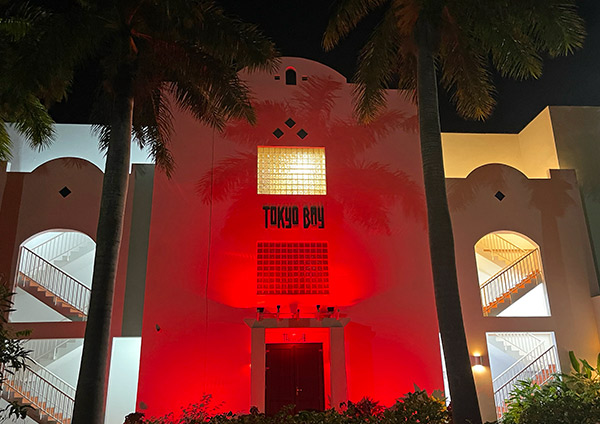 From top to bottom, Anguilla's leading Japanese restaurant is back and pushing the island's standards of cuisine levels higher yet again.
Directions, Hours & Contact
Directions: Tokyo Bay is located inside Aurora's spa building.
Hours: Tokyo Bay is open for dinner from 7-10pm, Friday-Tuesday.
Tel: 264-498-2000