Tokyo Bay Anguilla At
CuisinArt Resort & Spa
Update 2019: The review below was written about Tokyo Bay's opening night. Since then, things have improved vastly. Full review on Tokyo Bay restaurant.
Tokyo Bay At A Glance
We first tried Tokyo Bay for their soft opening. The sushi and sashimi were disappointing. It had serious room for improvement.
Today, that improvement has arrived thanks to new Executive Chef Jasper Schneider. It is now on par with top Japanese restaurants around the world!
More on our most recent meal at Tokyo Bay.
More on Tokyo Bay, below...
CuisinArt Resort & Spa is known for its peaceful elegance and luxury. That essence is carried into its Venus Spa & Fitness Center, re-opened (after a $10 million expansion) to great acclaim in January 2009.
We had heard of a sushi restaurant that was planned for the Spa's building and have been waiting for 2 years. Viceroy's Sunset Bar has satiated our lust for sushi during that time, a solid 8/10 (measured against the best sushi we have had).
But now, almost exactly three years after the Spa re-opened, CuisinArt has completed Anguilla's only fully-focused Japanese restaurant...
CuisinArt Resort & Spa's Sushi Restaurant...
Tokyo Bay

Tokyo Bay's Soft-Opening
We wasted no time, being sure to reserve well in advance for one of their two soft opening dates. As mentioned, sushi is not easily found in Anguilla. Viceroy Anguilla Resort is the only establishment that serves sushi. It does a fine job, but it's not fully focused on Japanese food. Needless to say, our expectations were high!
Tokyo Bay Anguilla's soft-opening promised a full range of sushi, sashimi, and teppanyaki, and other Japanese specialties, include kobe beef, all with never-empty glasses of champagne and sake.
My mom is 3rd generation Japanese, so we have spent many a night in Japanese restaurants. From Tokyo to Vancouver, from London (don't miss Nobu) to California to New York (skip Nobu!) and Boston, we know and love sushi.
Our only question... How would CuisinArt's effort rank?
Tokyo Bay Anguilla's Setting
CuisinArt's Spa building is set back from Rendezvous Bay, providing panoramas of the resort and gardens. Tokyo Bay is located on the third floor of the Spa building.
We walked through the Spa's soothing entrance. It is a tad odd to be greeted by spa personnel. A separate entrance might have been more appropriate. We pressed "3" in the Spa's elevator. The doors opened and...
"We're not in Anguilla anymore!" But we weren't in Tokyo, either...
The restaurant is clad in steel grays and blacks. It's a sleek, modern-Zen, New York-slick Japanese look.
A large stainless steel sushi bar is the focus of the room. Chefs were preparing Japanese specialties, bustling, anticipating guests' arrival. As you can see, every square inch of the bar was occupied...
Tokyo Bay's Sushi Bar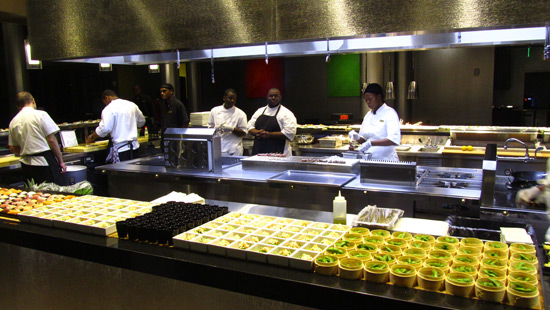 For the soft opening, Tokyo Bay displayed the full range of the menu, encasing the bar. "Take a little bit of everything back to your table." We did exactly that!
Once the restaurant fully opens there will be full table service and menu. And hopefully, we'll be able to sit at the bar, a different and enjoyable experience.
We sat window-side, overlooking the rest of the resort, pretty and lit-up against the night sky. A kind and attentive waitress made sure we were right at home, well-equipped with glasses of endless champagne and sake.
Tip for smokers: Ask for the table near the door to the small outside balcony. No smoking in the restaurant.
We all found the A/C to be freezing (it felt more like being in Hong Kong, which tends to over-A/C). And the music was of the nightclub-type deep-base throbbing, not in keeping with a Japanese ambience. I do hope that was merely opening night excitement.
Settled in, it was time to try Tokyo Bay...
To The Sushi Bar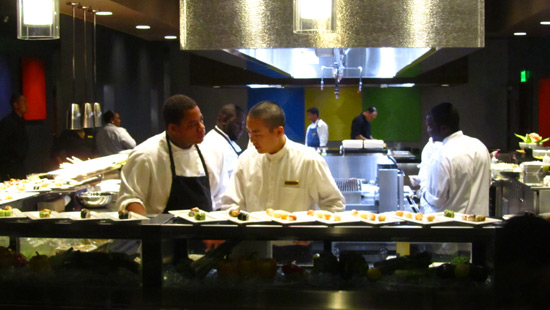 Tokyo Bay hit all of the must-have menu items, key for every Japanese restaurant. These staples included...
Rolls: California, spicy tuna
Sashimi: Salmon, tuna, hamachi
Nigiri: Tuna, hamachi, salmon, eel
Chicken yakitori
Beef skewers
Tempura: Asparagus, shrimp
Other, original dishes included a pineapple-crab rice pilaf. And there is a separate grill area where the cooks deliver lobster cooked in its shell and Seared Kobe beef, among others, on demand.
The Grill

With a little bit of everything on our table after our first of many trips (in our undying efforts to provide you with a full report!), our tingling taste buds were ready to test...
Cheers!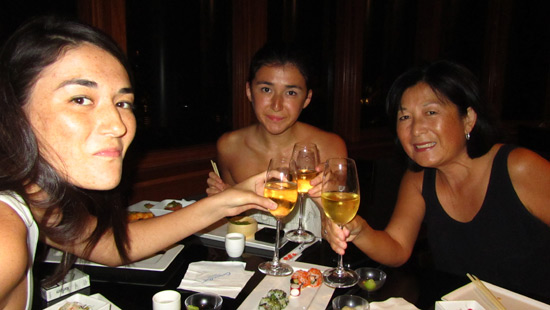 First, the "cooked" part of the menu...
My Mom loved the pineapple-crab rice pilaf, which she described as being unique, the rice perfectly cooked (she's picky), and with an intriguing blend of flavors.
It was hard to tear myself away from the deep-fried shrimp and mayonnaise.
Yuki pronounced the chicken yakitori average and the beef tough and overcooked.
As each of us ate ours, we all agreed. Yakitori is something that is hard to do badly.
As a staple of many who fear exploring, it's one that Japanese restaurants should really excel at.
There were two types of tempura: shrimp and asparagus. The batter was much too heavy, not of the refined quality that one would expect.
Moving on from "the cooked" to the stars of the show (at least in our eyes), the sushi and sashimi...
The sashimi slices were on the smallish side, although of decent thickness. My Dad is the one who always orders the sushi-sashimi combination at Viceroy ("which has increased in price this year by 33%," my Dad groused!) and most other restaurants. He usually supplements with a couple of exotic additions, something he was hoping for here.
Dad Biting Into Tuna Sashimi
At Tokyo Bay

The magic with raw fish in Anguilla is in how gently the chefs thaw what is most likely frozen filets of fish, then how well (and generously) they slice it. My Dad pronounced the sashimi to be "OK." He was expecting more, and a better selection for a restaurant whose sole (excuse the pun) focus is Japanese.
The sushi rolls ("maki") were fine but uninspired. You've had this quality a thousand times, I'm sure, if you are a lover of Japanese food. Standard fare.
And finally, the serious disappointment...
Nigiri typically boasts a healthy slice of fish atop a long piece of hand-molded, vinegared rice. Classically, you invert it fish-down into the soy sauce (seasoned with wasabi, which you mix in, to your taste).
My Dad salivates when he sees large shiny-moist fish hanging over both ends of warm, moist, sushi rice. You can virtually tell it's going to be great. And in one or two bites (depending on your style), the result is indeed heavenly.
Tokyo Bay's take on nigiri, though, was to wrap a paper-thin slice of fish on a rather tasteless ball of rice, as though it were meant be "popped" in your mouth, popcorn-style.
Nigiri at Tokyo Bay

Even dipped in wasabi and soy sauce, it was bland. You could barely tell the hamachi from the salmon from the tuna (unless you looked at it ;-) ). Only the cooked eel was distinctive and satisfactory.
We're hoping these rice balls were some sort of soft-opening buffet format because the nigiri sushi was a severe disappointment.
We would have also like to see other achievable choices such as salmon skin hand rolls ("temaki").
Also, it would have been interesting if the chefs had prepared fish that are caught locally and served absolutely fresh... wahoo, snapper, grouper, tuna, mahi-mahi.
It would take a chef who really knows his fish, a full sushi chef, since snapper can carry a particular toxin resulting in Ciguatera and there are species not to eat (ex., blackfin), same for grouper. But tuna is caught off-shore at times, and mahi-mahi is pretty much available year-round.
"If you're going to do sushi, push it beyond sourcing fish flown in from the Fulton Fish Market," says my Dad.
The Sushi Challenge
This was Tokyo Bay's soft opening. We talked to others who felt similarly before publishing this review and the consensus was one of disappointment.
The good news? Viceroy's first attempt at sushi was worse!
I am sure CuisinArt will be re-working matters for the full opening. We truly hope so, since we do love our sushi.
Anguilla sets worldwide standards in many cuisines, especially seafood-based. But, there is one dish in Anguilla that no one seems to get right the first time. (Zen was an earlier failure, which we decided not to review at all.)
Like most Japanese art forms sushi requires a certain finesse and mastery of detail, neither of which are quickly learned. One apprentices for years before becoming a sushi chef. That level of accomplishment is not here... yet.
Anguilla brings palates from New York and the East Coast of the U.S. that are as discerning as ours when it comes to sushi. We hope to be able to write a follow-up review when Tokyo Bay hits its full stride.
Viceroy Anguilla's Sunset Lounge has become successful at their "slice of sushi."
Sushi and Sashimi at Viceroy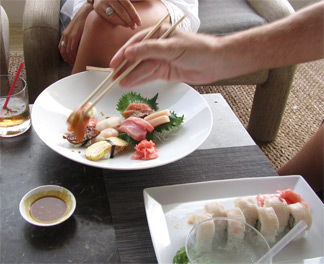 But they had a shaky beginning.
The rice wasn't quite right, the portions teeny, the selection limited (we'd still love to see a wider selection).
We voiced these thoughts to a few of the managers. And so did others...
They confirmed that many guests had similar comments.
The restaurant took the feedback to heart, dedicated to creating a better sushi experience in Anguilla.
Today, the quality of the sushi approaches a solid New York or Boston sushi experience, without as much selection. Combine the solid food with the open-air, heavenly promontory between Meads Bay and Barnes Bay, and their cool sunset drinks, and you have a winner!
Goodnight Tokyo Bay
We know CuisinArt Resort & Spa well, from being hotel guests to ongoing Spa visitors. Tokyo Bay can certainly become the zen retreat of tranquil music set in a sharp, modern setting, and with outstanding Japanese cuisine.
Time will tell.
Stay in touch for an update on Tokyo Bay when the restaurant is fully opened. And I'd love to hear comments on your experience below.
Since the review written above (about their "soft opening"), we have returned. Full review on Tokyo Bay restaurant!
Directions, Hours & Contact
Directions: Tokyo Bay is located inside CuisinArt Golf Resort & Spa's spa building.
Tokyo Bay
Good for cooked Japanese food, including dumplings and tempura.
Hours: Tokyo Bay is open for dinner from 7-10pm. They are closed on Tuesdays.
Tel: 264-498-5602