The Best Anguilla Maps
Swimming, snorkeling, sunning, and snoozing. Then wake up and eat well! Can it get better than this? Yes it can.
Exploring this astonishing Anguilla island can be more than half the fun. But you'll need the very best of Anguilla maps. Yes...
You could also be bumping around the back roads exploring the "unknown to tourists" parts of Anguilla.
Anguilla has many more miles of dirt roads, than paved roads...
The Roads Of Anguilla
There is basically one long major paved road in good condition that goes all around the central and eastern parts of the island, with...
a major spur out to the west end of the island, including all the major tourist beaches and 5-star resorts
a turnoff at the first traffic light west of The Valley which takes you to the excellent-quality Jeremiah Gumbs Highway, giving you good access to beaches along the south shore from Little Harbor to Blowing Point (including some totally isolated, unknown beach areas (just try each little dirt turnoff)
another turnoff at North Hill, immediately east of the roundabout that takes you down to Sandy Ground. This easy-to-miss road leads you up a hill to a new highway, Reverend Leonard Carty, that takes you on a beautiful drive along the north shore over Katouche Bay, ending up at Crocus Bay.
A Go-To Road Map of Anguilla
If it is your first time visiting Anguilla, be sure to pick up a copy of Skyviews' printed map of Anguilla (see below).
Skyviews Map View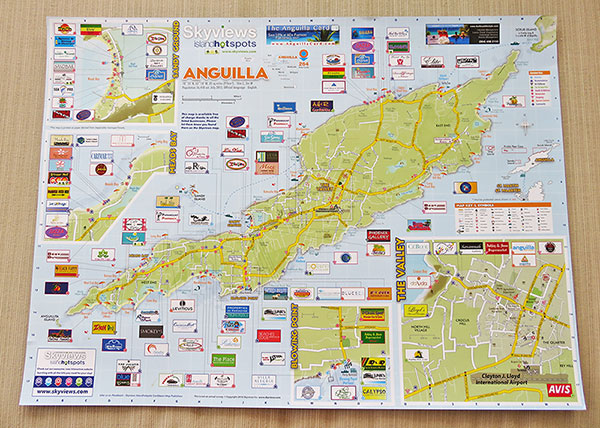 Skyviews' map lets you get your bearings quickly. The map clearly lays out the main roads, side roads, even certain back roads and most Anguilla hotels (getting back to your hotel is simple). It is a navigation "must," one that tourists have relied on for years.
You can pick up your copy of Skyviews at Clayton J. Lloyd Airport, Blowing Point ferry terminal and most hotels and restaurants.
Then there are several smaller paved roads in "less good but OK" shape. And finally, there are tons of dirt roads of varying quality, all the way down to "for mountain goats only."
Sure, these off-the-off-roads are all rocks and bumps, but you don't need an expensive SUV. A Toyota Corolla can handle it, if you're careful. I know, because we did it!
And do not worry about safety! This is one, very safe Caribbean island! There is no abject poverty here, and there is very little crime. No matter where you go, you'll find only warm, friendly people.
The Best Anguilla Map for Planning Ahead
The Caribbean's leading map publisher, Skyviews has put together a tremendous resource for everyone Anguilla-bound.
Skyviews' Online Anguilla Map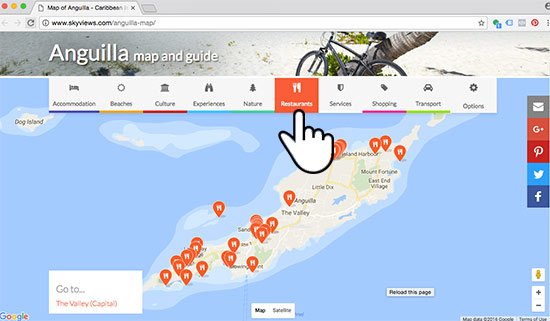 An online Anguilla map, Skyviews' map lays out virtually every point of interest (ex., hiking trails, snorkeling spots, beaches, etc.) and top-tier Anguilla businesses (ex., hotels, boutiques, restaurants, etc.) on a Google Map.
Their slick functionality lets you hand-select the points of interest that are of interest to you. Skyviews' online map makes planning your days in Anguilla easy.
Click here to see Skyviews' online map.
What should you take with you while exploring "off-the-beaten-path Anguilla?" Your curiosity, a good pair of hiking shoes (although my stubborn dad goes everywhere in his flip-flops)... and an extremely detailed map of Anguilla! And when I say "extremely detailed", I mean extremely detailed.
The tourist map gives you a solid basic orientation of Anguilla. For extreme detail, giving you the confidence to explore the poor-to-bad condition roads/tracks, here is...
The Best Map For Exploring
For years, my family and I used Anguilla's Land and Survey map to explore the island's backroads. It just wasn't an Anguilla vacation if we didn't have our Land and Survey map marked with all of our to-visit spots.
Today, the Land and Survey map makes an excellent souvenir... a warm reminder of those childhood days spent off the beaten path, exploring with Mom and Dad. Map technology has come a long way since our early days visiting Anguilla (in 2002). With its evolution has come our #1 Anguilla map brought to you by...
Google's Offline Maps.
Via Google's Maps app, you can navigate to each corner of virtually every destination on the globe. From main roads down to hard-to-find dirt paths that lead to beautiful outlooks, with labeled streets, bays, beaches and businesses, Google Maps takes you there.
*NOTE: Google's labels aren't always 100% correct. I trust they will get this right in time, but until then, and if it's your first or second time driving around the island, it's always good to bring the tourist map to cross check locations.
To get Google's Offline Maps on your device just grab your Android/iPad/iPhone and follow the instructions below...
Google's Offline Maps for Android & Apple Users
What You Need
With WiFi
Step 1: Open Google Maps and navigate to Anguilla (see image below). Zoom in to have the whole island in full view (TIP: Turn your phone to landscape view).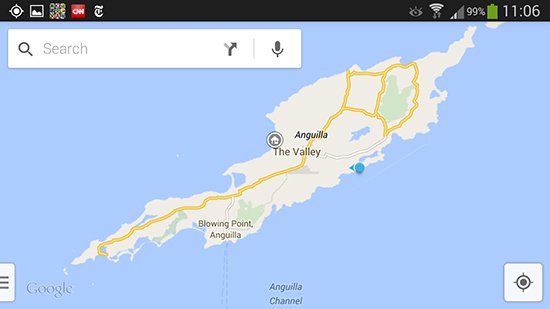 Step 2: Click the side drawer (bottom left of photo above) and open "Your places" (see photo below). Also, be sure that Traffic, Public transat, Bicycling, Satellite and Terrain are turned off as shown below.
Note to Apple Users: The "side drawer" equivalent is the three-lined icon located to the left in the search bar at the top of the screen.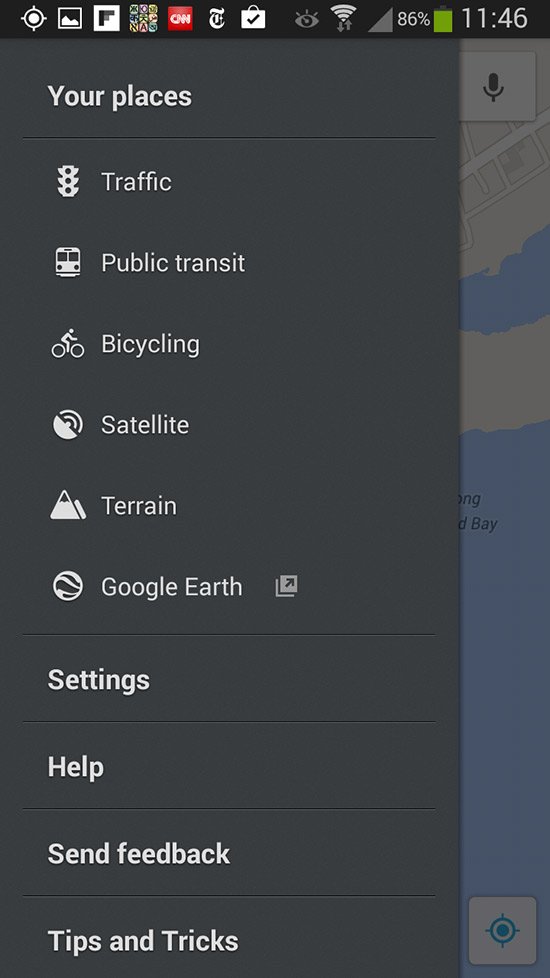 Step 3: Once you've opened "Your places," scroll down to "Offline Maps." There you will see a full list of your saved maps. Click "View all and manage".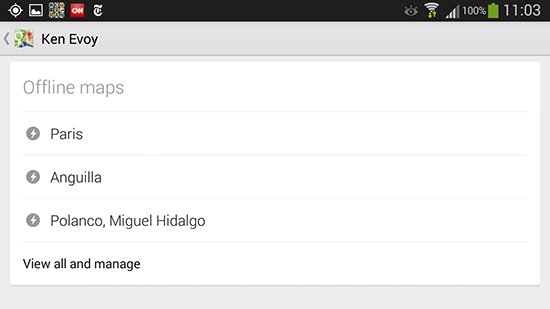 Step 4: There, click "Save a new offline map".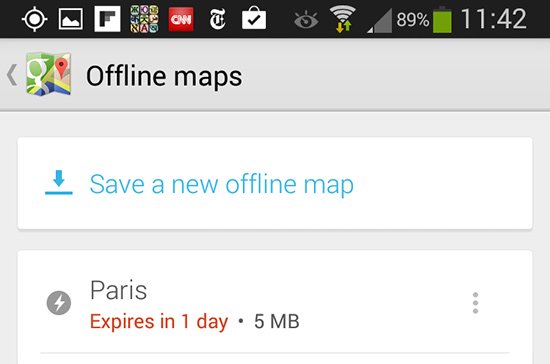 Step 5: Google's app will navigate you back to the view of Anguilla you had in Step 1. Make sure that you have the whole island in frame (don't include St. Maarten/St. Martin in your view or your map may be too large to download). Click save.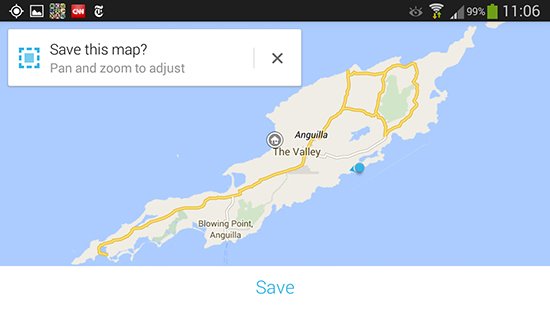 Step 6: You will be prompted to give your map a name. Name it and then press save again. It will take a few moments to download.
Without WiFi
Step 7: Make sure you can use the map offline. Disconnect from your WiFi connection and open your Google Maps app. Open "Your places" (via the side drawer mentioned in Step 2). Scroll down and you should see "Anguilla" under "Offline Maps."
Open it. Zoom in (by pinching the screen), move to different areas of the island (by pressing and gliding your finger across the screen). You will be able to see just about every road on the island. You can even see where you are located on that map by clicking the target button in the bottom right of the screen (see photos below).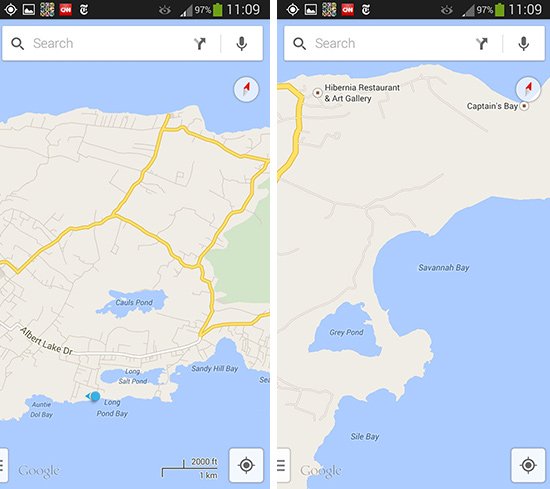 Step 8: Get exploring!
*NOTE: Google saves Offline Maps to your phone for 6 days. After 6 days it deletes the map. So, don't download the map too soon before you arrive in Anguilla. If your map has an expiration date listed in red (see below), be sure to "update" the map if you intend to keep using it. To update, simply click the panel with three vertical buttons next to your map and click "update."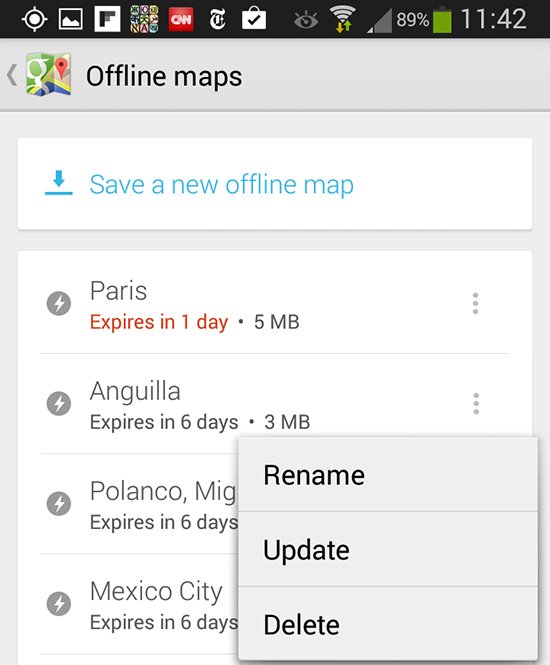 ---
ARCHIVES:

Previous Articles on Anguilla Maps
1. Land & Survey Map
Extreme exploring requires an extreme map. Here is, by far, the best of all Anguilla maps...


Click for medium-sized version of Anguilla map
Click for larger version of Anguilla map
Note: Use your browser's magnifying function to enlarge the
large version even further. And please note... The quality of
the actual map is far better than even the largest photo link.
So where do you get this map of Anguilla? Only one place in the whole world. It's the place where my dad first heads to when we're on vacation anywhere... your friendly, local Land and Survey Office.
In Anguilla, this office is located in the Valley, right behind the Anguilla Tourist Board, which you'll have no trouble finding -- just ask anyone!
This map of Anguilla is on a scale of 1:25,000, which provides high detail -- "perfect" says my Dad. It shows the main roads, the secondary ones, the dirt roads, the tracks, all the way down to the foot paths and fences!
There are so many beautiful beaches, cliffs, and coves. But they aren't all exactly easy to get to, or easy to find. For example...
You'll never find the perfect little road to take you down to Long Bay Beach without a map of Anguilla like this. But with it, access to Long Bay Beach, one of Anguilla's truly magnificent beaches (it's on our short list for real estate) becomes almost easy...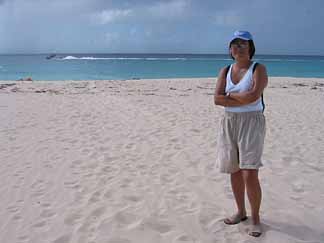 The rewards of extreme exploring are great. I love that true "off the beaten path" feeling. It's like a challenge, successfully met. You can't do this, safely, on other Caribbean vacations.
But you can here. Just one thing... don't forget to take along this best of all Anguilla maps.
2. The Best Map For "Digital Exploring" of Anguilla? Try This On Your iPad...
Google Earth is a tremendous tool that allows you to see every nook and cranny, in every small town, world wide, from the comfort of your own home!
I considered this exciting technology and a light bulb went off...
Why not transform the Google Earth images into a digital file that ...
you can use with your iPad or other tablet when exploring
you can print and use (for those who like paper).
With its help, I created a new Anguilla map. It's completely free and available for download...
Take it with you on your iPad or other tablet when exploring Anguilla...
Here's my Google digital map of Anguilla.
Update: A new contender for the best Anguilla map! But you'll need Internet access to use it, so it's not much use when exploring.
3. My Anguilla Maps
Anguilla-Beaches.Com highlights all of my family's Anguilla favorites. From restaurants to villas to shops and hikes, we share just about everything!
But one afternoon, while I was planning our St. Barts vacation, it hit me...
What about directions?
I was growing a little frustrated trying to coordinate restaurants and shopping in relation to our hotel on an island I was so unfamiliar with. I could find tons of reviews on the best spots to visit, but why couldn't I find a map outlining them?
Now I understand how aggravating that can be!
So here are a series of Anguilla maps, provided with the help of Google Maps!
Click here for my Anguilla maps, to find out where that is in Anguilla!
4. Ultimate Anguilla App
While Google's Offline Maps provide in-depth, high-scale maps of Anguilla's terrain (down to each and every back road), if you are seeking a simpler map (that shows how to get to certain restaurants, attractions, hotels/villas, gas stations/ATMs, etc.), we have put together an app highlighting all of those sights, complete with maps!...
My Itineraries
On the note of coordinating vacation plans, nothing makes trip planning as easy as map-based itineraries. It can be tricky to figure out what you want to do and how it will all lay out.
With that in mind, and with the request from Anguilla-Beaches.com readers for travel planners and guides to certain areas of Anguilla, I've developed an itinerary section that feature things to do, complete with information on each point of interest and its location on a map. I hope you find them useful! :-)
More on Anguilla itineraries here.