Favorite Beaches:
Our Top Ten Beaches Of The World
Beaches or mountains?
Oceans or lakes?
Our family always chooses ocean beaches!
For as long as I can remember, my Mom and Dad have had a passion for the sea. They've traveled long and far and walked on many sandy, sunny shores, across all the world's time zones.
I guess when you travel as much as my parents do, you accumulate a list of favorite beaches. Well, I guessed wrong. Recently, I asked them what their Top 10 Beaches of the world were.
My Dad said they had never met a beach they didn't like, but making a list of their favorite beaches in the world (outside of Anguilla, of course!), would be a "fun challenge!"
Share Your
Favorite Beaches Of The World
No Top 10 List is ever going to be the definitive list. Add your top pick to the list of Top 10 Beaches. Click here to share your favorite!
"Let's boil all those beaches, our tons of beach photos, right down to our personal all-time favorites."
"Fun challenge," indeed when you live in sun-and-warmth-starved Montreal at the end of December!We asked ourselves, if we had to pick just ten beaches to revisit, which ones would they be?
Out came the photo album, scanning for beach photos (we used the computer for more recent beach photo searches). Yuki and I remember some better than others, so we pitched in, too, in the quest for our Top 10 Beaches of the world.
Here's what we came up with (in no particular order, that was
impossible
)...
Copacabana Beach, Brazil

Copacabana Beach is one of the world's truly great beaches...
Exciting.
Jammed.
Thongs.
My Dad says people are born, raised, get married, have children and do business on the beach. Rio lives on its beaches.
Of course, this is all coming from secondary sources (A.K.A. my parents!). My memories of this beach are a little hazy. As you can see in the photo, I was only a year old!
(My Mom made a condition for "beaches eligibility." In order to be eligible to make our Top 10, we had to have a beach photo with either Yuki or me on it.)
Vancouver, Canada

So you like to ski and swim?
You'll like Vancouver's beaches even more than we do. Vancouver's beaches are minutes out of the city, within an hour of ski resorts.
Only Yuki skis, though. And she wasn't around yet -- that's me at the age of 18 months. So what do my Mom and Dad love about Vancouver's beaches?
The photo above says it all.
It was shot in a way that highlights the beach's best attributes... Miles of soft sand that meets the cool blue ocean that leads to Vancouver's picture-perfect cityscape in the near distance, the magnificent Rockies set behind it.
Waikiki Beach, Hawaii

Hawaii is one of those places that puts an image in your mind the moment you hear the name.
The picture most people dream up, is this beach, Waikiki Beach. While my parents have been all over all of the Hawaiian islands, Waikiki remains their top beach choice for the buzz, the geography, and the city.
Another city beach, we've walked up and down both Waikiki and downtown Honolulu countless times. My only memory is playing "great white shark" in the ocean -- we always won, of course.
I sure do want to go back "for the first time"...
Rows and rows of dark, green, lush palm trees, combined with the fresh, cool blue of the Pacific makes the perfect recipe for a tropical vacation.
What I do question however, are the crowds. We've been visiting Anguilla for a good number of years now and I take the people-free beaches for granted. I forgot that at most beaches you have to share.
However, my parents insist that it's merely a different kind of beach fun. There's only one way to tell for sure!
Venice Beach, California

Venice Beach is the funkiest beach in the world.
The vendors, street-performers, spandex'd rollerbladers and vibrant buildings make Venice Beach the colorful place it is.
Although I was only a few years old in the photo above, I remember this beach well. We returned to Southern California when I was 12, and rented and rode bikes along that coast.
The people watching is fantastic, it's one big show! This beach provides more of a spectacle than a slow-paced, lazy beach day.
Although Venice Beach doesn't provide the pleasures of Anguilla beaches, I would jump at an opportunity to return to the madness. For a day or two.
Nice, France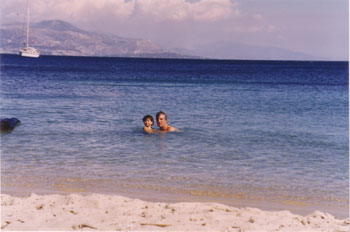 I only ever remember visiting one Mediterranean beach, and unfortunately it's not the one above. But my parents sure were enjoying this "best beaches" game.
The beach I remember is Viareggio in Italy, at a slightly older age...
That beach was certainly unlike any beach I had ever remembered seeing.
Unlike Anguilla beaches, Viareggio was packed - and we went on a weekday, in July (before the Italians take their holiday at the beach).
It was wall-to-wall umbrellas and beach chairs - there was hardly any room to walk along the shore!
After experiencing this Mediterranean beach I asked my Dad, "are all the beaches in the south of Europe like this?"
"The beaches in the south of France have their fair share of private cafés, too. There is more breathing room, but it's still packed compared to Anguilla. "
Daytona, Florida

The Spring Break Beach.
Daytona Beach is one of the most popular beaches with college kids for one reason: it's wide, firm shores. You can drive and park your car right on the sand!
When I visited, however, I was not in college. I was but seven years old and on my way home from Disney World.
Daytona Beach was once the most famous beach in the world, but meeting Minnie Mouse was the highlight of that trip! I'll have to return and absorb Daytona's schtick, without the cartoon-character excitement.
Cuyutalan, Mexico

When I was seven years old, my Mom and Dad took my sister and I to Mexico for 5 weeks. We stayed one week in Mexico City and four in Guadalajara.
Mexico is dry - not many lakes, streams or creeks. But there are two large oceans on either side of this long, thin country.
Naturally, we decided to venture out of Guadalajara and head to the beach. Cuyutalan is a Mexican resort, not really for "foreigners." I vaguely remember the experience... drinking out of coconuts, everyone smiling at us.
And then there was my sister and I splashing in the water... until a sea creature swam up to us to say hello. It was a stingray! I jumped out of the water so fast my sister's head spun.
"Stingray!" I yelled to my parents.
"Yeah, sure Nori, that's nice."
Finally, my Dad came to see. "Stingray," he yelled.
Outer Banks, North Carolina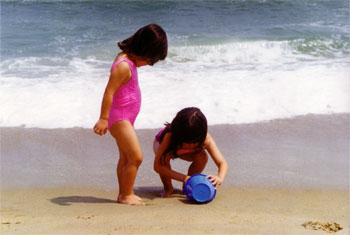 For a few years, the Outer Banks, North Carolina was a regular visiting place.
The last time there, I was about six years old and jealous of everyone around me.
So many people were hang-gliding... off the dunes and out and over the Atlantic! Nothing seemed so liberating and exciting as that. Unfortunately, I was only six years old and couldn't handle those massive kites on my own.
Although I'm no thrill seeker, to this day I want to feed that six year old in me, and hang-glide. Naturally, it'd have to be done in North Carolina, the state that introduced me to it!
Provincetown, Cape Cod

I. Love. New England.
The cool, crisp air... the clapboard, shingle-clad houses... never have I seen such quaint towns as in Massachusetts.
My family and I used to visit Cape Cod and Boston twice a year in the off-season. We rarely braved the cold of the beaches' waters. We simply adored the look, feel and smell... the presence of Cape Cod.
The Harbor Beach in Provincetown was one of our favorites. We'd step out of the inn and onto the cool shore, walking to town by the "back road" (the beach). The salty, sea smell in our nostrils, ocean air filling our lungs, we'd feel warm in the sun's rays. We were always a little sad to leave that comfortable feeling.
Hirtles Beach, Nova Scotia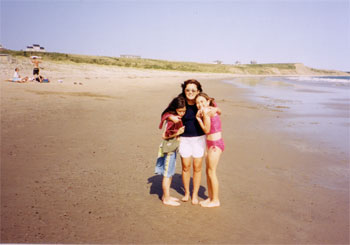 I have lived in Canada all my life, and it wasn't until I was 14 years old that my parents decided to take us to Nova Scotia. Upon the moment we arrived at our seaside hotel, we all realized we had seriously been missing out all of these years!
Our favorite Nova Scotia beach is Hirtles Beach. Hirtles is a perfect, two mile, crescent beach of smooth, white sand that faces due south. (It is coincidentally on the same line of longitude as Shoal Bay Beach on Anguilla.)
Although the ocean doesn't get any warmer than a balmy few degrees, five natural, warm freshwater ponds (small lakes, really) are found right near the beach and are perfect for swimming!
Hirtles Beach, like all Anguilla beaches, is very secluded. Rarely do you see crowds of people on the beach. You tend to have it, more or less, to yourself. My Dad says, "It's the Cape Cod of the sixties."
We visit Nova Scotia a couple times a year and now, not only love the beach but the entire community as well. To top it all off, we own land, smack, dab in the middle of the beach!
So, that's it... The top ten beaches!
Except... there has to be one more. The beach of all beaches. Just for good measure...
Our Favorite:
Shoal Bay Beach:
The Best of All Beaches

We've experienced beaches of all shapes and sizes, but Shoal Bay Beach still gets our vote for #1.
More Favorite Beaches
Beaches for Anguilla Lovers Missing Anguilla, Montauk, Long Island, New York, USA
Seven months of living in Anguilla, swimming in Anguilla's pristine beaches and laid-back air was no easy swap for New York City life. As invigorating as the hustle and the bustle of the city can be, it's nice to know I don't have far to go when I'm missing home.
Mystic Beaches For Surfers and Sea Lions, Tofino, British Columbia, Canada
Tofino was one of my "first loves." At 10 years old the misty beaches captivated my heart. Over a decade later it is still one of the only places with the earthly power to reignite my spirit. Nothing has changed. Only now? Appreciating the surf is possible too!
Puerto Escondido Surf
Home to the Mexican Pipeline, Puerto Escondido surf and beaches are world-famous. With several breaks in the area (both those that are widely known and the more secret spots, locally-loved), it's well suited for a surfer at every level. Although known for its waves, with an affordable price tag, a tranquil and safe vibe, and some of the nicest people you will ever meet, the reasons for getting to Puerto and walking its wide stretches of sand are many.
But what about all of the beaches in the world that I still have yet to visit?
Click here to see my beaches wishlist!
Enough about our favorite beaches. You've just read our Top 10 beaches worldwide. What about yours?

What Is Your
Favorite Beach Worldwide?
Beaches worldwide certainly have a hard time matching up to the beauty of Anguilla beaches. But, some are spectacular and do rival some of Anguilla's best beaches. What is your favorite beach outside of Anguilla?
Your Favorite Beaches Worldwide
Click on the links below to read about the favorite beaches of visitors to this page.