Our Favorite Anguilla Real Estate Agent...
Jackie Pascher
Jackie Pascher & Island Dream Properties At A Glance
Ever since we first started visiting Anguilla in 2002, there has been one person our family has always loved and trusted...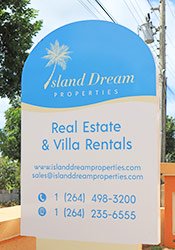 Jackie Pascher.
Owner of Island Dream Properties, Jackie has been our savior both with finding and securing our Anguilla villa rentals before we moved to Anguilla in 2008, and then when we bought our "piece of paradise."
We know Jackie well.
She is more than our real estate agent and go-to person for villa information.
She is a dear friend.
More on Jackie, below...
Visit Jackie at Island Dream Properties for more on...
Early Days with Jackie Pascher
During a relaxing vacation to Anguilla (well before we moved to Anguilla), my Dad's favorite Anguilla real estate agent, Jackie Pascher, called to tell us about a new restaurant in town... Flavor's!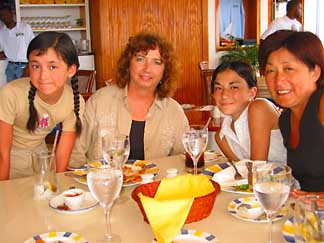 She promised a great view, breeze, and food! She didn't have to ask twice.
Before we knew it, our car pulled up to the freshly painted charming restaurant. Our stomachs were rumbling -- we couldn't wait to dine at this restaurant, new to Anguilla and new to us, with the #1 Anguilla real estate agent!
We greeted Jackie and examined the lunch menu, while the breeze played with our hair.
My mom and my sister ordered the roti, while Dad and I ordered the fish burger, Jackie choosing the spring rolls and salad.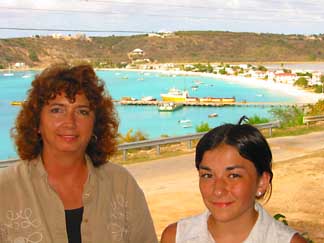 Once the waiter took our orders, we chatted with Jackie about Anguilla in general, and Anguilla realty in particular.
All the while, we enjoyed the cooling breeze and the spectacular view of Sandy Ground.
We had been so busy talking and relaxing, that we had forgotten all about our food. But, once it was on our table, we didn't forget about it for much longer.
The food was excellent -- there are not many bad Anguilla restaurants! The roti was especially fantastic, according to my mom, sister (and father who snuck a little off of my sister).
There was nothing like sitting up high, gazing at beautiful Sandy Ground and Sandy Island off in the distance, while eating a Flavorful, lunch.
All in all, it was a beautiful time. Delicious food, great location, gentle breeze, with the #1 Anguilla real estate agent who became one of our closest family friends.
Since Then...
With Our Friend, Jackie Pascher

Jackie Pascher has remained a close family friend, and always our favorite Anguilla real estate agent.
She was there for us during our Anguilla villa rental days, and she stood by my Dad's side when he was ready to buy Anguilla real estate.
And she was there when we bought our special piece of land that we'd soon call home.
Tour one of Jackie's premiere listings with us in the video below!
Since we first met Jackie, her company, Island Dream Properties has expanded to a full time-staff and a larger location, conveniently located in the West End. The office is located just after Grands Vins de France and Village Bakehouse if you are coming from the West End.
Island Dream Properties in West End, Anguilla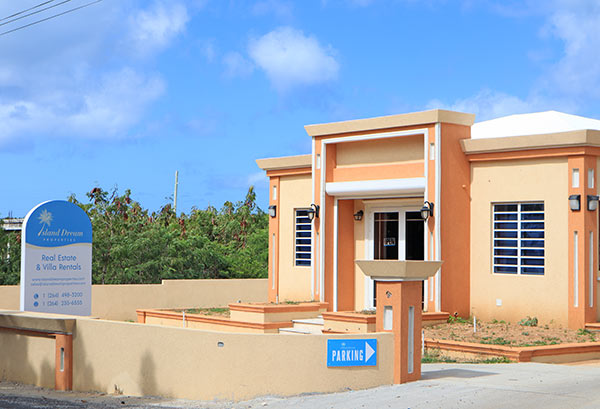 Stepping into Jackie's office is like stepping into an oasis of calm. Beautiful tilework, a magnificent framed map of Anguilla and even Anguilla Beaches canvas photos adorn the walls :-)
Like Jackie, her team is simply the best. Patra and Diane are two of the sweetest souls you will meet.
Meet Diane...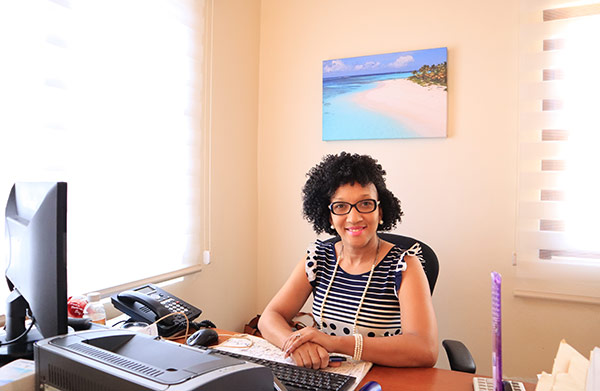 ... and Patra of Island Dream Properties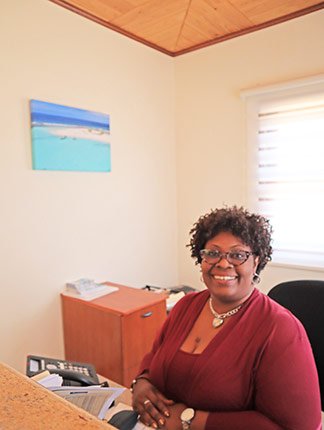 The whole Island Dream Properties team operates with care and passion.
They have some of the top Anguilla villa listings and exclusive real estate listings, as well.
It is always such a pleasure to pop in and see what's new at Island Dream Properties!
Jackie will make sure you are well taken care of and work with you to find the perfect spot to stay on the island, or property/home to purchase.
For more information, contact Jackie Pascher's company, Island Dream Properties, directly via phone here...
264-498-3200 (telephone)
264-498-3201 (fax)
Or, reach them by form, here...