Top Cheap
Anguilla Hotels & Accommodations
Anguilla resorts generally charge some pretty scary prices! If you're on a limited budget, you may feel like you will be left out in the cold, or rather, in the warmth in Anguilla.
During our explorations of the island we've noted many high value mid-priced Anguilla hotels and cheap Anguilla accommodations.
Scroll down for a full list of the nicest cheap Anguilla hotels and lodging options that we've found.
Mid-Priced Anguilla Hotels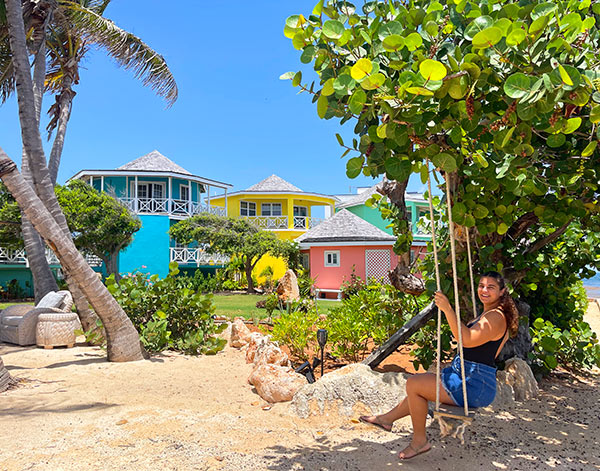 Tucked away in Island Harbour, you'll find one of Anguilla's most high value hotels, Arawak Beach Club.
This iconic property is famous for its tropical, colorful buildings that boast beautiful views of Island Harbour and Scilly Cay.
Inside, modern and recently renovated rooms capture the breeze and scenic view.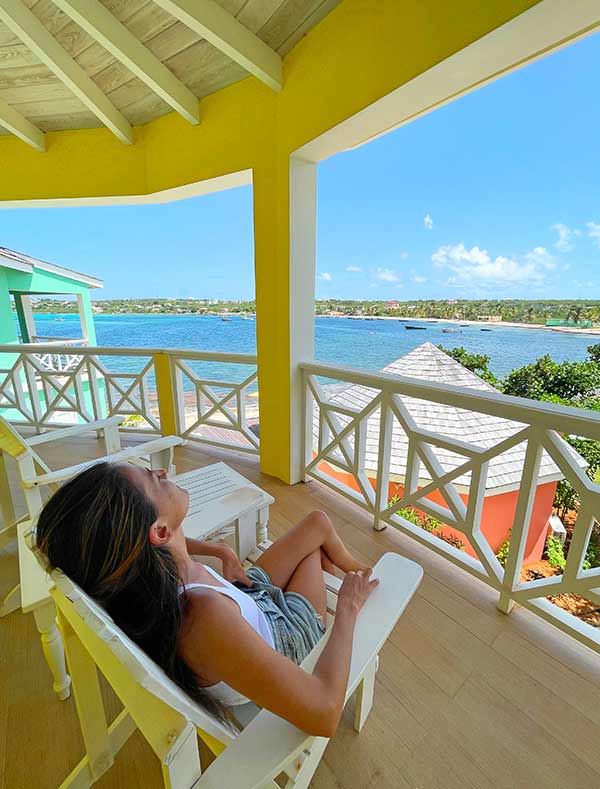 With air conditioning, flat screen TVs, verandas, kitchenettes and luxurious bathrooms, these hotel rooms are built for total comfort!
When it comes to setting? Arawak's location can't be beat.
Set in the heart of Anguilla, Island Harbour, Arawak Beach Club has a plethora of beautiful beaches, top restaurants and exciting hikes (like Windward Point), right at its fingertips.
Last but not least? Owners Mindie & Judd have thought of every amenity for your stay. Super high speed internet, laundry facilities, complimentary SUP, kayaks and beach equipment are all available.
So, if beach front lodging in a beautiful setting, all for a good price, is your idea of a perfect vacation, look no further than the Arawak Beach Club!
More on Arawak Beach Club.
How can you beat living right on the sand of Meads Bay, in spacious and well-appointed 1 and 2 bedroom suites, surrounded with top quality restaurants?
There are tons of activities, including free ones like tennis and walking one of the best "walking beaches."
You could easily spend a week here and never be tempted to explore beyond Meads. But do rent a car (they'll do that for you, too) and see the rest of the island.
You won't do better than Carimar, where you'll become one of the fervent repeat visitors to this high-value Anguilla Hotel.
Save 10% on Your Hotel Room or Villa
Many affordable Anguilla hotels are Partners on the Anguilla Card. Purchase the Anguilla Card before you book and save 10% on your booking with these hotels and villas!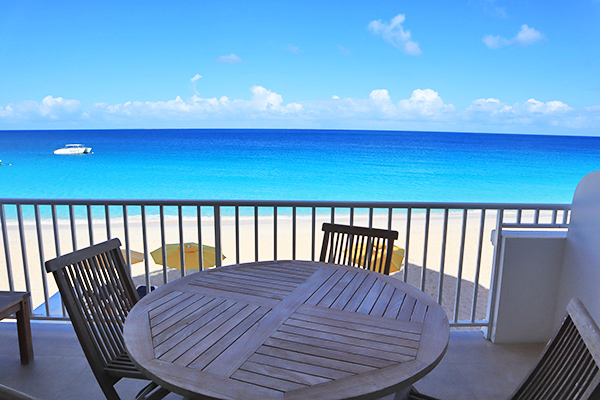 Formerly part of Turtle's Nest, Bella Blu boasts a beautiful location on Meads Bay with sweeping views of the coastline!
This boutique hotel boasts nine suites (four two bedrooms, four one bedrooms and one studio). All spacious, all bright, all with the comforts of home, the views are especially jaw-dropping.
Complete with a pool and with Straw Hat lunch served to your beach chair, too, Bella Blu is a high-value deal on the beach.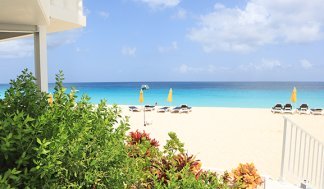 Turtle's Nest Beach Resort is located right on the sandy shores of Meads Bay. It is a tough spot to beat!
This Anguilla lodging option isn't just an Anguilla hotel, it is also an Anguilla condo complex. The units are large and spacious. The condos are comfortable, fitted with all of the amenities of home.
The truly remarkable part of Turtle's Nest Beach Resort? The endless views...

This family-run resort is a hidden gem of a hotel, set in a lush, tropical garden.
You will feel completely at home in their warm, friendly and inviting atmosphere.
Set overlooking the Caribbean Sea, St. Martin and St. Barths on a clear day, Ocean Terrace Condos wins for location alone.
Ocean Terrace Condos is a high-value alternative to Anguilla hotels. The property features self-catering condo-style units that feature all of the conveniences of home, with many more perks.
It is especially high value if you are looking for a longer-term rental in Anguilla (one year+).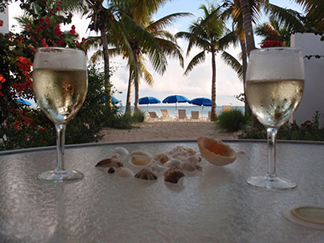 Set on the smooth sands of quiet and calm Shoal Bay West, Blue Waters Beach Apartments' location is tough to beat.
Right on the beach, ultimate privacy, amongst the likes of Jay-Z and Denzel Washington (who stay just down the beach)...
An impeccably clean and comfortable full-size unit, complete with kitchen and sitting area...
Blue Waters Beach Apartments is a favorite to many Anguilla lovers. Be sure to book early!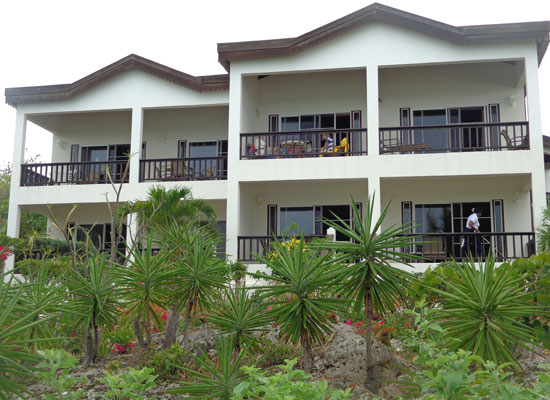 Located on a secluded little nook at the tail end of Shoal Bay East, one of the island's best beaches, Serenity Cottages gets 5/5 for location alone!
Inside, the rooms are luxurious, spacious, with every amenity you may need.
Shoal Bay Villas affords much privacy and quite a comfortable space.
Units include either a terrace or balcony, living room and kitchen area.
The hotel also has a pool, but I would spend all of my time at the beach...
Have a lazy, Shoal Bay vacation day, everday!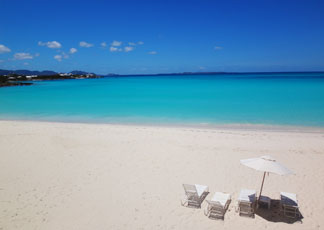 Tucked away on the quiet, eastern side of Rendezvous Bay, Rendezvous Bay Hotel has long been a top-pick hotel for new visitors and long-term visitors alike.
One of the original resorts on the island, take one look at the blue views from the second floor rooms and it's not hard to understand its popularity.
The hotel was overhauled in 2014/2015. The result?
New, modern-clean rooms with that same stunning location!
More on Rendezvous Bay Hotel here.
Cheap Anguilla Hotels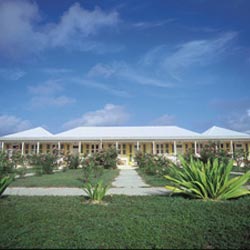 Looking for a sweet, serene, yet simple Anguilla resort on Rendezvous Bay? Anguilla Great House offers simple accommodations on a stunning location.
The resort is complete with a pool and tasty restaurant.
Note: Anguilla Great House's rates start in the low $200s and go up to the low $300s during the high season.
Just steps away from Crocus Bay, The Cottages at da'Vida are an excellent alternative to cheap Anguilla hotels.
These sweet, clean and comfortable units blend the privacy and convenience of a stand-alone rental with the warmth and hospitality of a bed and breakfast.
The Cottages at da'Vida are not your typical "Anguilla hotel," but they are an "accommodations best" in terms of value, location and service.
"Hotel room" options include a one bedroom cottage and a two bedroom cottage.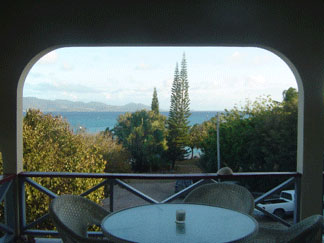 Ferryboat Inn, on the South Shore of Anguilla, is one of the great Anguilla inns.
On the sandy shores looking at St. Martin, and just next door to Blowing Point's ferry terminal, Ferryboat Inn's location is scenic and convenient.
Clean, large and well-appointed rooms, and a consistently great restaurant on site...
What else could you want in an Anguilla inn?
Note: Ferry Boat Inn's rates start at $115/night in the summer, and go up to $330/night in the high season.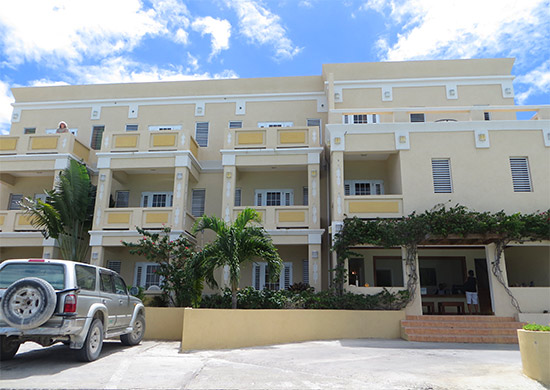 Set on scenic Back Street overlooking Sandy Ground, with its turquoise waters, white sand and harbor filled with yachts and sail boats, the views are hard to beat.
No wonder it's called La Vue! ;-)
It is also home to Flavours restaurant, and is loved for its loyal and hard-working staff and affordable and neat rooms.
Note: La Vue's rates start at $200/night.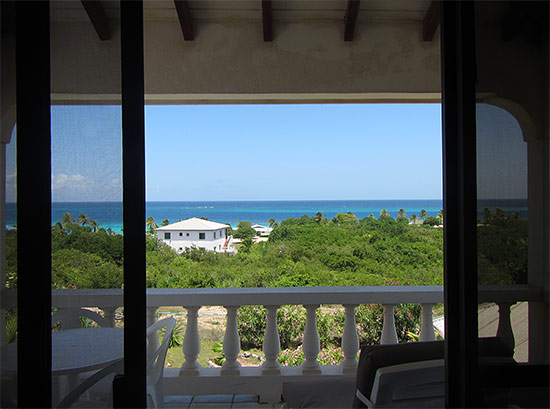 Set on a bluff overlooking beautiful Shoal Bay East, Milly's Inn's location captures both panoramic views of Shoal Bay, the Atlantic Ocean and Island Harbour and Scrub Island in the distance, and the area's endless gentle tradewinds.
Shoal Bay is just a short walk away from Elodia's, one of the best beach bars on Shoal Bay East, serving one of the island's tastiest rum punches.
Milly's Inn is close to many beach activities, beach bars and affordable dining options.
With only 4 units, Milly's Inn not only offers comfortable units, views and breezes, but very quiet and private accommodations, too.
Located in the heart of Sandy Ground village, Sea View's apartment-style units are clean, comfortable and complete with every amenity you could need.
A full kitchen, living space (with TV), air conditioning, internet and Sandy Ground beach right across the street, all for under $100/night in the off-season makes Sea View one of the best deals on the island.
One of the drawbacks to staying right in Sandy Ground can be the noise level of the several bars and restaurants in the area. But, on the other hand, you have immediate access to them, too! :-)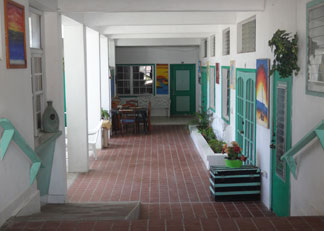 Next door to Sea View, Sydans is also on the main strip in Sandy Ground.
Sydans also offers apartment-style units that have back patios overlooking the salt pond.
Anne herself, the owner, is accommodating and a pleasure to talk to. She will make sure you are well taken care of on your stay.
This small hotel is also home to a Mini Mart, carrying a variety of groceries and alcohol.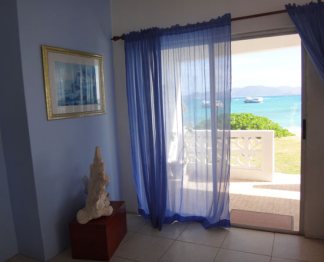 Set just a short walk from Blowing Point Ferry, Patsy's Seaside Villas are conveniently located.
And, they boast beach access and waterfront views of the Caribbean Sea and St. Martin, too!
Inside, the rooms are comfortable and spacious (complete with full kitchens!) and service is known for being so warm and hospitable.
Airbnb Anguilla
If you are looking for cheap accommodations, Airbnb may be a good fit. The "home sharing" giant doesn't list many hotels or beachfront properties, but it does have a trove of private houses, apartments and "rooms" in Anguillian houses for rent at a very affordable price.
It is the top resource if you are looking for a real "Anguilla travel" experience at a cheap rate. More on Airbnb Anguilla.
More on Cheap Anguilla Hotels & Accommodations
Excellent alternatives to cheap hotels...
More cheap Anguilla hotel and accommodation reviews
A complete listing of cheap Anguilla hotels and accommodations
For more on affordable accommodation options, as well as an entire guide to doing Anguilla "on the cheap," visit our budget-friendly guide to Anguilla.
ARCHIVES:

Cheap Hotels That Are No More
Formerly La Sirena, Anacaona Boutique Hotel is very affordable, with well-appointed rooms, a pool and just a short walk from Meads Bay.
The rooms have been recently over-hauled and are tastefully furnished.
A restaurant is on site and there is fairly regular entertainment, the Mayoumba Folkloric Theatre being an island favorite.
2. Ku Hotel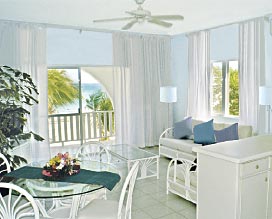 With a sensational beach-front location on Shoal Bay East, and fresh, clean rooms, for years, Ku Hotel was one of our favorite hotels.
As time went on, the hotel deteriorated.
Before it closed in 2012, traveler reviews became increasingly disappointing.
Today, Ku has been sold and will become a high-end hotel called The Manoah Hotel. Work on the new hotel is to begin shortly.
I have written about this pink beauty elsewhere.
It's a gorgeous gem on the forgotten side of the nicest beach in the Caribbean.
This hotel is certainly the prettiest hotel in all of Anguilla and run by the sweetest man.
Unfortunately, this is one of those on-again, off-again hotels. Now it seems to be "off" for good.
4. The Cocoloba Beach Resort
A resort listed as a "cheap hotel"?
This senationally situated resort had severe financial problems over and over again.
It had passed from one company's hands to another, each unable to revive it despite its many advantageous features.
The shame of it is that it had a sensational location, beautiful facilities and pretty little bungalows on the cliff edge overlooking my personal favorite beach.
Anyway, the last management of Cocoloba ran some superb specials. At one point it was the best deal of all the Anguilla cheap hotels.
Luckily, Viceroy Anguilla bought the entire property. It made the brave move of demolishing everything and starting over again. You can see the story evolve here...
And so ends the story of Cocoloba, a trouble location to the very end, finally with a happy ending.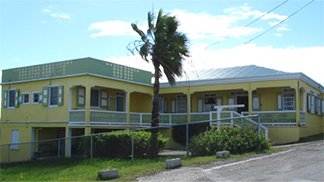 Sitting nice and easy on Crocus Hill, you'll find the very first Anguilla hotel... Lloyd's Bed and Breakfast!
This cute, little inn offers great views/vistas over the countryside and onto St. Martin and even St. Barths on a clear day. Lloyd's also has their own restaurant.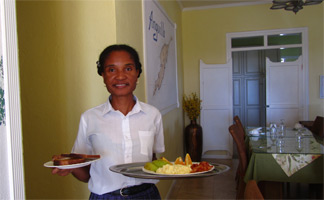 Breakfast is served daily and included in the low rate.
When you're here, you're family! Everyone eats together and knows each other... that's the friendly atmosphere of this hotel.
Lloyd's other special advantage (besides the kindness of it all)? It is so close to the Valley, da'Vida and Crocus Bay, Little Bay and superb snorkeling.
Does all this sound appealing? Lloyd's is the least expensive and most friendly of all hotels. Rates are under $150/night!
If you like this combination, these may be the Anguilla accommodations for you.
6. Las EsQuinas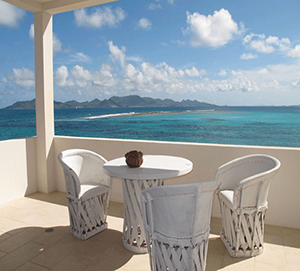 Set on Anguilla's southern shore overlooking the majestic mountains of St. Martin, Las EsQuinas' setting is hard to beat.
This former private 4 bedroom villa, has been converted into a "boutique" bed and breakfast.
The property is beautifully manicured. Inside, suites have adjoining private bathrooms, each with its own theme (Mediterranean, Mexico, etc.).
There is a certain rustic-luxury found at Las EsQuinas.
Together with personal service, it has become one of the highest-rated luxury B&Bs in the Caribbean.
A five minute walk from one of the best beaches in the world (Shoal Bay East), Allamanda Beach Club makes vacationing easy.
There are many dining options, beach bars and beach activities just a few sandy steps away.
If you are looking to settle into comfortable accommodations with no real need to leave the property, Allamanda Beach Club makes that possible.
Note: Allamanda's rates start just under $200/night in the Winter months.
Stay Tuned!
Stay tuned for more Anguilla hotel and accommodation reviews of great cheap places to stay. There are so many on this perfect little Caribbean island!
There are lots of other cheap Anguilla hotels. But these are the ones I can vouch for. If you're on a limited budget, I'm pretty sure you'd be happy at these. Some others are pretty "dicey". On the other hand, we haven't visited them all.
So do you have...
Cheap Anguilla Hotel Reviews

Write About Your Experience Here!
Found a diamond in the sand? Share your story, tip or review about a cheap Anguilla hotel.
Your Reviews on Cheap Anguilla Hotels
Click on the links below to see some great reviews about cheap Anguilla hotels. They were all written by other visitors to this page.