Anguilla Deals on Anguilla Apartments
Did you know that renting an Anguilla apartment is one of the best deals around?
While Anguilla hotels and villas have a reputation of being pricy, Anguilla apartments are affordable and offer terrific value.
Apartment Rentals at Arawak Beach Club

Friends of ours have taken out long-term leases on apartments, sharing the space with friends and family who want to come down when they are off-island. This is particularly smart as finding rental gems avoids Airbnb fees and lets you vacation longer, more comfortably.
Similarly, medical students will email us asking for terrific places to stay long-term for both themselves and also for family when they come to visit.
Whether looking for a more affordable alternative to Airbnb Anguilla or if you're thinking of living in Anguilla, Anguilla apartments are an option worth exploring.
On this page, we will walk you through one of our favorite long-term apartment options, Arawak Beach Club. They are a high-value hotel and now they are renting their studio units on a long-term basis.
Why Arawak Beach Club?
There are a number of items to consider when choosing an apartment. One of the first, location.
The Reasons Are Many to Love Arawak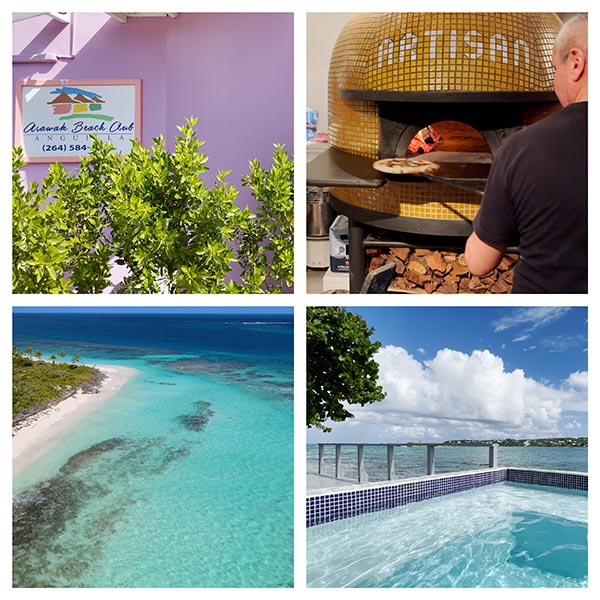 Arawak is located in Island Harbour. Here, you are just minutes from top eateries like Le Bon Pain and Artisan, excellent beaches like Shoal Bay East, and you are not far from the island's capital, The Valley. Grocery stores and banking are all within easy reach.
The setting is also safe with security on-site.
Convenient, safe and secure, the next item we look for when considering an apartment...
Clean & Comfortable Units
Arawak takes great care of their units. They are always upgrading the property. Whether it is expanding the kitchens or re-tiling the bathrooms, there are always improvements being made.
Arawak's bathrooms deserve a special nod. These showers are chic!...
Chic Shower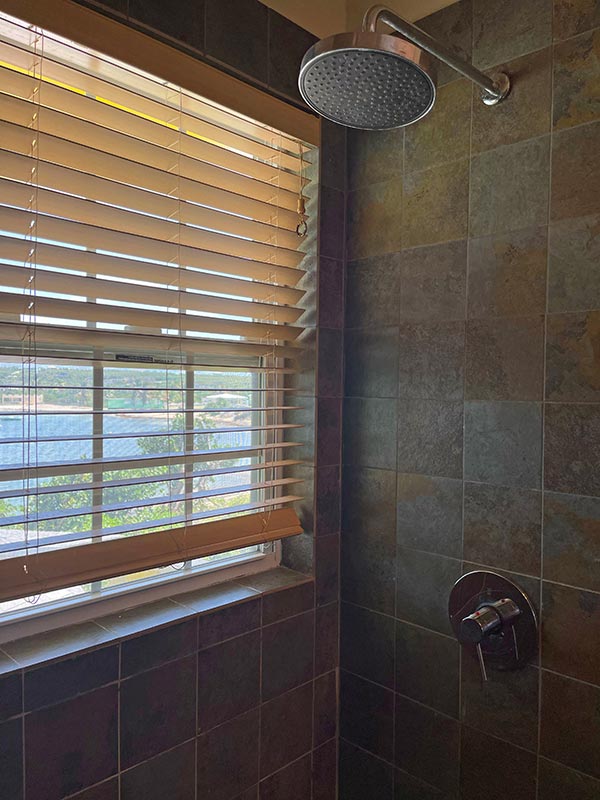 It doesn't end there, of course. Units are turn-key fully stocked with kitchens for preparing meals in with microwave, stovetop or hot plate, coffee maker, fridge and all of the dishes and pots and pans you may need.
Ocean Front Unit at Arawak Beach Club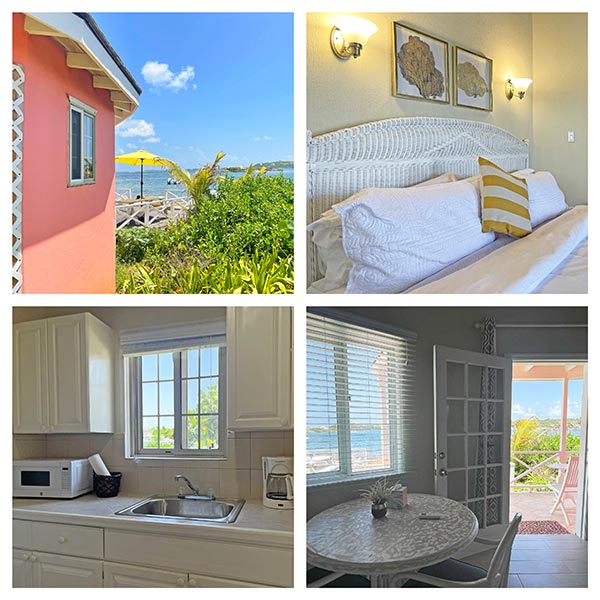 Living is comfortable in Arawak's apartments.
Units have a big smart TV, plush bed and also an outdoor seating area.
Studio Unit With a View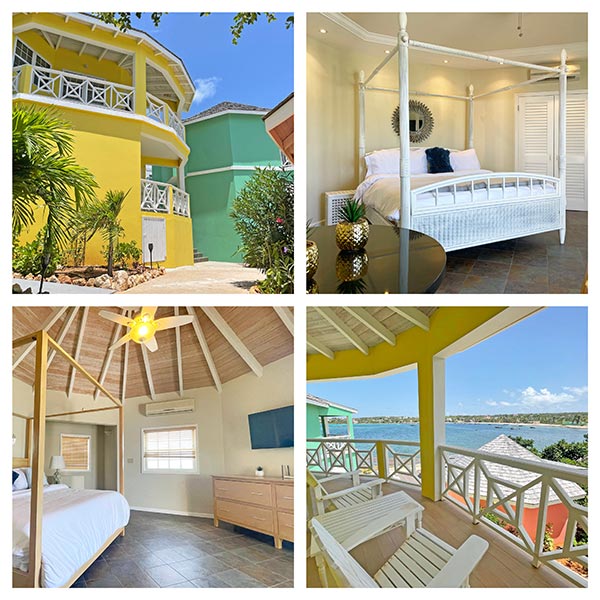 My Dad has often commented on Unit 9, saying what a delightful spot it would be to stay for months on end. There's just no beating that Island Harbour view...
Unit 9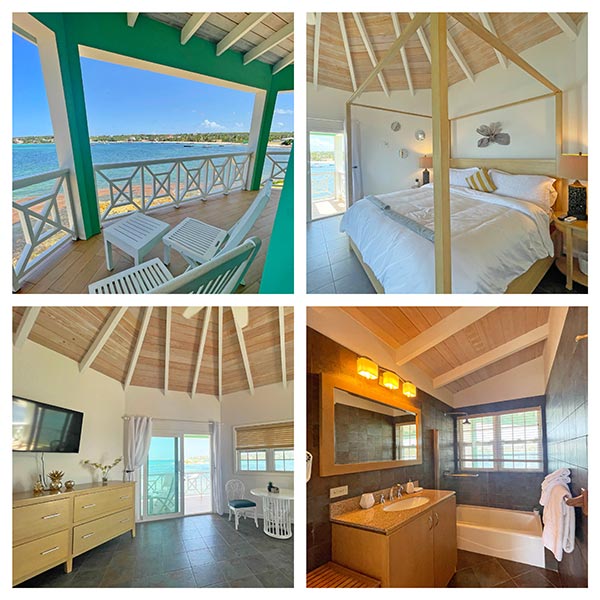 The oceanfront suites are priced competitively.
For the best price on-property, consider the garden suites.
Garden Suite at Arawak Beach Club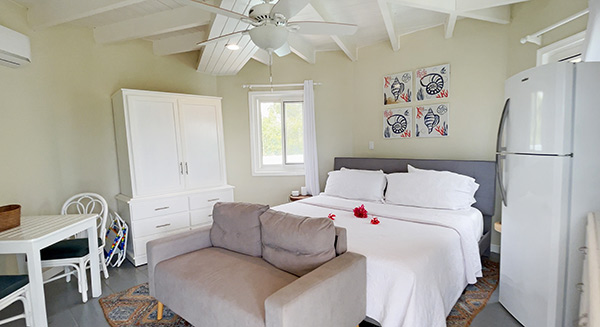 While the ocean is always calling our names, the garden suites serve up comfortable living at a reduced price.
The garden suites have plenty of storage space, comfy seating area, huge bed, air conditioning, full kitchen and... at the end of the day the ocean is not far away!
A Whole Host of Amenities
Beyond the units themselves, it is always a good sign when the property as a whole is well taken care of and the owners put time and care into "essentials" like Internet.
Arawak's connection is top of the line with fiber optic. You will not suffer any slow speeds here!
Their gardens are well manicured and blossoming, the property features a pool and even a restaurant.
Pool Front at Arawak Beach Club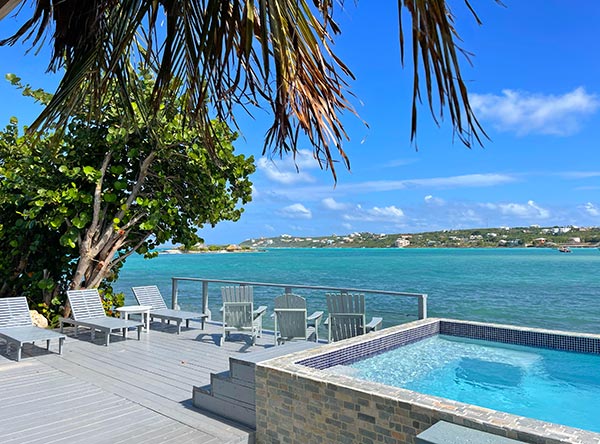 Beyond the physical amenities, there is something special about a place when you know the owners care. The property begins to take on a spirit of its own, right in line with the heart of the owners.
That is very much the case at Arawak...
Warm Sense of Community
Arawak's owners, Mindie and Judd are always out and about, making improvements to their property and making sure you are doing well. They cultivate such a warm atmosphere of community.
Magical Moments at Arawak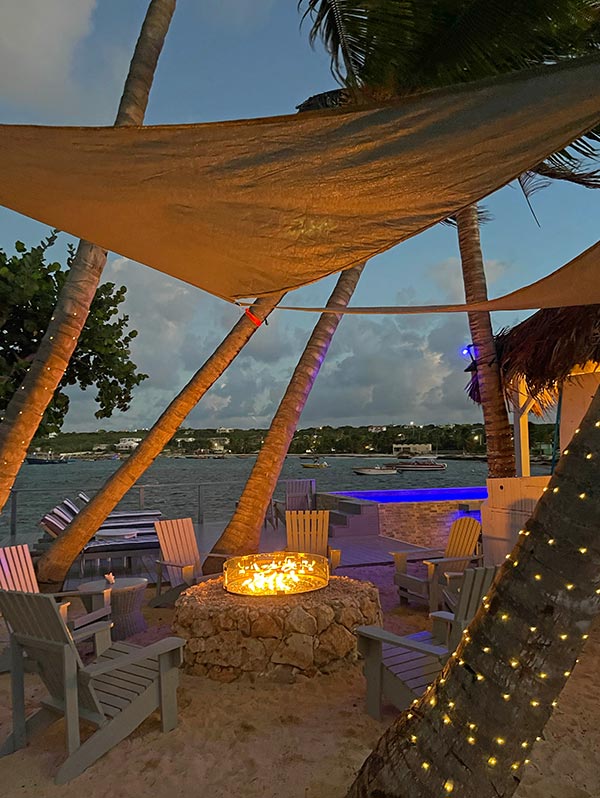 Why wouldn't you want to live here :-)
For more on rental opportunities with Arawak, contact Mindie and Judd at Arawak here.
See below for more Anguilla apartments. If you are an apartment owner, click here to list your apartment in Anguilla with us.
More Anguilla Apartments...
Archived Articles...
Squareless.ai A terrific and growing online resource for finding the perfect Anguilla apartment.