Anguilla Deals on Anguilla Apartments
Click here for Anguilla apartments listings
In Fall 2008 and Winter 2009, my family and I discovered that Anguilla apartments truly offer some of the best Anguilla deals.
While our Anguilla home was in progress, my family battled Hurricane Omar, and soldiered through more stormy circumstances. To make matters worse, and bring stress to an all time high, their lease at a private villa on Barnes Bay and they could not renew!
Where do we go? What's available? And at a reasonable cost, too?
Anguilla apartments to the rescue...
Klasher Apartments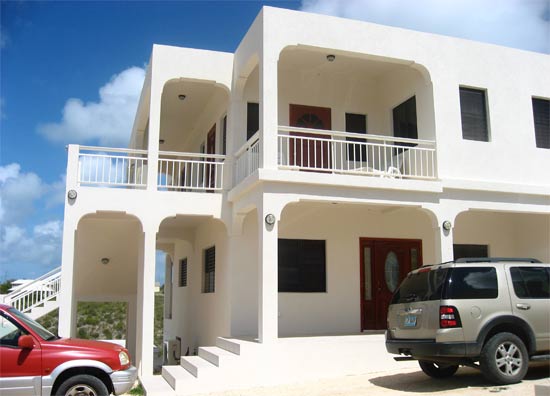 These were not the Anguilla apartments we stayed in (more on them to come!) but these are some of my favorites, providing the same tremendous value.
Karlyn Liburd, a kind woman we have known since we started visting Anguilla back in 2002, embarked on this project just last year! She lives on the bottom floor, and recently completed two Anguilla apartments on the second floor. (Congratulations, Karlyn!)
You can imagine my surprise when I received an email from her in my inbox. I had heard word of her apartments, but didn't think they would be ready so soon. Without hesitation, we set a date to tour these accommodating apartments.
I wish I had a photo to share of Karlyn and me, but she is camera-shy. No matter how much I begged and pleaded, she just shook her head! A photo from the top of those sturdy stairs will hopefully make up for it... :-)
Valley Views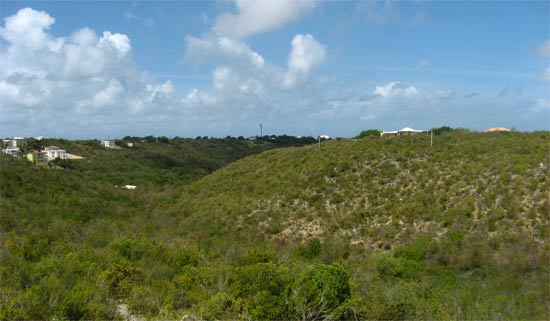 Klasher Apartments are located on North Hill Road (click here to find out where they are in Anguilla). North Hill has a warm community feel, with a tasty pizza eatery (Corner Bar) just down the road and an ice cream parlour only a hop, skip and a jump away.
The valley in the view carries you down to Sandy Ground, just a five minute drive from Klasher apartments.
Karlyn entered the first apartment...
Apartment #1
The apartment opens up with a nicely furnished living/dining/kitchen space.
My Mom Was Impressed With The Amenities!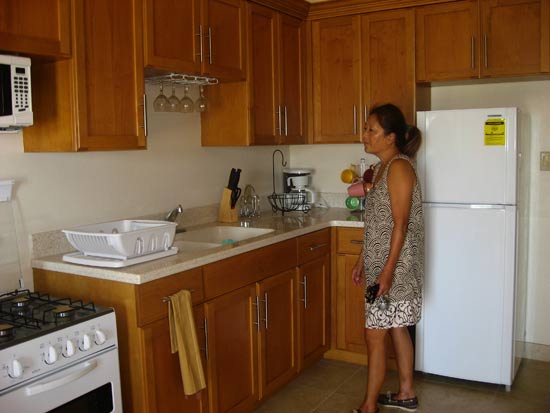 Klasher Apartments features a full kitchen: fridge, microwave, coffee-maker, crockery, cooking utensils, cutlery, glassware and (mom really loved this) a stove and oven with a flap that folds down over the stove, creating more counter space when you're not frying anything up.
What a great use of space!
As for the living/dining room not only are all of the fixtures and choices very pleasing, each apartment has cable TV, a DVD player and wireless Internet.
These apartments are made to make Moms happy...
With a clean kitchen, a spot to have family meals, and full-cycle washing machine and electrical dryer.
Beyond the living/dining/kitchen area, a hall extends, with two bedrooms, one on either side of the hall.
Two Bedrooms


Each apartment has two bedrooms (you can choose to rent one or two bedrooms) with a queen sized bed and plenty of space to store your clothing and luggage.
*Anguilla travel tip: This is a great solution for finding a long-term lease.
We continued down the hall to find the elegant bathroom and all of the washing amenities.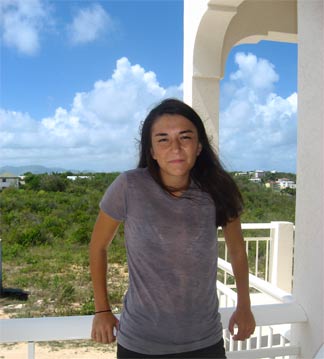 Before starting a tour of the second apartment, Karlyn showed us the balcony off of the living room.
The pretty views face North Hill and St. Martin.
It is a great spot for an afternoon of reading and catching the gentle trades, or enjoying a meal al fresco and a glass of wine.
Apartment #2
Next Door, Next Apartment...

You can see my Mom was curious and excited, poking around!
Karlyn's second apartment is very similar to the first...
Kitchen/Living/Dining Angle #1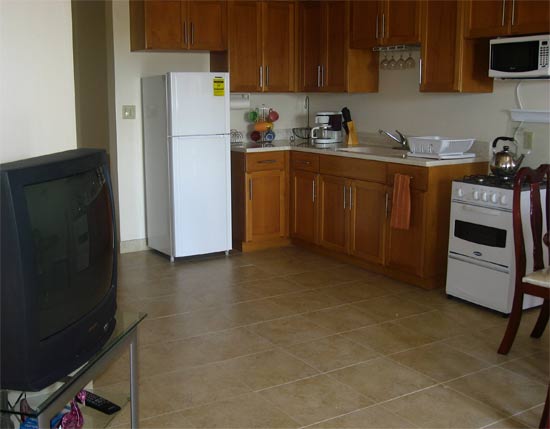 Kitchen/Living/Dining Angle #2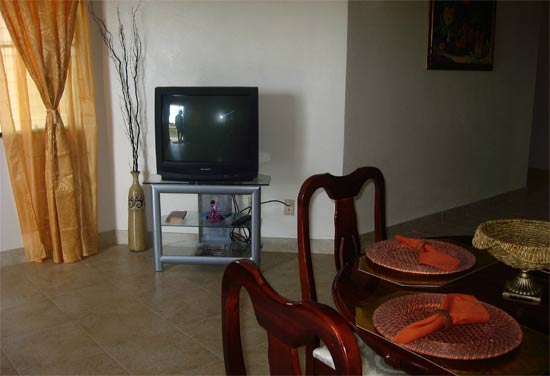 The furnishings are the same, very tasteful. My favorite kitchen feature?
The Beautiful Cabinetry

Karlyn's cousin, who is based in Miami, made them and shipped them down. Too bad we didn't know about him while we were putting in our cabinets!
Apartment #2 differed from the first in layout. The layout in the second Anguilla apartment makes the apartment feel much more spacious. It does not narrow into a long hallway, but only a short one that makes a "T" with a hall at the end, and features a bedroom on each side of the "T".
The Bedrooms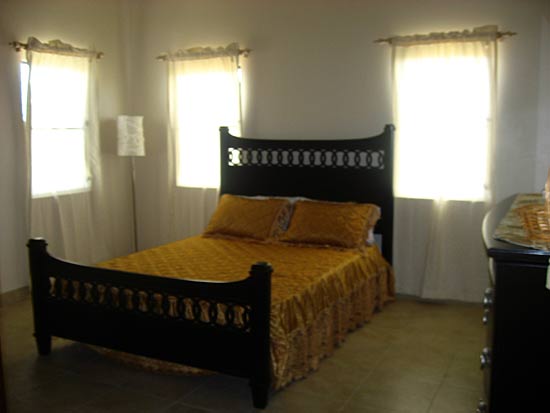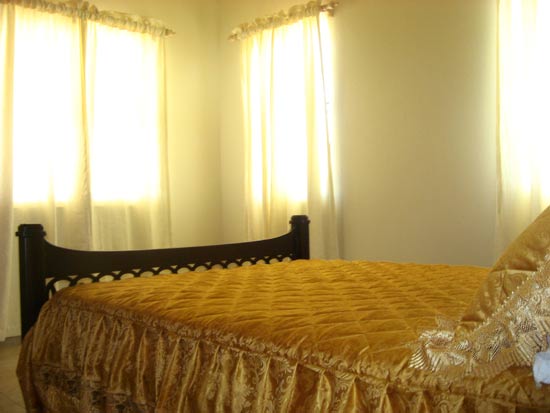 This apartment is certainly more spacious and more private!
When on your balcony, you are virtually secluded, facing the valley below and St. Martin...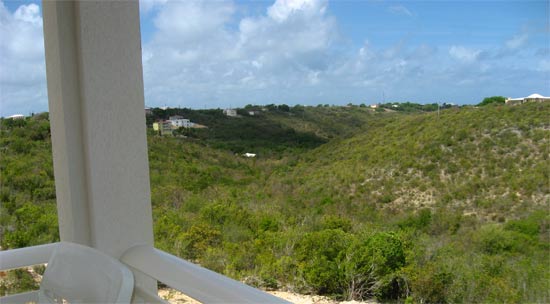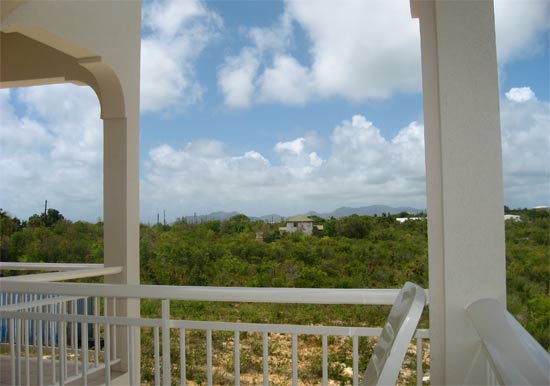 Tremendous value!
Contact Karlyn
That concluded the tour of Karlyn's beautiful Anguilla apartments.
There was just one last thing...
Rates!
High Season (Dec. 14-Apr. 15): $150/Night
Low Season (Apr. 15-Dec. 14): $100/Night
(Plus 20% service charge and government tax)
My jaw just about hit the floor! She also added, that includes service charge, government tax, and daily maid service.
Great value for such a low cost!
Klasher Apartments is definitely one of the best Anguilla deals!
Whether you are looking for a long-term lease or a vacation rental, Karlyn provides real value for your dollar.
Another comfort for me? Having Karlyn right downstairs. In the case of any emergency she is there, and she is such a kind lady, so accommodating and helpful!
If you have any questions about Klasher Apartments, or if you would like to book, please contact Karlyn in the form below. She is so organized and diligent, you will find her a delight to work with. :-)
More Anguilla Apartments...
Kamilah Suite - An Affordable Anguilla Rental A sweet one-bedroom rental that is just 30 seconds from Rendezvous Bay and comes complete with pool access.
Casa Hughes Set in South Hill this apartment offers clean, spacious units with pretty views of St. Martin.
Nature Garden Apartments A short walk from Rendezvous Bay, Nature Garden features lovely studios and one/two bedroom apartments.
Ocean Terrace Condos Super high-value long-term rental set overlooking the Caribbean Sea. Complete with air conditioning, ocean views and with a pool on-site, it's hard to beat the value of Ocean Terrace Condos.
More on Anguilla Apartments...