Find and List Apartments in Anguilla,
A Unique & Affordable Approach
to Anguilla Accommodations
Are you a landlord? Click here to list YOUR Anguilla apartment, free.
Apartments in Anguilla are affordable accommodations if you are on a longer-than-vacation stay in Anguilla. It is a great way to see what living in Anguilla might be like, or to take a long-term Anguilla vacation. Think about it this way...
Anguilla is one of the best tropical locations in the world to vacation. If you work remotely by computer, why endure winter when you can live economically in Anguilla?
Our First "Live-In" Experience
Our very first Anguilla vacation was in March 2002.
My Dad had discovered Anguilla through a book called A Trip To The Beach. He mentioned it to a friend who travelled frequently to the Caribbean.
As fate would have it, his friend had just signed a long-term lease on the bottom floor of an Anguilla villa! He gave us the keys, and that March we were smitten.
First Time in Anguilla, March 2002
We Were On The Bottom Floor Of The Green Anguilla Villa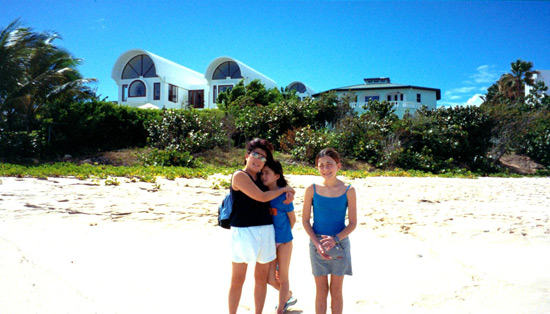 The truth is, one week wasn't enough. We returned to the villa in August of that year, this time for the entire month. It was then when we discovered what it was like to live in Anguilla.
Watching the August Monday
Anguilla Carnival Boat Race, 2002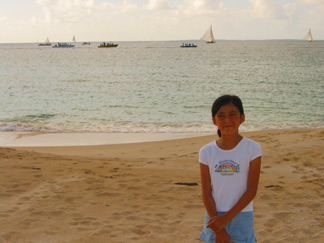 Surprise! You can live very economically in one of the highest-end tourist destinations in the world!
We ate in more than we did out. We shopped at local grocers and roadside vendors (ex., vegetables, fish).
When we did go out to eat, local BBQs and favorites like Nico's and the Roti Hut were a fraction of the price of tourist-oriented establishments. And the food is excellent.
We made friends, went to the beach with a cooler and put down our towels, drove from East to West and everywhere in between.
We were no longer just "on vacation."
Anguilla started to feel like home. (Internet bandwidth was not fast enough to work remotely back then, or my parents might have made the move much sooner.)
Our Second Prolonged Stay
Years later, Anguilla became home.
While waiting for the construction of our Anguilla home to be completed, we stayed at "Rest Ashore" Anguilla apartments during December 2008/January 2009. In those days it was hard to find any type of longer-term accommodation.
Located inland, off of the Jeremiah Gumbs Highway, our "Rest Ashore" apartment boasted two big bedrooms, one bathroom, a full kitchen, and a living/dining area with plasma TV. The front porch provided picturesque views of St. Martin, and the furnishings were comfortable.
The best part? The delightfully friendly and accommodating owner, Wayne Reid, was just next door. He was over in a jiffy if we had any questions or problems.
The apartment was peaceful, clean, safe and secure.
Naturally, we were excited to move into our Anguilla home when it was ready. But, we were sad to say good-bye to "Rest Ashore," and to Wayne. It had become our home, and he our trusted neighbor!
Apartments in Anguilla, Today
Many Anguillians built apartments to meet the shortage of apartments at that time. Unfortunately, the Recession hit and many developments were stopped or never started.
A New Apartment Building in Anguilla
Grand View Apartments

This has left a huge surplus of apartments in Anguilla.
Anguilla is dotted with several new, clean, never-been-lived in Anguilla apartments that are ready to rent.
There is a range of previously built apartments, too.
Many are spacious, tastefully furnished and located inland, with views of St. Martin or with views to the Atlantic on the island's Northern side.
Just about everywhere in Anguilla has a view and you're never more than a few minutes from a beach!
Renting apartments in Anguilla is extremely affordable. Most can be rented for under $1,000/month!
Most have 2 bedrooms, 1-2 bathrooms, a full kitchen, washer/dryer and an out-door living space. Many apartment building owners live on-site or nearby. If your apartment needs maintenance, help is never far away.
Tip: Before committing to a rental, be sure to ask about the "noise" level. There may not be ambulances and traffic, but some neighborhoods may have plenty of barking dogs, roosters or thumping music. Ask to spend a day and night if you're not sure.
More Than A Vacation
If Anguilla is a wonderful place to visit, we reasoned, it must be an even better place to live. And it is!
But vacation-priced villas and hotels are not priced to live in Anguilla.
The problem for most people who would like to stay longer-term is that they do not know how to go about finding a good apartment and taking care of legalities.
The solution?
Anguilla-Beaches.com Free Apartment Rental Service
This is a free service to Anguillian landlords and a convenient all-in-one spot for those who would like to stay in Anguilla for more than a week or two...
Important: At your port of entry into Anguilla, you are given a visitor stamp in your passport which gives you a maximum of one month to stay as a tourist visiting Anguilla.
You can lengthen your stay in Anguilla, two months at a time by getting an "extension of stay stamp" at the Immigration Department in Anguilla. The Immigration Department will give you up to 6 months per year.
All you have to do is show that you have the financial means to support yourself while you are in Anguilla.
These stamps cost EC $150.00/month, or roughly USD $55.00/month.
This is a great opportunity, for persons who work remotely, to visit Anguilla during those cold, dark winter months in North America and Europe.
Do YOU Have an Anguilla Apartment to Rent?
Do you have an Anguilla apartment to rent for either long-term or short-term stays?

If so, please use the form below to show your apartment to thousands of potential renters. Upload photos and post information about your apartment.

Please include...


Your contact information (phone numbers and e-mail)


Shortest lease (ex., "Shortest lease is one month")


Rate (we recommend you list your rate and if it's negotiable)


What does rate include (ex., utilities)


Number of bedrooms


Number of bathrooms


Appliances (ex. fridge, stove, washer/dryer)


Furnished/not furnished (ex. fully furnished, with lots of closet space)


Air conditioning (ex. air conditioning in bedrooms only)


Location and neighborhood (ex. in North Hill village overlooking the valley to Sandy Ground)


Extras (ex. television, good views, pool)


Add anything else you would like (ex., the view, when it was built, other good features)


By filling in this form, your apartment will be shown below to thousands of potential renters, FREE. Start by entering the name of your apartment building...
Anguilla Apartment Listings...
Click below for Anguilla apartment listings.
Nature Gardens Vacation Apartments at Rendezvous Bay

This vacation unit was created with you in mind... Basically as an alternative to resorts, but more importantly, to offer you a home away from home and …