Near, Neat, Nice... Nico's
The Anguilla Restaurant
Update 2018: Nico's is currently closed. Updates to come.
Nico's At A Glance
With cheap prices and solid staples (bacon and eggs, BLTs, hamburgers), you can't go wrong at this local spot.
More on Nico's, below...
Right near the airport, lies a neat and tidy Anguilla restaurant, serving very solid, local food... Nico's. A true "Anguilla restaurant, I don't think we've ever seen a tourist here...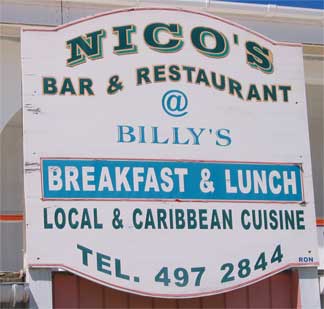 Our discovery of Nico's begins at the end. We were leaving Anguilla. We had just checked into Wallblake Airport (AXA), and had some time on our hands... a little more than 90 minutes.
Now, as you probably know, the Anguilla airport isn't the most exciting place. And if you know my Dad by now, that's lots of time for one more adventure. This last time, an Anguilla restaurant one.
We had heard of this cheap, quick little eatery, right near the airport. We were hungry. Could we ask for more?
Naturally, my Mom was worried...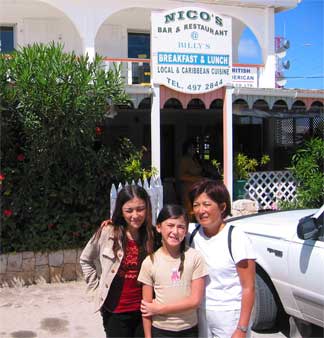 She didn't want to miss our flight, so we practically had to drag her there by her hair.
But we managed, paused for a quick photo, and took to our table!
Inside, Nico's is open, airy, neat and tidy, and offered both "American standards" and "Anguillian standards."
We took a seat, placed an order with the friendly waitress, didn't have to wait long before our food was on the table.
The Food
Good basic "American food." Sandwiches, hamburgers, ribs, the lot.
Or, if you prefer, Anguilla basics such as goat stew -- my Dad says if we're bad, we'll all have to try it next time we visit!
Just kidding... I'm sure it's delicious. It's just that, um-m-m, I felt like a BLT.
Mmm... delicious! I've definitely never had a BLT like that back home! Seriously, it was absolutely fantastic. It really hit the spot.
Back to the airport with time to spare (to my Mom's relief)... and we were headed home. Next time you're at the airport, give Nico's a try -- if you do, you won't wait until you're at the airport, the next time!
Directions, Hours & Contact
Directions: Nico's is located in the strip mall across the street from the post office in The Valley.
Nico's
Good prices, service, breakfast staples (bacon and eggs) and lunch favorites (BLTs), as well as Caribbean cuisine.
Hours: Breakfast and lunch. Closed Sunday.
Tel: 264-497-2844