An Introduction To Anguilla Vacations
Welcome to Anguilla, the best Caribbean island.
The mere mention of Anguilla vacations tends to conjure images of mega yachts, a life of super luxury, the ultimate in fine dining, talcum-powdery white sand beaches, and no-limit budgets.
Is it because of all the celebrities who make Anguilla their vacation hideaway? Is it a tightly held secret amongst the world's multi-millionaires and billionaires? It could be, but the "secret" is getting out!
This introduction to Anguilla vacations shows you both sides of Anguilla, with the emphasis on affordable. You can spend a week or two here as inexpensively as any other tropical island, or you can "max out your AMEX Black card."
Welcome to Anguilla Vacations, Your Way!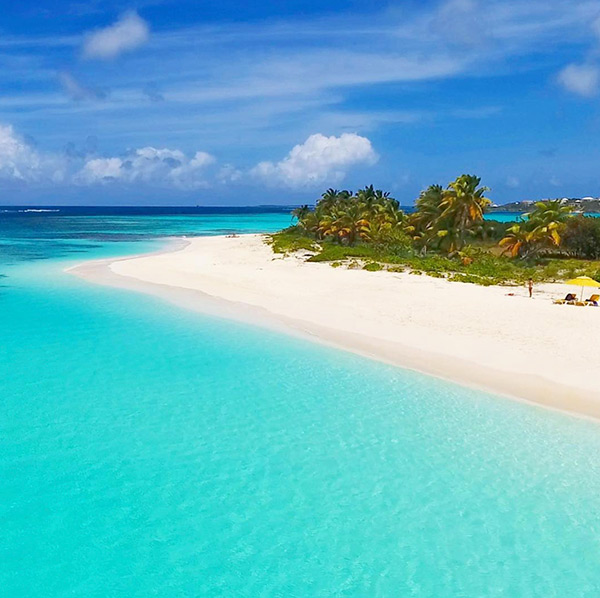 Step 1) Getting to Anguilla
Anguilla is "known" to be hard and expensive to reach. But flights to Anguilla can be, in fact, cheap and non-stop.
First up? American Airlines flies direct from Miami to Anguilla daily.
Nothing Beats Getting to Anguilla by Air!


But if those flights are too expensive or don't time well with your city, fly into St. Maarten, the major hub of an island just a few miles south. Many cheap charters fly from major American, Canadian, and even some European (Paris) cities regularly. From the NorthEast (ex., New York, Boston, Montreal, Toronto), fly non-stop to SXM.
From there, arrange a charter ahead of time or catch the ferry from Marigot and you'll be in Anguilla in no time! It's so easy.
If you are flying from St. Maarten, the journey is ultra-smooth thanks to Anguilla Air Services and Trans Anguilla. Anguilla Air Services operates flights daily on a schedule. Trans Anguilla offers private charter flights. Both have terrific reputations and come highly recommended!
So many folks either don't know about this option or are afraid that the boat won't be there to pick them up. It will be. Once you have done it the first time, you will do it every time. It's that much easier, cheaper and faster.
There are other ways of getting to Anguilla of course...
Anguilla's Airport... Clayton J. Lloyd International

The Anguilla airport is a charming Caribbean airport, simple and breezy. There is such a special, "small-island" feeling to land in Anguilla.
If you are flying from San Juan, Tradewind Aviation and Seaborne fly to Anguilla directly.
There are also flights from St. Thomas and Dominican Republic.
And I would be remiss if I did not mention the "rich and famous" options...
Have a private jet? No Problem. Anguilla's newly remodeled airport has upgraded parking space for private jets that triples its capacity.
You can even fly in by helicopter to your private villa, like celebrity hearth throb, Brad Pitt, did back in the 2000s.
A Note on Visa Requirements
A valid passport is generally all that you need for short stays in Anguilla. Certain countries require a visa for entry. Courtesy of the Government of Anguilla, click here for the list of visa requirements.
Step 2) Anguilla Accommodations
The next step is finding a place to stay. Anguilla vacations offer, to oversimplify a bit, three ranges of accommodations...
First, Luxury Anguilla Villas & Hotels
Anguilla is known for its luxurious accommodations!
Staying at a villa? Some of the villas on Anguilla are truly mind-blowing. No expense is spared to pamper you. And no expense is spared by guests for the privilege... rates run as high as $80-$100,000 for one week during the island's hot season, Christmas.
One of the most luxurious ways you can enjoy Anguilla is via a luxury Anguilla villa. The villa owners and management companies truly think of it all. From private chef services, to helicopter landing pads... luxury villas are the utmost in privacy and personalized experience.
Our Favorite Villa, Beach Escape Villa

What about hotels? Anguilla's luxury hotels provide high-end comfort, service and dining, all with unparalleled beach access. Anguilla boasts some of the finest five-star hotels in the entire Caribbean, including the sophisticated Four Seasons Anguilla...
Malliouhana is one of the most famous resorts in the Caribbean. It has long been known for delivering classic Caribbean elegance and outstanding dining.
View of Meads Bay From Luxury Room in Malliouhana

Malliouhana was built in the 1980s, a product of passion, a labor of love. Gracing one of Anguilla's most beautiful beaches, Meads Bay, dotted with many five-star restaurants for fine dining, you can't go wrong. A junior or full suite (on private Turtle Bay Beach) at Malliouhana is a top pick for Anguilla vacations.
Cap Juluca is another iconic Anguilla resort.
Breathtaking Cap Juluca

A Belmond hotel, Cap Juluca exudes Caribbean luxury at every turn.
Finally, Aurora Anguilla is our personal favorite when it comes to high end hotels.
Aurora Anguilla, Rendezvous Bay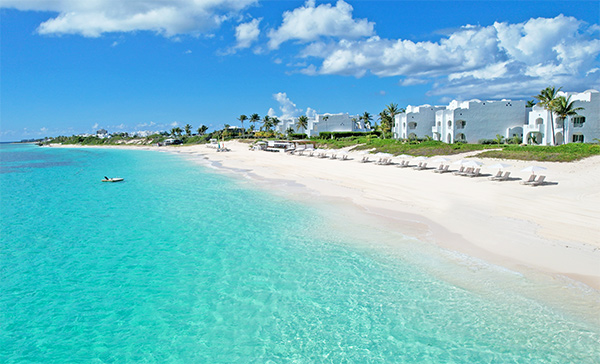 Second, Mid-Range Anguilla Hotels & Villas
Between luxury and low cost there is a plethora of wonderful villas and hotels.
Best value hotel? The highest value, mid-range Anguilla hotel is Arawak Beach Club, nestled in the colorful, quintessential fishing town of Island Harbour.
A quaint, historic hotel Arawak's units are made up of colorful bungalows, each with comfortable furnishings, updated modern bathrooms and upgraded living amenities like flatscreen TV's and air conditioning and super fast wi-fi.
Views From Arawak Beach Club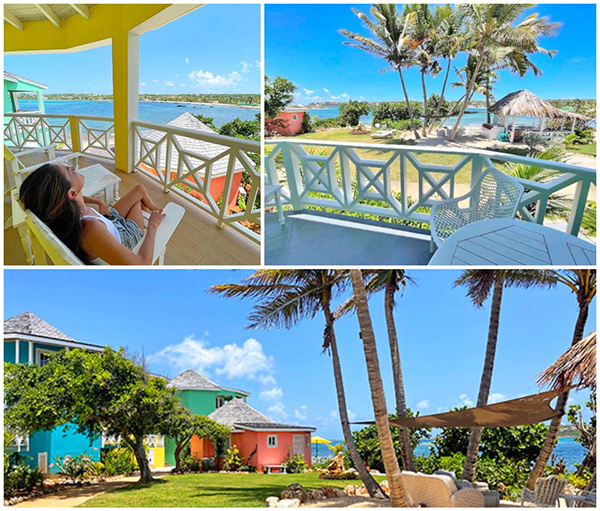 Choose a room either at the water's edge. Or choose a second floor unit with breathtaking views of Island Harbour's vibrant coast. At $200-$400, Arawak Beach Club is the best deal on the island and books up fast for Anguilla vacations!
Looking for best-buy villas in the mid-price range?
Me & Jackie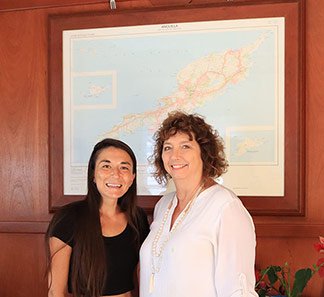 This is where Jackie Pascher really comes in handy!
We've been loyal clients to Anguilla's best real estate agent for over 20 years, ever since our first visit back in 2002.
Jackie works day and night to find you the best Anguilla villa. She's dedicated, knowledgeable and she truly cares about finding the perfect villa for your needs.
Jackie Pascher is your go-to for an Anguilla villa that fits your budget and your specific needs! Whether it's a megavilla for the ultimate getaway, something intimate and romantic, or anything in between, she'll find it by the sea or on the beach. Don't settle for less on your Anguilla vacation!
We've personally stayed at Tortue Villa, recommended by Jackie and it's always exceeded our expectations.
And, Low Cost Anguilla Villas, Hotels & Accommodations
Is there such a thing as low-cost villas in Anguilla? Contrary to what you may believe, Anguilla villas are not just for the likes of celebrities...
Budget-friendly Anguilla hotels do exist and are available for a fraction of the price of the mega-luxurious.
Take for example the timeless Ferry Boat Inn, located right on the shores of Blowing Point and just 5 minutes from the Anguilla Ferry terminal.
And here's another, little-known option...
Anguilla Apartments
Renting an Anguilla apartment may be the most economical approach to Anguilla vacations. Klasher Apartments is a great choice for a low-cost,long-term Anguilla lodging. They're simple, clean and popular hotspots like Crocus Bay, Sandy Ground and Shoal Bay and the cities capital, The Valley, are all less than a 10 minutes drive away.
For shorter-term stays, try Edward's Inn (formerly Sydan's), located in Sandy Ground - Anguilla's epicentre for nightlife entertainment.
The advent of Airbnb has brought a whole new range of accommodations for Anguilla travellers with many new low-cost, convenient options now just a Google search away.
Step 3) Getting Around Anguilla
It still surprises me to hear that many travelers to Anguilla rarely leave their resort or beach where they are staying. Anguilla is safe. You can explore anywhere without any worries.
Many spend their Anguilla vacations shuttling between beaches and restaurants in hired taxis.
Anguilla taxis can be found at Blowing Point ferry terminal and at the airport. Taxi drivers are kind, hospitable and friendly. Many offer tours of the island, and can be hired to pick you up from your hotel and take you out for dinner, or to the beach, wherever you please. The only drawback to taxis in Anguilla is the cost. They can get expensive.
We highly recommend BBs Tours. They are an Anguilla Card Partner, so you save 10% when you book with your Card.
Bernard, Owner of BBs Tours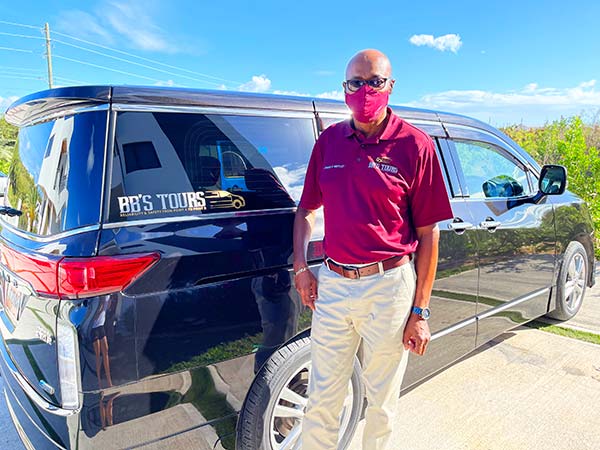 Taking a taxi is one way to get around, but it is not the only one and for those seeking to really see the island, that brings us to...
Anguilla car rentals!
Island Car Rentals is our favorite Anguilla car rental agency on the island. They are friendly and easy to deal with, setting up so much of the paperwork in advance and making it as effortless as can be.
Hop in your Anguilla rental car with a map of Anguilla and you will be on your way to experiencing all of the hidden beauty and adventure this tiny gem of an island has to offer.
Island Car Rentals is Our Top Choice for Vacation Rentals

Step 4) Eating: Anguilla Restaurants
Eating in Anguilla is an experience. It is relaxing, calming, an event that can last an entire afternoon, or go on all night.
Like Anguilla villas and hotels, Anguilla restaurants are not all the super-high-end budget-breakers you've heard about. Again, to keep matter simple, let's divide them into three categories.
First, Anguilla's Fine Dining
It is easy to fall in love with Celeste at Malliouhana over on Meads Bay. It screams, "This is Anguilla." An epicurean must-have.
Celeste: An Anguilla Fine Dining Must

Perched on Meads Bay's Eastern cliffside, overlooking its mile-long powdery white stretch of sand, Celeste has one of the best views in Anguilla!
Dinner here is always stunning, with breathtaking scarlet sunsets almost guaranteed. Their menu ranges from an a la carte breakfast and buffet to a 5 star dinner menu that doesn't hold back.
More on five-star Anguilla restaurants here.
Next, Anguilla's Mid-Range Restaurants
Among the best mid-priced Anguilla restaurants is beloved beach bar, Waves.
There is nothing more peaceful than gazing out at Sandy Ground's sleepy bay dotted with bobbing sail boats from Waves' comfy terrace...
We Love Waves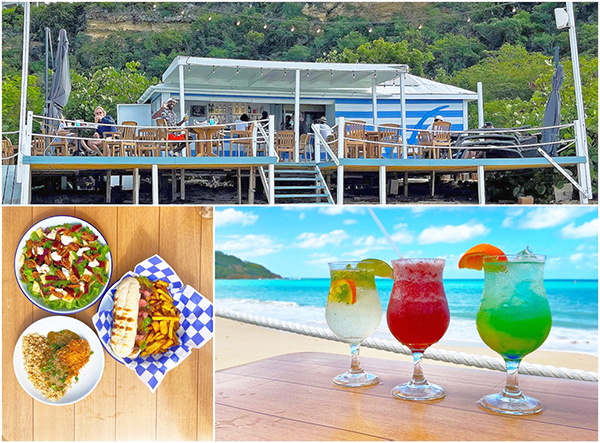 This family-run restaurant is owned by warm and wonderful people who will make you feel right at home on the shores of Sandy Ground
Their steak sandwich is a local favorite (best on the island!), juicy and tender, served with hand-cut potato fries.
The Mouthwatering Steak Sandwich

Next, an Anguilla favorite... da'Vida's Beach Club. Devour a delicious hot dog, burger, grilled fish sandwich or their coveted ceasar pizza...
Love a da'Vida Rum Punch

... then snooze under the sun, swim in Crocus Bay's calm still water, or kayak around the bay and into the secluded Little Bay next door.
This article would not be complete without mentioning an Anguillian staple, Elvis' Beach Bar.
Two Cheers for Elvis!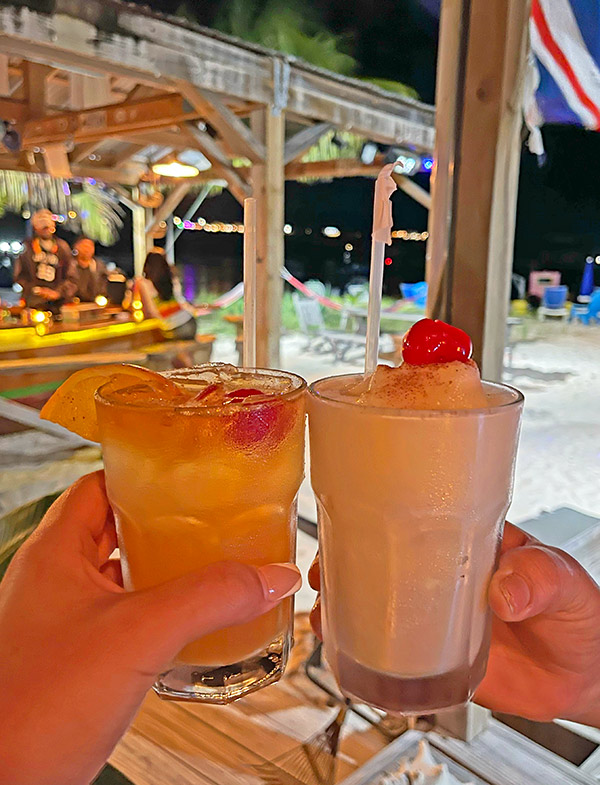 From their burgers and loaded nachos to their lip smacking cocktails, dinner at Elvis is always a great way to usher in an evening out in Sandy Ground. Come night fall, the tiny bay transforms from a fishing hub into a bedazzled strip of nightlife entertainment, lively bars and electrifying music.
More on mid-range Anguilla restaurants.
Last But Not Least, Cheap Eats!
Anguilla's "cheap eats" is the surprise of many Anguilla vacations. From New York style pizza, to Caribbean style pasta, to basic chicken and ribs... Local favorites are favorites for a reason!
Ken's BBQ, B&D's, Sharky's... these are just a few of the island's restaurants that serve up excellent cuisine at a fraction of the price of other restaurants. Tasty's is another who often has crayfish specials for under $15.
Crayfish Specials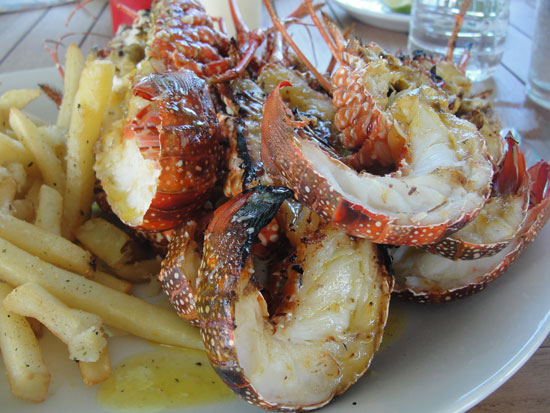 More on favorite cheap eats.
Step 5) Activities: What To Do In Anguilla? By Land And By Sea!
With waters as blue as Anguilla's, Anguilla activities should involve the water!
Premier watersports company, Anguilla Watersports is the very best when it comes to activities on the sea. They offer...
SUP tours and rentals
Kayak tours and rentals
Kitesurfing lessons and rentals
Kayaking Anguilla's Blue Waters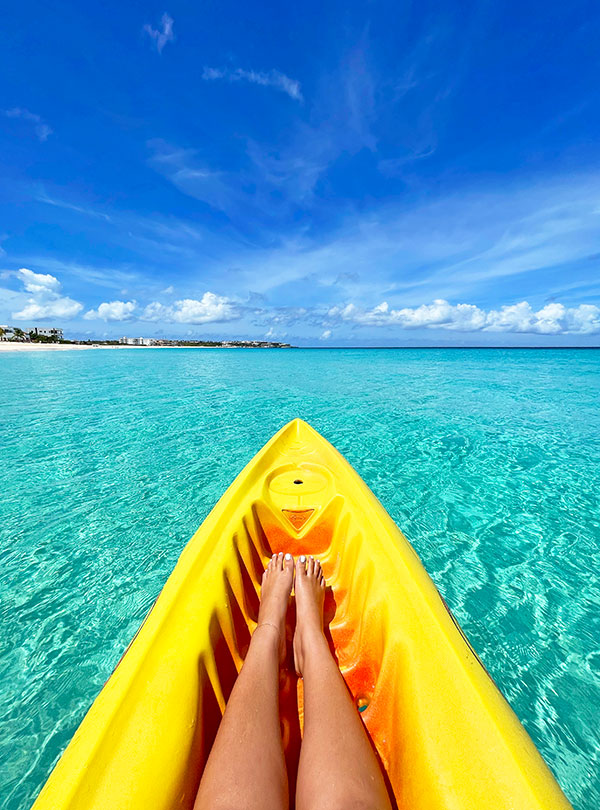 More on Anguilla Watersports here.
Other favorite Anguilla activities include...
And, of course, boating...
Our favorite days on the water have been with the Anguilla boat tour company, Calypso Charters! Prepare for an unforgettable day spent exploring offshore cays and hidden gems that can only be reached by boat.
They are reliable, safe and so friendly. Their captains take good care of you and will bring you to explore Anguilla's offshore cays and islands, as well as its hidden coves...
Scrub Island, Prickly Pear, Sandy Island and Little Bay.
Lesser known spots such as Dog Island
For adventurous tours to places like Scrub Island, check out AXA Rum & Reel.
Sandy Island and Little Bay don't require shelling out the big bucks (private charters costs can run high!). There are hourly boats that travel back and forth between Anguilla and these private escapes. Prickly Pear can also be enjoyed for a lower cost by heading over to Prickly Pear with Johnno.
Land-based Anguilla activities and explorations are plenty. They range from free to reasonable in cost.
We love Anguilla golf and Anguilla shopping ...
Aurora International Golf Course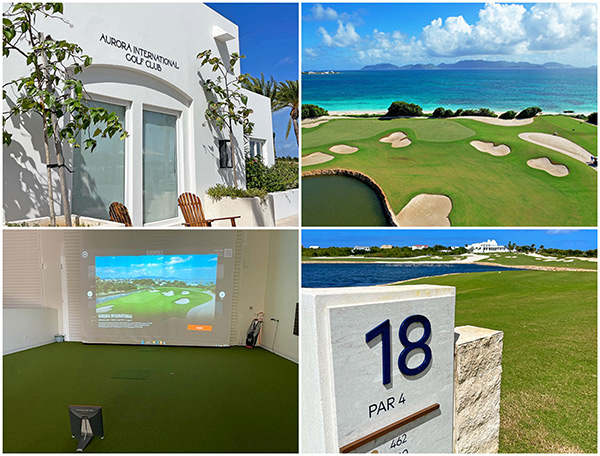 ... and exploring the island by rental car with a good map. Visit the most impressive beaches if this is your first trip.
You can enjoy yourself immensely for the price of a gallon of gas. Want to spend less than that? For a bottle of water, you can really see Anguilla, an island that was made for easy-hiking...
Hiking out to the Western tip and Anguillita island is an oh-so-rewarding hike, perfect "to do" for a cheap Caribbean vacation.
Exploring the opposite end of the island, climbing to the top of Windward Point on the East tip, is also a magical experience. Look for whales! They tend to frolic between the Eastern tip of Anguilla and Scrub Island.
Anguilla Vacations... Barely Scratched The Surface
There you have it! It is impossible to whittle Anguilla vacations down to an "absolute top ten favorites" list, because they are all favorites, but these are some of our most memorable must-do's. And as you can see, you can have a wonderful time for only a few dollars.
This introduction to Anguilla vacations has barely scratched the surface.
Please share your own magic moments on Anguilla vacations! Everyone loves a great story and a super tip or two.
More on Anguilla Vacations...
Monthly Guide to Anguilla Vacations...
A Good Cause...
A Special Note For Animal Lovers...
A few other good appetizer links for your Anguilla vacation...
---
ARCHIVES:

Anguilla Vacations

All pages below are Anguilla Beaches archive pages, no longer kept up to date.

Past Fundraisers...

Past Businesses & Articles...

Anguilla vacations make you smile :-)