An Even More Private Piece of Anguilla...
Sandy Island, A Must-Do Anguilla Activity
By: Louise Fayet
No 747s, no package deals, no mass-marketing tourism. Anguilla is as remote and private as you can get. Well, almost. There is one Anguilla off-island cay so seductive in its idyllic-tropical-paradise beauty, taking you even further away from stress, hustle and bustle... a visit to Sandy Island is a must-do Anguilla activity.
Welcome To Sandy Island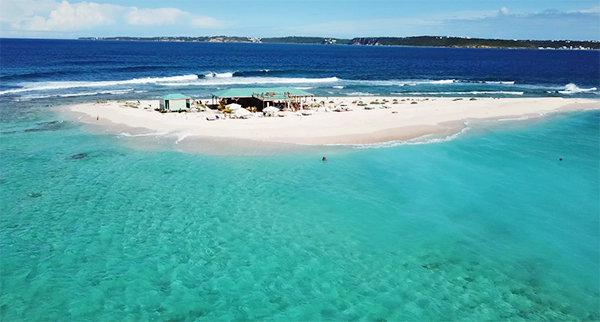 A Sandy Island excursion includes a boat ride, exploring/lazing on a spit of sand in the middle of clear turquoise blue water, well-made rum punches, and fresh-from-the-grill food.
How can you not want to make time for Sandy Island when visiting Anguilla? ;-)
Stepping off on to a small piece of sand in the middle of so much blue is a dream! Swimming, sunning and sipping on rum punches... a Sandy Island experience will forever be in your memory.
For a full look at the Sandy Island experience, see the video above!
Stepping Foot on Sandy Island

First things first, how do you get to Sandy Island?
Make your way to the Sandy Ground wharf where "Happiness," a small motor boat will meet you and take you over to Sandy Island. The boat ride is $40 per person, round trip.
Boat To Sandy Island, "Happiness"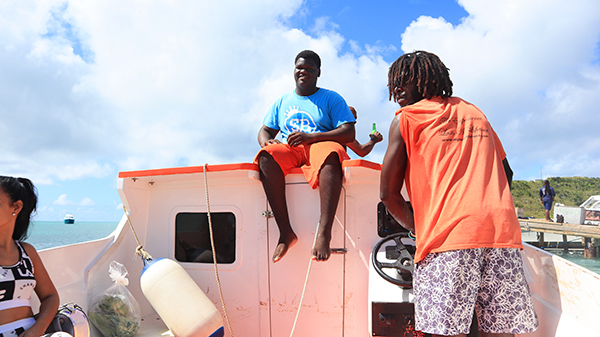 "Happiness" leaves Sandy Ground every hour on the hour starting at 11am.
(You can also take a private Anguilla charter to Sandy Island).
... And We're Off!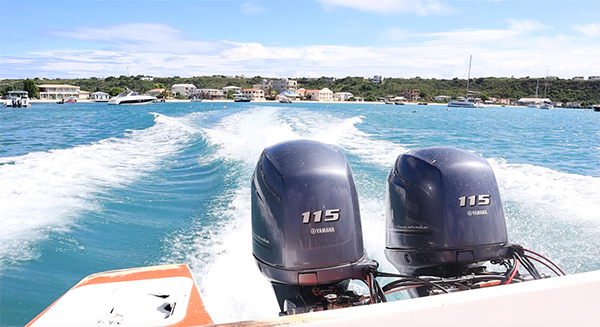 This is part of the fun of Sandy Island, especially if you like boat rides. It's a pretty quick ride, almost too quick!
... Arrival!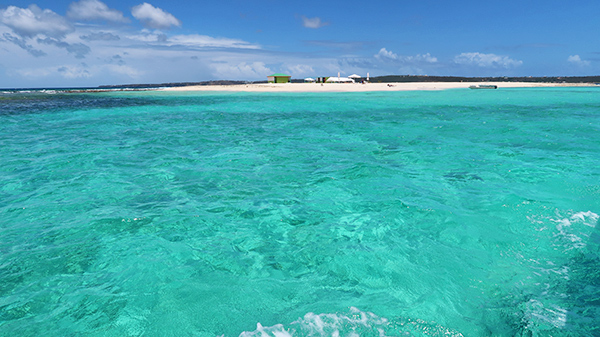 The crew helps you step down on to the beach and suddenly this mini slice of paradise feels all your own.
Sandy Island Bar & Restaurant

We recommend picking out your seats for the afternoon and making your way to the bar for a cool Sandy Island cocktail!
Sandy Island Cocktails & BBQ Lunch
Painted pretty and vibrant greens, blues and oranges, the bar is picture perfect!
The Bar

At the bar, ask for Carrie, also known as JoJo. She is one of our favorite bartenders. Her cocktails are spectacular!
The classic rum punch is a must. If you have heard about Sandy Island, you have likely heard about the rum punches. I have to confirm - they are not overrated.
Best Rum Punch

Carrie garnishes your drink with local, sweet watermelon, orange and lemon slices and a cherry to top it off! A potent punch, it surely makes my "top 5 favorites" list.
Carrie is an expert mixologist, and often whips up cocktails on the spot to suit your palate. Our #1 favorite cocktail at Sandy Island? Introducing...
The Anguilla Beaches Cocktail!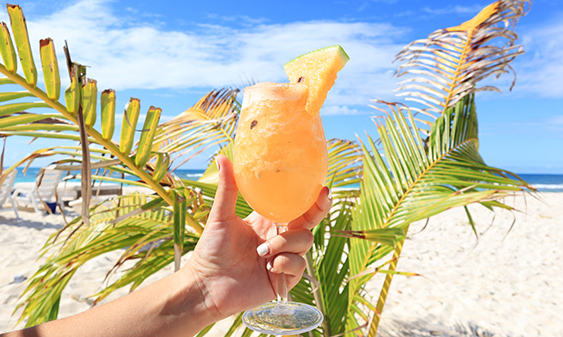 Juiced local Anguillian watermelon, freshly squeezed lemon, vodka, and grenadine, we can't get enough of the Anguilla Beaches cocktail :-)
An especially nice touch, Sandy Island does not use plastic cups or straws. It gives this little slice of paradise a "greener," more environmentally friendly feeling, and a certain heightened sense of elegance.
Tip: While at the bar, place your order for lunch. If the island is busy, lunch may take a a bit of time. Until it's ready? Fun in the sun calls...!
Fun In The Sun
Sandy Island has a beautiful stretch of beach, perfect for strolling. The island is also surrounded by a number of reefs. Grab your snorkel gear and check out the reefs on the island's north and west sides.
The sea life around the island is breathtaking as the island's reefs are virtually untouched. Tip: Don't forget to bring your mask and flippers.
After a refreshing swim and snorkel? Lunch is served!
The menu offers appetizers like salads, baby back ribs and coconut shrimp. Main courses include grilled kebabs, lobster, grouper, snapper and...
The Crayfish Meal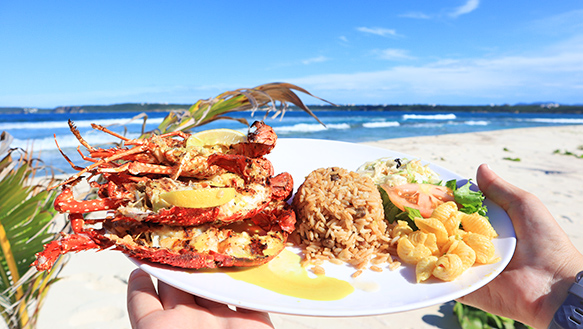 Five juicy grilled crayfish halves paired with a butter sauce.
Another top choice? The mahi mahi...
The Mahi Mahi Meal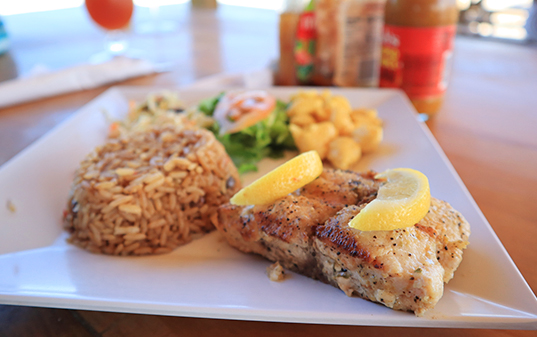 Grilled to perfection and extremely juicy, each bite of mahi is infused with lemon and black pepper. All meals are served with Sandy Island's famous pasta salad, a side salad, cole slaw and rice and peas.
Love ribs? You are in luck! Sandy Island's are some of the best in all of Anguilla.
The BBQ Ribs Meal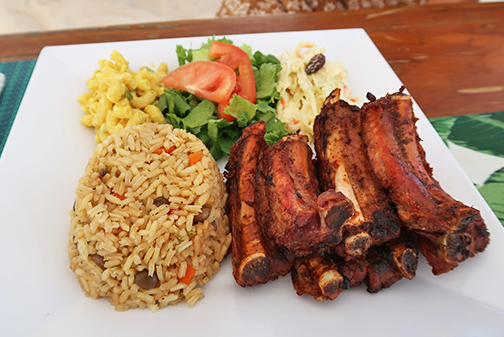 After lunch on Sandy Island?...
Sandy Island Activities
Every Sunday, the island comes alive with Steel Pan sessions from 12-2pm.
They are the nicest of musicians, and may even give you a quick steel pan lesson!
Louise Getting A Crash Course on Steel Pan

After 2pm, Sandy Island's DJ sets a smooth Sunday mood until closing time.
After drinks and dancing and BBQ eats? It's back to the beach!
And when you're ready to head home after a beautiful day in the sun? "Happiness" will take you back to Sandy Ground.
Explore, nap, snorkel, read, eat, sunbathe, swim, all with a true sense of secludedness... it doesn't get much better than that.
I'm sure Michael Jordan can attest to that! He has visited Sandy Island, too. He actually bumped into his basketball buddy, Shaquille O'Neal, who was in Anguilla at the same time, and at Sandy Island, too! You can read more about Michael Jordan in Anguilla, here.
Sandy Island is certainly a celebrity favorite and popular with boaters visiting from St. Martin. Even ABC's popular show, "The Bachelor" came to Anguilla and held a private date on Sandy Island.
It's no wonder why... it's just about as private as you can get.
Sandy Island is one of a kind!
To make a reservation and check for opening hours call... 264 476 6534
Menu: Click here
Directions: At Malliouhana resort.