<![endif]-->
An Even More Private Piece of Anguilla...
Sandy Island, A Must-Do Anguilla Activity
By: Kristin Bourne
No 747s, no package deals, no mass-marketing tourism. Anguilla is as remote and private as you can get. Well, almost. There is one Anguilla off-island cay so seductive in its idyllic-tropical-paradise beauty, taking you even further away from stress, hustle and bustle... A visit to Sandy Island is a must-do Anguilla activity.
The enticing water around Anguilla's Sandy Island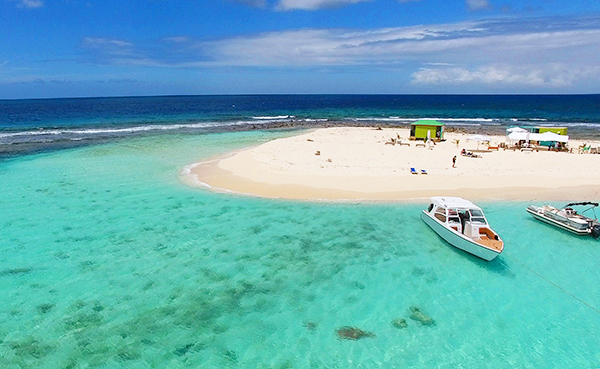 A Sandy Island excursion includes a boat ride, exploring/lazing on a spit of sand in the middle of clear turquoise blue water, well-made rum punches, and fresh-from-the-grill food. How can you not want to make time for Sandy Island when visiting Anguilla? ;-)
One of my favorite memories at Sandy Island was with the warm company of my Mom and two of our close friends. We rode on their boat. Together, the four of us popped in on the crew at Sandy Island and they were prepared to feed us.
The enticing water around Anguilla's Sandy Island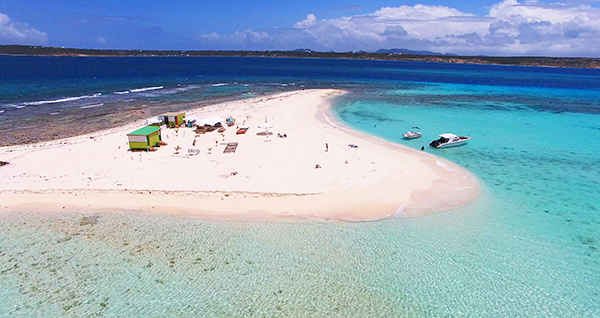 We were the only ones there that particular day. What a treat! Stepping off on to a small piece of ground in the middle of so much blue was so appealing.
Swimming, sunning and sipping on rum punches, the memory of that day is burned into my memory.
Fast forward several years...
Sandy Island was calling my name, one lazy Sunday in Anguilla. With 9 friends (it's recommended to make reservations), we were ready to go.
The first passengers begin boarding
the noon boat, "Happiness"

We met next to Johnno's on Sandy Ground. You can park there, or down the street at The Pumphouse.
We then made our way to the Sandy Ground wharf and boarded "Happiness," a small motor boat that takes you over and brings you back. The boat ride is a fair $10 per person, round trip.
"Happiness" leaves Sandy Ground every hour on the hour starting at 11am. We took the noon boat.
(You can also take a private Anguilla charter to Sandy Island).
This is part of the fun of Sandy Island, especially if you like to be on boats, like I do. It's a pretty quick ride, almost too quick!
... And we're off. Departing Sandy Ground for Sandy Island!

En route to Sandy Island

The crew helps you step down on to the beach and suddenly this tinier piece of paradise feels all your own, at least for the afternoon.
... Arrival!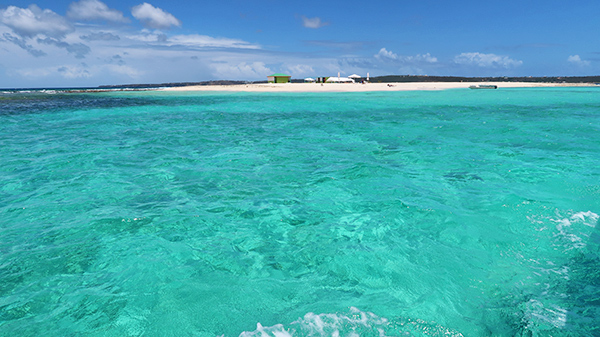 Sandy Island For Lunch
My mom during our first Sandy Island visit

Unlike my first visit, this particular Sunday was busy.
Some had come over on "Happiness" and some were from boats anchored off Sandy Island.
This off-island cay is particularly popular with boaters visiting from St. Martin.
I quickly put in my order for "JoJo's Rum Punch," which I received promptly.
The High Tide is another favorite Sandy Island exclusive cocktail. This one is Janice's (Nori's Mom's) favorite!
Sandy Island now serves their drinks in nice, hard plastic stemmed "glasses," a nice upgrade from the plastic cups.
This certainly gives the experience a "greener," more environmentally friendly feeling, and a certain a heightened feeling of elegance.
I also ordered my lunch of crayfish which arrived about 45 minutes later, as the main menu items are grilled to order.
The crayfish lunch consisted of two crayfish (split), pasta salad, a side salad, cole slaw, and rice and peas and was priced at $50.
The crayfish that day was a little over-cooked but it was still good enough to eat every bite. Some others in my group ordered lunches of ribs and chicken and they cleaned their plates too.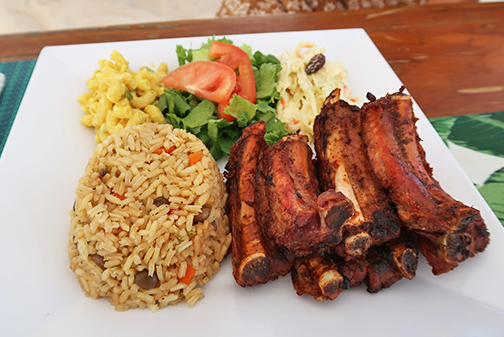 Sandy Island also serves lobster, grouper and snapper.
But what else is there to do on Sandy Island besides eat?...
Sandy Island Activities
Since I was with a larger group, I brought my dominoes, hoping at least one other person would want to play a little as we "limed" the afternoon away.
There are plenty of nice picnic tables to hang out it, shaded or not.
As luck would have it, there was some interest. Our game didn't last long though because the sand and sea called to us...
Lou (who lives in St. Maarten but loves to visit Anguilla)
loves Sandy Island!

We laid our towel on the sand and chatted and relaxed. There were some beach lounge chairs stacked up for use, but the soft warm sand felt good.
It was a windy day (in mid-February) and we were entertained by a nearby kite surfer with some skills!
I watched snorkelers out in the distance. I've been told the sea life is particularly special. You can read more about snorkeling in Anguilla, here.
If you prefer to stay on the sand, there is even a volleyball net (and volleyball, you don't have to bring your own)!...
The southern tip of Sandy Island (facing Anguilla with St. Martin in the distance)
and the volleyball net just waiting for us to start up a game...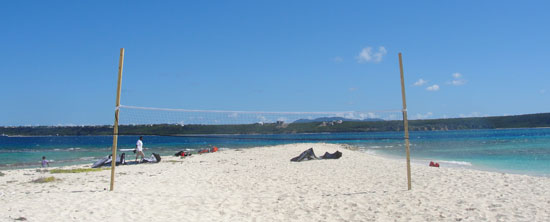 As the day came to a close, it was time to get on "Happiness" and head back to Sandy Ground and the larger land mass, Anguilla ;-)
"Happiness" anchored and waiting to take us back to Sandy Ground

What a way to spend a day in Anguilla! Explore, nap, snorkel, read, eat, sunbathe, swim, all with a true sense of secludedness. It doesn't get much better than that.
I'm sure Michael Jordan can attest to that. He has visited Sandy Island too. He actually bumped into his basketball buddy, Shaquille O'Neal, who was in Anguilla at the same time, and at Sandy Island too!
You can read more about Michael Jordan in Anguilla, here.
Even ABC's popular show called "The Bachelor" came to Anguilla held a private date on Sandy Island. The main difference was, "Happiness" wasn't running that day and they had to be dropped off via helicopter!
Sandy Island is certainly a celebrity favorite!
It's no wonder why... It's just about as private as you can get.
This island paradise has been in business since 1984. They even host private events!
To make a reservation and check for opening hours call... 264 772 0787
NOTE: There is a 5% charge when paying via credit card.