Michael Jordan Jets to Viceroy Anguilla
Who's bigger than Michael Jordan?
6x NBA Champion, 5x NBA MVP, 14x NBA All-Star, as the NBA says, "The best basketball player of all time."
Businessman, Air Jordan, Space Jam, majority owner of the Charlotte Bobcats.
Who's bigger than Michael Jordan?
Anguilla has seen the likes of Bill Clinton, Conan O'Brien, Paul Simon, Paris Hilton, Paul McCartney, Robert De Niro, Uma Thurman, Sandra Bullock, Keith Richards, Brad Pitt, Jay-Z, Beyonce and Denzel Washington, all big names who have changed the world and touched lives.
But, Michael Jordan?
He's an international superstar, a timeless icon, a role model who continues to inspire today's youth, long after his retirement.
You can't get much bigger than Michael Jordan.
So, the island was ablaze with buzz when this pulled into the Anguilla airport...
Michael Jordan's Private Jet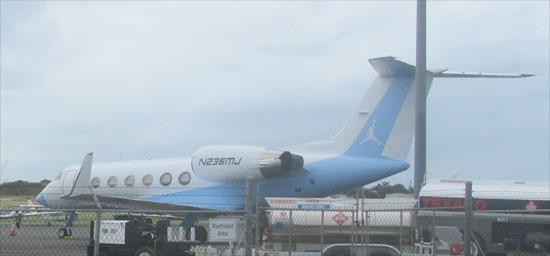 It wasn't hard to identify the man behind this private jet. Car after car was driving up to the Anguilla airport to snag their shot of Michael Jordan's private jet!
Michael Jordan jetted to Viceroy Anguilla, a destination that has attracted Sandra Bullock, Orlando Bloom and wife Miranda Kerr, and Law & Order: SVU actress Mariska Hargitay.
Michael Jordan didn't come to Viceroy Anguilla alone!
He was spotted riding bikes around Viceroy Anguilla with celebrity friends 50 Cent and NY Yankees Captain, Derek Jeter.
Michael Jordan Riding Bikes
(and Smoking Cigars - Note the Stogie in his Left Hand)
in Anguilla with Derek Jeter (Background)


Photo From: imageshack.us
Derek Jeter Riding Bikes in Anguilla with Girlfriend


Photo From: Eyeprime
We all knew he was here, but most of us didn't really believe it.
That changed for us one evening when Yuki and I, with some friends from Canada, were dining at Picante.
After taking a sip from my margarita and setting it back on the table, I looked up. My eyes naturally became fixated on a man walking through the door.
Now, I don't follow many sports. I don't watch baseball, football or soccer. It's a rare occasion when I catch a few minutes of a basketball game, or The Masters. And I certainly have never seen a Yankees game (the tell that I am not a real "New Yorker!")
Yet, somehow, I found myself saying, "That's Derek Jeter!"
Right behind him? The 6'6" legend himself, Michael Jordan.
Anguilla tends to be a low-key island for celebrities. When Liam Neeson or Sandra Bullock walks through a room, a few people look over, maybe one (at most) approaches them, and even that is rare.
The island's nonchalant celebrity sentiment made a special exception for Michael Jordan!
All eyes were on Jordan. He even had a personal handler in tow, doing "crowd control." And he needed it. We (me and every 7-10 year old in the restaurant!) were denied pictures and autographs.
Here is what we managed to snap...
Pre-Photoshop Clean Up: Michael Jordan at Picante Anguilla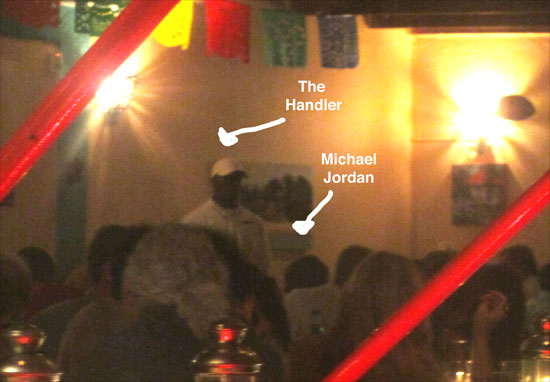 The photo we wish we snapped... Ha! Ha!
Post-Photoshop Clean Up: Michael Jordan at Picante Anguilla

Viceroy Anguilla sure is pulling in the big Hollywood names...
But no one on their guest list will top Michael Jordan!