Sandra Bullock's Anguilla Viceroy Vacation
Viceroy Anguilla has become a spot for the stars.
In Summer 2010 Viceroy was the scene for a high profile photoshoot, a Victoria's Secret photoshoot.
Miranda Kerr was amongst the models staying at the luxury Anguilla hotel.
With husband Orlando Bloom in tow, it was a trip for work and play, and maybe a honeymoon or wedding too!
Click here to read the Miranda Kerr and Orlando Bloom Anguilla vacation story.
The next star to the Viceroy scene?
Sandra Bullock, just a few months after the Victoria's Secret invasion.
Another island insider gave us a heads up as she arrived on island. I thought to myself, "On a 35 square mile island rich with celebrities, how do I keep missing them?" Paris Hilton remains the only celebrity I have seen in Anguilla since we have started visiting the island in 2002, and since we have moved to Anguilla in 2008.
During the Fall Semester, I missed Sandra Bullock too!
But our source filled us in...
Sandra Bullock on Anguilla Beaches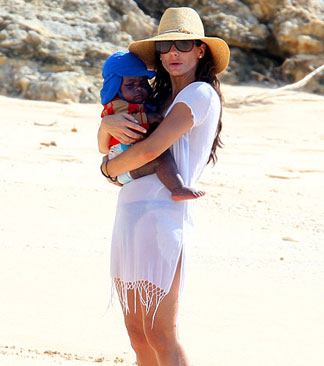 Photo From: usmagazine.com
She arrived at Viceroy, gracious from the very start.
After checking in and settling into her private villa, she returned to the reception area to greet everyone in the hotel.
With friends, family and new baby Louis, they frequented the Sunset Lounge and spent many dinners at Viceroy's signature restaurant, Coba.
Sandra also spent many-an-afternoon by the hotel's main pool with Louis, playing in the warm water.
Many different encounter stories claimed that she was so sweet and very warm.
First Victoria's Secret and Orlando Bloom, now Academy Award winner Sandra Bullock!
Viceroy is getting hotter and hotter, the go-to resort for the "in" crowd in Hollywood.
Who will check in next?