Miranda Kerr and Orlando Bloom's
Anguilla Holiday, Wedding or Honeymoon
at Viceroy Anguilla
In Summer 2010, we got an inside tip that Victoria's Secret models were on island, shooting and staying at Viceroy Anguilla.
"Are you positive?," we asked our source rather incredulously.
Sure, Anguilla has attracted the likes of Uma Thurman and Robert De Niro, but they come to Anguilla to disappear, to escape.
This was different.
High profile photoshoots in Anguilla seemed strange. Wasn't it St. Barts' responsibility to cater to beautiful models, their luxurious photoshoots and glamorous St. Barts vacations?
"I assure you, they are here," our friend chuckled at our disbelief.
Later that evening, restless at home and looking for a relaxing spot for a small meal, a light bulb went off.
How could we a) validate our friend's story, b) spot the models and c) dine at one of our favorite spots for a light bite on the island?
Viceroy Anguilla Sunset Lounge here we come!
The night was stormy and dark, but a few models came out. While we were chowing down on sushi and spicy shrimp, they gracefully entered, thin, tanned, dressed in white, flowers in their hair.
The million dollar question?
Orlando Bloom and Miranda Kerr
Arriving in LAX After Anguilla Vacation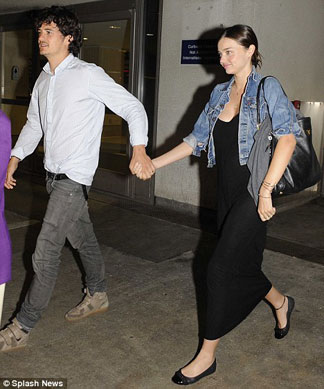 Photo From: dailymail.co.uk
Where was Miranda Kerr (Victoria's Secret model) and, more importantly, where was her boyfriend, Caribbean pirate, Orlando Bloom?
Word on the street was that she had him in tow! She was there for work, but it was a mini Miranda Kerr and Orlando Bloom Anguilla holiday too.
We had heard a few stories about Viceroy guests having breakfast next to the kind couple at Viceroy's main restaurant. Would they come out for drinks that night?
We enjoyed the rest of our relaxing meal and watched some of the Victoria's Secret models have a few drinks before taking off for the night.
Miranda Kerr, Orlando Bloom and other Victoria's Secret familiar faces never joined the group at the Sunset Lounge that evening, reputed to be their last night in Anguilla.
They were not scheduled to be on island for very long. After a few days passed, we figured we had missed the "famous" models including Miranda Kerr, and (though not a Victoria's Secret model!) Orlando Bloom too.
It was summer holiday. I had spent the first half with my family in Anguilla, and now it was time for something new. I was scheduled to fly out of St. Maarten, heading for Tofino beaches, 4000 miles away off of the West coast of Canada.
Flying alone from St. Maarten, my Mom, Dad and Yuki came to see me safely across the channel before I embarked on the rest of my journey. It be would weeks before I would see them again.
On our way over someone distracted Yuki from my departure. I will let Yuki tell her story...
As an avid fashion blog and magazine reader, I immediately noticed a girl that looked strikingly familiar boarding a boat at the Blowing Point Anguilla ferry terminal, just as we were boarding another boat.
After taking a few glances, it hit me. She wasn't in my history class last semester - she was world famous model, Lily Aldridge!
Lily Aldridge, Victoria's Secret Model

I wanted to be 100% sure that it was actually her before I said anything.
I deliberated the whole ride to St. Maarten, and finally decided that it was her. And if it wasn't, what's the worst that could happen?
Our boats arrived at the same time so I was able to stop and ask if it was in fact her. It was!
She was extremely soft-spoken and sweet. She said how she had been shooting with Victoria's Secret at Viceroy and that she loved it there. Her hair was still wet from an early morning swim.
What a treat!
Meanwhile, a couple of days after my plane touched down, the news of Miranda Kerr and Orlando Bloom's Anguilla holiday broke worldwide.
The only hitch to the story? They had gotten hitched!
But, nobody knew the true details of their wedding or their Anguilla vacation!
Do you have an
Anguilla celeb story?
They had tied the knot, but was it before Anguilla? Was it after their trip to Anguilla? Had Anguilla been their honeymoon destination?
The Miranda Kerr and Orlando Bloom Anguilla holiday, honeymoon and wedding mystery continues...
If you have any details on Orlando Bloom and Miranda Kerr's Anguilla holiday, please click here to share your story and your pictures!