Beaches in Tofino,
Surfing Big Waves in Long Beach Tofino
In the summers when I was a kid, about 10 or 11, there was only one place I wanted to be.
Vancouver, "Beautiful British Columbia," Canada.
Sure, all of my cousins and uncles lived out there, so afternoons were long and fun. But even at 10 years old, something greater, something I could not explain, drew me to the mystic west coast.
This is the land of "Canada - Keep Discovering."
This is where the Canadian tourist board takes all of their photos! From the snow-capped Rockies, to the rich First Nations culture, to the driftwood, surf and sand, the sights to photograph are plenty.
So, I would put on the "Unaccompanied Minor" tag, and hop on an Air Canada airbus. Six hours, heading west.
When I landed? The air was brisk. I felt refreshed.
We would visit all of the attractions: Gastown, Granville Island, Grouse Mountain, Whistler. But nothing compared to our weekend trip to Tofino in Vancouver Island.
We stayed in Ucluelet, a calm harbor dense with forest. We star(fish) gazed, dined on caught-off-the-dock seafood, walked the beaches in Tofino, watched longboard surfing and big wave surfing.
This was in pre-Anguilla days, already I was hooked on "island life."
I never wanted to leave.
Over a decade later I finally returned to one of my original favorite places on Earth. This time, alone and ready to surf Tofino beaches!
Tofino Travel, Getting to Tofino, Tofino Flights
Tofino is on the Pacific coast of Vancouver Island, approximately a four hour drive from British Columbia's capital, Victoria.
There are two ways of getting to Tofino:
1) Take the BC Ferry from Vancouver to Victoria, then drive or take a bus (it is an eight hour bus ride!)
2) Tofino flights (30 minute flight)
My Cousin Kayla and Me at Vancouver South Terminal
Yep, She is Wearing An Irie Life T-Shirt!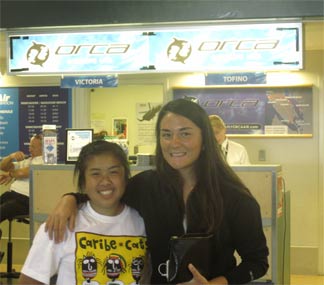 I was on my way to an Earthwatch project, volunteering to help with Gray Whale research.
The expedition was taking place 45 minutes north of Tofino, on "Flores Island" in the remote First Nations town, "Ahousaht."
Both ways of getting to Tofino are the "scenic route." Duffel bags in tow, I needed to minimize minutes and miles of hassle. I investigated Tofino flights.
There are daily Tofino flights aboard Orca Airways. They fly 7 seater ground planes. Tofino Air is another, more expensive, option. Why? Tofino Air gets you there in a float plane!
Both airlines leave from Vancouver South terminal.
On the drive to the terminal, we passed a unique site... Water runways! Each airline had their own gate, errr... I mean dock. Propellers spinning, water rippling, passengers gingerly boarding the air-sea crafts. You must feel like Indiana Jones off to discover the temple of salmon in one!
Nervous to embark on an adventure of my own, we pulled up to the terminal. Tofino is a bustling city compared to the other destinations on the flight schedule, places like "Port Hardy" and "Klemtu." That is the wilds of Northern British Columbia, where things start to feel more like remote parts of Alaska than friendly, familiar Canada.
Even "Ahousaht," where I was headed first (45 minutes north of Tofino) is pretty off the map. Here is a sample of the scenery further north...
Nothing For Miles
Ahousaht, British Columbia

Vancouver South terminal is the last stop before stepping into the vast Canadian unknown!
Barreling down the runway in a 7 seater plane was nothing new after our St. Barts vacation. But, the scenery had changed. The water was a deep ocean-blue, we soared level with mountains a mile high, pine trees enclosed fresh water lakes, was that a Grizzly Bear below?
The pilots had promised that the Tofino airport was a small clearing with a tin shack. They forgot to add "with vending machines." That was it. "A Caribbean airport in Canada," I chuckled to myself.
Next step? Onto Ahousaht for the expedition!
Tofino Accommodations, Long Beach Lodge Tofino
After a few interesting days participating in the Earthwatch expedition, I returned to Tofino to explore the area I loved as a child. This time, connecting with beaches in Tofino was priority #1. We had only walked them when I was kid. I was thirsty for more! I wanted to surf Tofino beaches!
First step: Find Tofino accommodations.
A few popular hotels in Tofino include Wickaninnish Tofino, Middle Beach Lodge Tofino, Pacific Sands Tofino, and Long Beach Lodge Tofino.
Long Beach Tofino is famous for being "one of the safest places in the world" to learn how to surf. A sandy bottom, generally gentle tows, there isn't much to worry about. Even the pros learn here. The "50-200" practice big wave surfing in Tofino in Fall when waves reach 7 feet. Long Beach Tofino is for surfers of all levels.
With world class surfing in their backyard, and ranking as one of the top resorts in all of Canada, I booked a night at...
Long Beach Lodge Resort Tofino, Vancouver Island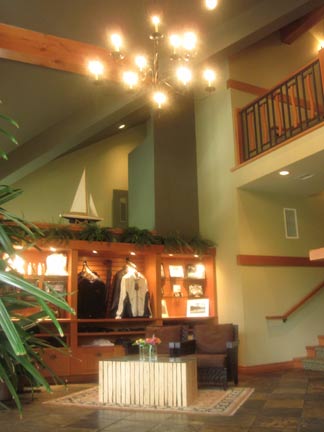 It was right on the beach.
The kind lady at the front desk checked me in early. Before we could get to the room key though, I had to ask about the surfing.
Booking an on-site surfing lesson was step #2!
Ice-cold murky water? 5 foot waves? Foggy conditions? I wasn't going to attempt Long Beach Tofino alone!
Before my lesson, I explored the hotel.
Like the Tofino accommodations when I was 10, Long Beach Lodge captured the snug feeling of the misty Pacific Northwest.
Cedar finishings, stone fire places, nautical touches, Native art.
A cozy feeling of calm came over me.
... And I hadn't even seen their famous "Great Room" yet.
The Great Room at Long Beach Lodge Resort, Tofino Accommodations



Photo From: Long Beach Lodge Resort Official Website
Every morning a complimentary continental breakfast is served in the Great Room. Breads, pastries, granola, fruit, yogurt, or you can order from their hot menu. The most mouth-watering item? A wild Pacific smoked salmon omelette with Okanagan natural chevre!
Their menu would make any seafood fanatic cry in ecstasy.
Mussels, clams, scallops, salmon, and more salmon, done each and every way.
Curled in a comfy leather chair by the floor-to-ceiling windows, watching early bird surfers catch waves 200 feet offshore, a warm mug of coffee in hand... Well, I haven't had a better start to any morning.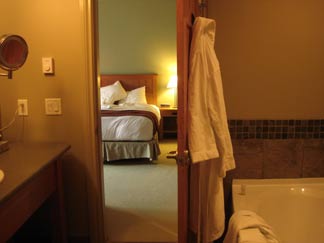 Before plunging into the frigid Canadian waters, I settled into the Tofino hotel room.
These Tofino accommodations were very comfortable.
The Standard Room did not have an ocean view, but the room was large, equipped with a television, DVD player and cable.
The bathroom was the real highlight.
A large tub, bath salts on the side.
Two hours later, I could barely bring my prune-wrinkled body from the tub in time to meet my surfing teacher.
But, the waves called.
Beaches in Tofino, Long Beach Tofino, Surfing Big Waves
In a thick fleece sweater, I left the warmth of the hotel behind to meet my surfing teacher. A few steps outside and my teeth were already chattering. I knew this was a bad sign.
It never went above 60°F.
Would my Canadian heritage kick in and lessen the blow?
Not a chance!
My friendly surfing teacher, Jamie, handed me three things. A wet suit down to my ankles and wrists, a left water boot, and a right one. This was even less encouraging.
"You mean Tofino surfing is colder than Montauk Long Island surfing?"
Jamie laughed, "Think of it this way... Cold water means no sharks with surfing!"
(I later found out that although there aren't any threatening sharks in Tofino waters, depending on the Tofino beach, you have to watch out for sea lions. Apparently, they can get vicious!)
Longboard Surfing Long Beach Tofino

I was thousands of miles from our previous surfing setting: Barbados surfing with Zed's Surfing Adventures.
In Barbados with Zed's Surfing Adventures I got comfortable on a surfboard.
Riding the white water, and riding down smaller waves had become easy.
I made the mistake of telling Jamie my progress.
"Right on!"
After riding some small waves in, we started paddling out, Jamie leading the way on his board.
I didn't quite realize what I was in for.
"We're going to try surfing big waves."
What did he mean by big?
In Barbados and Montauk, we stayed 10-50 feet offshore. The waves didn't get very big. I never felt intimidated by the ocean.
But in Tofino, the waves average 2-5 feet in summer months. An average size for an experienced surfer, but monster waves for someone accustomed to Anguilla beaches.
For 45 minutes Jamie was shouting, "Paddle! Paddle! Paddle!"
I only had to disobey the command of "Paddle! Paddle! Paddle!" once before I learned. The wave overpowered me. Disoriented, the water washed me like a piece of loose seaweed. Where was up? Where was down?
When I came up? No time for rest. Unless we wanted a repeat, we would have to paddle through the "set" of heavier waves.
Jamie could see the fear on my face become more intense when I glanced back to the beach.
"How did we get so far from shore?" Never had I been so far from shore on nothing but a foam board! How I longed to be out of harm's way. But now it was time to test my limits.
Surfing Waves Long Beach Tofino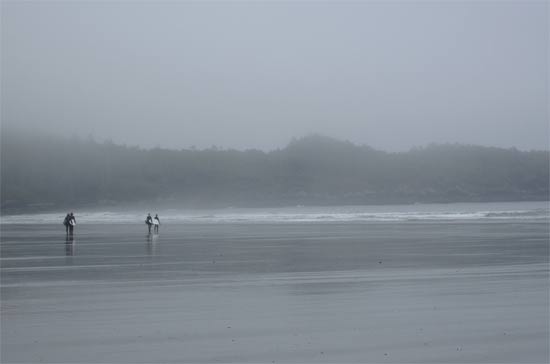 200 feet offshore, I knew the ocean had control. Four feet of water never looks so big as when you're standing under a threatening wall of it, ready to break.
My heart was pounding. Jamie said, "This one, paddle for this one!" I backed down. Another one, "This one, paddle for this one!" Again, I shook my head.
One of my concerns were the other surfers. There is a certain surfer "etiquette" and I didn't want to break rules I didn't know. But, like Jamie promised, Long Beach Tofino is one of the best beaches in the world to learn to surf. The climate is calm. The experienced surfers kindly step aside to watch excited learners.
Finally, after 20 minutes of contemplating the consequences of "dropping in" on a 2-4' wave. I shrugged, "What's the worst that can happen?"
I paddled and missed, paddled and missed. I never managed to catch one, I only got a fleeting taste. No wonder learning surfers get so frustrated. You have to paddle fast. What a work out! Jamie said he lost 25 lbs his first year surfing!
But frustration was a feeling I couldn't relate to. Not yet. Feelings of frustration were far from my mind. I was too scared, too amazed by the power of the water, the feeling of freedom being so far from shore.
As for the sensation of staring down a tunnel of water? Now I know why surfers say awe-some so much. The peace, that moment of quiet, the realization of being utterly alone... It is an awe-inspiring feeling!
It was all new.
Before long, three hours were over, and we were already back on shore, watching other surfers getting washed in the waves. Head to toe in black wet suits with caps, they looked almost comical, like cartoon characters riding the waves!
Had it not been for Jamie's persistence, I'm not sure I would have ever overcome the fear of being so far from shore, in the middle of the bay, facing walls of water. He teaches surfing regularly, having lived in Tofino for nearly a decade. Originally from Vancouver, he fell in love with the atmosphere in Vancouver Island and hasn't left since.
He is also a lifesaving instructor at Hooksum School, an organization operated out of Hesquiaht Harbour (a half hour flight from Tofino). This dedicated group teaches outdoor education about nature and the environment through Indigenous practices and knowledge. You can stay with Hooksum School in their traditional Long House. Truly a unique way to connect with nature. Maybe next year!
Jamie provided me with a piece of parting advice. "Surfing is about so much more than riding your adrenaline, or searching for a rush. It's about being at one with the wave. Really understanding the energy of the water, the life of the wave. If you fight it, it will fight back. If you flinch, you will fall. Nothing wants to hurt you out there. So, stay calm and commit."
Exploring Long Beach Tofino
After surfing big waves in Tofino, I was refreshed, energized, not ready to say good-bye to the Pacific waters yet.
For hours, I walked...
Long Beach Tofino is almost as wide as it is long! It's a breathtaking spot reminiscent of the famous beaches in the Twilight series. I scratched my head, carefully examining the cliffs, the woods. The setting sure looked familiar. That's because they did film scenes on Long Beach! Sadly, no signs of Edward.
Thick forests line the beach, Tofino accommodations nestled into the rich foliage.
On the beach joggers take their morning run, beginners are longboard surfing, the experienced are further out on speedier boards.
Some people are having bonfires, most are with canine companions.
Even in the foggy chilled B.C. weather, you are not alone.
People are out, peacefully enjoying the sights, sounds, smells, the feeling.
Long, Wide, and Lined with Dense Forest, Long Beach Tofino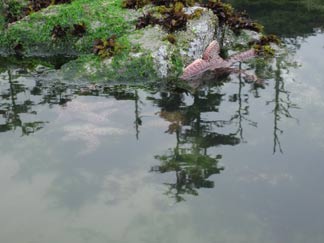 The walk was winding down.
I had reached the end of the beach.
The shoreline had become scattered with rock, tidal pools filling the crevices.
In Anguilla we have to hunt for starfish, but here there were dozens. On just one rock!
Each pool reflected the dense forest above.
In the back of my mind I wondered if I was secretly being stalked by a cougar.
Good-Bye Tofino, Good-Bye Vancouver Island
As I boarded my Tofino flight back to Vancouver I wondered if it would be another decade before I returned to Tofino.
Something told me not this time.
I would be back to Vancouver Island sooner than that.
And I was!
Upon returning to Vancouver, my cousins were up for a quick day trip to Victoria on Vancouver Island.
And on the way back, the most magical sight of all, seen from the B.C. Ferry that travels between Victoria and Vancouver Island...
Orcas, My Favorite Childhood Whale

Could there be a more fitting farewell?
More on Surfing
More on Caribbean Surfing