Anguilla Villa Rentals
This listing of Anguilla villa rentals shows you each villa available to rent, beach by beach, price by price. The key to a wonderful vacation is choosing the right Anguilla villa rental on the right beach, at the right price.
Since there are "only" 33 beaches (even less that have Anguilla villa rentals gracing their shores!) and many more villas, it's easier to choose where you want to stay, and then choose your Anguilla rental villa.
On the other hand, if you do not know which beach you want to stay on, but you do know how much you want to spend, you can search the listings by price, too.
From cozy, one-bedroom cottages, to large and lavish five-star private villas, you will find them here! Be sure to check this Anguilla villa rental guide before booking accommodations on your next stay in Anguilla.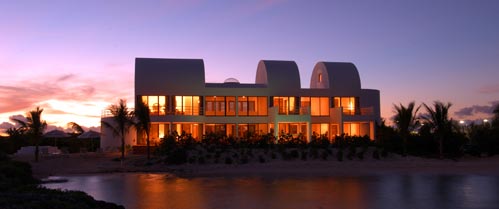 Photo Credit: CoveCastles
How To Use The Anguilla Villa Rental Guide
Step 1) Decide if you want to search by price bracket or location.
Step 2) Click here to browse by location, or here to browse by price.
A Note on Searching By Price: Dollar signs represent rates in the high season (not including the two week holiday period between Christmas and New Years). Room rates, size, amenities, minimum night stay, mimimum rooms rented, and location vary for each villa.
$: less than $200
$$: $200 - 500
$$$: $500 - 1,000
$$$$: $1,000 - 2,000
$$$$$: $2,000 - 3,000
$$$$$$: $3,000 - 9,000+
On each individual villa review, click the dollar sign for updated villa rates. If villa rates are not currently available, the $ link will take you to a page to contact villa management for updated rates.
Insider Tip: Villa prices can be almost double the price during the "Holiday Season," which generally lasts from mid-December to the first week of January. On the other hand, villa prices are significantly reduced during the "Slow Season," which starts close to the end of April/May and lasts through August. Villa rental deals can be found in late October and early November too.
Step 3) Evaluate the information we provide on each villa.
Size The number of bedrooms in each villa. (Pssst!... Insider Tip: The average villa rental in Anguilla has 4 bedrooms. Generally, you are still able to rent these villas if you only need 1, 2, or 3 bedrooms, and at a lower price point.)
Location Proximity to the villa's nearest beach.
Description Highlights of the villa.
Size, description and location in relation to the beach, are all villa specifications that make or break a vacation. Whether you are planning a laid back vacation in an economical villa or planning to live in the lap of luxury, this listing of Anguilla villa rentals help you find the right villa.
Ready? Let's get looking!
Anguilla Villa Rentals By Location
South Shore (Facing the Caribbean Sea and St. Martin)
Savannah Bay | Mimi Bay | Sea Feather Bay | Long Pond Bay |
Forest Bay | Corito Bay Little Harbour | Round Rock Bay | Blowing Point |
Rendezvous Bay | Cove Bay | Maunday's Bay | Shoal Bay West | Sherricks Bay
North Shore (Facing the Open Atlantic Ocean)
West End Bay | Barnes Bay | Meads Bay | Long Bay | Isaac's Cliff
Sandy Ground (Road Bay) | Crocus Bay | Little Bay | Limestone Bay
Blackgarden Bay | Shoal Bay East | Island Harbour | Captain's Bay

Anguilla Villa Rentals By Price
$ (<$200)
Country Cottage | La Palma Guest Rooms
Kamilah Suite

$$ ($200-500)
Almond Tree Villa | Villa Hibernia | Greengard Villa | Beach Villa Ella | Palm Shores Villa | Mainstay Villa |
Sweet Return Villa JEMS Villa | Little Palm | Quixotic Villas |
Little Butterfly | Freedom Villa | Morgan Hill Villa
By The Sea Villa | Cedars | Thye Cottage I & II | Windsong | Coquina Villa
Tradewinds Villa | Island Queen Villa | Emerald Reef Villa
Patrick's Bay Villa | Indigo Reef Villas
$$$ ($500-1000)
Vista Villa | Villa Fay | Quixotic Villas | Wesley House | Fletch's Cove |
Anguilla Shores | Villa Soleil | Songbird/Seabird |
West Green Villa | Bow Green Villa | Moonrise Villa | Bali Hai Villa |
Spyglass Villa | Topaz Villa | Whale View | Gardenia Villa | Sand Castle Pointe | Tortue Villa | Tranquility Villa
Tamarind Villa | Indigo Reef Villas | Oceana Villa | Bay View Villa
Moondance Villa

$$$$ ($1000-2000)
Villa Luna | Grand Outlook Castle | L'Embellie Villa | White Cedars Villa
Panarea Villa | Twin Palms | Jasmine Villa | Zebra Villa | Moonraker Villa
Ananke Villa | Banana Wind | Villa Nirvana | Bellamare Villa
Ambrosia Villa | Indigo Reef Villas | Ocassa Villas | Oserian Villa | Beaches Edge Villas | Kiki Villa | Sandcastle Villa: The Beach House
Villa Soleil |
Beach Escape |
$$$$$ ($2000-3000)
Champagne Shores: The Villa | Sunset Beach House | Villa Eros |
Shutters on the Beach | Alegria Villa | Villa Paradise | Argianno Villa |
Caribera Villa
Amarilla Villa | Desert Rose
Sandcastle Villa | Coyaba Villa | Tequila Sunrise Villa
Rum Punch Villa | Sarasvati Villa | Three Dolphins
Alcyon Villa | Zenaida Beach & Tennis Estate | B on the Sea
Tranquil Tides | Villa Black Pearl | BeachCourt Villa
Azure Villa | Romeo Villa
$$$$$$ ($3000-9000+)
Santosha Villa Estate | Nevaeh Villa | Les Alize | Villa Kishti | Exclusivity Villa | Modena Villa | Ani Villas
Indigo Villa | Le Bleu | Long Bay Villas | Arushi Villa
Kamique Villas | Bird of Paradise | Ultimacy Villa | Altamer Villas
The Point at Covecastles | The Pavilion at Covecastles | Sheriva Villas