Anguilla Villa Rentals...
Long Bay
The red pin (below) is Long Bay. Zoom in on the Anguilla map for more detail.
There are only a few tremendous big beaches on Anguilla. Long Bay is one of them.
Wide shores, sandy beach that stretches for miles, tranquil, clear, blue seas...
Long Bay has it all, just like the other "greats"... Rendezvous Bay, Shoal Bay and Mead's Bay.
But unlike them, Long Bay beach remains quiet, its shores without Anguilla hotels and with only one high-end restaurants and a few Anguilla villas...
Morgan Hill Villa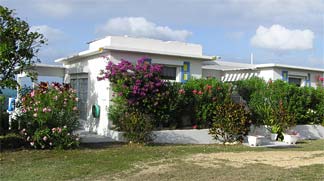 Size: 2-4 bedrooms
Location: In the hill above Long Bay.
Description: Morgan Hill Villa is a quaint and comfortable cottage overlooking beautiful Long Bay.
Tastefully decorated with Caribbean and seaside inspiration, the villa is quite comfortable, especially if you're seeking independence, peace and privacy.
The villa features a spacious living room (complete with TV and nice wicker furniture) that looks out to sea, a small dining area, and full kitchen.
The outdoor living space is good for sunning. A gentle breeze blows through Morgan Hill Villa, so you will never get too hot.
The beach is a fair distance down from Morgan Hill Villa, but nearby beaches can be reached by car.
Price: $$ — Return to Villas By Price
Long Bay Villas

Photo Credit: Long Bay Villas
Size: 16 bedrooms
Location: In the hill (up a short path) surrounding Long Bay's sandy shores.
Description: Long Bay Villas is made up of three luxury villa rentals: Sky, Sand and Sea.
Each of the 5-6 bedroom villas face the ocean with equally spectacular views.
They are each over 6,000 square feet and are decorated in the most soothing light earth tones (white, blues and tans). Each have been designed with a Meditarrenaen style architecture. The private pools are simply to die for.
Tennis courts are on site, too.
In terms of service... chef service, butler service, it is all available at these Long Bay villa rentals.
Long Bay Villas was one of the original luxury properties on the island. Year after year, they continue to get it right.
Read more on Long Bay Villas here.
Price: $$$$$$ — Return to Villas By Price
Santosha Villa Estate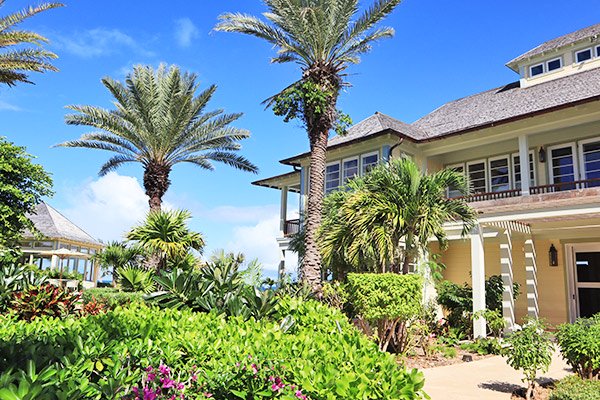 Size: 9 bedrooms
Location: On the eastern side of Long Bay.
Description: Santosha Villa Estate is Anguilla's most sophisticated ultra-luxury villa.
A 37,000 square foot property, Santosha Villa Estate boasts West Indian elegance with one of the most exclusive beach settings in Anguilla.
The property opens onto the private shores of Long Bay's eastern side. Set among tropical gardens, the location is a dream.
Inside, the property is made up of a Grand Villa, three Guest Houses and dining pavilion. There are a total of 9 bedrooms that sleep 23 guests.
With grand furnishings and a grand location comes grand service. Butler service, security and housekeeping is all included in your stay.
One of the most refined properties in the Caribbean, Santosha Villa Estate is in a league of its own.
Read more on Santosha Villa Estate here.
Price: $$$$$$ — Return to Villas By Price
Nevaeh Villa
Size: 8 bedrooms
Location: On the western side of Long Bay.
Description: Nevaeh is one of Anguilla's premier ultra-luxury villas.
Boasting a zen-like Balinese design, and set on one of the most secluded beaches in Anguilla, Nevaeh is true to its name. This is a slice of heavenly paradise.
Eight bedrooms are housed between the villa's main house on the beach and its upper pavilion set at the top of the hillside that slopes up from the beach. Complete with one of the coolest pools in Anguilla, and many unique touches (including a golf simulator and home theater), Nevaeh is a favorite for large groups traveling together.
Read more on Nevaeh Villa here.
Price: $$$$$$ — Return to Villas By Price