Anguilla Boat Charters & Tours
Anguilla boat charters bring a whole new meaning to Tranquility Wrapped in Blue! It is the most intimate way to experience Anguilla's waters. The gentle rocking of the boat, the salt air in your hair, fresh lobster for lunch and rum punch at sunset, entirely surrounded by blue water... days at sea are magical.
Dog Island's Great Bay Beach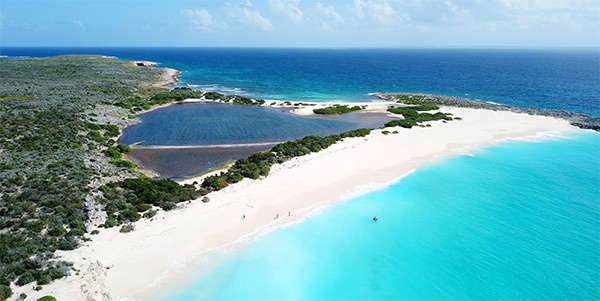 The island is home to many five-star charter boat companies. Booking an Anguilla charter all begins with the question, "Where to?"
Our tip? Experience some of Anguilla's most remote, most secret and spectacular offshore cays and hard-to-reach beaches. Our favorites include...
Dog Island
Prickly Pear East and West
Sandy Island
Little Bay
Scrub Island
Each island makes for a fascinating trip, depending on your speed. For lounging and lunching? Sandy Island gets our vote! Just 10 minutes from Sandy Ground, Sandy Island is a mini island paradise within a mini island paradise.
Sandy Island Anguilla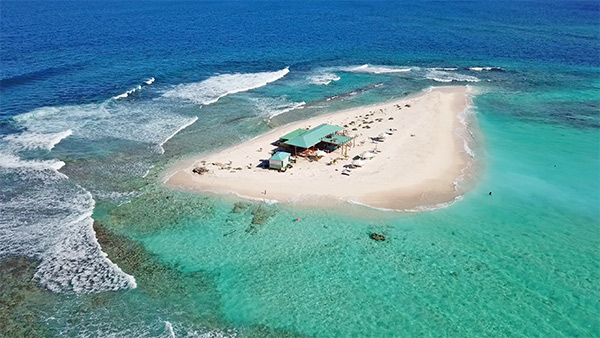 For lunching and lounging with a more remote vibe, Prickly Pear is a must-do. About 20 minutes north of Anguilla, Prickly Pear is rich in exotic feel. Prickly Pear East is home to two restaurants and bars, a large salt pond, and Prickly Pear West has some of the clearest waters in all of Anguilla.
Sands and Seas of Prickly Pear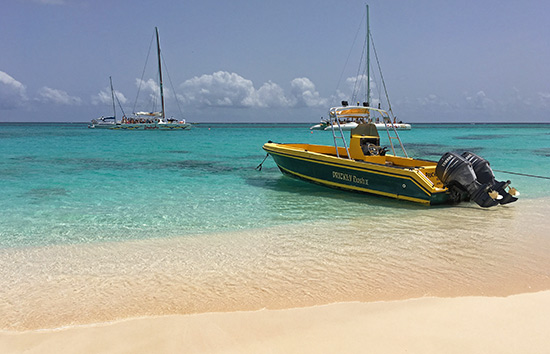 For more extreme exploring, there is no better destination than Scrub Island...
Scrub Island Exploring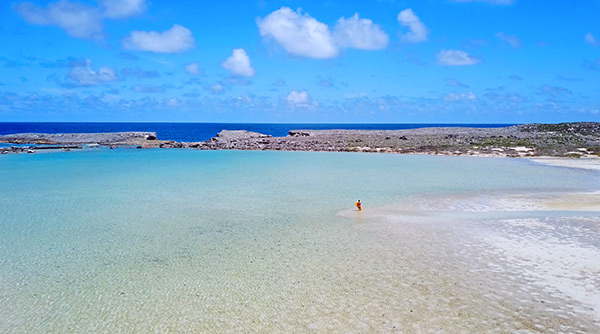 Step aside island in LOST, this is one mysterious island! Scrub Island is home to some of the roughest waters in Anguilla, an abandoned hotel, a plane crash site, an awe-inspiring pond (where sharks come to give birth), and a magical underwater cave.
Steeped in mystery, Scrub Island is one of a kind. (NOTE: We highly recommend Nature Boy for this trip. He knows the island like the back of his hand!)
Snorkeling Scrub Island's Cave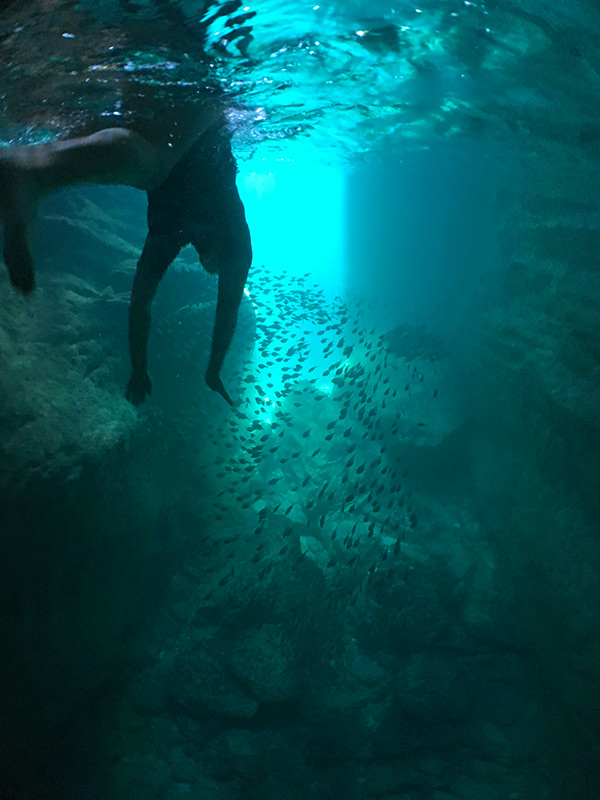 Finally, when it comes to ending the day with snorkeling and sunsets? Anguilla's #1 sunset destination calls...
Sensational Sunsets at Little Bay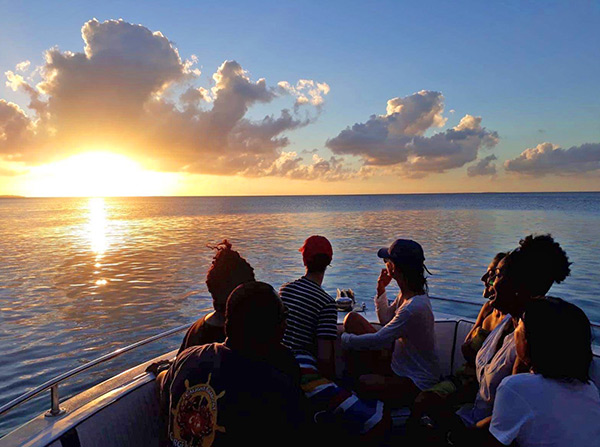 There are so many ways you can mix and match and customize boat trips in Anguilla!
For the top Anguilla boat charter companies, see below.
Anguilla Boat Charters
---
Archives

Boat Charters No Longer In Operation

1. Chocolat... A delightful sail boat tour on Anguilla.

2. Sea Pro Charters... Afternoons at sea exploring Anguilla's exotic outer cays and remote little coves with Captain Wayne and First Mate Terrell are hard to beat. Sweet and good-humored, they are two great guys, and their boat is pretty stellar. With an open bar, iPod dock and WIFI, how can you go wrong?!

3. Sea Grape Boat Charters

If you think about it, when you travel, you normally see a place from the "inside out." What do I mean by that?

Well, for the rest of this site, we're IN Anguilla... in our car, or in a restaurant, or in our villa -- we're in the island... looking out.

Let's take a different perspective -- lets get off the island... and look at it! And for that, there's nothing like an Anguilla boat tour.

My dad had received a strong recommendation from Jacquie Rollins (who's husband owns and captains Chocolat -- a sailor should know who the other good captains are!). And also from Claire Devener, publisher of Anguilla Life magazine. And the same name kept coming up...

Everyone seemed to love Shaun Webster of Sea Grape Charters if you want to charter your own custom Anguilla boat tours

By the way, Chocolat offers a great day cruise, sailing to Prickly Pear and Sandy Island. We had a wonderful time on this fixed-boat-tour cruise, which includes a fabulous lunch, thanks to Jacquie.

But Shaun Webster will charter whatever kind of cruise you like! For example...

Need a ride to St. Martin? St. Barts? Scrub Island? Or anywhere else, near Anguilla? Shaun Webster and his beautiful boat, the Sea Grape, will fulfill your exploring heart's desire, customizing whatever kind of Anguilla boat tour you'd like.

And that is exactly what my family and I did. We met Shaun at Sandy Ground, my Dad stopping us for the obligatory "hi everyone" photo...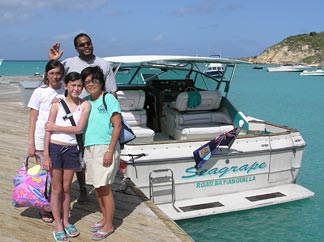 We hopped on board with Captain Shaun Webster, and his friendly "first mate", Clive Wallace.
Unfortunately, the seas were very rough during the last week we were there in March, 2004.
The local people had never seen it blow so hard, nor the seas swell so much for so many days in a row, even though the weather itself was warm, blue-skyed and sunny.
No way we Montrealers were complaining about a little wind. But our planned round-the-island tour was called off.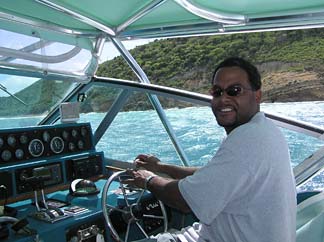 It was too bad, but Shaun was still smiling and ready to take us on a "reduced" version.
Shaun wasn't going to let the rough waters dampen our spirits.
So, instead of having a whole day outing, Shaun had a modified itinerary planned -- my Dad had already told him that Mom and Yuki were the not the most valiant boaters he would ever meet. Quite the opposite!
As Shaun and Clive were preparing to "cast off" (yes, they really say that!), my Dad (being himself of course!), took a look around the Sea Grape, dragging me along. And now, I'll take you along...
The Boat's "Living Room"
(Go below for a quick drink and/or cool-down.)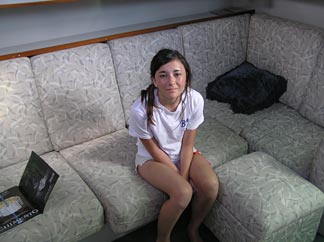 The Kitchen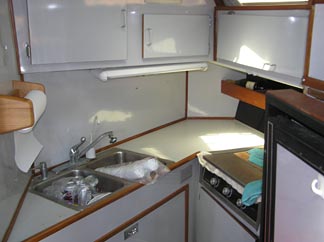 Want to pull an over-nighter?
(Great for a 2-day trip to St. Barts!)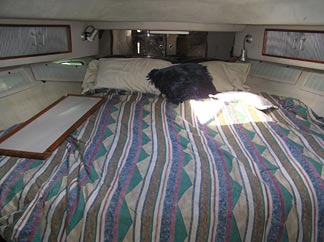 Of course, there's a bathroom, too, should nature call.
Although it's comfy, even luxurious inside (that bed is quite gorgeous!), you'll spend most of your time outdoors, I guarantee it!
Lots of space to sit, both fore and aft. And you can sun-bathe on the deck... or dive off it!
Anyway, I bet you're now wondering, "where did you guys go?"
Well, we departed from the port of Sandy Ground, and then headed west. (Each link on this mini-tour will pop-up a page with a map and description so you can follow along).
First Stop: Little Bay
Although the seas around Anguilla were quite rough, the north shore from Sandy Ground to Blackgarden Bay or so is usually calmer. So, while the seas were a bit choppy, even Mom and Yuki were OK.
And when we reached Little Bay, the water was virtual glass... and a gorgeous turquoise... is "turquoisest" an adjective?)... simply gorgeous and peaceful...
When the Anguilla Tourist Board came up with the "Tranquility Wrapped in Blue," it must have been this spot that inspired them.
Perfect for swimming.
Or, in my Dad's case (with a few too many pounds buoying him up effortlessly)... for floating! He jumped off the back of the boat and zoned out in the gentle jostle of the soothing water.
(Shaun told us there were some excellent snorkeling spots nearby, but that the rough seas would reduce visibility. So we left the equipment below deck and just enjoyed the day.)
Although I have this phobia of sharks, the water's invitation won, and I followed my Dad into the water...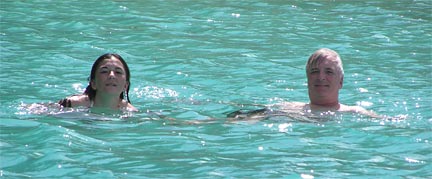 Meanwhile, on shore, fishermen prepared bait. Others watched for fish, from the cliffs surrounding this perfect "little bay."
Well, you know how my Dad is?
Very curious.
So, of course, he wanted to swim to shore and see what was going on. I didn't have the strength to follow him.
And by now, I was thinking about sharks just a bit too much even though Shaun promised none were anywhere near here.
So I returned to the boat while he swam to shore...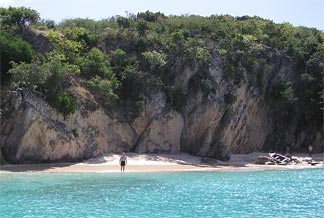 See him? He was proud that he made it all the way -- but he wasn't that proud...
He didn't want me to show you the tele-photo shot of him in his bathing suit!
Ha! Ha!
After a quick chat with the fishermen, he swam back to the boat, stopping every now and then just to float on the back. He was really at peace,
Once he returned to the Sea Grape, we lingered a bit, the adults quaffing Carib and Guinness beer, Yuki and I with soft drinks. (Shaun supplies them, just ask him if you have any special requests.)
Then my Dad pulled out his shiny new Olympus. Here's our "Little Bay Photo Album"...
Hungry Pelicans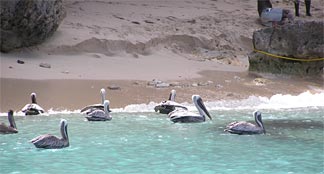 Little Bay Cliffs

ME!

Suddenly... an excited commotion on shore...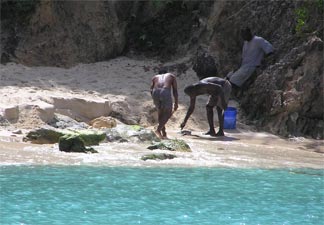 While one of the fishermen was preparing the bait, an eel came up on shore. Shaun said it was after the bait!
An eel has razor-sharp teeth, so the fishermen did quite a bit of dancing while they bashed at it.
Exciting! OK, back to the photo album...
Clive & Guinness
(Clive's a really nice guy, with great stories, too.)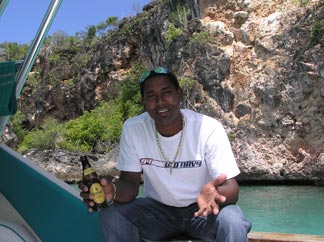 Captain Shaun Webster
(Entertaining, fun and I felt really safe.)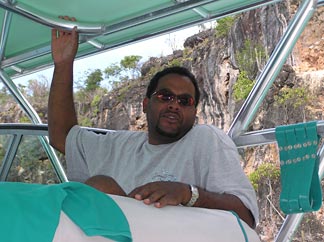 No Anchoring in Little Bay
(So the boat just sat and rotated
ever-so-slowly... 360 degree view!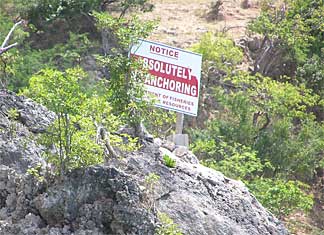 Little Bay Cliffs

After some pictures, enjoying drinks, soaking up some sun and chatting with Clive and Shaun (both very interesting and super-friendly), we headed a little further out, just for fun, to take a look at a few other beaches.
More Little Bay Cliffs, Towards Flat Cap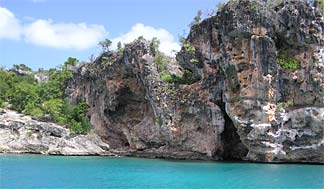 Flat Cap Cliffs
(Where my Dad played "Fear Factor")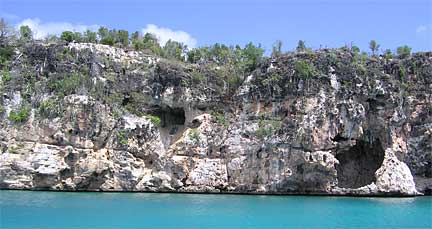 From Flat Cap Point, we set off headed East...
We went out as far as Blackgarden Bay... beyond that, the seas were becoming rather rough, so the plan was to turn around at Blackgarden and return to Sandy Ground from there.
Here's that special perspective I talked about earlier -- looking at Anguilla from "the outside, inward." It was most interesting to see the island from the water. Let's see...
The seas here were much too choppy to swim in, and by this point, we were all in "gaze mode." anyway.
There are two sparkling white mansions on the East side of this charming little bay (you can barely see the other from the angle of this photo). The beach is hard to reach by land, but is worth the effort.
Limestone has that special tone of turquoise. And people waved at us from shore...

We waved back as my Dad snapped a photo. People swimming on Limestone Bay? Gee, I have to stop writing about our favorite places!
Little Bay Sound familiar? Yes, we were just here 30 minutes ago! But, we were coming back, and to pass up a photo of the whole sweep, from this angle, just wouldn't be right...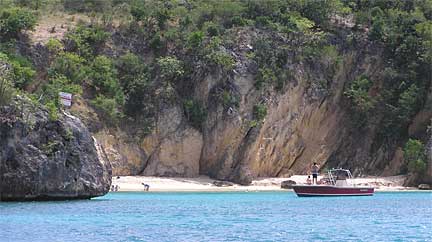 This is actually just past Crocus Bay. There's a private beach at the end of the bay -- I'm telling you about it only if you promise not to tell anyone else!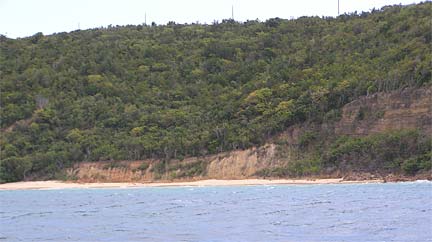 We were coming around the corner, about to enter Katouche Bay, when Bingo! This great photo angle shows how spectacular the Massara Resort really is, stair-stepped in the cliff of Katouche.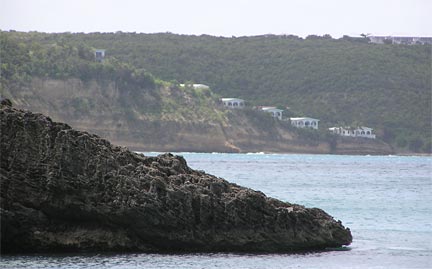 Final Destination: Sandy Ground
Here's a great view of the Customs and Immigration Center. If we were arriving from St. Martin or St. Barts, we'd have to pass through customs here...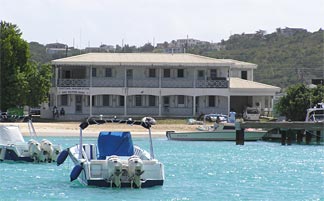 It certainly was a sensational trip... both invigorating and relaxing. The scenery, and beaches, made it wonderful, but you can find that anywhere on Anguilla.
Shaun and Clive made it fun, enjoyable, and truly unique! I can't thank Jacquie and Claire enough for recommending them to us. And, to return that favor, I highly recommend an Anguilla boat tour.
The "outside-in" perspective is a whole new way, a must-way, to see Anguilla. Even if you're sea-shy, Shaun and Clive will take you to the gentlest of spots and take great care of you. To contact them and tell them what you'd like to do and when, just send them an e-mail...
Update 2006: The Sea Grape is closed! For the time being Shawn and Jeff have taken their boat out of the water.
Update 2009: I am very sorry to report that Jeff died on March 31, 2007, at age 36, while spear-fishing in waters off Road Bay. An annual Jeff Webster memorial boat race is held every year in his honor. If you're on island around that time, watch for it and pay your respects to a great guy.