Anguilla Excursions...
A Pure Azure Tour With Calypso Charters
To spend a day on Anguilla's sheer blue waters is to experience the best of Anguilla. On an island known for the color and clarity of its seas, a boat trip is the "cherry on top" to any Anguilla vacation. It is the most beautiful way to immerse yourself in Anguilla blue.
With friends on-island from Brazil, we saddled up for a pure azure tour with one of Anguilla's top excursion companies, Calypso Charters.
Step Aboard Calypso Charters
Calypso Charters is owned by Rosmund Davis, one of the kindest and gentlest souls you will meet. Rosmund runs a tight ship. His crew are some of the most professional and passionate about the ocean. Armed with a smile and ocean navigation expertise, you are in safe hands with Rosmund's men.
Rosmund also happens to own some of the most dazzling boats on the water, perfect for a leisurely day at sea. Sahara is one such beauty...
A 40' open bow boat, she was built in Anguilla by Rosmund himself.
Another impressive addition is Reel Time, a 41' fully outfitted fishing boat, ready for deep sea excursions...
Tip: These boats get booked up early! Book in advance to guarantee these two beauties.
Sahara already reserved, we "settled" for Calypso 2, a plush speedboat complete with Bluetooth speakers and a cushioned sun-deck in the bow. Tough life, right? ;-)
Stop #1: The Arch
Most Anguilla excursions start and end in Sandy Ground, where a majority of boats moor. Calypso, however, docks in Cove Bay. It is an extra-special place to start and end a trip.
Why? As you make your way from Cove Bay around the southwest corner of Anguilla (to reach day-trip destination favorites like Prickly Pear, Sandy Island and Dog Island), you pass this...
The Arch From Land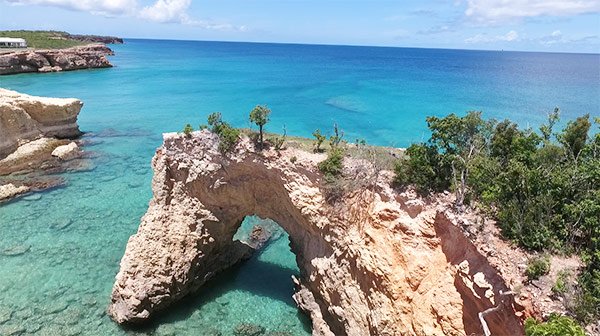 Excursions that leave from Sandy Ground go directly to Sandy Island or Prickly Pear, often skipping this part of Anguilla all together, or requiring a special detour. Because of where Calypso docks, their Sandy Island-bound boats go right past it.
Anguilla's arch is a remarkable sight. It is located on the island's far western end. Here, vibrantly yellow and red crumbling cliff face meets sparkling-blue water. The arch is nestled along that stretch of cliff-side coast.
The Arch From Sea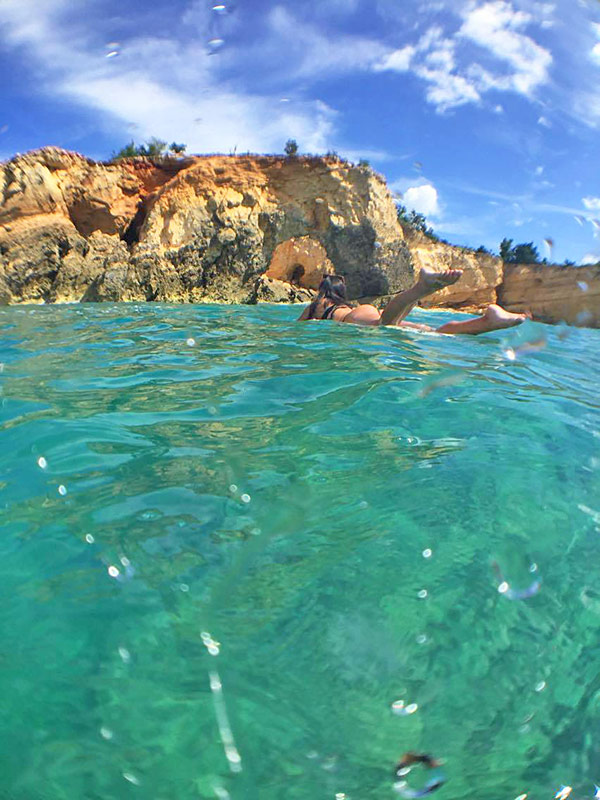 Something straight out of a Mediterranean postcard, it is even more magical when viewed from the sea.
Rinsed off, we were ready for the next destination.
Stop #2: Sandy Island
A 10-15 minute ride from the arch, every second skimming across the transluscent, lapis-like water is pure heaven. Captain Tony and First Mate Mervin are pros. As we approached Sandy Island, the boat swerved around the shallow reefs that protect the tiny cay. We had arrived...
Welcome to Sandy Island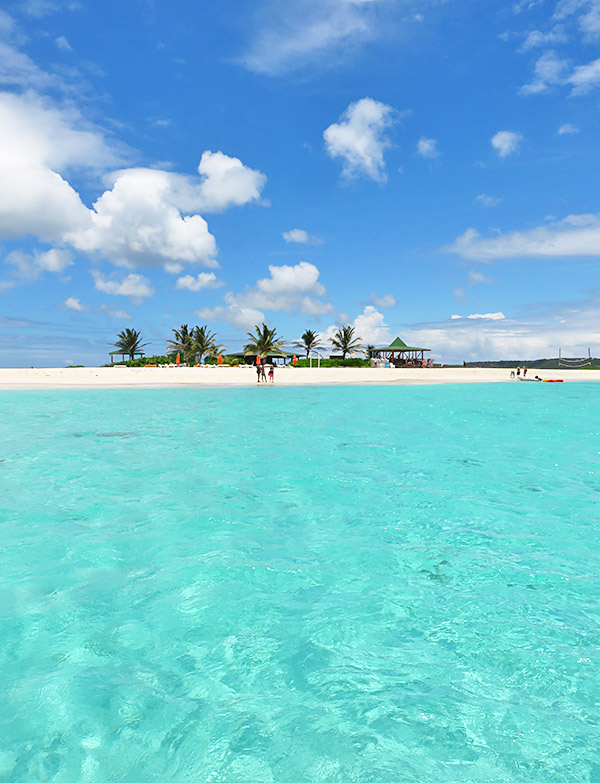 A spit of sand roughly a mile north of Anguilla's Sandy Ground, Sandy Island is a mini island paradise. Take all that you love about Anguilla - tranquility, excellent cuisine, blue water, powdery-white sand - and that is Sandy Island.
Sandy Island From Above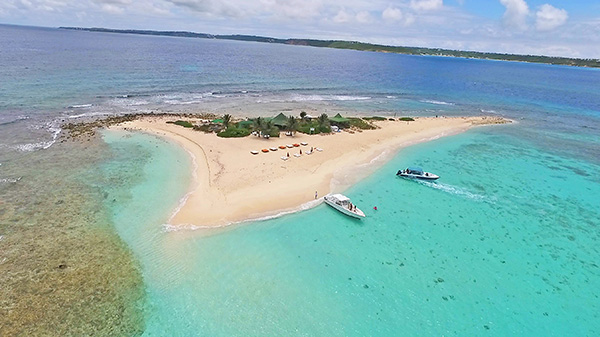 Our first priority? Jumping in...
Floating In Paradise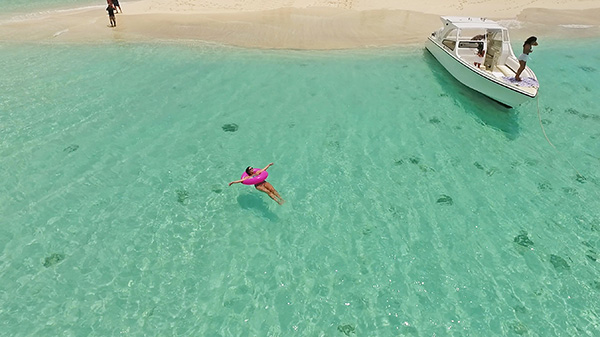 Calm, clear waters surround the island, making it a perfect "float zone."
A trip to Sandy Island isn't complete without a walk along its triangular shoreline. My favorite part of the island is its hidden side, behind the island's restaurant.
Peaceful, few folks venture over here. The water is not prime "floating real estate" (in fact, when the conditions align it is a top shallow-water reef break fit for pro-level surfers), but the shoreline is rich in shells. For shell hunters, this is where to look if it is dried sea urchins you seek.
After beach walking, shell hunting and taking in the sun, we were right back to where we started...
Floating...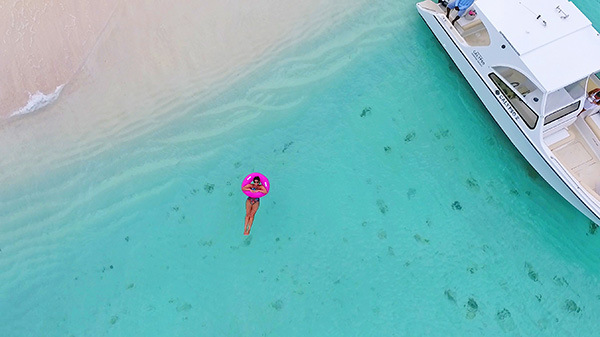 Floating...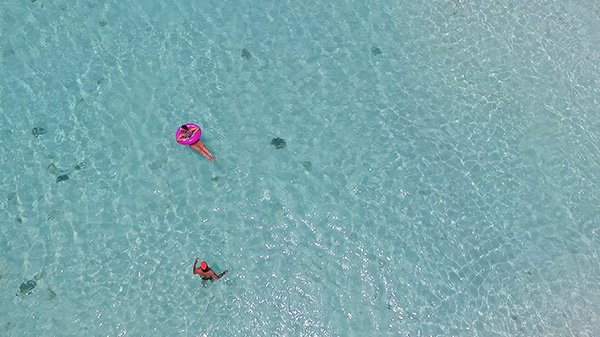 And More Floating...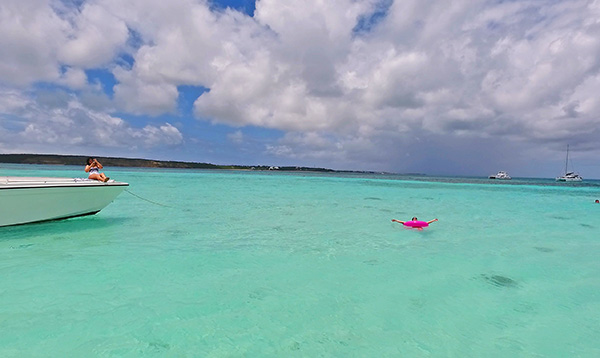 Sandy Island's picture-perfect little restaurant cooks up a mean BBQ lunch. The smell of sweet lobster tantalized our taste buds. Stomachs rumbling, we decided to order lunch to go and move on to stop #2, Little Bay.
Lunch on board, it was engines up as we waved good-bye to Sandy island.
Engines Up!

As the boat powered ahead, we munched. What was for lunch? One of Sandy Island's best...
Grilled Mahi Mahi with Rice & Peas, Salad
Coleslaw & That Famous Sandy Island Pasta Salad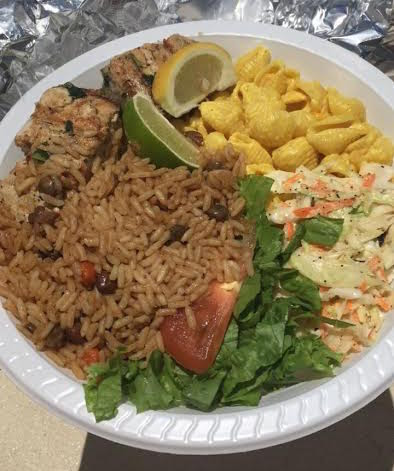 Stop #3: Little Bay
The approach into Little Bay takes your breath away. Dramatic high cliffs mark the entrance to the turquoise bay, which is a protected marine park. As the boat gradually pulls in to the off-shore mooring, you know a special soak in the sea lies in these waters.
High Cliffs of Little Bay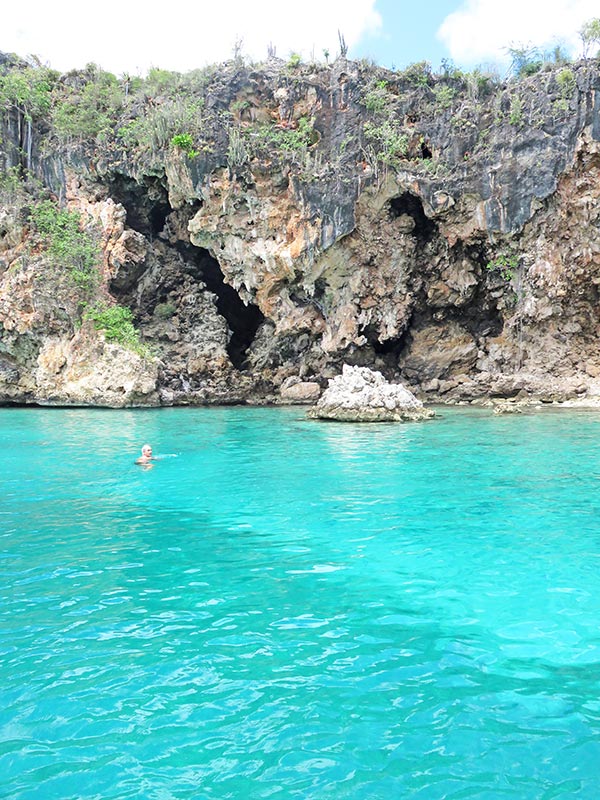 Little Bay is an isolated beach, surrounded by cliff on three sides. The only way to access it is by climbing down or by boat. To get a feel for the beach, take a look at the video below...
As we hopped in, I noticed a pattern emerging. Pull in, jump in, float, soak, repeat. ;-)
Calypso excursions come complete with snorkeling gear. Captain Tony popped on his mask and led the way to the area's active snorkeling spots. Fish hide all along the cliff edges. When swimming over the sand, keep your eyes peeled for rays and starfish.
One part of the excursion I didn't dare try? Take a look at the end of the video clip below to see.
An infamous sight, "The Rock" that lies in the middle of Little Bay is a popular jumping point. Captain Tony led the way up the cliff, showing off his spiderman-like skills as he scaled its side and proceeded to wow with backflips!
Adrenaline burning off, it was time for stop #4, Prickly Pear. About 10-15 minutes from Little Bay, Louise and I soaked up every moment of the ride.
Me & Louise Aboard Calypso Charters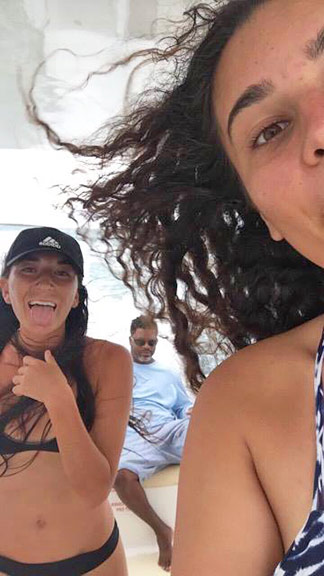 There's nothing quite like the feeling of the ocean breeze dancing through your hair as you speed off to an offshore cay.
On the drive, classic reggae tunes came through the speakers. (Bring your iPhone along to hook up your music of choice.) Cool beers, Cokes, Sprites and of course, potent rum punch are all on on board (and included in the price of the trip). The drinks flowed as we moved into...
Stop #4: Prickly Pear
Captain Tony had warned that Prickly Pear looked stormy in the distance. Desperate to see it with our own eyes, though, we asked if we could "double check" just the same. As per Tony's prediction, we rolled in with the clouds.
Prickly Pear, Anguilla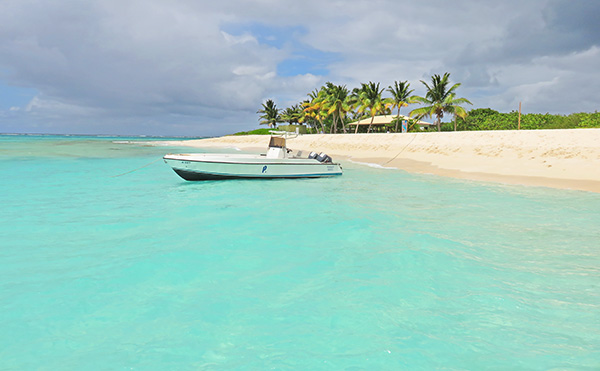 Normally a sparkling-clear blue paradise, Prickly Pear is protected by large outer reefs which give way to a calm bay, ripe with snorkeling. With clouds still on the horizon, "let's move before the storm sets in," Tony suggested.
Final Stop: Meads Bay
The clouds were close on our heels but Captain Tony found us a spot in the sun. "See that?" He asked as he pointed ahead, sunny Meads Bay quickly approaching in the distance.
Meads Bay, Anguilla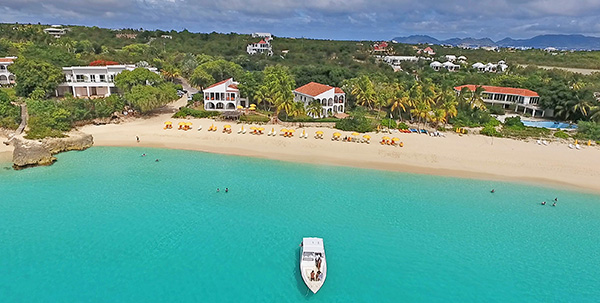 There is something infinite about the beauty of Meads Bay. As I have been flying my drone over the years, I have noticed that Meads Bay stands alone in water clarity. It is one of the few beaches in Anguilla whose bottom is unmarked by reef.
Its sand stretches in a gradient of blue for as far as the eye can see, before dropping off to deep water. (Apparently, they are some of the deepest waters in Anguilla.) That sandy bottom creates these endlessly blue seas.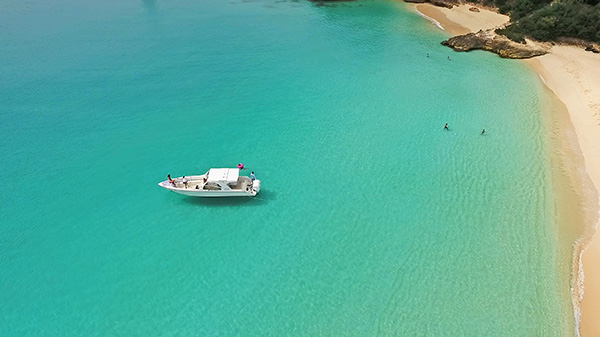 The eastern corner of Meads (we lovingly call it Nim's Nook) is a "must" for lovers of calm, hidden coves. A rocky outcropping separates the main part of Meads Bay from this sweet, secret beach. Over the rocky point and a tiny strip of sand in a quiet cove awaits you (left of photo below).
Though we didn't snorkel here that day, the edge of this beach makes for interesting snorkeling. In fact, Meads' entire eastern area is rich with marine life. A giant Manta Ray even calls this half of the bay "home" in winter months.
Meads Bay & Nim's Nook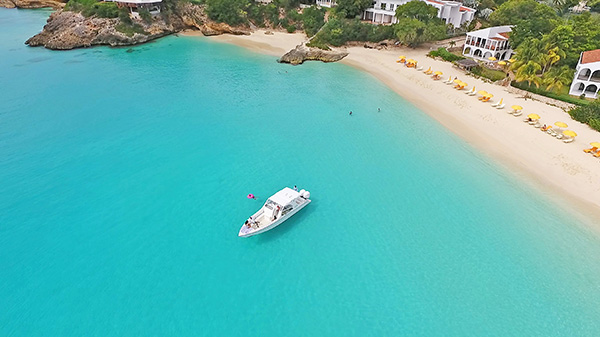 From its secret beach, to its pristine waters, Meads is nothing short of fascinating. On your trip back to Cove Bay, a stop at Meads is a "must."
With the afternoon sun laying low in the sky, there was time for one more rum punch and a group shot to capture the day's memories before heading for shore.
The End To A Beautiful Day With Calypso Charters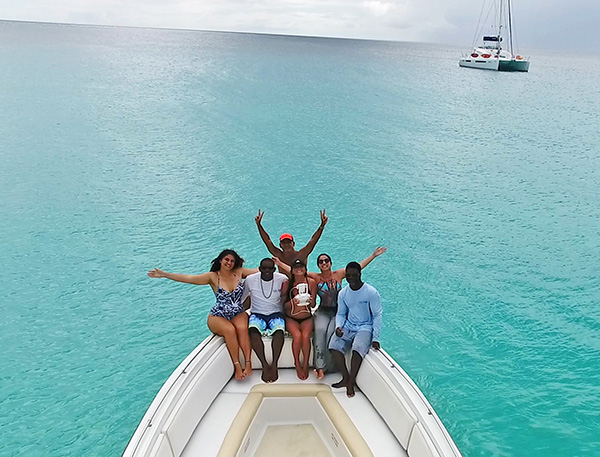 A day rich with beautiful memories, Captain Tony and First Mate Mervin are the guys to call for a leisurely day of fun under the Anguilla sun!
More on Calypso Charters
Savings Tip: Calypso Charters is an Anguilla Card Partner. You save 10% when you book with Calypso using your Anguilla Card!