<![endif]-->
Air Travel to Anguilla
Planning a trip to Anguilla? There are two main ways to get here...
1) Fly to St. Maarten and ferry over to Anguilla,
2) Air travel to Anguilla direct.
From our hometown in Canada, Montreal, we have made the trek to Anguilla both ways.
We love the Anguilla airport. Arriving there has its own special Caribbean charm.
But once we discovered the St. Maarten option, it quickly became our favorite way to get to Anguilla.
Let me explain. Hopefully, you'll find this to be a most useful discovery, too.
Use The Cheapest Flight-to-Anguilla Finder
To find your best route to Anguilla, use the Cheapest Flight-to-Anguilla Finder! It compares flights from your starting airport to both Anguilla's airport and to St. Maarten's airport. From there? Book the cheapest, quickest route :-)
Find convenient and cheap flights to Anguilla here.
Happy flying!
Important Time and Money Saving Tips:
My Favorite Way To Travel to Anguilla
If you live in Paris, getting to Anguilla through air travel is a breeze (on a breeze, actually). Why?
Because St. Martin is a french Caribbean island that lies just a few miles south of Anguilla. France flies jumbo jets, loaded with tourists, so you can get some great discount air fares to St. Martin, according to all the ads we've seen in their newspapers.
Air France Approaching Princess Juliana International Airport (SXM)


Those jets are also packed with french wine, foie gras and all kinds of other french goodies, which is why St. Martin is our favorite day trip from Anguilla.
So, if you're coming to Anguilla from Europe, the best way is air travel through Paris (or Amsterdam, as you will see on this region-by-region explanation of the best ways to fly to Anguilla). Then simply ride your plane tickets non-stop into St. Martin.
From there, we highly recommend an Anguilla ferry to get to Anguilla!
What if you are flying to Anguilla from North America? Catch a direct flight from your nearest major airport to Princess Juliana Airport in "St. Maarten" (the Dutch side). It's the best way to travel to Anguilla. Just 1 flight, and then 1 ferry over to Anguilla! Easy, done.
Click here for more information on catching the Anguilla ferry once you get to SXM (St. Maarten).
US Airways Taxiing at Princess Juliana International Airport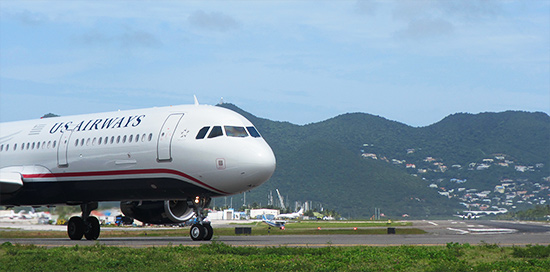 Air Travel to Anguilla Airport Direct
What about air travel directly to Anguilla? Anguilla's Clayton J. Lloyd airport is a different story. No 747s or other jumbos land here. Not even 737s (here's an entertaining story about how a 737 did manage to land in Anguilla and how a 747 almost did!)
Prop planes used to be the only means of air travel to Anguilla. Here's why...


(American Eagle pictured at Clayton J. Lloyd International Airport - back in the day when American Eagle used to fly to Anguilla from San Juan. Today, Seaborne Airlines flies to Anguilla from San Juan.)
You are looking at the entire airport. It's a picture-perfect, charming little Caribbean airport, the kind you see in movies. Friendly. Cozy. Even the customs agents are nice!
If you spend a while watching the comings and goings, you will notice that most flights to and from AXA are still prop planes. Exotic-sounding Caribbean airlines raise romantic images of Caribbean island hopping.
Back when American Eagle used to fly to Anguilla, that turboprop (seen in the photos above and below) was the biggest plane that could land or take off from the short runway...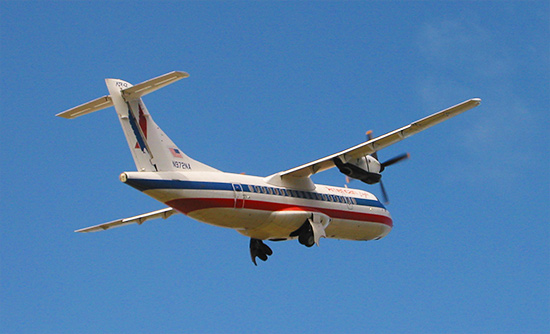 That changed in 2005 when the airstrip was lengthened. To this day, though, the final leg of any flight to Anguilla is from another Caribbean island. (More Anguilla airport and travel updates below).
Air Travel to Anguilla Today?
Air travel directly to Anguilla is generally through Puerto Rico, or the other major Caribbean hub, Antigua, or via smaller Caribbean airlines from smaller, nearby islands such as Saba.
Today, Seaborne, Tradewind and independent companies rule Anguilla air travel.
Air travel options...
In 2009, Anguilla started its own airline to offer tourists more flights from Puerto Rico. Tradewind Aviation and Cape Air later added more flights from San Juan.
Today, in 2018, Seaborne Airlines flies to Anguilla regularly - the most affordable option from San Juan. Many North American tourists choose to access Anguilla via this route, the last flight of which is via San Juan (an 80 minute flight).
How to Fly to Anguilla From San Juan With Tradewind
2018 Update: Tradewind's flights to Anguilla resume Dec. 2018
December 14th 2018 (through April 22nd 2019), Tradewind is back to Anguilla blue!
Tradewind will be flying...
San Juan (SJU) - Anguilla (AXA)
Fridays, Saturdays and Sundays departing SJU at 4:00pm
Adjusts to 4:15pm on January 4th, 2019
Adjusts again to 4:30pm on February 1st, 2019
Anguilla (AXA) - San Juan (SJU)
Mondays, Saturdays and Sundays departing AXA at 11:00am
Inside Tradewind's Pilatus PC-12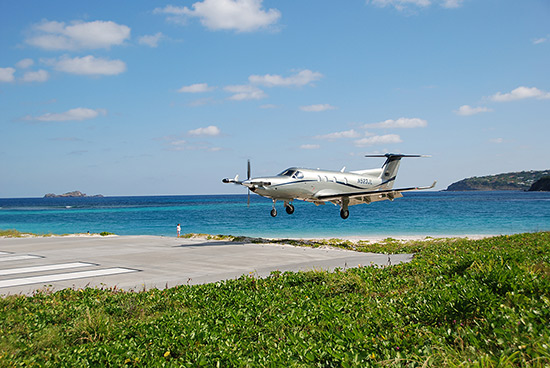 Photo courtesy of Tradewind
The ultimate in comfort, Tradewind's modern Pilatus PC-12 aircraft (flown by two pilots) is pressurized and completely air conditioned. The flights include complimentary drinks (including wine and beer) and snacks. The cherry on top? You even have access to their private lounge in San Juan!
Inside Tradewind's Pilatus PC-12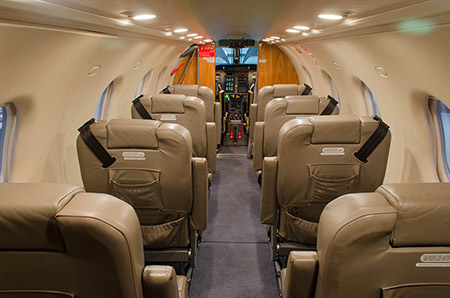 Photo courtesy of Tradewind
And!... save 10% on your Tradewind flight when you use your Anguilla Card! Click here to get your Anguilla Card.
Travellers coming from the UK often choose to fly through Antigua (the return flight through Antigua requires over-nighting, though), and then fly LIAT from Antigua to Anguilla. Update Winter 2016 / 2017: LIAT has discontinued their service from Antigua to Anguilla. Now, Caribbean Helicopters has picked up this route. You can book online on their website. Or, you can fly LIAT from Antigua to St. Maarten, and then hop over to Anguilla on the ferry.
Savvier visitors (American and European) choose to fly into St. Maarten (SXM), and then either take a boat across, or fly directly into Anguilla's airport (8 minutes). Accessing via SXM is the most cost efficient and time efficient way to travel via air.
Anguilla Air Services Landing in SXM
Next Stop? Back to Anguilla!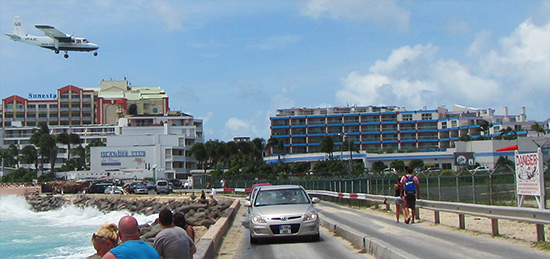 If you live in the northeast U.S. or in Montreal or Toronto, seasonal charters to St. Martin are popular. You won't find any charters into Anguilla, but do check for flights in your area to SXM. Charter flights often run at deep discount air fares.
It's The Extra Hop That Makes Anguilla Special
Yes, it can be a hassle to get to Anguilla. It's also the "barrier" that keeps Anguilla so special. No "package tour" jumbos or "mass market beaches." No cruise ships, casinos, or fast-food chains.
In short, Anguilla is still a Caribbean island.
It's worth that little bit of extra bother when...
you can have even the most popular beach in Anguilla (the best beaches in the Caribbean at that) almost all to yourself
an Anguillian smiles and chats with you, just for the fun of it, not for a buck
your children love Kenny's ribs instead of wanting more McDonald's
everywhere you go is still "the real deal."
Closer and Cheaper Than You Realize
No matter how you do it, air travel to Anguilla is not a one-step process. Many Anguillians think they should have a major international airport and start flying in big jumbo jets.
But a major airport in Anguilla would spoil the island. Anguilla would lose all the little things that make it the special magical place that it is. My family and I were more than happy to take that extra flight to Anguilla (before we moved here).
In fact, St. Maarten's sparkling, major airport (SXM) serves Anguilla admirably well. It's as close to Anguilla as your own airport is to you. Read on... I'm about to show you how "Anguillaphiles" use SXM to save time and money, making Anguilla much closer and cheaper than you may realize.
Regional Airline, St. Barth Commuter Landing at SXM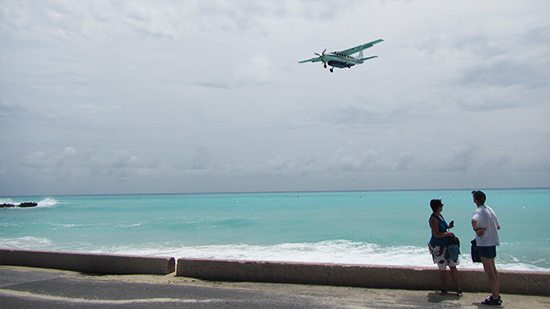 Anguilla Airport and Travel Updates
1) The Best Way to Fly to Anguilla
Traveling to Anguilla? Don't fly into Anguilla directly (airport code AXA)! Here is the best way to fly to Anguilla...
2) How To Get To Anguilla, Fastest and Cheapest
Region-by-region detailed tips to get to Anguilla, including routes that can save your hundreds of dollars, several hours and even overnight stops.
3) 2010 Anguilla Airport Update
July 4 2010 marks a significant change in Anguilla airport history. The Anguilla airport has changed its official name. "Wallblake Airport" is no more.
4) Flights to Anguilla From St. Maarten: Climbing aboard Anguilla Air Services
Captain Carl Thomas and his airline, Anguilla Air Services, helped my Mom and Dad out of a tight spot. This flight from Anguilla to St. Maarten (and St. Maarten to Anguilla) has become their favorite way of air travel to Anguilla.
Anguilla Air Services depature times vary according to the season and day of the week. The earliest flight usually departs Anguilla at 10:30-11AM (morning flight) with second and third flights of the day at 12-1PM and around 2PM. Return flights from St. Maarten to Anguilla begin around 1PM with final flight around 3:30-4:40PM. Check their webpage for up-to-date information.
5) Anguilla Flights: Anguilla Air Services
Captain Carl Thomas ensures your safety and security aboard his well maintained aircrafts. He flies to many different islands in the Caribbean, but our favorite Anguilla flight? The aerial tour of Anguilla! It's a must-do on every Anguilla vacation.
6) Trans Anguilla Airways: Getting to St. Barths
The only British-certified airline on the island, Trans Anguilla Airways is as safe and professional as they come. They offer a variety of services, including a more affordable flight to St. Barths that runs a few days per week. Now, getting to the ever-cool St. Barths is easier than ever!
7) Tradewind Aviation
With regularly-scheduled flights direct from San Juan (SJU) to Anguilla (AXA), Tradewind brings you to Anguilla in style in their luxurious 8 seater planes, complete with beverages and light fare on board.
8) Seaborne Airlines
Another option to fly from San Juan to Anguilla, Seaborne offers a more affordable alternative - AND more convenient times. They have expanded their entire Anguilla-San Juan operation. Visit their website for their most up to date schedule.
For Those Who Prefer Boats Or Saving Approx. $20...
The Anguilla Ferry & Charters
After landing in Princess Juliana International Airport in SXM, take a cab to Marigot. Then catch the regularly scheduled, public Anguilla ferry. Or, book an Anguilla charter from St. Maarten's Dutch side, from the pier right near the airport.
Archived Articles on Air Travel
1) Wallblake Anguilla Airport (AXA)
Before the big 2005 update, the Anguilla airport (Wallblake airport) was really just a teeny Caribbean airport. No 747s, or even 737s, allowed!
2) 2005 Anguilla Airport Update
Since I first wrote this page, the Anguilla airport (especially the runway) has received quite a makeover! Click here for the Anguilla Airport 2005 update, including new information about the fastest, cheapest and most relaxed way to get to Anguilla now. Anguilla airport's charming "teeniness" otherwise remains the same.
3) Cape Air Anguilla Flights From San Juan
Massachusetts airline, Cape Air, now offers two daily Anguilla flights to and from Puerto Rico.
4) Anguilla Airways, From San Juan Direct to the Anguilla Airport
Flying to Anguilla directly has always been a challenge. Montreal-JFK, JFK-San Juan, San Juan-Anguilla was always a long day. The trip became impossible once American Eagle started cutting their flights from San Juan to Anguilla. But now there is a new Anguilla airline that flies direct from San Juan three times a day. Sounds like a great options!
5) Corail Helicopters
The ultimate way to travel in style (and most efficiently) from St. Maarten's airport? Hop from Princess Juliana Airport to Anguilla's Clayton J. Lloyd International airport aboard Corail Helicopters! More on Corail Helicopters' airport transfers here.