Anguilla to St. Martin
To Sint Maarten...
Our Most Delightful Day Trip
From Anguilla
Anguilla is blessed with several offshore islands. The best known, for good reason, are Prickly Pear, Sandy Island, and Scrub Island. (Wondering how "Sint Maarten" and "St. Martin" fit in? Read on.)
All the offshore islands "merely" deliver the usual Anguillian perfection... blue skies, warm water, great snorkeling, and idyllic secluded beaches (sigh, life is tough!). So, for our #1 favorite day trip, we need a completely different experience.
How would you like to visit three European countries in one day... without leaving the Caribbean?!
Sounds exotic?
Sounds impossible?
Let's get started!...
First of all, they don't call it the "British West Indies" (BWI) for nothing. Anguilla is one of several British colonies in the Caribbean that make up the BWI. Since we start our tour from here, that's one down, and two European countries to go!
Our starting point -- here we are
at the Blowing Point ferry...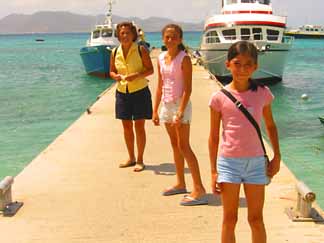 The Anguilla ferry is a quick 20 minute ride 7 miles south. So before we can say "sacre bleu," we arrive in European country number two, in the port of Marigot, on the island of St. Martin.
St. Martin is part of the French West Indies (it's a colony of France). When you're there, you feel like you are really in France... the south of France, actually!
Everyone is speaking French, carrying baguettes, and eating at delicious restaurants and bakeries! Our first priority upon arriving in the morning?
We found a charming little bakery that sells scrumptious croissants, "pain chocolate (my favorite), and other french goodies. La Croissanterie bakes all their goods right on the premises (a must, so be sure to check!)...
Mom and me, waiting for our croissants...

La Croissanterie has more than great bread. It has a prime location, right on the Marina Royale, the marina centerpoint of Marigot...
Posing by the Marina with my dad and sister...

Besides talking and eating, what else do the french love to do. Yes! You'll also find super shopping!
There are hundreds of wonderful shops in St. Martin. Here we are on just one of the shop-lined streets...
... with everything from Chopard watches to gourmet stores with Blocs de Foie Gras D'oie Truff (my
Besides the croissants at La Croissanterie, don't miss the hot goat cheese salad ("chevre chaud") at the Tropicana.
Marigot is like being in Cannes. Whenever you need a "fix" for some great shopping and "french like France" eating, it's just an Anguilla ferry ride away.
And best of all...
They even have my favorite store, Quiksilver...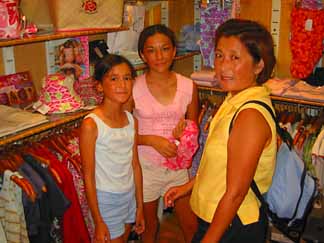 OK. Well fed and shopped-out in "France," it's time to move on to our third and final European destination, the Netherlands... well, Sint Maarten, to be exact, the other half of this island. Yes, two countries share one little island in the Caribbean.
Sint Maarten is far busier and noisier than St. Martin. Cruise ships from almost all cruise lines stop here for the duty-free shopping...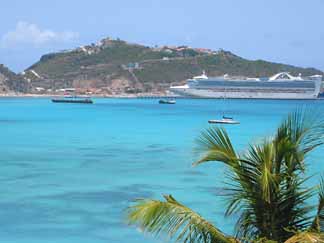 But as far as my mom and dad were concerned, Sint Maarten was just another overcrowded duty-free tourist trap. And when four cruises are in town at the same time, well... go home.
After all, once you've seen a few jewelry and electronics stores, you've seen 'em all, right? And we're just not into jostling with thousands of people from all the cruises who jam the stores.
We did stop for a pleasant drink by the beach that Front Street (the main shopping street) runs along.
Here we are by that beach...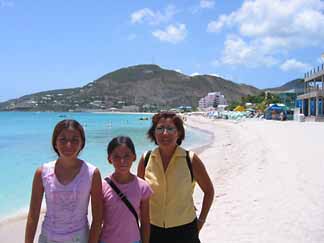 All in all, we far preferred the french side. I guess, of course, that it helps that we all speak french! (We're from Montreal, a bilingual city in Canada).
Well, now totally exhausted, we'll return to our country of origin... our favorite island of all, Anguilla, in the British West Indies. (We did bring some french tasties for breakfast the next day, though!)
Anguilla is determined not to go the way of Sint Maarten... no cruise ships. Small airport, no big jumbo jets. No large international hotel or restaurant chains.
And that's just the way we like it!
Since that first trip to St. Martin, it has become an annual event...
More Daytrip Stories
March 2008 update visit to both Marigot and Grand Case, St. Martin.
March 2004 update visit to St. Martin.
March 2003 update visit to St. Martin.
One More Reason to Visit St. Martin? No topless beaches on Anguilla!
Have a desire to "go topless" on a sensational Caribbean beach? That's yet another reason for a day trip to St. Martin.
The Anguilla Ferry
This is the cheapest and easiest way to get to St. Martin!