St. Martin Return '04
Our family's annual Anguilla vacation is never complete without a day trip to nearby St. Martin.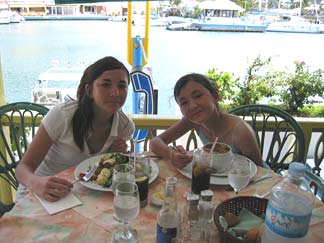 Every year we enjoy "French Riviera" cooking and shopping.
We gorge on fresh croissants at La Croissanterie, and then spoil ourselves silly shopping at such stores as Planet and Quiksilver (my Dad carefully steering us away from Chopard!).
Finally, tired and hungry...
We settle into exquisite French dining at Tropicana.
It's a ritual. And we love it.
In 2004, the ritual changed. We were "minus one Dad."
The previous day, my Dad had prepared brilliantly for the day-cruise on Chocolat. He slathered himself in heavy-duty sunscreen head to... err... ankle. That's right...
He didn't put sunscreen on the top of his feet and he wore sandals. He said he knew something was wrong as we neared the end of that wonderful cruise.
The next morning, I heard a blood-curdling scream.
My Dad had just tried to get out of bed. He had burnt his feet to a crisp, so badly that he could not stand up due to the intense throb.
However, his foot pain didn't slow down my Mom, sister and me, not in the slightest.
Actually, we were quite sympathetic. But shopping in St. Martin and three women? No contest! (Ha! Ha!)
So off we went.
But the "dad gods" had a little retribution planned...
St. Martin delivered a beautiful day on land, but a "big sea was on," as they say. The rough waters rolled and tossed the boat back and forth, up and down.
At times, even the crew looked a touch worried. (I don't know about you, but I always watch the crew on a boat or plane when I get scared. If they're scared, I'm petrified.)
Here's a quick video clip of the crossing...
See what I mean? If you had been there, you would have needed your Daddy too!
Once there, however, a wonderful day was had by all... well, all three of us. And how was the return crossing?
Well, let's just say we almost tasted that Tropicana lunch twice!