Anguilla Weddings
Anguilla weddings are pure magic! From barefoot beach ceremonies, to unions set in the most luxurious hotels and villas, from intimate gatherings, to lavish, 600 guest+ weddings, Anguilla is a top destination.
What exactly makes Anguilla a top wedding destination, and how do you plan the perfect wedding in Anguilla? See video below for expert advice from Anguilla's top wedding planner, Amelia Vanterpool-Kubisch of Blue Sea Anguilla!
... peaceful, tranquil and private, with some of the best beaches and restaurants in the world on its shores, it's easy to see why Anguilla is an ideal spot for romantics.
Magical Anguilla Weddings
A little while ago, I received an e-mail from a visitor to anguilla-beaches.com The e-mail was written full of magic, romance, and got me thinking more on Anguilla weddings and Anguilla honeymoons.
Romantic Beach Weddings in Anguilla


Photo By: Derrys Richardson, Signature 7602 Studios
Hi Nori,
After surfing the net on Anguilla I just had to tell you that your site is amazing. You give more detail and information than most. I wanted to see if you had an opinion on something.
I got engaged this year on July 4. After thinking about a wedding I decided that I want to go to the Caribbean to get married.
I woke up one Sunday morning and decided to enter "romantic Caribbean weddings" into my Google search engine and was taken to your site.
I woke up my fiancee and said, "I KNOW WHAT I WANT TO DO FOR OUR WEDDING!!!" He just laughed and told me that if that's what I want, that's just what we'll do!
Great job on your beautiful site!
Karen from Wisconsin!
Thank you so much for writing, Karen!
Do you have an
Anguilla wedding
or honeymoon story?
To think that I inspired another to experience an event as magical as a honeymoon on Anguilla made me warm inside...
how many other people have had Anguilla weddings or Anguilla honeymoons?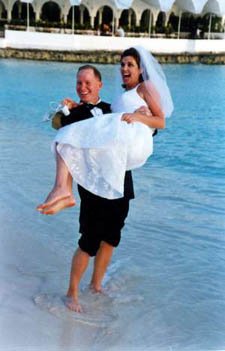 Wedding Photo At Cap Juluca
by Lloyd Gumbs, from news.ai
I've thought about that off and on. And... guess what?
NBC publicly answered my wonder about Anguilla weddings and honeymoons. Yes, the NBC.
The NBC television network picked Anguilla as the #1 place in the world to be wed and honeymoon.
And no wonder why...
Can you imagine a better location to spend your most special of all days?
Standing in the warm sand, with nothing but clear skies, and even clearer waters, celebrating an Anguilla wedding.
It doesn't get much better than that.
Celebrity Anguilla Weddings
Since NBC's feature on Anguilla weddings, more and more celebrities have been wed, or have been rumored to be wed, on our shores. Pop star Amerie got married in Anguilla at the Viceroy resort (now Four Seasons). A couple of other celebrity couples had Anguilla wedding rumors, too...
Weddings in Anguilla: The How-To
Brides and grooms have many choices when it comes to planning weddings...
What do you choose?
A Four Seasons Anguilla Wedding? Cap Juluca?
A private villa, for a truly exclusive experience?
Anguilla Bride "Trashing The Dress"
During Her Magical Wedding at Tequila Sunrise Villa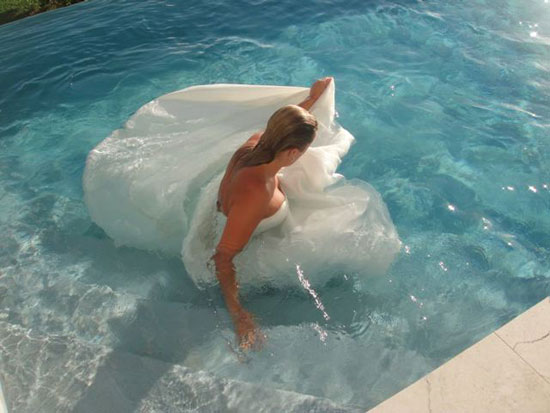 Who's the best Anguilla wedding photographer that meets your budget? What about hair and makeup, flowers? How is the dress getting there?
Who's got the ring? Where's the rehearsal dinner? Is there going to be live music? Any ultra-special requests?
"I Do!"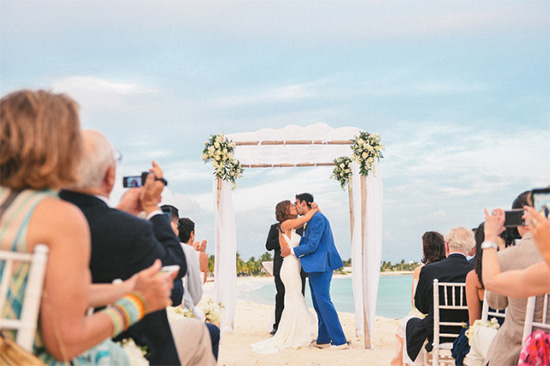 Photo By: Derrys Richardson, Signature 7602 Studios
Organizing a wedding on a small island sure takes some planing!
Invaluable Anguilla Wedding Resource
Blue Sea Anguilla is the go-to group when it comes to planning a wedding. They help you organize it all. They even offer a variety of wedding packages, all-inclusive. From small packages, including wine, flowers, church and coordination, to more elaborate weddings including make-up, hair, photographer, musicians and so forth, there is something for every wedding group. Packages start at $1265.00.
NEW Since writing this webpage, we have received many questions on the "ins and outs" of getting married in Anguilla. We sat down with Anguilla wedding experts, Blue Sea Anguilla to find out what goes on "behind the scenes" at beach weddings and to find out more about the types of wedding packages available. More on Anguilla weddings and packages.
The Anguilla Tourist Board really caters to honeymooners. So they really promote "get married in Anguilla" -- the process for Anguilla weddings runs smoothly. I guess they figure that if you come to Anguilla to for your wedding, you are not likely to decide to honeymoon in Alaska.
Magical Anguilla Wedding at Sunset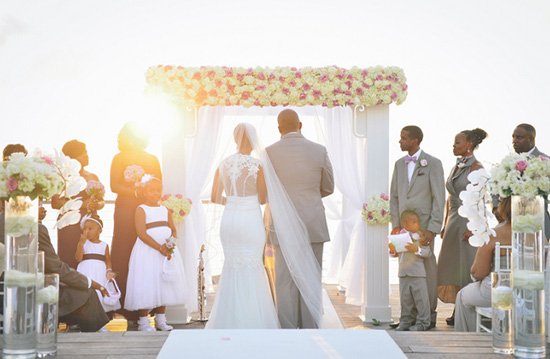 Photo By: Derrys Richardson, Signature 7602 Studios
So it's quite easy to get married in Anguilla...
You can be wed under a special license that takes only two days to process. The two of you have to present several required pieces of identification, basically the usual documents that it takes to get into the island. And you will need two witnesses for the actual ceremony.
Pretty simple and not expensive. If you are here fifteen days prior to the wedding date, the license costs $40 USD. Otherwise, it's $284 USD.
Oh, and I just happen to have a nice starting point for you to pick a church.
Beyond that, there's many decisions to make... setting, flowers, cake, photography...
Anguilla Wedding Tips
Photography
On the note of photography, there's no need to import a photographer. Anguilla has several professionals.
Derrys Richardson of Signature 7602 Studios is the go-to wedding photographer. He is one of the island's most talented and most sought after photographer.

Photo By: Derrys Richardson, Signature 7602 Studios
One look at his photos, and it's not hard to see why Derrys' work is so well loved.
His photography is vibrant, rich and simply timeless. He captures Anguilla weddings beautifully.
You can see more photos by Derrys Richardson here.
To contact Derrys, email him at: bujudar@yahoo.com
---
Live Music
When it comes to live music either during your wedding ceremony or during the reception, one man to consider is DJ Kue.
DJ Kue's Setting a Wedding Mood at Four Seasons Anguilla

Originally from St. Kitts, DJ Kue is one of Anguilla's most popular DJ's leading the island's burgeoning dance and DJ scene. He has established a name for himself in two very different arenas. From spinning at the craziest parties during Anguilla's Carnival - to setting a refined tone at Anguilla's most luxurious resorts and beachfront weddings. There's no DJ like Kue!
Because there are many aspects to coordinate for an Anguilla wedding, many choose to hire an on-island wedding planner.
Unfortunately, my parents didn't know about Anguilla when they got married... seventy-five years ago. (Ha! Ha!)
Too late for them. But there is hope for the future! Anguilla truly is a magical gem. To be able to spend time here with a loved one for the first time would be unbelievable.
Anguilla Wedding Stories
I have received so many wonderful stories about weddings in Anguilla and Anguilla honeymoons. To keep this page from getting toooooooooo long, I published more of the ones about Anguilla honeymoons here.
A Guide To Romantic Spots in Anguilla
From beaches to restaurants, Anguilla offers tranquility, privacy and plenty of romance. More on Anguilla's romantic side.
Everyone loves reading Anguilla wedding and honeymoon stories. So I have set up a special form to let you share your Anguilla bliss with visitors to this page...
Do You Have A Special
Anguilla Wedding Or Honeymoon Story?
Were you married in Anguilla? Did you honeymoon in Anguilla? Are you planning to? If you have a special wedding or honeymoon story, I would love to hear all about the magical experience!
Your Anguilla Honeymoon
and Anguilla Wedding Stories
Click on the links below to read other visitors' wedding and honeymoon stories. They were all written by other visitors to this page.