Anguilla Wedding Packages &
How Blue Sea Anguilla Brings
Beach Weddings to Life
When you think about romance and celebrating the person you love with a destination wedding, what location characteristics come to mind?
Privacy. Peace & tranquility. Gourmet cuisine. Warm people. No distractions. No hassles.
Anguilla fits that bill! We might be biased, but Anguilla is one of the most romantic wedding destinations in the world.
Tranquil beaches? Check. (After all, Anguilla is known as Tranquility Wrapped in Blue. Come in the off-season and you can even count on having beaches all to yourself.)
Picture-Perfect Beach Wedding Settings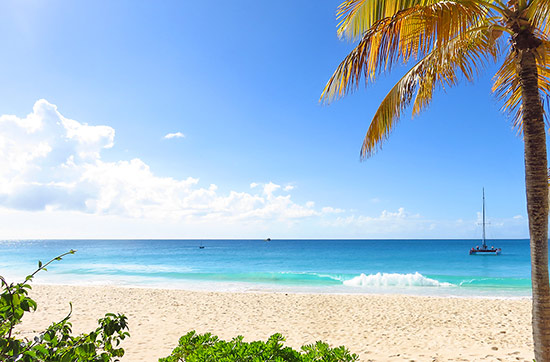 Privacy? Check.
Tremendous beach-front cuisine? Check.
Candle-Lit Dinners

"From the unparalleled white sand beaches to the laid-back vibe, it's no wonder why Anguilla is near and dear to the hearts of newlyweds young and old. Anguilla was the first and only choice for us," enthused Dana who was married in Anguilla.
"When we traveled to Anguilla to scout things out, it was a definite 'yes.' The friendliness of everyone from the immigration officer that stamped our passports (and ended up being the owner of the place we stayed), to the experience of being on a beach and being invited by strangers to participate in their beach party/barbecue without knowing us - all made us feel welcome," exclaimed Jay who was also married in Anguilla.
Dana & James' Romantic Beach Wedding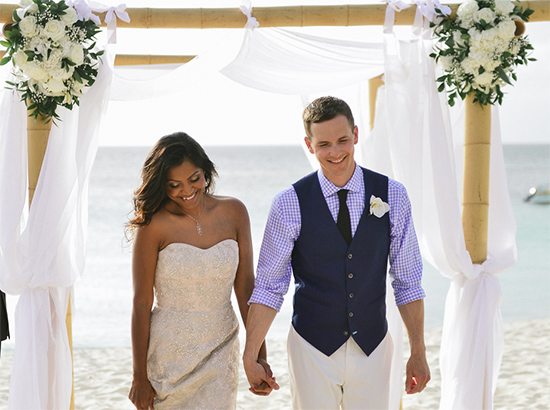 Photo By: Derrys Richardson
Deciding on Anguilla is just "Step 1" of many steps. What comes next? Choosing the right Anguilla wedding package for the special day.
Anguilla weddings can be as big and glamorous or as simple and laid-back as you like. From lavish and involved 300+ guest weddings at Viceroy, to intimate and private beach-front ceremonies, it's all possible.
We have received a lot of questions about the "ins and outs" of getting married in Anguilla, so we reached out to the best in the business, Blue Sea Anguilla. Mimi Gratton and Amelia Vanterpool-Kubisch have planned many of the island's destination weddings over the years. They offer a number of Anguilla wedding packages (from the affordable to the lavish) and are known for pulling them off without a hitch.
For Amelia's expert advice on how to plan the perfect destination wedding in Anguilla, see the video below.
Anguilla Wedding Packages: The Basics
"What do you need to get married in Anguilla?" I asked Amelia. She laughed, "Anguilla weddings can be very simple. All that is required is a valid passport, 2 witnesses, a justice of the peace and a location."
"Anguilla is the easiest place in the Caribbean to get married," said Drew, a client of Blue Sea Anguilla, who was married in Anguilla in 2016.
Drew & Sophia's Romantic Anguilla Wedding Cove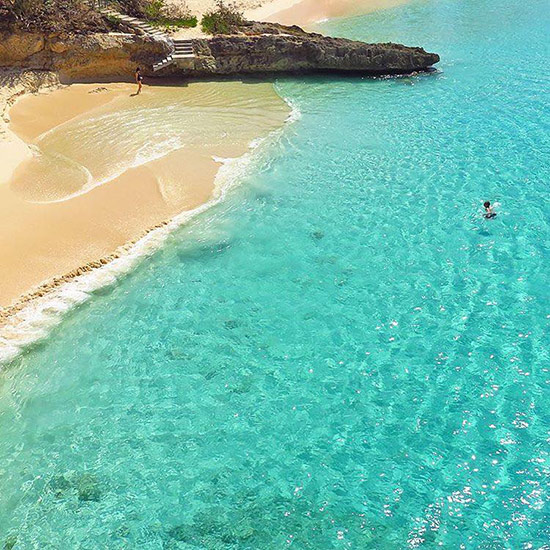 "All you need is a valid passport and a divorce decree (if that's your situation), and a 2 day waiting period," Drew explained. Other islands require a series of apostille documents, but Anguilla just requires a valid passport.
Once you have that? You submit your application ($241.80 USD), pay the Stamp Duty ($37.20 USD) and wait for your marriage license to be processed (2 days).
In Drew's case, the process was a touch more complex. Being Filipino, his wife needed a visa for Anguilla. "Amelia got all of that in place," he said, "and even ran us all over town on our first day, to the marriage registry, to immigration for the main visa, shopping for some wedding attire for me, etc."
Drew & Sophia's Beach Wedding in Anguilla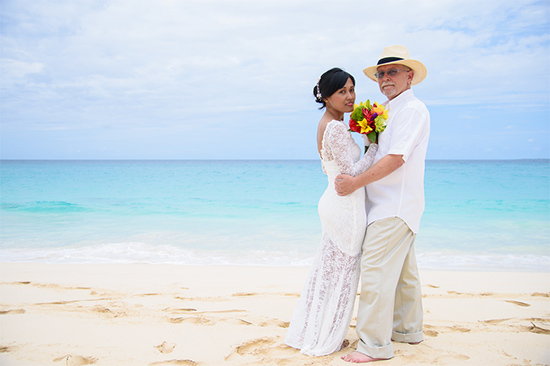 Photo By: Keiroy Browne
"She had been running around prior to our arrival to get all the documents in place too, lining up flowers, a witness, the minister, etc. Best part was when she took us back to immigration to find my wife's passport was not ready. We were scheduled to have the ceremony the following day and leave right after that. She just called the Chief Immigration Officer, and got an after hours signature!"
Special Note: Most do not need a visa to enter Anguilla, but be sure to check with Anguilla immigration to see if you or someone in your wedding party might need one.
Photographer, Live Music & More
"Basics" handled, what's next? "Just all of the details," Amelia smiled.
"There are a lot of aspects to a wedding, and we are there each step of the way. We help with choosing a photographer, organizing your transportation, the cake (one tier? Two tiers? Any special flavors?), and one of the biggest decisions - live music."
Adam & Nicole's Bare Foot Beach Wedding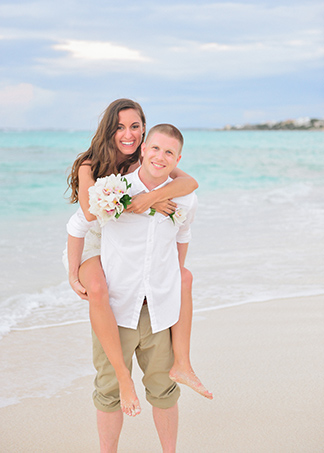 Photo By: Derrys Richardson
"One of my favorite stories," Amelia smiled, "was with Adam and Nicole."
An intimate sunset beach wedding, it was that quintessential "puffy cloud" day out on "Proposition Point" to the east of Elodia's on Shoal Bay East. Romantic and secluded, the music that day created a wedding story for the books.
"There was this song," Adam laughed when we spoke on the phone, "I play the guitar and I had played this song for Nicole from when I first got to know her. Well, wouldn't you know it. The guitarist Amelia recommended, Gordon Hazell, to our surprise, went to the trouble of learning the song and played it at the end of the ceremony."
There wasn't a dry eye in the house!
Taylor & Adam's Wedding in Anguilla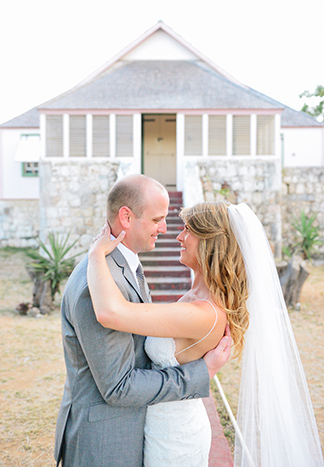 Photo By: Derrys Richardson
Taylor and Adam had another touching account...
"Amelia not only found me a kick ass pianist at the very last minute and re-worked my song choices that didn't work, but she also stepped right in and SANG with my guests (who appear to have absolutely no musical talent whatsoever :))!"
"I honestly will never forget hearing her voice behind me, guiding everyone along to prevent an awkward silence/ solo performance by the bride, groom and priest…"
"That was truly amazing - she totally took her duties to the next level!"
"In general, Amelia was so patient with me."
"I don't quite know what happened, but beginning the minute I stepped off the plane in St. Maarten and lasting all the way up until about 10 minutes ago, my brain was complete mush. I felt like I had ADHD, but on island time," Taylor laughed.
Weddings with Guests
Taylor's wedding called for more planning and coordinating (than Adam & Nicole and Drew & Sophia whose weddings were made up of just the two of them, for example) since she had guests and a wedding party. When it comes to these types of weddings, there are several more aspects to consider...
Accommodations for wedding party
Dinners/meals for wedding party
Wedding rehearsal
Rehearsal dinner
Wedding reception
And then, of course, make up, hair and transportation.
Fully Customized Anguilla Wedding Packages
So far, Amelia and I had discussed Anguilla wedding packages based on either a party of two (the bride and groom) or intimate affairs with small wedding parties. "What about big weddings?" I asked.
Amelia's eyes twinkled, "It's something we know well!"
Jay & Nathalie's Elegant Anguilla Beach Wedding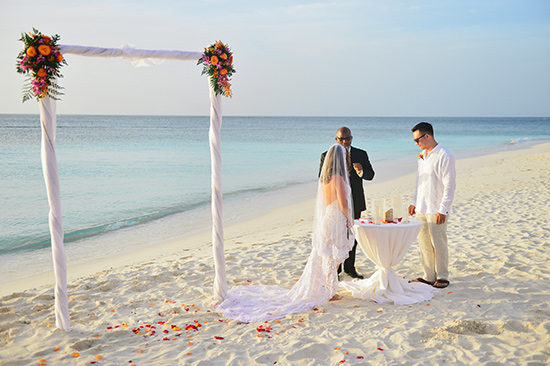 Photo By: Derrys Richardson
Large scale weddings have all of the same components of smaller scale weddings, but are far more involved.
"We've pressed customs to clear crab legs on ice. We've stored $20,000 wedding gowns in temperature-specific rooms," Mimi laughed. "It's an exciting type of pressure to see a larger scale event come to fruition."
Yes, large scale weddings have all of the components of smaller scale weddings, but with many more details. And that is where wedding planners become instrumental. "The devil is in the details" when it comes to grand destination weddings. Their success lies in all of the pre-pre-planning.
"Setting up appointments with Black Orchid florists, Chef Dale Carty, the photographers, and the various hotels... the wedding would not have been even remotely manageable without Blue Sea's invaluable assistance, particularly since we live far away and have busy lifestyles," Jay explained.
To have it all go off without a hitch, local knowledge and connections go a long way.
Heavenly Moments in Anguilla

At the end of the day? Somehow, Blue Sea brings all of the pieces together, and the memories made are timeless.
"When our wedding day finally came, our expectations were not only met but surpassed. We are still getting compliments a year later, thanks to Blue Sea Anguilla. If we could do it again (and we loved it so much, we wish we could), we would not change a thing!" - Dana
More on Blue Sea's
Anguilla Wedding Packages
Blue Sea offers a very affordable wedding package that includes witnesses, justice of the peace, bouquet/boutonniere, champagne, recommendations on wedding locations and information on how to complete the wedding procedures/paperwork.
Don't want to do the procedures/paperwork yourself? Blue Sea offers a package that coordinates all of this (the basics handled (location coordination/planning, ALL filing of the papers and government requirements, witnesses, justice of the peace, bouquet/boutonniere, champagne)) and transportation to wedding site, photographer, musician and a small cake.
Blue Sea also has a package that includes everything listed in the previous package and... limousine transportation, hair and make-up, longer photography session, longer musician session and a larger wedding cake.
(Blue Sea's packages are based on 2 people (bride and groom). Guests can be added for $25/each. Pre-ceremony cocktail reception, beach dinner and sunset cruises can be added to each package.)