Santosha Villa Estate...
Anguilla's Most Sophisticated Ultra-Luxury Villa
Santosha Villa Estate: At A Glance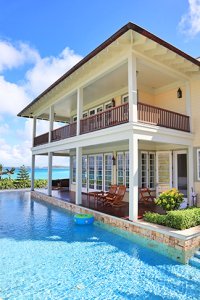 Santosha.
The name conjures up day dreams of exotic travels to the most far flung locales.
A Hindu term, the name means the discovery of inner "contentment."
Santosha, the Villa Estate in Anguilla, is the embodiment of that precise feeling.
The property is Anguilla's most sophisticated ultra-luxury villa.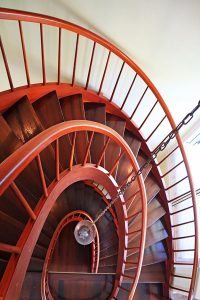 A 37,000 square foot West Indian-style estate, Santosha is of a bygone era.
Its design is classic Caribbean, immaculately executed.
A marked sense of relaxed sophistication washes over you as you walk through the nine bedroom property.
From regal crown moldings, to mahogany four poster beds, to antique sconces, louvre doors and double-paned windows, to the grand spiral staircase and wrap around verandas, each and every piece has been carefully designed.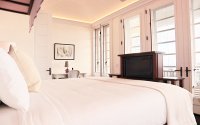 You will not, for example, find two mirrors, armoires or sink-tubs that are alike at Santosha.
Each ornamental touch has been hand-selected for its specific place.
The estate's address? Long Bay, the beach's ultra-private eastern side. Surrounded by tropical gardens, Santosha's exclusive location is her perfect complement.
Sprawling across 4.5 lush acres and able to accommodate 23 guests, Santosha Villa Estate is Anguilla's most grand ultra-luxury villa.
More on Santosha, below...
Visit Santosha' Website...
Santosha Villa Estate is Anguilla's most sophisticated ultra-luxury villa.
The estate's Grand Villa, three Guest Houses and dining pavilion all exude distinct West Indian elegance. Nine bedrooms spread out over five buildings set on 4.5 lush, tropical beachfront acres. The property's ultra-private location is its perfect complement.
Nestled among tropical gardens, Santosha Villa Estate opens directly onto pristine, sandy beach. The eastern half of Long Bay, it is one of Anguilla's most private strips of sand. Rocky outcroppings separate this corner of Long Bay from the rest of the beach. Here, you find total privacy, seclusion, and true to the estate's Hindu name, contentment.
For a video peek at Santosha Villa Estate, see the video above.
Inside The Grand Villa: First Floor
It all begins at Santosha's Grand Villa. A large West Indian-style house, the Grand Villa spans three floors. It is complete with multiple wrap around verandas, four bedrooms that sleep 13 guests, a kitchen, living area and media room.
Welcome to Santosha Villa Estate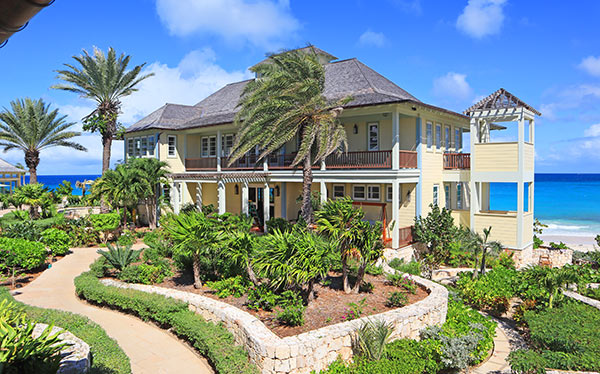 As you approach The Grand Villa, a marked sense of relaxed sophistication washes over you. Each enchanting detail has been thought through to create a true West Indian estate. Varnished wood-planked verandas, pergolas, generous awnings and even a comfortable swing day bed sits on the villa's front porch.
The Grand Villa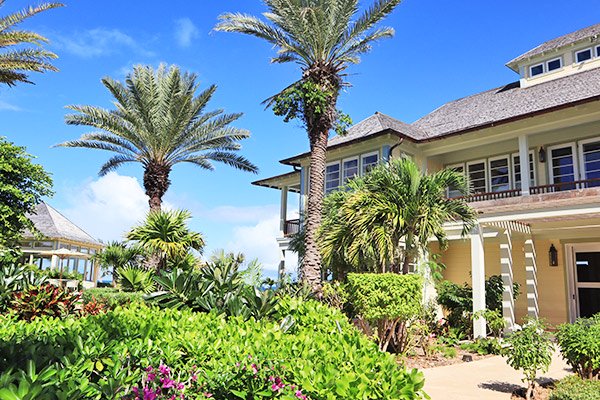 Large screened-in entrance doors give-way to a foyer with majestic staircase. To your left lies the bright and open living room. It commands your attention with a wall of paned windows and veranda doors that bring Long Bay's blues inside.
Living Area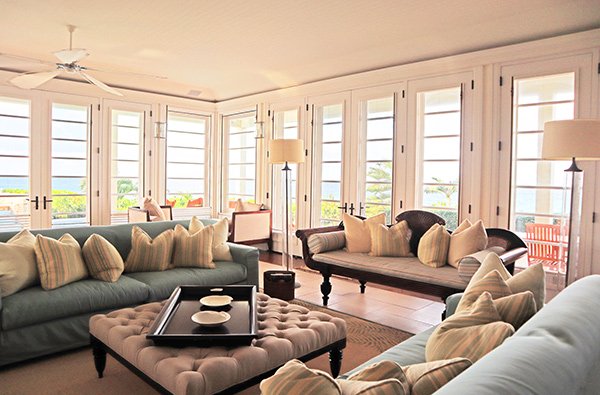 True to its classic West Indian style, the living room is adorned with tropical prints, antique mirrors and oversized ceiling fans. The ceiling fans are particularly noteworthy. They have been constructed from boat sails.
Antique Touches

The living area opens onto the villa's rich, wooden wrap around veranda and stone-lined pool.
Wrap Around Veranda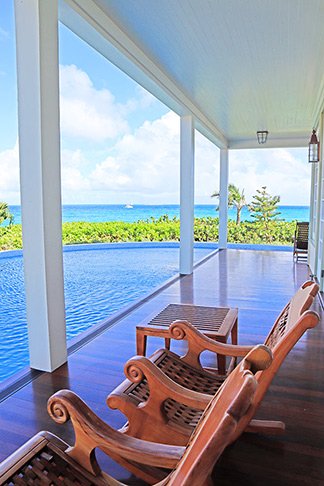 The veranda flanks the eastern side of the villa. It wraps around to the villa's northern edge, boasting open and intimate views of Long Bay.
The lagoon-like pool snakes and meanders, following the veranda to part of the villa's northern edge. Lined with detailed rock work, the pool has a certain warmth - to the eye and to the touch. This is a heated pool.
Lagoon-Like Pool

The pool backs onto a separate, expansive terrace with private hot tub, loungers, multiple dining areas and outdoor kitchen space with grill. It also leads to the dining pavilion.
Back inside the Grand Villa, the living area opens into the media room.
The Media Room

Reminiscent of cinemas of the Lauren Bacall era, the room is complete with posh day bed that looks out to the hills of Long Bay.
Reading Nook With a View

On the opposite side of the living area lies the Grand Villa's intimate kitchen. Bright and light, its fridge is so elegantly hidden in its English-style cabinets. The kitchen is complete with stove, oven and microwave, making it "the stop" for a midnight snack.
English-Style Kitchen

Rounding out the villa's main floor is the first master suite. It is tucked on the villa's northeastern side.
Master Suite

Dark wood floors are offset by crisp white walls. As your eye tracks up, the level of detail in the villa's design becomes apparent. Immaculate crown moldings are perfectly lined with elegant lighting. The lighting gives a total sense of refinement.
Function-wise, it is completely user-friendly. Santosha Villa Estate uses a Lutron system. All lights turn on with just one click.
The master suite is complete with king bed and terrace that looks out to Long Bay. The flatscreen TV tucks into a wooden trunk to not obstruct the view. The room backs onto a private ensuite.
Master Ensuite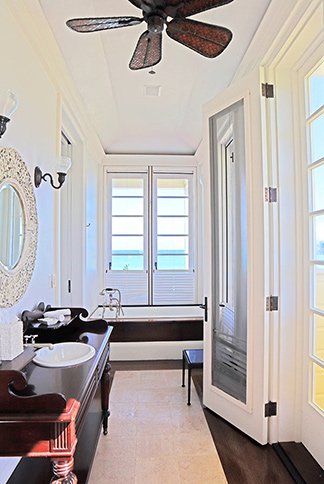 Each ensuite in Santosha Villa Estate is unique in its antique touches. You will not find two mirrors alike at Santosha Villa Estate.
Ornate Mirror & Antique Sink

This ensuite is complete with rich wood sink and sink tub, walk-in shower, pavilion with outdoor shower and roomy walk-in closet. Accentuated by thoughtful antique touches and accents, sophistication is the word of the day.
The Grand Villa: Second Floor
A marvelous spiral wooden staircase leads to the Grand Villa's second and third floor.
Grand Spiral Staircase

There are two master suites on the second floor.
The Junior Master Suite sits on the eastern corner. It features a small sitting area, which can double as a nursery if you are traveling with young children or infants. The sitting area leads to the oversized master bedroom.
Junior Master Suite

Dressed in turquoise-blues, its colors match the outside view. The room looks out to Long Bay and is complete with private balcony and ensuite.
Junior Master Suite Ensuite

Like its bedroom, this ensuite shimmers in a thousand shades of blue. The entire room is accented by fanciful antique sconces and light fixtures.
Back in the second floor's hall, French doors open to the master suite. This is the largest suite on-property. It occupies most of the second floor.
Master Suite Ensuite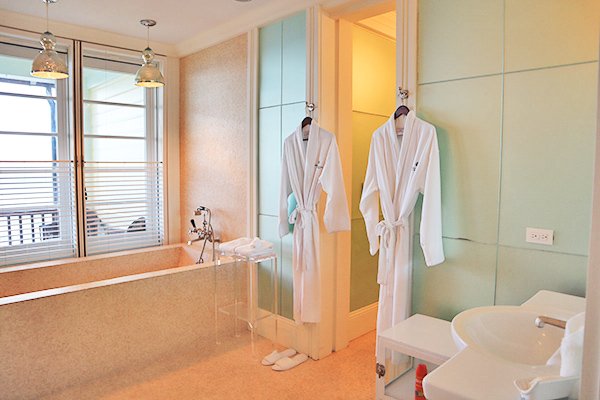 The master suite's ensuite is immediately to your right as you enter the grand suite. Its toilet is discreetly tucked behind frosted green-glass walls. The bathroom itself is complete with deep stone sink tub and walk-in shower. It opens to the suite's private wrap around veranda.
A private study and oversized dressing room sit opposite the ensuite.
It all leads up and into...
The Master Suite

The master bedroom features a flatscreen TV and a small, separate room with toilet and sink. The entire space opens onto a private wrap around veranda with 180° vistas of Long Bay.
The Grand Villa: Third Floor
Up one more flight of stairs is the villa's final floor, the children's loft.
Children's Loft

A sweet room, all blue and white, the children's loft features two elegant bunk beds, two day beds and an ensuite with bathtub/shower. The highest point of the property, its views of Long Bay are especially expansive.
Day Beds With a Long Bay View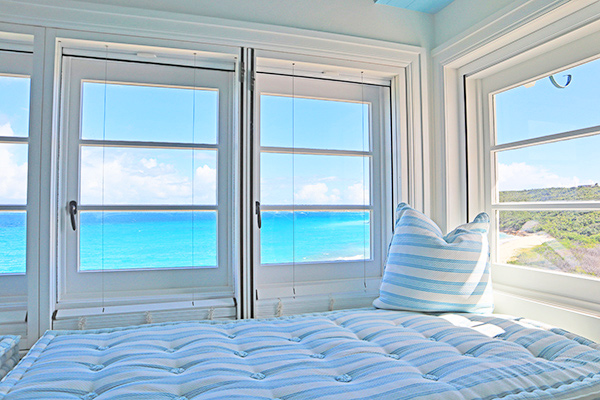 That completes the Grand Villa. Five additional bedrooms, a gym, chef's kitchen and outdoor/indoor dining room span over the four additional pavilions that wind through Santosha Villa Estate.
Let's start with Guest House Bhakti.
Guest House Bhakti
Also boasting a West Indian design, Guest House Bhakti is a two story house.
Guest House Bhakti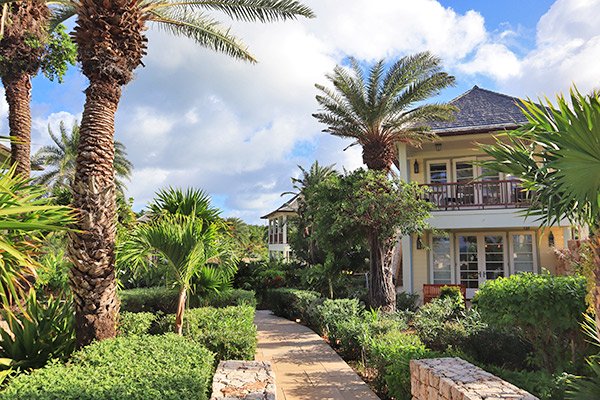 The first floor is the estate's gym, complete with cardio machines, weights and indoor and outdoor shower. Upstairs, a master suite sleeps two guests.
Guest House Bhakti's Master Suite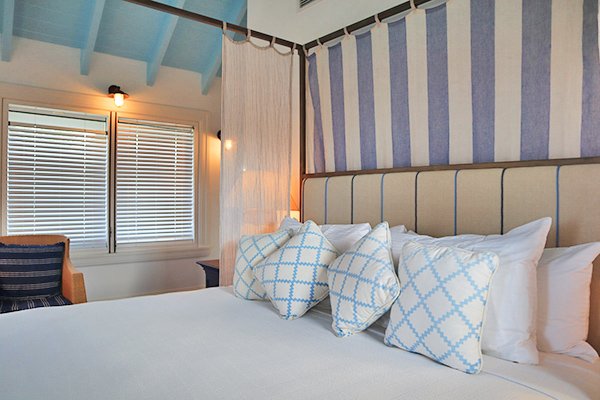 Bhakti's master suite exudes sophisticated Caribbean beach house charm. Vaulted ceilings give the room a lofty feel. White and blue wooden walls and ceilings offset the dark wood floors underfoot.
The room opens onto a private balcony that faces the Grand Villa. It backs into a private ensuite.
European-Style Ensuite

The ensuite boasts English countryside charm. Its blue tiles complement the clean-white sink tub and free standing porcelain sink. The bathroom also features an outdoor pavilion with outdoor shower.
Guest House Ananda
Down garden-lined path is Guest House Ananda. Also a two story building with West Indian architecture, this house sleeps four guests. Each floor has one master suite.
Guest House Ananda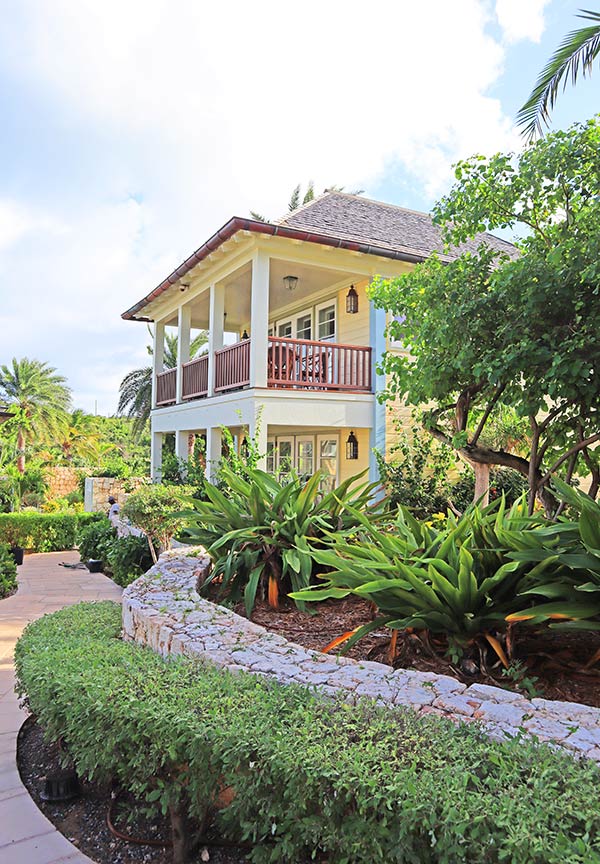 The ground floor master suite almost feels like a "gentleman's room." A rich four poster bed is adorned with lofty curtains. Extra light mint-green walls lend a posh and refined feel to the room.
First Floor Master Suite

The space features a flatscreen TV, writing desk and surround sound system. The crown moldings are again immaculate, with additional antique lamps that transport you to a bygone era.
Desk & Sitting Area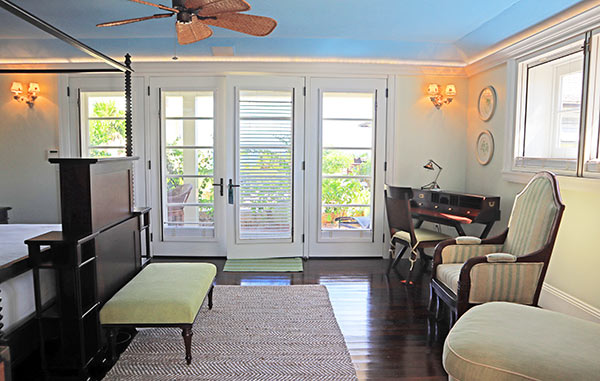 The suite opens onto a porch that looks out to Long Bay in the distance. It backs into a private ensuite.
First Floor Master Ensuite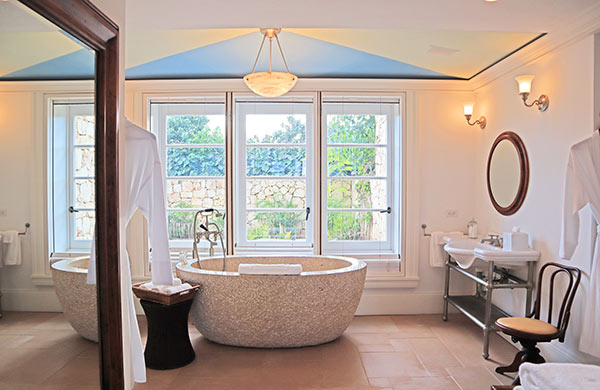 The ensuite is particularly breathtaking. Light and bright, its focal point is its enormous rock sink tub. It also features an outdoor shower, indoor shower and private sun bathing area.
First Floor Master Ensuite

Upstairs, lies the "sunshine suite," Guest House Ananda's second master suite.
Second Floor Master Suite

Similar to Santosha's other master suites, this one, too, features the classic light-wall, dark wood-floor combination. Its polished vaulted ceiling lies above immaculate moldings and lighting. The room radiates warmth.
Out on the porch, views of Long Bay are to the right and the Grand Villa is to the left.
Second Floor View of The Grand Villa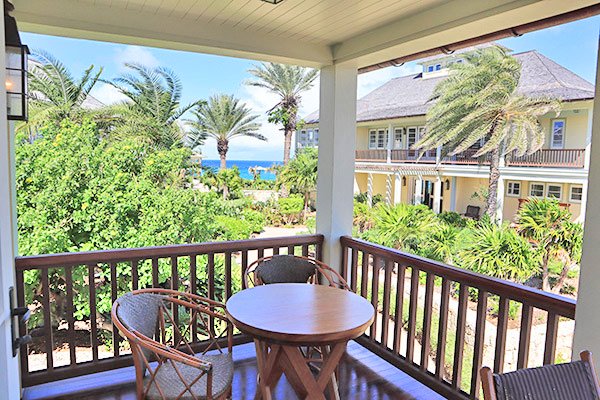 This suite's ensuite is perhaps Santosha's most captivating. There is not one but two focal points. First, its magnificent shell-framed mirror.
Shell-Framed Mirror

Second, its metal sink tub.
Metal Sink Tub

The ensuite is also complete with walk-in shower and outdoor shower.
Guest House Chitra
Guest House Ananda lies across from Guest House Chitra. Chitra has the most intimate views of Long Bay. It is the property's "honeymoon suite."
Guest House Chitra

A romantic cottage with one master suite and ensuite, Guest House Chitra features double showers and an expansive porch. The patio is complete with private dining area as well as outdoor seating.
The Dining Pavilion, Kitchen & Apartment
Lastly, all buildings follow a garden-lined walkway to the villa's pool, oversized terrace and dining pavilion.
The Pool at The Grand Villa

The terrace features multiple outdoor dining and lounging areas, as well as a jacuzzi hottub at the property's edge.
Outdoor Dining Area

The dining pavilion itself is a favorite gathering point. It sits at the edge of the property, overlooking the sea. All floor-to-ceiling glass windows, the glass walls retract to allow you to adjust the amount of sea breeze.
Inside The Dining Pavilion

The dining pavilion backs onto a full chef's kitchen and a two bedroom nanny apartment.
Exclusive Long Bay Beach & Villa Amenities
The property all opens onto the shores of Long Bay beach.
Long Bay Beach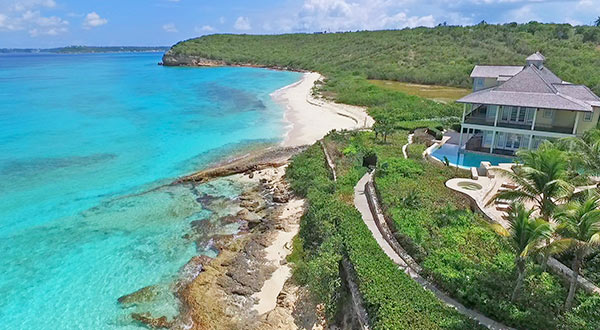 Rocky outcroppings separate this stretch of Long Bay from the rest of the beach. By land, the eastern half of Long Bay is only accessible from Santosha, making it ultra-private. It is one of the most enchanting beach settings in Anguilla.
Multiple walkways lead from Santosha Villa Estate down to the pristine, sandy beach. The beach area features stone grotto for private dining, beach chairs, umbrellas and additional beach equipment (ex., kayaks, etc.).
Santosha Villa Estate on Long Bay Beach

Naturally, with grand furnishings and location comes grand service. All stays include...
Daily butler service (8 hours/day)
Daily breakfast
Daily housekeeping
3 tennis courts
Around the clock security
Around the clock concierge
Event planning
Anguilla's most sophisticated ultra-luxury villa delivers on the promise of its name. Total inner contentment is found at Santosha Villa Estate.
---
A Note on Space: When combined with sister property, Long Bay Villas, the entire property can sleep 55 guests. The expansive space makes the whole property a top choice for large events, including weddings and corporate retreats. How to use the space? Villa manager, Patricia Bygrave shares her insights in the video below.
To book Santosha Villa Estate...
Santosha Villa Estate is set on the ultra-private eastern side of Long Bay beach. Santosha Villa Estate is the only structure on this half of Long Bay. The property is also just a two minute drive to Meads Bay's five-star restaurants. See exact location below.