<![endif]-->
Anguilla Photos...
Capturing Magic Moments
Set in a clear azure sea, with sparkling, white-sand beaches, Anguilla is the most photogenic of Caribbean islands. An opportunity for spectacular Anguilla photos, pictures that allow fleeting moments to last forever, is on each beach, around every bend.
How sweet it is to have those burning vacation memories captured forever in Anguilla pictures.
Yuki and I at Malliouhana Resort, 2002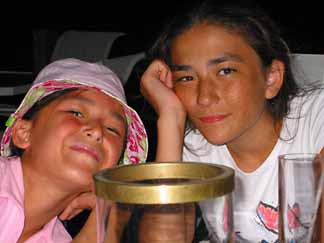 We sure did make many memories back in 2002 when we lived in Anguilla for one month.
Looking back on our Anguilla photo albums we realized that there were special moments, and "super special" moments.
Moments so outstanding that we would return just to live in that moment one more time!
One of our favorite Anguilla memories from 2002 that was inexpensive, and a prime Anguilla photo opportunity, was experienced from the Malliouhana resort. With drinks and snacks, we would watch the sun radiate its last few rays on the turquoise water, before disappearing slowly behind the sea.
The sunset from Malliouhana in itself is sublime, but our favorite drinks made it perfect.
What is your super
special magic moment in Anguilla
captured through Anguilla pictures?
My Dad would have a rum punch, which he declared as excellent although not as strong as the rum punch at Palm Grove. My Mom would order a Carib beer.
And, my sister and I would each have a cherry coke. But this wasn't any regular cherry coke... this was a serious cherry coke! They would mix Coke with a cherry syrup and then put real cherries in the drinks. Mmm... delicious.
Just when we would sit down, my dad would pull out his camera to turn this "super special" Anguilla moment, into some "super special" Anguilla photos.
Today, we no longer vacation to Anguilla, we live in Anguilla year-round.
Anguilla photos and moments are in no short supply.
We make new memories, and re-visit old ones.
Exploring Iguana Cave is a favorite!
We first ventured within the depths of this hidden cave in 2004 with Anguilla Life Magazine's Claire Devener.
We still return to the cave when we're in the mood for adventure, and to marvel at the cave's natural beauty.
The colors are especially vibrant when the sun shines through the cave's one large hole to the sky.
Another favorite? Wading "into blue" at Shoal Bay East.
Perhaps the most cherished moment of all? Floating on Anguilla's seas. Cave hikes, beach walks, sunset drinks and floating... These are the makings of unforgettable memories made timeless through Anguilla photos.
Prints of Anguilla Pictures & Photos
Gallery & Print Shop
We have assembled a special collection of your favorite Anguilla photos (as seen on the Anguilla Beaches Instagram page and Anguilla Beach Lovers Newsletter)! From Sandy Island, to Meads Bay, Rendezvous Bay and Shoal Bay... they all are on full display on The Gallery. Each photo is also available to purchase as a high quality photo print or canvas. I so hope you enjoy The Gallery & Print Shop!
Noteworthy Caribbean Photographers
Alex Guerre
A hobbyist based in St. Martin, Alex Guerre's photos are unique. He produces high quality, professional-level photos that have particularly warm and personal characteristics. From sea turtles, to sharks, to shots taken in the tube of barreling waves, to scenery in Anguilla and St. Martin, his photos are some of my personal favorites.
Your Favorite Anguilla Photo Pages
There are photos, and then there are special photos, snaps that become "forever moments." Over the years, these pages featuring special moments captured through Anguilla pictures have proven to be visitors' favorites.
Anguilla Photos of Picture-Perfect Anguilla Churches
You don't notice Anguilla churches... at first. When you do, you can't stop. Anguilla has more "perfect little churches" per square mile than any country in the world. Enjoy this collection of Dad's favorite Anguilla photos of churches.
Photos From The Top Of Windward Point
Capturing these memories and views takes a "bit" more work than snapping a sunset at Malliouhana. As you'll see, though, it is worth the effort!
Anguilla Flights: An Aerial Photo Tour
We have seen Anguilla from sea. We've covered every square inch from land. Seeing Anguilla from the sky brings a whole new perspective!
More Memories & More Anguilla Pictures
You meet some interesting people in Anguilla. Here are some pics with them, another from Windward Point (we can't seem to resist its pull), as well as a one with a friendly donkey and a rare photo with Dad (he usually takes the photos).
A Few Other Special Anguilla Photos
Not every photo of Anguilla can qualify as a magical memory. This mini-collection freeze 3 special memories in time. When you're as young as Yuki and I were then, "special" can be pretty simple.
It's Time For Your Magic Photo Moments
Enough about our magic moments! Click the link above to see visitors' Anguilla photos. Then share your own special memories.
We "Pic" More Magic Moments
Many wonderful vacations and years of "living free and warm" has, luckily, not blunted our habit of taking a camera wherever we go. Like my Dad says, when he grows too old to remember, he'll enjoy these even more!
There's so much to do when you're in Anguilla. Scan and "pick" moments for your bucket...
Special Contest Memories
Where's Your Anguilla Card The first contest exclusive to Card Holders, you shared fun photos of your Anguilla Card. From truck bumpers to barn stables, the locations were creative, touching and, in certain cases, sure had us in stitches.
33 Days of Anguilla Dreamin' This contest, with a $250-value prize gourmet dinner for two at CuisinArt's Tokyo Bay or Le Bistro, all about Anguilla dreams.
Postcards From Anguilla Stunning "postcards from Anguilla" that evoke every time of emotion There's no place like Anguilla!
Anguilla New Year's Eve Party
Celebrating Anguilla New Year's Eve? There is only one place to ring in the new year in style! This spot offers a classy, classic Anguilla New Year's Eve party. Afterwards, go to Sandy Ground for the post-midnight party, and The Dune for the post-midnight party party!
Anguilla Horseback Riding with Seaside Stables
The #1 Anguilla activity on our Anguilla bucket list was Anguilla horseback riding. With this former bucket list item now crossed off our bucket list, it has become one of our warmest Anguilla memories, with many Anguilla photos.
Experiencing Anguilla History on the Anguilla Heritage Tour
Live Anguilla history by exploring 10 of the island's top historical sites. From the east end to the west end, this historical trail is a fun way to spend an afternoon.
Exploring "Iguana Cave," An Anguilla.com Video Adventure Game
Claire Devener and the Evoy family become Indiana Jones in our quest for Inguana Cave and the magical Tree Treasure!
Anguilla Snow
Yes it's true! Snow on Anguilla... and we even have a picture to prove it.
Anguilla Island's Very Own Stonehenge
Stonehenge in Anguilla? Yes! Come visit this most calming, mystical spot, an oasis of calm within an island of tranquility.
From Floating Whale to Lobster Man
My Dad: The Evil Knievel of sunburns!
Anguilla Weddings and Anguilla Honeymoons...
The Ultimate Romantic Destination
What could be more special than getting married and honeymooning in Anguilla?
A Challenging Hike: A Cheap Caribbean Vacation Is Possible
So many people think that a cheap Caribbean vacation is impossible. Wrong - here's an adventure you can do for hardly anything!
More on Cheap Caribbean Vacations: A Safe Shortcut To A Deadly Hike
Here is a must-do on cheap Caribbean vacations. A once deadly and dangerous Anguilla hike has become safe and accessible for all, without losing its seclusion and beauty.
A Special Way to See Anguilla
Ready for a day of Anguilla tours... sailing, relaxtion, discovery, and great food? Who isn't?!
The Anguilla Sailing Association
Yuki discovered The Anguilla Sailing Association in August 2008. Now, it's out favorite spot to spend a day of fun and sun!
Scrub Island Camping Adventure
The Anguilla Sailing Association embarked on a two-day sailing trip around Anguilla, camping on Scrub Island in between.
Picton Castle Visits Anguilla
Many ships visit Anguilla, cruising into Road Bay. None was as mysterious and haunting as this one though...
Missing Caribbean Vacations
Not being in Anguilla can be a heartbreaking thing. Click the link above for my top five "I Miss Anguilla's". Share yours too!
Welcome to the Anguilla Movies!
Grab some popcorn, get comfy and enjoy the 30-second Anguilla home movies.
Best Anguilla Sunsets
Anguilla is home to some of the most spectacular sunsets. Always different, with so many beautiful beaches where you can take them here, click the link above for photos of our favorite sunset spots.
Your Magic Moments
Enough about our magic moments! Click the link above to see visitors' Anguilla photos, and to share your own magic moments.