Anguilla's Best Sunset Beaches
By: Kristin Bourne
Anguilla's variety of sunsets - some are pink...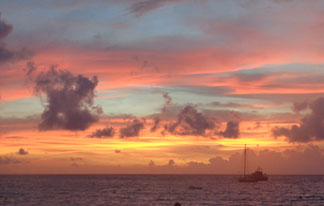 We know Anguilla has some of the best beaches in the world.
That's not just my opinion…
I've heard it over and over again from well-traveled people. They've seen plenty of the world and still come to Anguilla for many reasons, namely, the beaches.
Given Anguilla's gift of near-perfect beaches, what better place is there to position yourself to take in a sunset.
some are purple...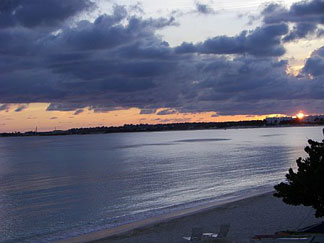 Sunsets are spectacular in their own right.
No one is ever the same.
Some are pink, red, purple, orange and sometimes peacefully neutral.
Some are fiery.
Some are such soft pastels that the sky could be a dream nursery for a baby.
For some it's an intense challenge to see the "green flash" as the last sliver of sun disappears behind the horizon.
some are orange...

They represent the mark of another day's end. For some, it's a winding down time and it's a peaceful time, full of reflection.
I've said it before, I think the Anguilla sky sometimes upstages the special Anguilla beaches, but since they are both stunning, why not focus on where you can induldge in the best of both worlds…
and some are calm and silvery!

Here's the best Anguilla Sunset Beaches.
Let me start with what I feel would win as the Anguilla-Beaches.com readers' pick for the first choice for a Anguilla sunset beach (feel free to contest this in the comments below ;-) )...
1) Meads Bay
Meads Bay is on the northern coast of Anguilla and the sun sets off to the left if you are on the beach, facing the ocean.
While the entire bay is a great place to be for sunset, Carimar Beach Club offers the best spot for a Meads Bay sunset from the sand. It's located on the far eastern end of the bay.
If you are looking for more of a vista for a Meads Bay sunset, go to the Sunset Lounge at Four Seasons (formerly Sunset Lounge at Viceroy) on the far western end of the bay and view it from one of the many overlooks. Four Seasons is located on both Meads Bay and Barnes Bay.
Meads Bay, Anguilla sunset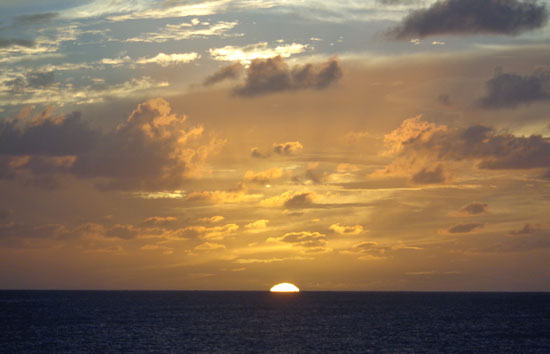 Meads Bay sunset from The Four Seasons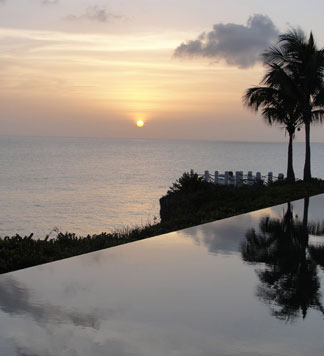 Of course, anywhere in between Carimar and Four Seasons can also be very romantic.
What's even better? You can stop in to Blanchard's Beach Shack when you are done gazing at the horizon.
They are located on the eastern end of the bay and are open until 8pm every day but Sunday, perfect!
A very popular and romantic sunset dinner destination on Meads Bay is Straw Hat and it's more centrally located on Meads Bay too... another fine choice.
2) Crocus Bay
Crocus Bay is situated along the same coast as Meads Bay but is farther East.
Crocus Bay sunset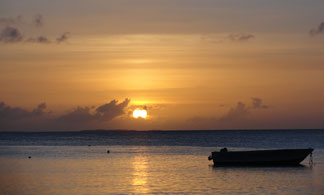 It lies below one of the highest elevations on the island, where you can find Lloyd's Bed and Breakfast.
Crocus Bay isn't as long as Meads Bay but it still allows for you to take in a sunset from the sea or perched on a rock on the far western end of the bay or from its very chic and beautiful da'Vida Restaurant.
da'Vida's motto is "Celebrate Life"... a very appropriate vibe to have around when you are enjoying an Anguilla sunset!
Crocus Bay, Anguilla sunset magic!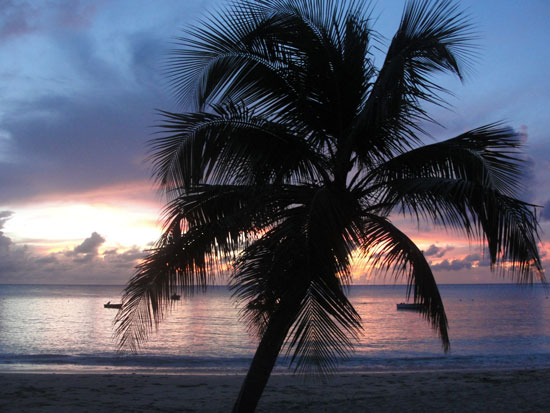 3) Shoal Bay East
Shoal Bay East, more commonly referred to as Shoal Bay is an award-winning, world-renowned beach.
Shoal Bay East sunset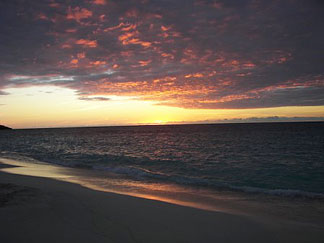 It is the Anguilla beach that seems to get the most recognition… and rightfully so.
Keep in mind that Anguilla has so many amazing beaches, but Shoal Bay is long and majestic and it has a good amount of businesses, beach umbrellas and chairs to suit visitors.
Shoal Bay is pristinely cerulean during the day.
At sunset, the activities of the day slow down and everyone turns their attention toward the left of the sea view for the warmth of a Shoal Bay sunset.
Call it an ideal day, if you please.
A stunner from Anguilla's Shoal Bay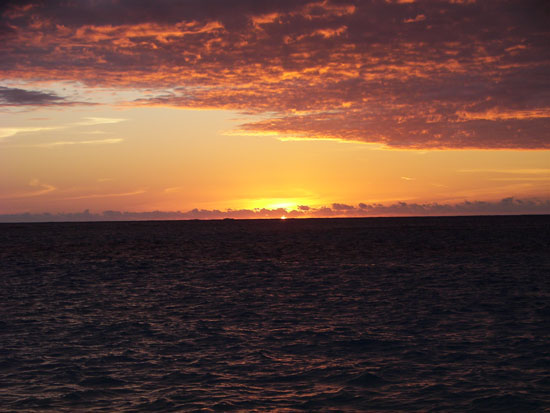 4) Rendezvous Bay
Unlike the first three, Rendezvous Bay is on the south coast of Anguilla.
Serenity on Rendezvous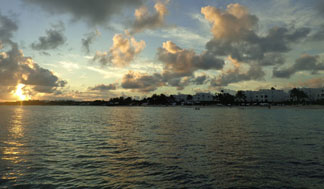 If you position yourself on the eastern side on the bay (the opposite end from Bankie Banx's Dune Preserve), you can catch the sun setting behind CuisinArt Golf Resort and Spa.
Even if you are are on the CuisinArt and Bankie-side of Rendezvous for sunset and miss the sphere itself hibernating behind the horizon, the colors that present themselves around an Anguilla sunset are extra special at Rendezvous, some how, some way.
I think you'll find many who've spent time on this beach that will tell you that.
A warm Rendezvous Bay, Anguilla sunsets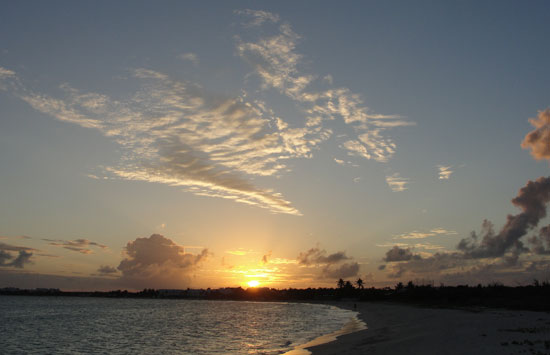 5) Shoal Bay West
Covecastles and a Shoal Bay West sunset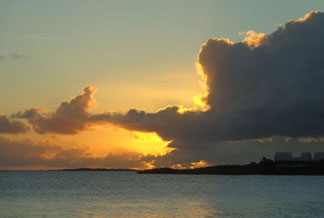 A little farther west but on the same side of Anguilla as Rendezvous Bay is the other Shoal Bay… Shoal Bay West.
This one is is also beautiful but not as frequented as Shoal Bay East.
What you'll find here is a nice walking beach where the sun sets over the western point of the bay and offshore Anguillita in the distance (which is an excellent Anguilla scuba dive site).
If you come for sunset, be sure to enjoy a leisurely Italian meal at Trattoria Tramonto afterward!
Covecastles and a Shoal Bay West sunset


6) Cove Bay
Cove Bay at sunset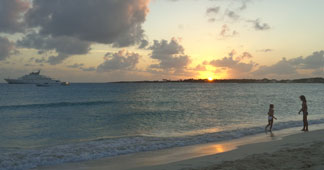 Many who witness a Cove Bay sunset, catch it by accident!
That's right. What a pleasurable accident.
As the gorgeous day rolls on beach goers have finished soaking in the sea, the sun starts getting low to everyone's right (assuming they are facing the sea) and then it's hard to walk away from Cove Bay until the "show" is over.
Cove Bay is in on the southern side of Anguilla and just one bay over from a magnificent beach for similar sunsets, Maunday's Bay - home to Cap Juluca.
Cove Bay is a sweet place to end the day!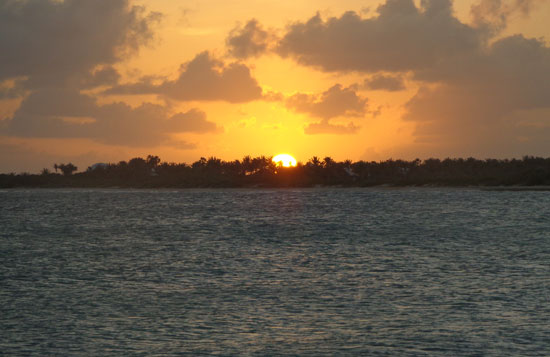 7) Sandy Ground
Those who know me well will say that I've clearly saved the best for last…
They would be correct, as I have a soft spot for Sandy Ground and its sunsets.
But as you've seen, whether in person or via this web page, all Anguilla sunsets are winners.
Sun setting behind the northern point of Road Bay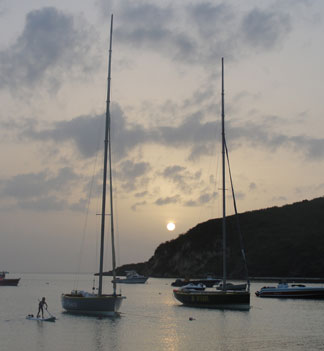 So what's different about a Sandy Ground sunset?
Here, I can elaborate.
First, in case you haven't seen it in person yet, Sandy Ground, or Road Bay (the official name of Sandy Ground's bay), is a west-facing bay that is flanked by points of land on the north and south.
Having spent much time in Sandy Ground, I love how you can see the Earth's movement based on where the sun sets between each end of the points around Road Bay at different times of the year.
To me, the points of land operate as a gauge. The sun ping pongs between the points as the year passes.
For example, in October the sunset in Sandy Ground takes place toward the southern point, getting closer and closer to going down behind the land on that side, each day.
Sun setting closer to the southern point of Road Bay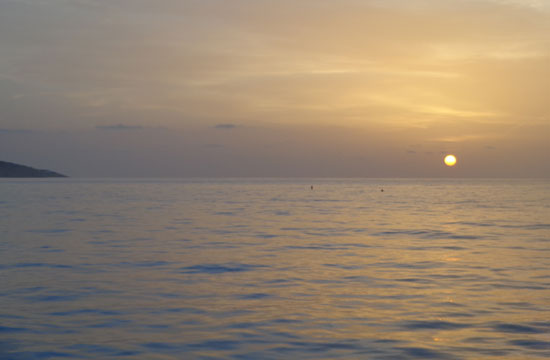 As the days and months continue, the sun appears to keep its southern track going until the winter and then it seems to change direction and starts shifting slowly to the northern point.
So, when you sit and look at a Sandy Ground sunset, take note first of all, where you are located on the beach and where the sun is going down…
Even if you spend only a week doing this, you can sometimes tell which way the "sun is moving" within such a time period.
Ok, science and the Earth's axis aside, the beauty of a Sandy Ground sunset is also something to note.
Another potential perk...
If you are a fan of boats, you'll appreciate the dark silhouettes of the boats in the foreground of a bright sunset, as there are many boats anchored in Road Bay.
It seems to me that almost anywhere on Sandy Ground is a good spot for viewing.
There are also many options besides just plopping it down on the sand: Elvis Beach Bar, Johnnos, SandBar, Dolce Vita, Barrel Stay, and Roy's.
Note: Regarding viewing from Roy's and Elvis: If the sun is going down near the northern point, you may want to watch from farther down the beach, away from Elvis'. Likewise with Roy's, if the sun is setting closer to the southern point... that's when Elvis' would be a good location for viewing since they are the opposing bay business locations with Roy's.
Take these pointers as informational and hopefully helpful but know that truly, no matter where you are on Sandy Ground, you are likely to get quite a blessing of nature as the sun goes down.
Forget science and geography, just sit back and enjoy!
A Sandy Ground sunset to remember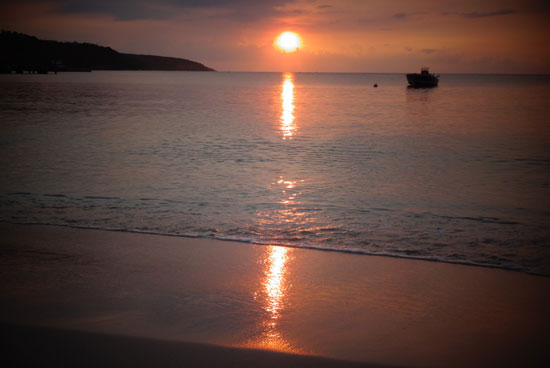 Also stunning...
Sandy Point at sunset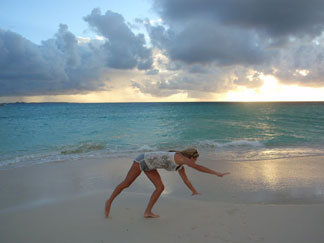 The southern shores' Sandy Point (located on Blowing Point beach) is a special spot for sunset time.
My advice is to park at
The Ferryboat Inn
and walk down to Sandy Point around sunset. Breathe, relax, enjoy. Then you can walk back just in time to enjoy something good to eat from the restaurant at The Ferryboat Inn.
Likewise, Island Harbour is not ideal for a direct sun dropping in the sea-type of sunset. I can report however, that the colors of the sky around sunset-time in this northeastern Anguilla village are usually just as stunning as the real deal.
Looking west from Island Harbour at sunset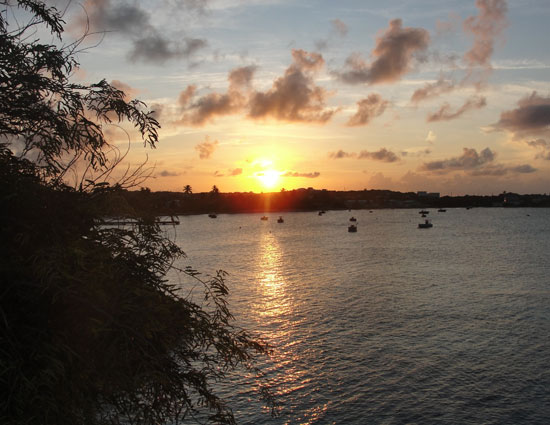 Wherever you are in the world, be sure to always pause a moment and be thankful for the day.
Sunset is always a good time to do this and hopefully the weather conditions will be just right for one of nature's best movies... sunset.
Until tomorrow...