Lifetime Caribbean Vacations
At The Barrel Stay
Update 2020: Barrel Stay's original owners (see article below) Graham & Jill retired in 2017 and returned to the UK. Today, Barrel Stay has re-opened with new owners and management. More on Barrel Stay here.
Barrel Stay At A Glance
A serene, high-end restaurant on Sandy Ground, the Barrel Stay is run by two kind people, Graham and Jill Shepherd.
The service is five-star and the menu is mouth-watering, offering a wide variety of creative appetizers, entrees and desserts (don't miss the warm apple tarte dessert!).
More on Barrel Stay, below...
In early 2005 Graham and Jill Shepherd were offered "lifetime Caribbean vacations"... Restaurant owners. In Sandy Ground. On Anguilla.
"Anguilla?"
They had never heard of Anguilla, and never had Caribbean vacations.
So what the heck...
They left England and the rainy weather behind and flew off into the fluffy, white clouds. Sun, sand and certainly adventure, were just a plane ride away!
Months later, my family and I were sitting at Le Bar, enjoying our last herb-stuffed burger. We were talking, eating, laughing and just soaking up sun, when we saw a familiar face.
"Jacquie! From Ripples? Is that you?!"
We said our "how are yous" and "whats news", to which she said only two words, "Barrel Stay"... a new high end restaurant, nearby her very own Ripples.
Jacquie's restaurant, Ripples, is one of our favorites, so anything that she raves on about, definitely intrigues us! We wasted no time, and went to make a reservation...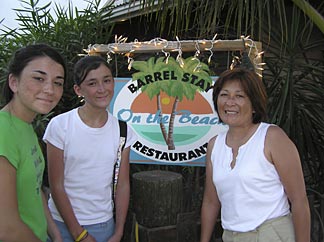 Sunsets at Barrel Stay
The #1 tip for making reservations at Barrel Stay?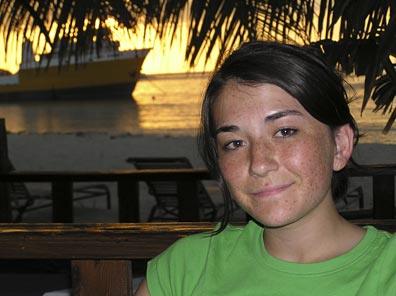 Make them for 30 minutes before sunset.
Spend the 30 minutes prior working up an appetite and walking along Sandy Ground.
By the end your stomach will certainly be growling, but you can't pass up shots like this...
Serene Sunset
at Sandy Ground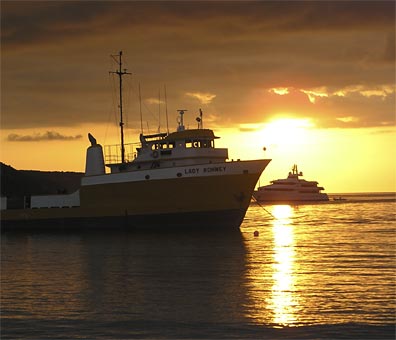 After a picturesque stroll on Sandy Ground's shores, we arrived back at our table at the Barrel Stay, catching the last rays of sun as it dissolved into the sea.
As the sun vanished, freshly baked, warm rolls appeared on our table, and we began to scan the menu.
We all found something we were excited about. Except Ms. Picky Eater (A.K.A. my sister). She didn't want chicken stuffed with asparagus, or grilled snapper with sweet potato. She just wanted spaghetti and meat sauce. But sadly, that wasn't on the menu.
At this precise moment, Graham Shepherd himself emerged from the kitchen to greet us.
A friendlier man you will never meet, we came to learn how two high-powered executives "chucked it all" for lifetime Caribbean vacations.
And so considerate....
He picked up on Yuki's disappointment, and said, "I can do spaghetti. And I can do a creamy, tomato sauce. What do you think?"
She didn't have to think at all and started thanking him immediately.
Our meals arrived as the last shimmers of sunset afterglow darkened. My Dad and I had chosen the snapper and sweet potato, my mother having chosen the chicken stuffed with asparagus.
There isn't an adjective in the English language that could begin to describe the delight our mouths felt upon eating Graham's delightful dishes. Well, there may be, but I couldn't find it in my Thesaurus.
Thank you for the tip, Jacquie!
But, wait. It wasn't quite over just yet. What about dessert?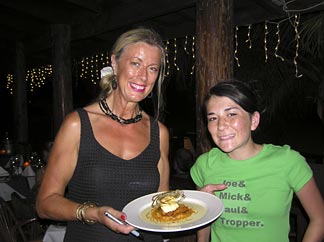 Graham's charming wife, Jill, convinced us that we "just had to sample the warm apple tarte tartin."
Warm... apple... vanilla ice cream...
...it didn't take much to sell us on that idea!
Four forks, one tartin. No contest. We ordered another!
The perfect ending to a flawless meal.
One thing, though... they sure do work hard for a couple taking lifetime Caribbean vacations!
Directions, Hours & Contact
Directions: Located in the middle of Sandy Ground, you can find Barrel Stay in Sandy Ground village, on the beach-side of the road.
Barrel Stay
Good for fine seaside dining and sunset drinks.
Hours: Dinner nightly. Closed Wednesdays.
Tel: 264-497-6100