Barrel Stay...
Back on Sandy Ground With Serious Flavor!
By: Louise Fayet
A well known spot right on the shores of Sandy Ground, the beloved Barrel Stay is BACK with new management and ownership, and a menu rich in flavor.
Welcome to Barrel Stay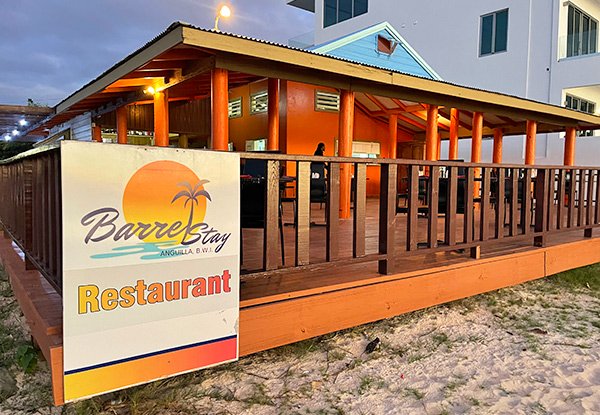 "Barrel Stay" is a famous name in Anguilla thanks to previous owners Graham & Jill. The dynamic duo built one of the most popular restaurants on-island.
Graham & Jill have long since retired, but Barrel Stay's name lives on. New owner Anette Hibbert is rekindling the Barrel Stay flame.
You may know Anette. She worked with Chef Carrie Bogar at Veya for years, honing her skills and perfecting her craft. Anette isn't the only familiar face at Barrel Stay. You may also recognize Jerrel...
Warm Welcome with Jerrel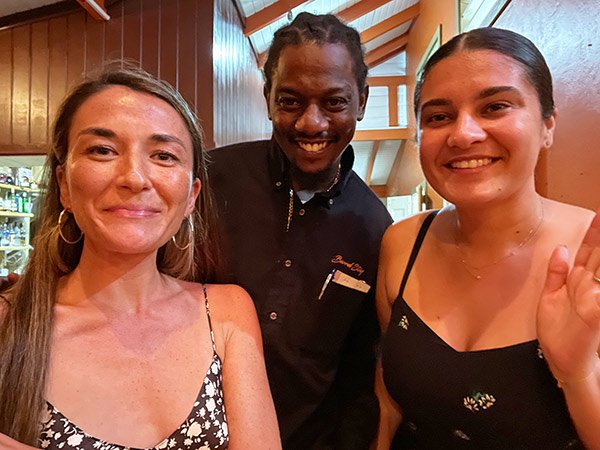 Jerrel worked at Straw Hat for 21 years before joining the team at Barrel Stay! His warm presence immediately makes you feel welcome.
Jerrel leads you out onto the restaurant's large, open-air terrace...
Night Time Scene at Barrel Stay

The calm waves and twinkling lights of rocking boats docked in-shore make for a romantic scene.
As you sit and admire the Sandy Ground view before you, Jerrel brings the menus...
Cocktails On Sandy Ground
Evenings at Barrel Stay begin with their signature cocktails.
Rum Punch & Barrel Stay Sunset

Match your cocktail to your sunset :-) After all, Sandy Ground is one of the top spots to watch the sunset!
If it is wine you prefer, Barrel Stay has you covered!...
It's Wine O'Clock at Barrel Stay!

They boast a large wine cellar with a variety of whites, reds and bubblies, all kept cool.
Drinks in-hand, hunger calls.
The menu starts with appetizers of soup de jour, deep fried calamari, scallops, chef's salad, warm seafood salad and...
Caribbean Crispy Tuna Cake Patties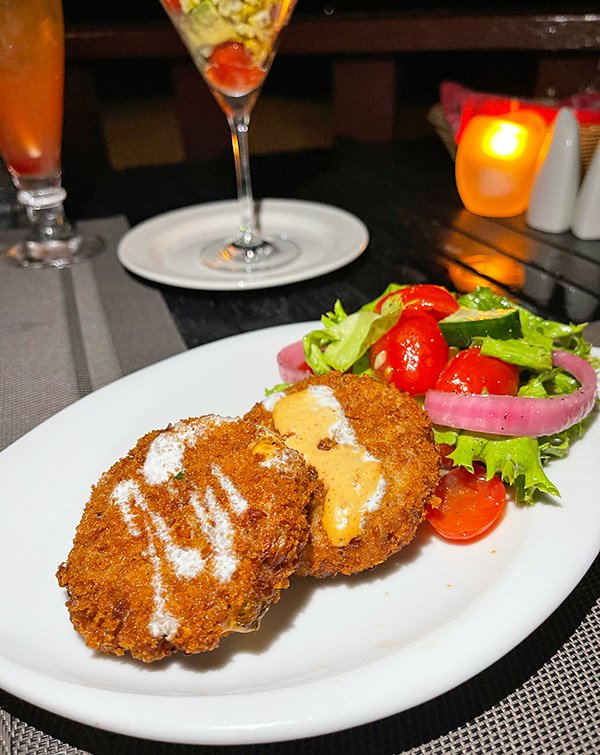 These two picture-perfect tuna cakes are fried to golden-brown perfection. Inside, the fish is moist and flavorful! The extra-special cherry on top? The house yogurt lemon dill sauce.
Next, this dish comes highly recommended from Jerrel...
Tropical Fire Roasted Corn Salad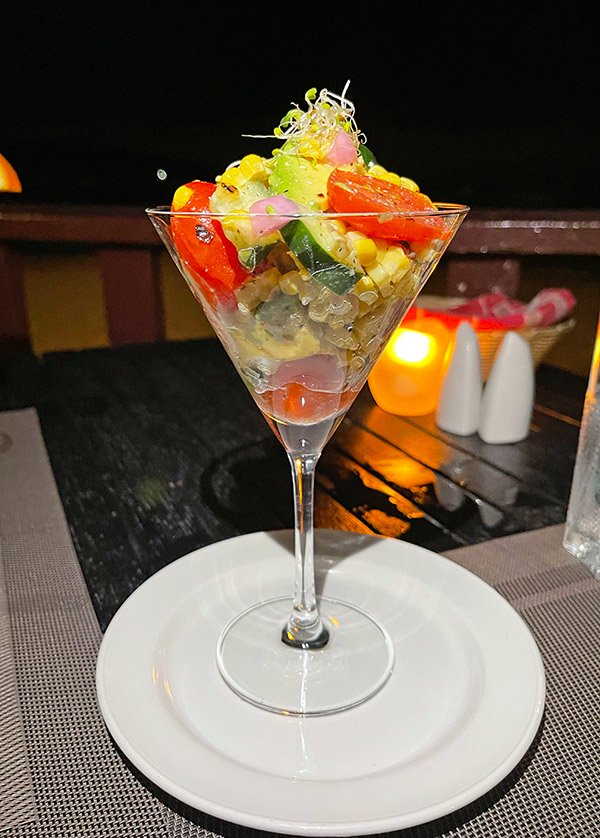 It's not hard to see why Jerrel loves this dish! A colorful mix of fresh veggies are served in a tall martini glass. Sliced cherry tomatoes, roasted corn, cucumber, red onions and avocado all come together to create a filling and refreshing starter.
Dinner at Barrel Stay: Main Courses
The menu begins with a variety of seafood selections that capture your attention!
Grilled local lobster, stuffed red snapper, seafood pasta and...
Beach Bay Surf n Turf

Not often will you find a "surf n turf" option when dining in Anguilla. When I do see it on a menu, my mind is instantly made up! How does it get better than lobster and steak?
Anette prepares her lobster tail in a rich, savory butter, saffron and garlic sauce. Tender and succulent, the lobster is mouthwateringly delicious. As for the ribeye? Simple and juicy. Anette lets the meat speak for itself!
The sides are especially divine. The dish comes with asparagus wrapped in bacon and a puree of sweet potato. The puree of sweet potato is noteworthy. Silky, smooth and infused with ginger, it is a star of a side dish.
For meat lovers, Barrel Stay's menu features the grilled tomahawk steak, T-bone steak, duck breast and lamb lollipops.
Lamb Lollipops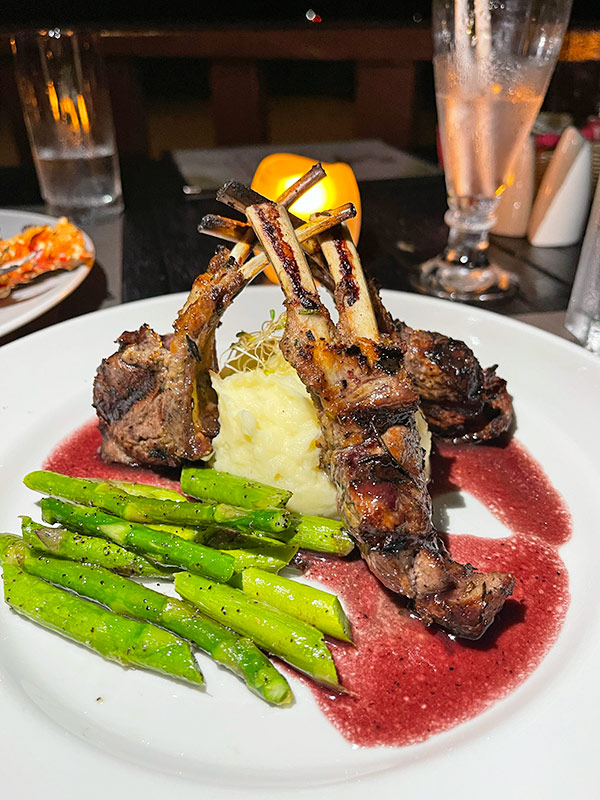 Three lamb lollipops are grilled to perfection. Crusted with pepper, thyme and rosemary, the flavors are exquisite. Their perfect complement is the fork-licking red wine sauce. The dish's sides of mashed potatoes and roasted vegetables make it complete!
Last but not least when it comes to Barrel Stay eats, dessert.
The options are all so tempting and all made in-house. Creme brûlée, homemade cookies and ice cream with a rum sauce, rumchata cheesecake, sorbet or ice-cream. However, after hearing Jerrel describe the chocolate cake, we could not resist...
Bailey's Chocolate Cake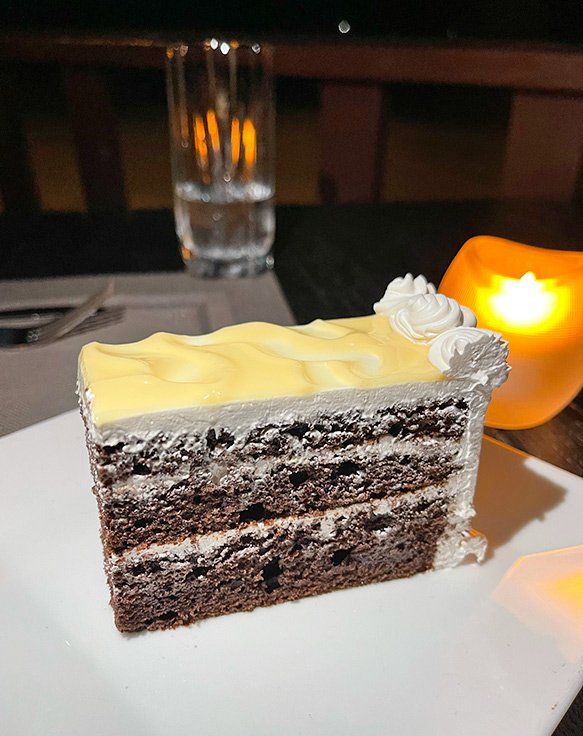 Homemade chocolate cake is topped with a Bailey's cream icing. The fluffy cake is also injected with Bailey's cream, making it extra moist. We were hooked from first bite! Not too sweet, not too rich, this "takes the cake."
A huge congratulations to Chef Anette and the whole team at Barrel Stay. We couldn't be happier that this breathtaking location is back and packing a whole lot of impressive flavor!
Directions, Hours & Contact
Open hours: Monday-Saturday for dinner
Tel: (264) 583-9048
Book online for reservations: Click here
Menu: Click here