Anguilla Activities & Attractions
Before moving to Anguilla, friends would always ask me one thing when I would start the count-down to an up and coming Anguilla vacation.
They would usually say something along the lines of, "Wow! Anguilla looks beautiful... but what is there to do for 2 weeks on only 35 square miles of land?"
My reply?
There are plenty of Anguilla activities...
Combing Anguilla's 33 picture perfect beaches for the tastiest rum punch...
Nothing Beats an Ocean Echo Rumzie!
Foraging Anguilla's iconic beach bars for the best burgers...
And then of course there's our favorite Anguilla activity...
Floating on The Caribbean Sea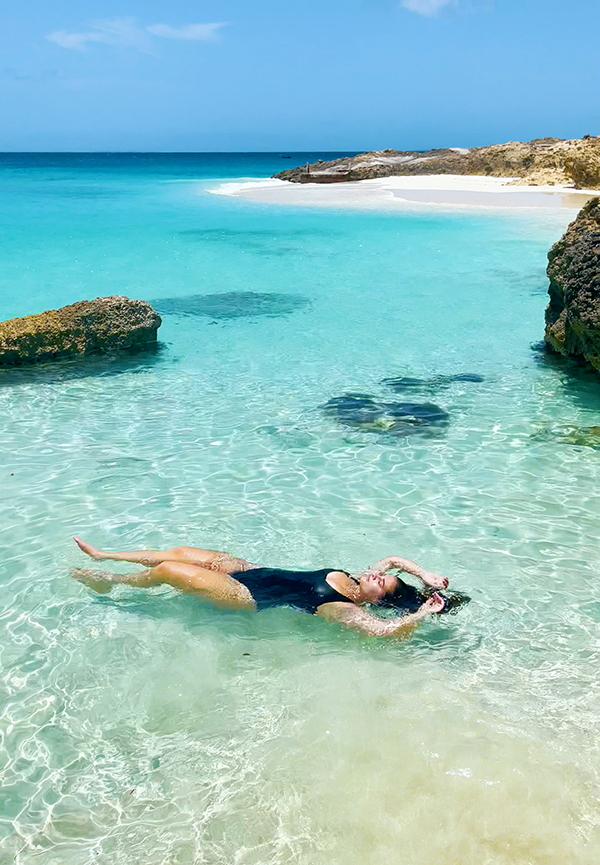 My answers would still puzzle them. Sure, lounging away in Anguilla's crystal clear surf sipping on your favorite cocktail sounds great...
"But is that ALL there is to do?"
And to those who know, it is all you need.
But to de-lazify our interests and get the blood flowing again, these are the Anguilla activities at the top of my list...
Want to Know More About Live Events?
Click here
for a guide that covers Anguilla events and live musical performances happening every day!
---
Anguilla Boat Excursions
Anguilla is a country of sea-faring ocean lovers who perpetually long for the grand open skies above and cerulean waves below...
Traversing Anguilla from shore to shore by boat is commonplace in everyday life. There is no better way to "When in Rome!" than by booking a tour of Anguilla's bluuuetiful coastlines and offshore keys.
Here are some of our favorite boat trips...
Anguilla Tradition Sailing

The best way to experience Anguilla's waters with nothin' but the Caribbean Sea breeze powering you!
Sailing on Pure Azure Waters with Tradition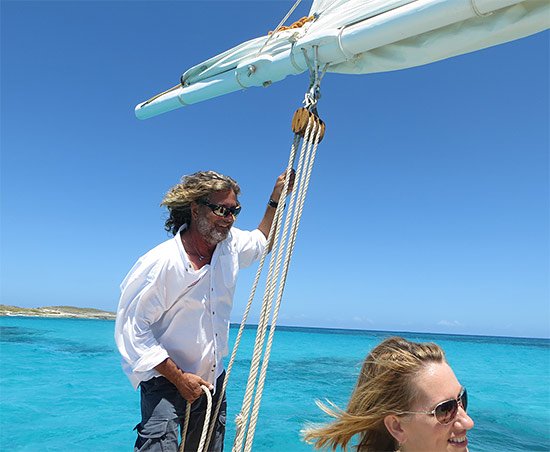 Tradition Sailing is a must! A historic boat built in the late 70's on a tiny island in Grenada, Tradition is a charming and romantic Caribbean sailing dream.
Tradition Offers Weekly Sails to Prickly Pear

Once a working ship that traveled the Caribbean, today she delivers adventures of a different kind. From starry night sails beneath Anguilla's glittering skies, to 5-star day trips to Anguilla's picturesque Prickly Pear and Little Bay... days aboard Tradition are simply unforgettable.
Land Ho!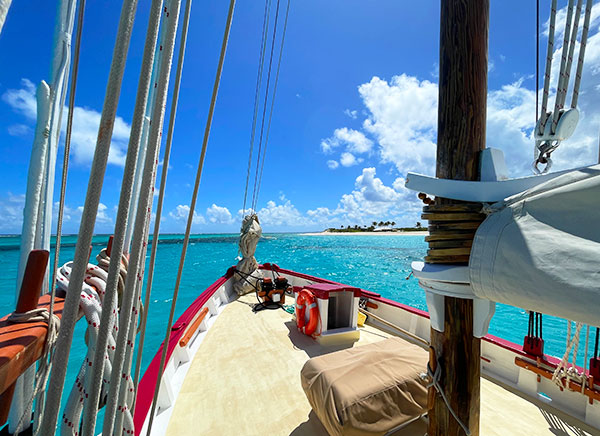 Hosts Laurie and Deb attend to your every need (your trip includes free-flowing drinks and gourmet snacks). Excellent hosts, the experience is all-star.
Anguilla Calypso Charters

Taking a boat charter during an Anguilla vacation is magical. It has the power to transform your entire trip... (pun intended!)
Calypso Charters Gets You To Anguilla's Best Kept Secrets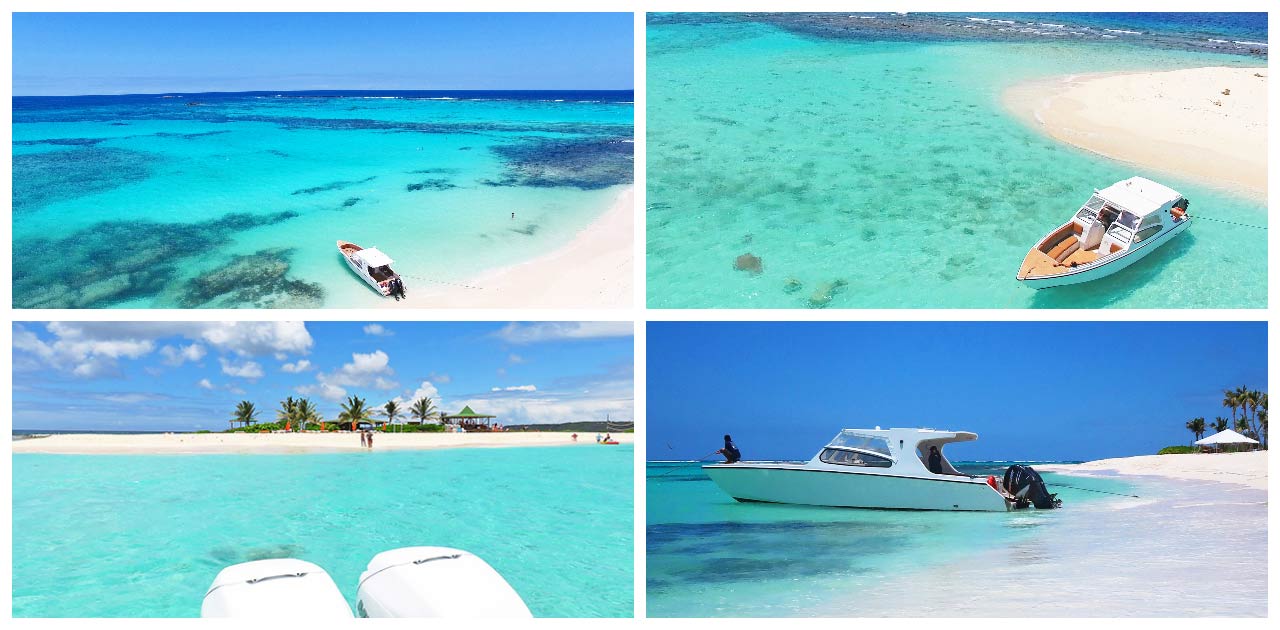 Seeing the island from the sea, being on the water, skimming across that shining turquoise... something about it changes Anguilla vacations, bringing a new found appreciation for the island and, of course, lasting memories.
Calypso Charters offers a number of seaway transportation services and excursions. Their most popular stops include visits to: Sandy Island, Prickly Pear and Little Bay.
The Best Way to Get to Sandy Island?
With Calypso Charters!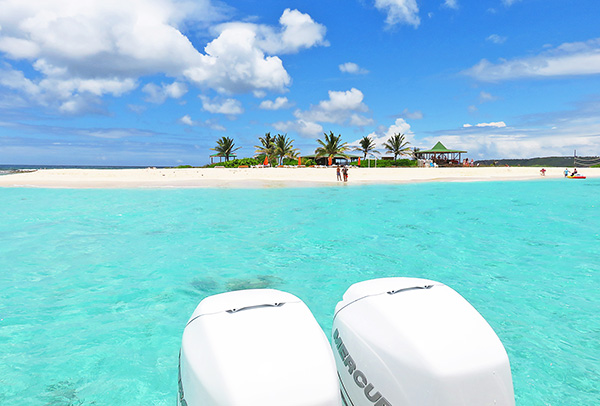 Every time we have spent a day at sea with Calypso we have always recollected fondly, longing to reclaim those moments.
Rum & Reel Charters

The first thing that comes to mind when we think about a day at sea with Rum & Reel?
100% Fun in The Sun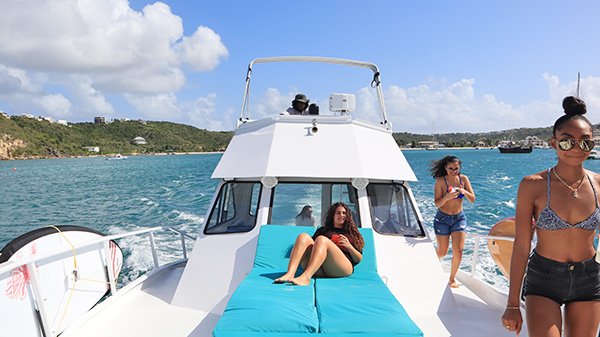 With a jolly crew of wise sea captains, Rum & Reel hosts tours to just about anywhere.
Anguilla has many off-island cays and hidden beaches that are accessible only by boat. And though we've visited most of them over the years, still, Rum & Reel makes getting to every single one, a fun filled and memorable experience.
Some of the best trips with Rum & Reel?
Dog Island
Anguilla's 2nd Furthest Cay - 13km Offshore!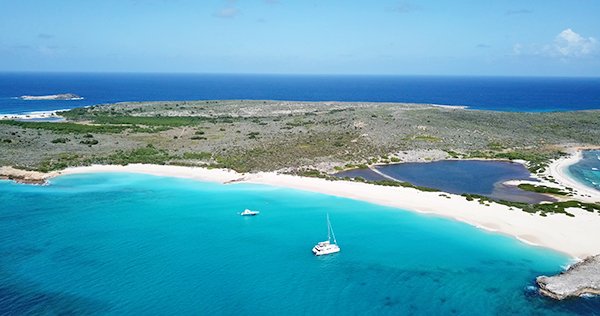 Exploring The Caves of Prickly Pear
Sumptuous Lunch Stops at Sandy Island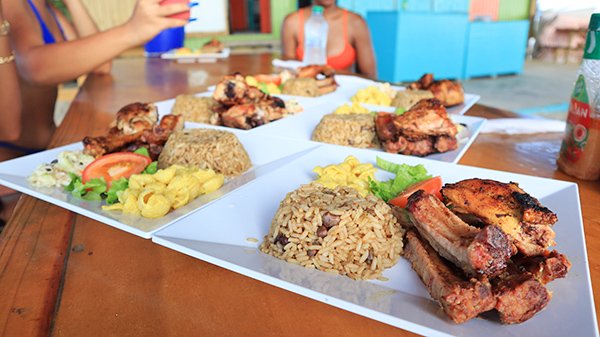 But our absolute favorite...? Exploring Scrub Island's rugged outback!
Exploring Scrub Island by foot with Rum & Reel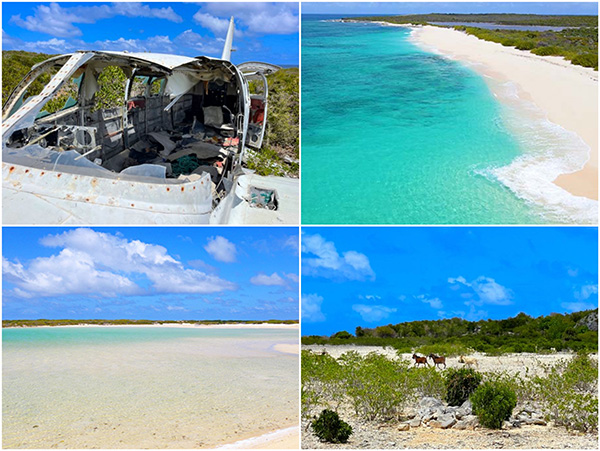 Exploring Scrub Island by boat and by foot is a one-of-a-kind experience.
Remnants of settlements... abandoned plane crashes shrouded in conspiracies... its grizzly flora and fauna and a magical tidal pool, kilometres wide... a rough-water bay ominously penned "Dead Man's Bay" that's teeming with life...
Dillon, your Captain and tour guide provides insightful knowledge on Anguilla's largest cay every step of the way.
It's Always A Good Time with Rum & Reel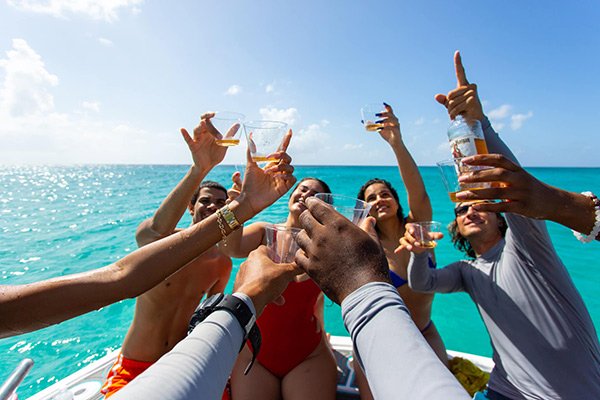 Off-Island Cays
As mentioned above, Anguilla has many off-island cays and hidden beaches that are accessible only by boat. They are worth the trip!
Special note: If you are up for cave diving, we recommend checking out Scrub Island's sea caves with Nature Boy.
One of the most fascinating experiences to be had in Anguilla, it is a bucket list experience!
Anguilla Kitesurfing

A little known secret? Anguilla is a kitesurfing paradise!...
Judd Kiting at Blowing Point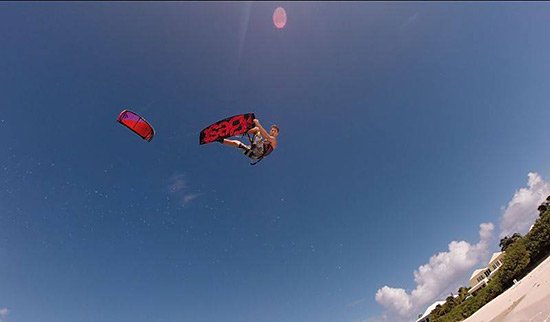 With wide open bays, calm seas and prevailing tradewinds, the conditions in Anguilla are right for beginners and experts alike. Here in Anguilla, in fact, there is a small community of top kiters, guys who really take on the big waves and high winds. The best of them all? Judd Burdon.

Photo: Anguilla Watersports
He knows the waters and wind conditions well, spending a couple of days per week (minimum!) out on the sea. He has kited everywhere in the area, even from Sandy Ground to Prickly Pear (a couple of miles offshore)!
If you're up for a little physical challenge, kiting is a fun way to enjoy the water. :-)
Learning to kite in Anguilla is more accessible than ever. Judd has started a world-class kitesurfing school right on the island, aptly called Anguilla Watersports.
More on kitesurfing with Anguilla Watersports.

Anguilla Kayaking and SUP!
Had enough swimming, snorkeling and sunning?
To still keep cool and be on the sea, but to change up the perspective and to stay active, there is one activity that we really enjoy...
Glass Bottom Kayaking

Several beach bars like da'Vida's and Leon's at Malliouhana regularly rent out paddle boats and kayaks to customers.
Our favorite kayaking spot? Around the bend from Crocus Bay to Little Bay. It's about a twenty minute kayak ride, and I would recommend bringing a bottle of water.
When Anguilla's seas are calm, gliding across the clear, glassy, turquoise ocean is a breathtaking experience.
If you aren't hanging out at a beach bar that offers kayaks and SUPs, Anguilla Watersports has you covered. They rent kayaks and SUPs island-wide.
More on Anguilla Watersports SUP rentals.
Snorkeling & Diving
For an immersive day of underwater exploring, Shoal Bay Scuba cannot be beat for their snorkeling and offshore cay excursions, as well as their dive trips.
Anguilla's Down Under Is Bursting with Colorful Life!
Owner Matthew Billington & his team are the safest group on the water, and they know Anguilla's reefs and top snorkel spots like the back of their hands.
With Matthew & Najee of Shoal Bay Scuba

With knowledge of where to go and when is the optimum time to spot fish, they are one of the best for sea exploring. A top choice for families!
Anguilla has many idea snorkeling and diving cays and coves, filled with lush plants and an abundance of colorful fish.
Swim with Stingrays with Shoal Bay Scuba!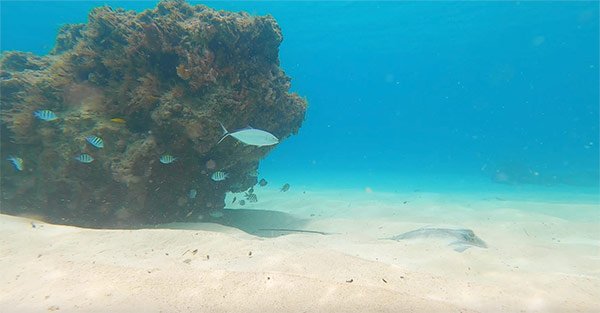 You will always be in for a treat!
If you are interested in Anguilla diving and snorkeling, don't miss these pages...
Anguilla Surfing
"Surf? In Anguilla? You're kidding, right?"
That's the reaction most Anguilla surfers get when talking to other surfers about surf here. The truth is, as long as you're a good surfer, there's plenty of fun waves to be had. You just need to know where to look for them ;-)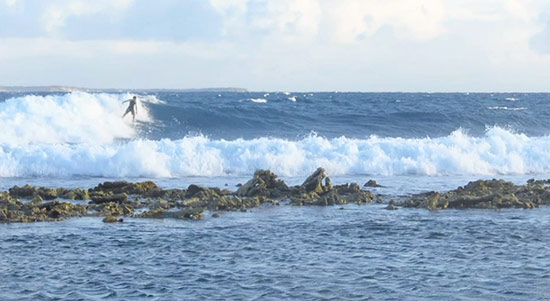 ---
Anguilla Golf
Anguilla golfing is one of the island's most popular daytime activities!
Aurora International Golf Course

Aurora's world-class golf course delivers a five-star experience and has been named one of the top golf courses in the Caribbean!
18 Holes With Wide Sweeping Views of St. Martin

A PGA, Greg Norman-designed course, it is breathtaking. In pristine condition, with sweeping views and a clubhouse that serves gourmet cuisine, it's not hard to see why Aurora International Golf Club makes the mark.
Full video tour of Aurora International Golf Course.
More on Aurora International Golf Course.
Anguilla Spas, Salons & Gyms
Aurora's Sorona Spa is the perfect example of luxurious zen and serenity. Sorana offers a myriad of remediating amenities. One example of a loved amenity? Their heated Thalasso Pool, is kept at a balmy 37°C equipped with jets and rich in minerals and nutrients. Pure bliss!
The Sorona Spa at Aurora
On an island famous for tranquility, nobody delivers a dose of complete relaxation like Sorana Spa.
Click here for more on Sorona Spa.
Malakh Day Spa is another great choice, especially if you are interested in spa services in a natural setting. Located right on Shoal Bay East, you are right by the sea at Malakh. More on Malakh Day Spa.

One of our top picks for unique hair styles (especially for braiding) & intricate nail art is Nails-R-Hair, located in the Mason Complex. Whether you seek a weave or half-a-head of cornrows, Lisa Webster (the owner) and her team will get you all set. More on Nails-R-Hair.
For such a tiny island, it is surprising that Anguilla has a wide variety of gyms and fitness centers. I know "working out" doesn't exactly scream "Anguilla vacation activity" to me, but if you want to stay active while on vacation (especially if you don't have a gym at your hotel or villa), Anguilla's gyms are worth exploring. Certain fitness centers even offer fun beach work outs and outdoor activities! More on Anguilla gyms.
Anguilla Tennis

Warm, sunny and almost always without a cloud in the sky, Anguilla's climate is near-perfect for round after round of tennis.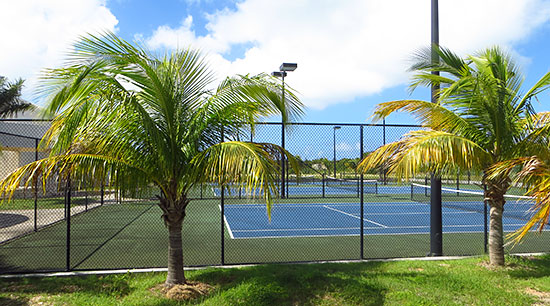 Many hotels and villas on the island have their own tennis courts (and equipment you can use). If your hotel or villa does not have its own tennis court, The Anguilla Tennis Academy is the place to head!
With a top-class facility, friendly and experienced coaches, all for affordable prices, it's worth visiting even if you're not a tennis enthusiast. :-)
More on Anguilla Tennis Academy.
Anguilla Cave Diving
Believe it or not, on this pancake-flat island, there are many rewarding hiking spots.
Our inside tip? Book a tour with Pure Anguilla for an educational deep dive into Anguilla's limestone cave systems.
Diving Deep into Katouche Cave
Did you know that Anguilla has some of the oldest caves in the western hemisphere? Two of them include "Bat Cave" (Cavannagh Cave) and the fascinating underground cave, Katouche Cave! Both can be explored with Pure Anguilla.
The calcium rich hills of Katouche that are pocked with vast connecting cave systems!
Amblyrihiza inundata fossil, Katouche Cave
Rich with awe inspiring fossils from an eras long ago...
Lone Fig Tree, Cavannagh 'Bat' Cave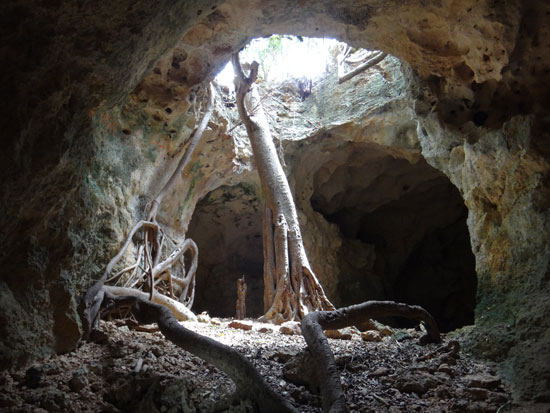 Other hikes we love are:
Anguilla Horse Riding
Yes! Riding horses in the sand!
Riding with Seaside Stables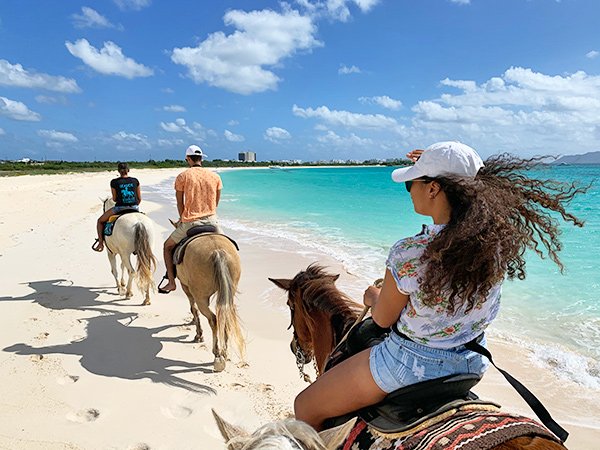 Seaside Stables Horseback Riding offers horseback riding right on the beach, rides in the sea, and even rides at night.
We crossed this item off of our Anguilla bucket list, and wow, was it worth it!
More on Anguilla horseback riding.
Anguilla History & Culture
For the history buff in all of us, now you can live Anguilla history! Anguilla has formed an Anguilla Heritage Trail, highlighting the island's top 10 historical sites.
Stop #1? The National Heritage Museum in East End. Stop by and pick up a brochure to begin your historical journey...
Click here to read more about the Anguilla history heritage trail.
Stop #2? The Anguilla National Trust in The Valley. Responsible for conserving and protecting Anguilla's natural and historical sites, The Anguilla National Trust holds a variety of tours, including bird watching tours and historical tours.
The tour of historic and mystical Big Spring is not to be missed!
And, if you want to experience Anguilla's history and special, hidden sights, get in touch with Mr. John Lloyd at Surf AXA Eco-Tours!
Exploring Aberdam with John Lloyd

The man who discovered Big Spring, John Lloyd is well-known for his vast knowledge. He brings Anguilla's history to life on his dynamic and enriching tours through remote parts of the island. Passionate about what he does, take a tour with John to explore the real Anguilla!
More on John Lloyd and Surf AXA Eco-Tours.
Paint Parties on The Beach

Paint by the beach and create your very own Anguilla souvenir!
Owned and operated by Karen, AnguillArts is a wonderful way to spend a day with your family by the sea.
Moke Anguilla
Combining driving with stylish adventure, meet Moke Anguilla...
Meet The Moke!

A retro vehicle first introduced in the 1960's, Mokes are back and better than ever! Stylish and durable, these eye-catching cars make for the perfect way to explore Anguilla and get a feel for the island.
More Anguilla Activities...
Those are our favorite Anguilla activities. And now?...
Back to Our Regularly Scheduled Programming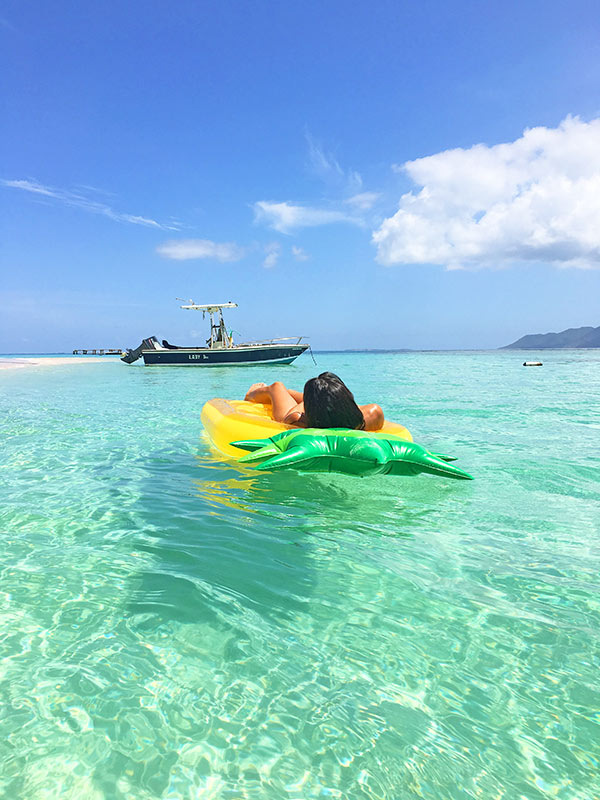 ARCHIVES:

Anguilla Activities That Are No More