Anguilla Activities & Attractions
Before moving to Anguilla, friends would always ask me one thing when I would start the count-down to an up and coming Anguilla vacation.
They would usually say something along the lines of, "Wow! Anguilla looks beautiful...
But what is there to do for 2 weeks on only 35 square miles of land?"
My reply?
"There are plenty of Anguilla activities... Sunning & swimming Anguilla beach after beach, cooling off with a tasty Anguilla drink (rum punches are the best!), and the other essential ingredient to a perfect beach day? Burgers, hot dogs, fish sandwiches, fries... Anguilla beach food!"
And then of course there is my Dad's favorite activity...
Floating on the Caribbean Sea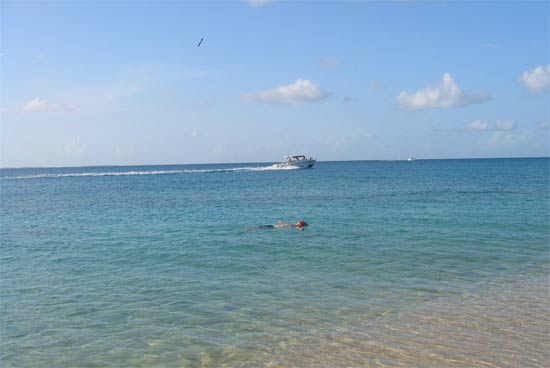 I usually get a couple of weird looks at this point, "That sounds great, but is sipping rum punches and a day at the beach Anguilla activities? What kind of active attractions are there?"
(Want to know what happens each day in Anguilla? Click here for a day-to-day guide that covers Anguilla events and things to do, including where to hear live music each day of the week, special food menus and other activities.)
OK, OK. Laying in the hot sun, drinking a rum punch, and devouring a fried fish sandwich are some of my favorite activities on an Anguilla vacation, but to de-lazify and get the blood flowing again, these are the Anguilla activities at the top of my list...
---
Anguilla Water Activities
Anguilla Sailing

The best way to experience Anguilla's waters? With nothin' but Caribbean Sea breeze powering you!...
Sailing on Pure Azure Waters with Tradition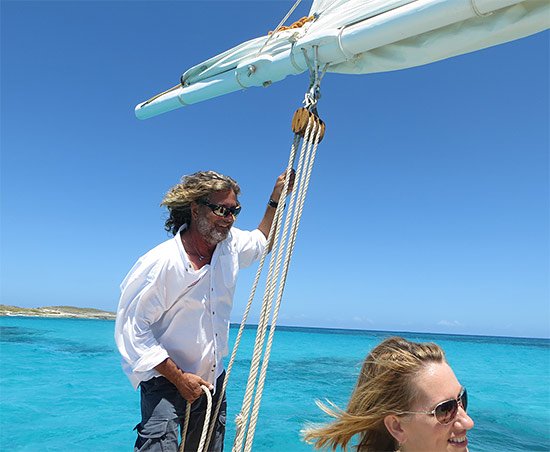 Tradition Sailing charters is a must! A historic boat built in the late 70's in a tiny island in Grenada, Tradition is a charming and romantic Caribbean sailing dream.
Once a working ship that traveled the Caribbean, today she delivers adventures of a different kind. From sunset sails, to sails beneath Anguilla's heavenly starlit skies, to day trips to Prickly Pear and Little Bay, days aboard Tradition are simply unforgettable.
Hosts Laurie and Deb attend to your every need (your trip includes free-flowing drinks and gourmet snacks). Excellent hosts, the experience is five-star in every way. An absolute must!
Magical Sunset Cruises
... in addition to five-star trips to Prickly Pear, Tradition delivers magical sunset cruises!
One of the most unique and authentic sailing trips to be experienced in the Caribbean, it is a must-do through and through.
More on Tradition's sunset cruises.
Anguilla Boat Tours & Caribbean Charters
Taking an Anguilla boat tour, or going on a Caribbean charter, on an Anguilla vacation is truly magical. It has the power to transform a trip...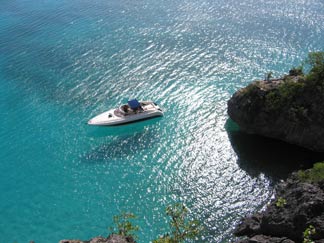 Seeing the island from the sea, being on the water, skimming across that shining turquoise... Something about it changes Anguilla vacations, bringing a new found appreciation for the island and lasting memories.
Every time we have spent a day at sea (which isn't every trip!) we've always recollected fondly, longing to reclaim those moments.
We once would always take to the sea with Shaun and Jeff Webster in their boat, Sea Grape. On a couple of occasions they took us to Little Bay, once they even gave us an entire tour of the island! I am very sad to say that on a grave day in 2007 Jeff died while spear-fishing. Since, Sea Grape has been out of the water. Jeff was a great guy, a warm spirit. He is truly missed.
Now, the top Anguilla boat tour service is Gotcha! We had one of our best Anguilla days ever aboard their spacious, clean, comfy boat, with trusty captains, and dream destinations... Sandy Island, Dog Island, and Little Bay.
Click here to read more about Gotcha! Caribbean charters.
Off-Island Cays
As mentioned above, Anguilla has many off-island cays and hidden beaches that are accessible only by boat.
Some of our favorites include...
Sandy Island Anguilla and Little Bay are the most accesible. They both have regular boats that travel back and forth between these idyllic tropical spots.
Prickly Pear, Dog Island and Scrub Island are a little trickier to get to, and will require a private charter.
Anguilla Kitesurfing

A little known secret? Anguilla is a kitesurfing paradise!...
Judd Kiting at Blowing Point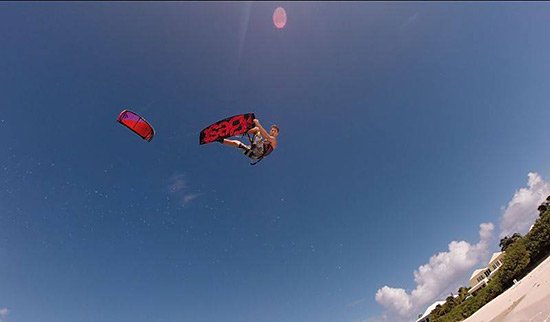 With wide open bays, calm seas and prevailing tradewinds, the conditions in Anguilla are right for beginners and experts alike. Here in Anguilla, in fact, there is a small community of top kiters, guys who really take on the big waves and high winds. The best of them all? Judd Burdon.
He knows the waters and wind conditions well, spending a couple of days per week (minimum!) out on the sea. He has kited everywhere in the area, even from Sandy Ground to Prickly Pear (a couple of miles offshore)!
If you're up for a little physical challenge, kiting is a fun way to enjoy the water. :-)
And now, learning to kite in Anguilla is more accessible than ever. Judd has started a world-class kitesurfing school right on the island, Anguilla Watersports. More on Anguilla Watersports.
More on kiting and Anguilla water sports.

Anguilla Surfing
"Surf? In Anguilla? You're kidding, right?"
That's the reaction most Anguilla surfers get when talking to other surfers about surf here. The truth is, as long as you're a good surfer, there's plenty of fun waves to be had. You just need to know where to look for them ;-)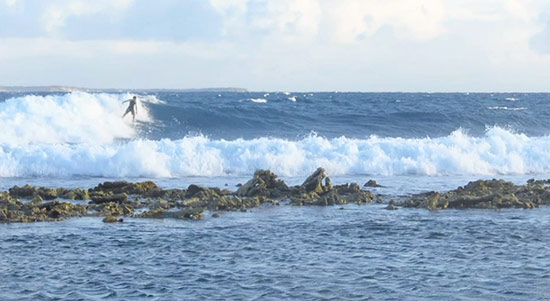 Surfing is a favorite passtime of mine here in Anguilla. Thanks to Akio and Ravi Lloyd, two passionate surfers who own and operate Surf AXA, surfable breaks have been uncovered.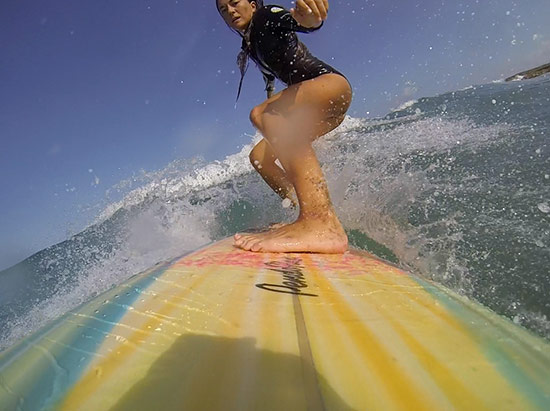 They rent boards and offer tours of the island's best, secret surf spots!
More on Surf AXA.
Sea Caves & Scrub Island Exploring
The Sea Caves of Scrub Island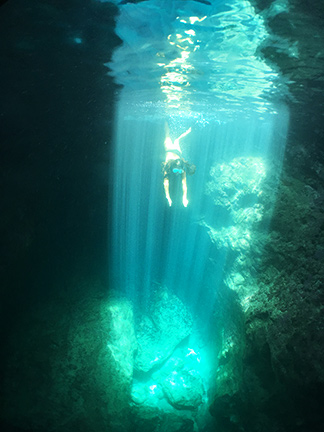 One of the most fascinating experiences to be had in Anguilla?
Exploring Scrub Island from the sea with expert guide, Nature Boy.
Anguilla's most mysterious off-island cay, it almost feels like the island from LOST!
It is known for its abandoned hotel and air strip, airplane crash site and treacherous waters.
... in addition to fascinating underwater sea caves.
Put this adventure at the top of your Anguilla bucket list!
Anguilla Snorkeling & Anguilla Diving
Another all time favorite is marveling at the magic of the sea!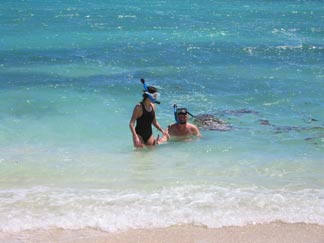 Whether you are looking at sea creatures from above the sea in Junior's Glass Bottom Boat on Shoal Bay, or submerged - snorkel in mouth, or have the full Anguilla diving gear...
You will always be in for a treat!
Anguilla has many idea snorkeling and diving cays and coves, filled with lush plants and an abundance of colorful fish.
The sights are more spectacular the further off shore you go, including Tiger Shark sightings (but you have to go about 20 minutes offshore - thankfully!). Anguilla has seven protected marine parks, some closer to shore too, making for great snorkeling and diving experiences.
If you are interested in Anguilla snorkeling, don't miss these pages...
Hidden Anguilla snorkeling spots.
Anguilla snorkeling and Anguilla diving.
If Anguilla diving is more your speed, don't miss this comprehensive Anguilla dive journal, written by my good friend Kristin Bourne.
Kristin Suited Up and Ready to Dive!
(She's on the left)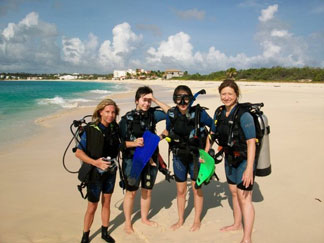 Kristin had visited Anguilla for several years before moving to Anguilla permanently in 2010.
Her love and passion for Anguilla inspired her to learn to dive, and truly appreciate every aspect of Anguilla!
Kristin has kept a log of all of her Anguilla dives and diving experiences.
From getting certified, to doing her open water certification, to doing wreck dives and dives at off-island cays... Her journal features it all.
Click here to read Kristin's Anguilla dive journal.
Snorkeling & Diving Excursions
For an immersive day of underwater exploring, Shoal Bay Scuba cannot be beat for their snorkeling and offshore cay excursions, as well as their dive trips. Owner Matthew Billington & his team are the safest group on the water, and they know Anguilla's reefs and top snorkel spots like the back of their hands.
With Matthew & Najee of Shoal Bay Scuba

With knowledge of where to go and when is the optimum time to spot fish, they are one of the best for sea exploring. A top choice for families!
Anguilla Kayaking
Anguilla beach days are undeniably my favorite way to pass the days in Anguilla!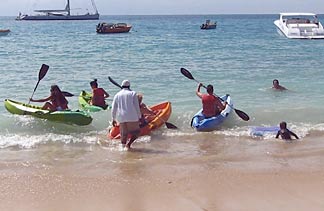 In terms of food, drinks, beach, and price nothing beats beach days at da'Vida.
In between snacks, drinks, and swims in the sea, a fun activity is kayaking over to Little Bay, just around the bend.
It's about a twenty minute kayak ride, and I would recommend bringing a bottle of water.
When the water is still, and the afternoon sun is burning a fiery orange, and you find Little Bay quiet and undisturbed by other boats... It can be one of the most magical moments of your Anguilla vacation!
More on Anguilla kayak rentals.
SUP!
SUP on Little Bay in Anguilla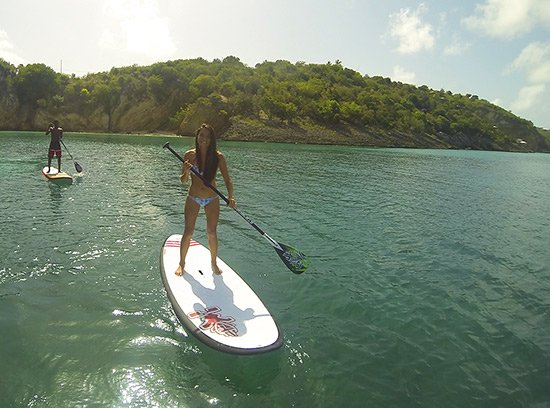 Had enough swimming, snorkeling and sunning?
Never! We love those 3 Anguilla activities! ;-)
To still keep cool and be on the sea, but to change up the perspective and to stay active, there is one activity that Yuki and I really enjoy...
SUP, or stand-up paddle boarding!
Several spots (including da'Vida) offer paddle boards to rent.
When Anguilla's seas are calm, gliding across the clear, glassy, turquoise ocean is truly breathtaking.
For information on SUP tours and rentals, visit Anguilla Watersports here.
Anguilla Fishing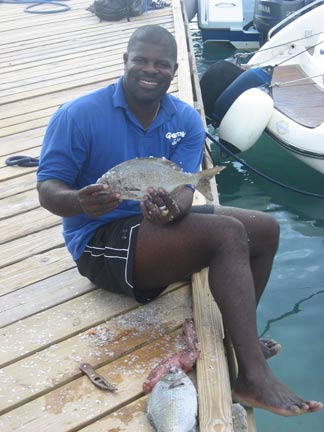 Here is one that (I regret to say) we haven't done yet!
Anguilla deep sea fishing is a hugely popular Anguilla activity.
Besides doing Anguilla boat tours, Gotcha! also has a fishing boat and does fishing charters regularly. That is Garfield (owner of Gotcha!) in the photo to the left, cleaning his catch of the day. He had a cooler filled with barracuda, hinds, and fish of all kinds!
They take you far offshore, so bring your Dramamine because this could get rough. But they always ensure your safety, and generally bring back a good catch.
The last time I went fishing was when I was 5. And it was ice-fishing. Somehow I think this experience would be different... equally memorable, but I would swap huts on an icy lake for Garfield's boat and the warm Caribbean sun any day!
---
Anguilla Land Activities
Paint Parties on The Beach

Paint by the beach and create your very own Anguilla souvenir!
Owned and operated by Karen, AnguillArts is a wonderful way to spend a day with your family by the sea.
Moke Anguilla
Combining driving with stylish adventure, meet Moke Anguilla...
Meet The Moke!

A retro vehicle first introduced in the 1960's, Mokes are back and better than ever! Stylish and durable, these eye-catching cars make for the perfect way to explore Anguilla and get a feel for the island.
Anguilla Golf
Anguilla golf is one of Anguilla's fastest growing Anguilla activities!
Back in the day, the only Anguilla golf was Anguilla's "Pitch 'n' Putt", a tiny spot for putting, chipping, and short shots. And today? Anguilla golf sure has expanded.
Anguilla has one main luxury golf course, and there has been talk of a couple of others "coming soon"...
CuisinArt's Golf Course, the island's only current golf course, delivers a five-star experience and has been named one of the top golf courses in the Caribbean!
Facing St. Martin, and right near the sea, CuisinArt's Golf Course offers a unique golfing experience. We haven't played a round here yet, but we took a tour of the Anguilla golf course, and all we can say? It is designed for success! Truly breathtaking.
Click for more on Anguilla golf.
Anguilla Tennis

Warm, sunny and almost always without a cloud in the sky, Anguilla's climate is near-perfect for round after round of tennis.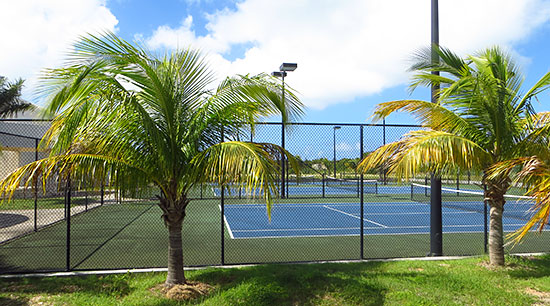 Many hotels and villas on the island have their own tennis courts (and equipment you can use). If your hotel or villa does not have its own tennis court, The Anguilla Tennis Academy is the place to head!
With a top-class facility, friendly and experienced coaches, all for affordable prices, it's worth visiting even if you're not a tennis enthusiast. :-)
More on Anguilla Tennis Academy.
Anguilla Hikes & Caves
Believe it or not, on this pancake-flat island, there are many rewarding hiking spots.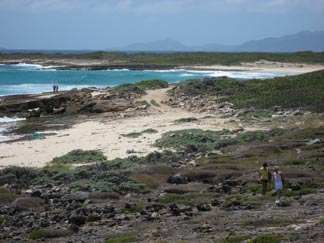 Windward Point (in the Anguilla photo to the left)<
This was our first hike ever on Anguilla! It's a very easy hike on volcanic rock that is on a very steady, progressive incline. The destination? The very Eastern tip of Anguilla and the light tower at the top of the hill! You can practically see the entire island from this perch.
Anguillita
Step carefully! This is one of Anguilla's most nerve-wracking hikes... a narrow path along sheer cliffs of 30-50', nothing but sea below. Though it will have you jangled, it is one of the most rewarding hikes, leading to the opposite end of Windward, Anguilla's most Western tip, with views of Anguillita island. We've nicknamed this one "Deadly Hike," but don't let that stop you! ;-)
Scrub Island
A deserted island, full of mystery and secret lagoons, hiking Scrub Island is an unforgettable experience. It is best to explore with guides who know the island and can help you find all of the sites (abandoned hotel, air strip and the "Peter Pan Lagoon"!). Anguilla Watersports offers a hiking tour of Scrub Island. More information here.
Anguilla Caves
Anguilla is home to many limestone caves that stretch all around the island, weaving in and out of different rockside cliffs that many people have never even explored! The only one we have been brave enough to venture into is "Iguana Cave." First you trek through lush Anguilla rainforest, and then? Onto the dark, mysterious cave... The bats stopped us from going much further than the entrance!
More on Anguilla Caves...
Did you know that Anguilla has some of the oldest caves in the western hemisphere? Two of them include "Iguana Cave" (true name = Cavannagh Cave) and the fascinating underground cave, Katouche Cave! Both can be explored with Pure Anguilla. More on Pure Anguilla.
The Entrance to Katouche Cave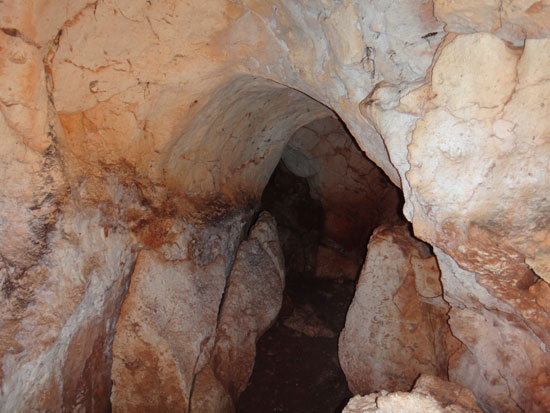 Drives & Suggested Itineraries
Anguilla drives are a more relaxing alternative to Anguilla hikes. In fact, if you want to see Anguillita Island but want to avoid the "deadly hike," take the drive! Click here to read more about driving to Anguilla's most westerly beach.
Click here to read about another great Anguilla drive in Island Harbor.
And click here to read about our favorite drive along Anguilla's southern shore...
Exploring With Itineraries
Sometimes the trickiest part of vacation planning is choosing what to do and figuring out how it all lays out, day-by-day. I know my Dad and I spend hours pre-vacation, Googling where we're going, figuring out what we want to see, and plotting it all out on a map.
In an effort to make the planning part of Anguilla vacations as smooth as possbile, I have put together a series of itineraries. Covering stuff to do from east to west, these planners have two levels... the "must-sees," for the laid-back traveler, and the "get adventurous," for those who are really in the exploring mood.
Each point on each itinerary has plenty of information, and is laid out on a map so you can see exactly where everything is. These itineraries are also available on mobile. If you use a smartphone, you can load up the itinerary on your phone and bring it with you while you're on the road. I hope you like them :-)
Anguilla Horse Riding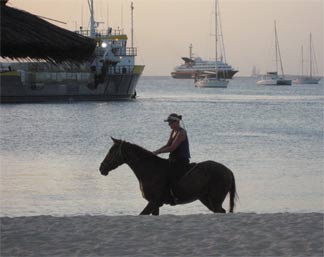 Yes! Riding horses in the sand!
My sister and I grew up in a quiet country town a 45 minute drive from Montreal, Canada. The town was big on equestrian activity, but Yuki and I never really "got into it." My Dad did always promise me a chance to ride a horse. It never happened in "Hudson" (where we grew up), but I'm thinking of cashing in on that promise soon...
Seaside Stables Horseback Riding offers horseback riding right on the beach, rides in the sea, and even rides at night.
We crossed this item off of our Anguilla bucket list, and wow, was it worth it!
This former "bucket list" item is now one of our favorite Anguilla activities and warmest Caribbean vacation memories. Don't miss Anguilla horseback riding on an Anguilla vacation!
Click here to read more about Anguilla horseback riding Anguilla activities.
Anguilla History & Culture
For the history buff in all of us, now you can live Anguilla history! Anguilla has formed an Anguilla Heritage Trail, highlighting the island's top 10 historical sites.
Stop #1? The National Heritage Museum in East End. Stop by and pick up a brochure to begin your historical journey...
Click here to read more about the Anguilla history heritage trail.
Stop #2? The Anguilla National Trust in The Valley. Responsible for conserving and protecting Anguilla's natural and historical sites, The Anguilla National Trust holds a variety of tours, including bird watching tours and historical tours.
The tour of historic and mystical Big Spring is not to be missed!
And, if you want to experience Anguilla's history and special, hidden sights, get in touch with Mr. John Lloyd at Surf AXA Eco-Tours!
Exploring Aberdam with John Lloyd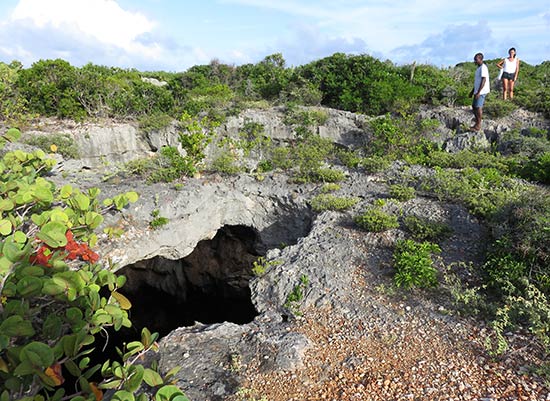 The man who discovered Big Spring, John Lloyd is well-known for his vast knowledge. He brings Anguilla's history to life on his dynamic and enriching tours through remote parts of the island. Passionate about what he does, take a tour with John to explore the real Anguilla!
More on John Lloyd and Surf AXA Eco-Tours.
Anguilla Spas, Salons & Gyms
Malakh Day Spa is a top-choice, especially if you are interested in spa services in a natural setting. Located right on Shoal Bay East, you are right by the sea at Malakh. More on Malakh Day Spa.

One of our top picks for unique hair styles (especially for braiding) & intricate nail art is Nails-R-Hair, located in the Mason Complex. Whether you seek a weave or half-a-head of cornrows, Lisa Webster (the owner) and her team will get you all set. More on Nails-R-Hair.
For such a tiny island, it is surprising that Anguilla has a wide variety of gyms and fitness centers. I know "working out" doesn't exactly scream "Anguilla vacation activity" to me, but if you want to stay active while on vacation (especially if you don't have a gym at your hotel or villa), Anguilla's gyms are worth exploring. Certain fitness centers even offer fun beach work outs and outdoor activities! More on Anguilla gyms.
Cycling
Cycling has become incredibly popular in Anguilla in recent years in just about every capacity. Many locals partake in cycling races around the island and tourists, too, are getting in on the biking action, with hotels and specific businesses operating bike tours.
Whether you just want to stay fit and cycle around the island or explore the island more intimately than from a passenger seat, cycling is quickly becoming a top activity in Anguilla.
Exotic Plus: 1 (264) 497-8803
Premier Mountain Bike Rentals: 1 (264) 235-8931
Volleyball
There's nothing like a good game of volleyball to get spirits running high, right? ;-)
There are a few spots on the island that offer volleyball.
First, the James Ronald Webster Park in the Valley. The park has a netball court that also functions as a volleyball. Bring your own ball and play as long as you want.
If you're seeking beach volleyball, da'Vida on Crocus Bay and Elvis' on Sandy Ground both have nets.
Basketball
Basketball courts are also dotted around the island. We recommend the ones in Stoney Ground (near the hospital), Island Harbour (next to the big church) and at Coronation Park (to the left of Ashley's Supermarket in The Valley).
Locals are usually playing or practicing their 3-point shots but will share the court and may even challenge you to a game!
You can also visit the JC recreational center that has a variety of fitness facilities, including a covered, full basketball court.
---
Anguilla Attractions in The Air!
Searching for one of the most exhilarating feelings that is uniquely Caribbean too?
Climb aboard tiny Caribbean prop planes!...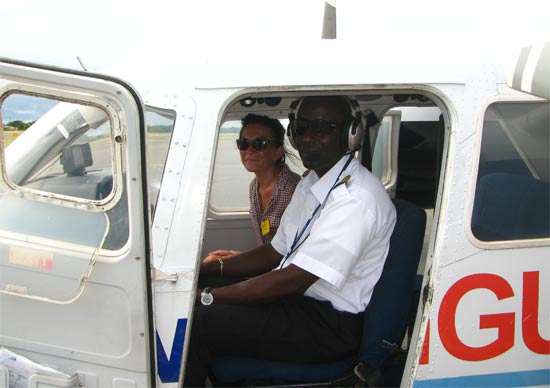 The first time I flew in one of these planes it sure did make my palms sweat. Talk about a rush! But there is really nothing to fear, especially aboard Anguilla Air Services with Captain Carl Thomas. He only hires the most responsible pilots, and ensures the security and safety of every passenger.
Now, Anguilla Air Services offers complete air tours of Anguilla. Seeing every inch of Anguilla from the sky made my heart flutter. Soaring through the clear sky, turquoise below, and the mountains of St. Martin to your side... It is practically movie magic! I can't recommend the experience enough!
Please click here to read more about this Anguilla airline and Anguilla flights.
Trans Anguilla Airways
Trans Anguilla Airways is another terrific Anguilla-based airline, the only airline on-island to be British-certified.
AND, the only airline offering weekly trips to the luxurious St. Barths!
Exotic, European and oh-so-cool, St. Barth is truly a "scene." Now, with Trans Anguilla's more affordable flight, it's easier to get there than ever before.
Flying to St. Barths Aboard Trans Anguilla Airways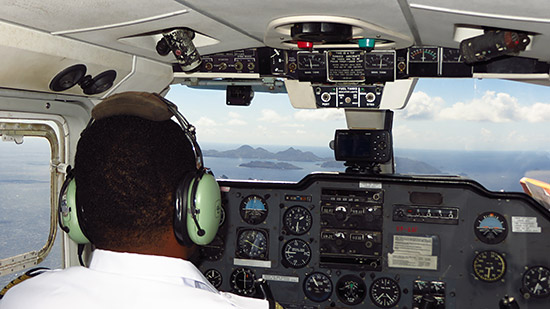 An experience not to be missed, click here for more on traveling to St. Barths with Trans Anguilla Airways.
Travel to More Caribbean Islands
Trans Anguilla and Anguilla Air Services also offers many Anguilla flights to other Caribbean islands. Our favorite day-trip is over to St. Martin. You can fly, but for day trips most people take the Anguilla ferry for $20 USD/per passenger.
Other favorite islands we've flown to include St. Barts and Saba.
If you have a long Anguilla vacation planned, taking a short trip for a day or two to St. Martin, St. Barts and Saba are sure worth it. You don't have to travel too far to get an even richer flavor for the Caribbean!
Click for more on Caribbean island day-trips.
More Anguilla Activities...
Monthly Anguilla Activities...
Those are our favorite Anguilla activities. Be sure to sign up for my Anguilla e-zine to stay in touch as I add more Anguilla activities to this list.
If you have any favorite Anguilla activities, please share them below. I am always looking for new things to do on Anguilla, and visitors to Anguilla-Beaches.com would love to read them too!
Share Your Favorite Anguilla Activities
Have a favorite beach for kayaking? A secret snorkeling spot? A fun activity? Share your favorite Anguilla activity below, I'll be happy to publish it.
More Favorite Anguilla Activities...
Click below to read more favorite Anguilla activities...
Anguilla Scuba Diving






We have visited Anguilla at least once each year, for several, several years. Anguilla scuba diving is what brings us back again and again. We have …
---
ARCHIVES:

Anguilla Activities That Are No More

Swim with the Dolphins in Anguilla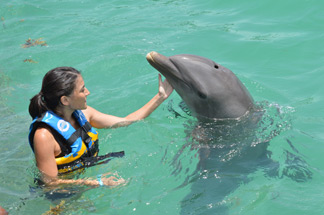 If you are seeking an Anguilla activity that really gets your blood pumping, you may want to consider swimming with the dolphins in Anguilla.
Set in the Caribbean sea, with St. Martin in the background, Dolphin Discovery Anguilla is one of the biggest and most picturesque swim-with-the-dolphin facilities in the Caribbean.
The experience of sharing a space with these majestic creatures is exhilarating, and completely humbling.
Under professional guidance from trainers, the dolphins interact with you in a variety of exciting ways. A couple of favorite dolphin activities? The "dorsal tow" and the "foot push!" Click here for more on Dolphin Discovery.
Pelican Trail and Water Sports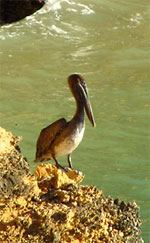 Pelican Trail and Water Sports is an innovative new combinationg of activities that takes place along the side of a cliff.
Lounge in your own deck...
Have Mexican food brought to you...
Head down to sea level for some kayaking, snorkeling, diving, or just float on your back like Dad loves to do...
Do pretty much anything you want (no fishing, though)...
...all in an absolutely magnificent scenic setting.
Mermaid School International
A terrific activity for kids of all ages? Anguilla's Mermaid School International!
Led by the passionate Estelle Arlaud, Mermaid School International outfits you in a monofin and transforms you into a real life mermaid. The school shows you the ropes on how to use your monofin - from swimming around still waters to doing back flips and flapping your tail.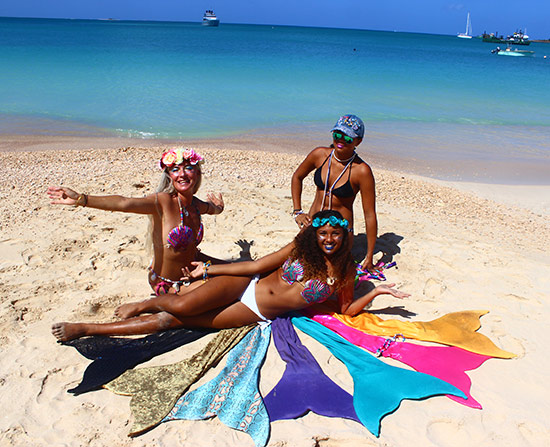 For the adventurous, Estelle also guides you under water on mermaid snorkeling tours!
More on Mermaid School International.
Corail Helicopters
Perhaps the most impressive way to get up close and personal with Anguilla's beaches? Via an Anguilla helicopter tour!...
Skimming Over the Caribbean Sea with Corail Helicopters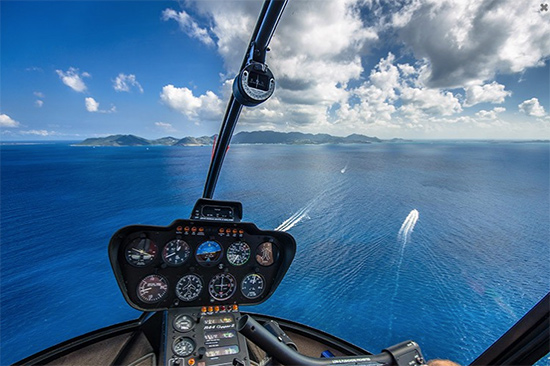 St. Martin-based company, Corail Helicopters is the most popular and trusted helicopter company in the Caribbean. Their operations originally started in Réunion Island. They have sinced expanded to St. Martin where their scenic tour of Anguilla is their #1 best seller.
Skim over Anguilla's dazzling blue waters and fly in close over all of the island's major beaches, including the off-island cays. A spectacular and thrilling way to experience Anguilla!
Wine & Rum Tastings at Malliouhana
An excellent way to begin an epicurean journey in Anguilla?
With Malliouhana's fine wine and/or aged rum tastings. Mr. Albert Lake, the hotel's Sommelier with a vast knowledge of wines and rums, hosts the tastings, guiding you through some of the most interesting selections.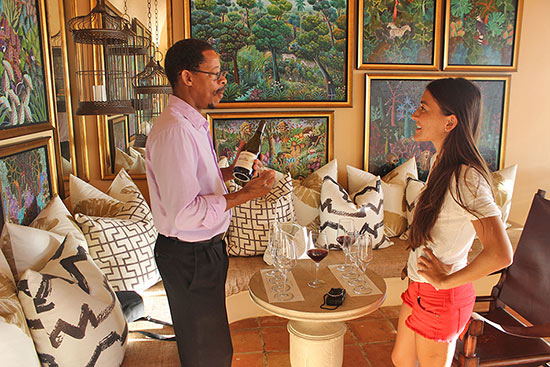 More on Malliouhana wine and rum tastings.
S'Mores at Malliouhana
Malliouhana also offers a "sweet" evening under the stars with their s'mores bonfire...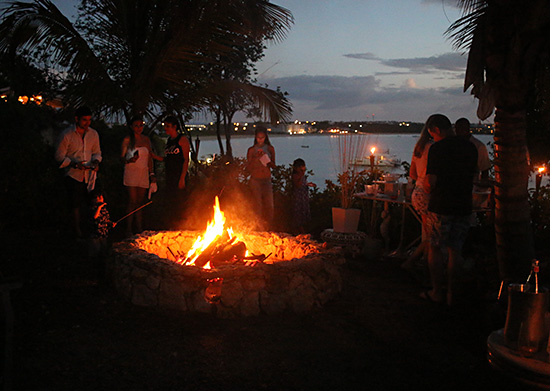 Held on a promontory overlooking Meads Bay and with the fire crackling in the evening sky, the scenery takes your breath away. With gourmet s'mores "accoutrements" (think fresh-grated coconut and pecans) and a five-star setting, it is a special and memorable way to spend an evening - especially if you are traveling with kids.
More on S'Mores at Malliouhana.
Viceroy's Spa
Viceroy's ultra-modern Spa offers a variety of treatments, including massages and facials in a "zen" setting. More on Viceroy's Spa here.
Spa by CuisinArt
Winner of Condé Nast Johansens' "Most Excellent Spa Hotel" (throughout the Atlantic coast, Caribbean and Pacific Islands), the Spa by CuisinArt is second to none.
Spa by CuisinArt at CuisinArt Golf Resort & Spa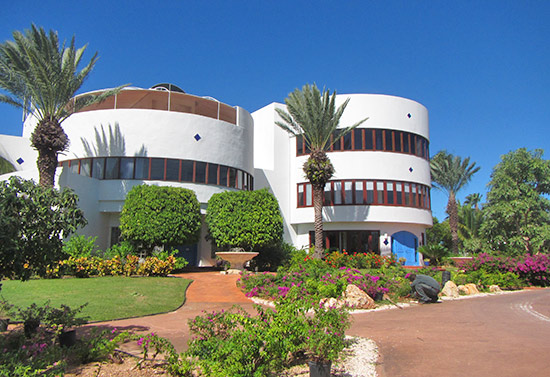 Their spa menu is the island's most organic and most extensive (ex., scrubs, massages, facials, even hydrotherapy and reflexology) and their equipment is state-of-the-art (ex., Healing Waters pool, Vichy showers, etc.).
Private and peaceful every step of the way, the Spa by CuisinArt experience soothes every tension.
Mini Putt!
Prefer a round of mini putt to 18 holes of golf?
Matthew Webster's family business, Anchor Mini Putt has you covered. Professionally landscaped and designed, the course is immaculate and challenging.
Anguilla ATV Rental
Get truly off the main road with an Anguilla ATV rental!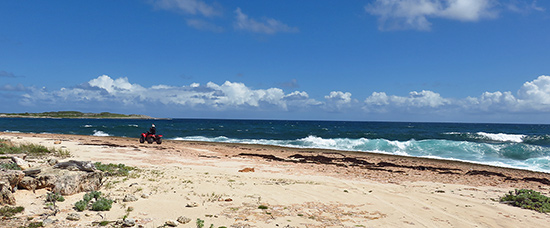 Exploring the wild and more deserted east end of Anguilla, marked with breathtaking visits and many dirt roads, perfect for throwing an ATV into gear, it's hard to deny the exhilaration of riding an ATV.
Freedom Rentals offers the widest selection of rentals and also offers guided tours.
More on Freedom Rentals and Anguilla ATV rental.
Night Kayaking
Liquid Glow Night Kayaking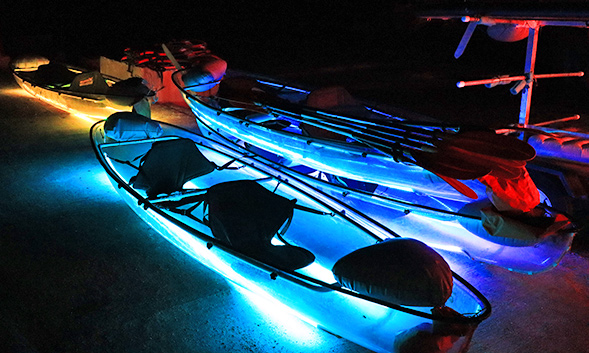 Another fun activity, for when the sun goes down, is Liquid Glow's night kayaking tours!
Tiger Boats: Exploring The Shoreline From The Sea
In a miniature motorboat, in control of your own speed and power, exploring Anguilla's shoreline in one of Freedom Rentals Anguilla's Tiger Rider Boats is scenic and exhilarating!...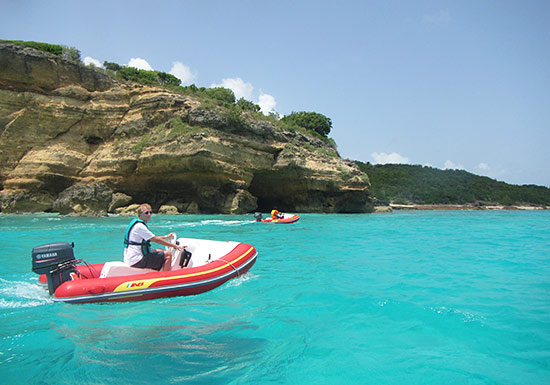 Bouncing along glassy-calm, turquoise seas (right on top of the ocean), the salty breeze blowing through your hair, an afternoon in one of Freedom Rentals boats is something that really can't be missed, especially for those who love the combination of sport and fun and sightseeing and exploring!
More on Freedom Rentals Anguilla.
Anguilla Sailing School
One of my favorite Anguilla activities, and Yuki's favorite Anguilla activities, is Anguilla's national sport... Anguilla sailing!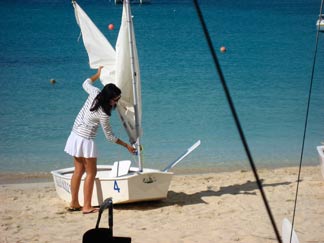 When our family moved to Anguilla in August 2008, Yuki found her passion for the sea!
During the year that we lived with our parents in Anguilla, before going to university up in NYC in Fall 2009, Yuki took sailing lessons every week with the Anguilla Youth Sailing Club.
She was scared of tipping over and being submerged in sea water, but she loved being on the sea...
That feeling of freedom, that rush of excitement as you rip down wind!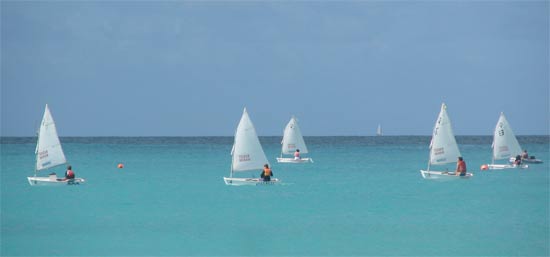 Me, on the other hand, I'm not much of a sophisticated sailor. I stuck around for one sailing lesson... barely. I just couldn't deal with the structure, and the material. I'm still confused by the term "wind clock." I don't sail like Anguillians sail. I'm certainly not an expert!
But, every time I leave the anxiety of school behind for some rest and relaxation with my Mom and Dad in Anguilla, I call one of my friends who is an avid sailor (and probably the best for his age in the Caribbean! He cleans up at all of the youth regattas in Anguilla, St. Martin and St. Barts!).
There is no rhyme or reason to my sailing, we just hop in a Hobie Cat, sometimes we flip, but most days we just have calm leisurely sails.
Anguilla's seas are perfect for sailing, most people will tell you that. The island gets decent breeze, and most days the seas are calm, making for ideal sailing conditions!
There's nothing like cruising along the gentle sea, with just the wind pushing you as the sun gets low in the sky and a sea turtle pokes his head out from below to say hello!... The best part? You really don't need lessons to sail a Hobie Cat. Click here to read more about Anguilla sailing.
Anguilla Birdwatching & Wetland Tours
Little known to many, Anguilla is home to vibrant eco-systems rich with interesting and varied bird life, including indigenous and migratory species.
Snowy Egret in Anguilla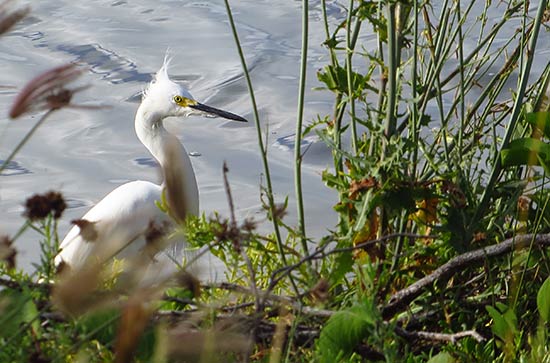 Passionate and with vast knowledge, Jackie Cestero, owner and operator of Nature Explorers Anguilla, I joined Jackie on an early morning expedition through Anguilla's wetlands, spotting everything from Herons to Plovers! It was an eye-opening morning.
More on Nature Explorers Anguilla and birdwatching in Anguilla.