Anguilla Diving & Anguilla Snorkeling
Anguilla snorkeling and Anguilla diving are two of the most exciting ways to connect with Anguilla's gentle waters on Anguilla vacations!
Some say that the best Anguilla snorkeling can be found along the reefs of Shoal Bay East.
Others say, "Nothing rivals the Anguilla snorkeling at Little Bay!"
And many claim that in order to experience spectacular snorkeling you have to travel to Anguilla's off-island cays, like Dog Island and Prickly Pear.
But, no matter where the best Anguilla snorkeling may be, for those fascinated with the sea, the #1 person to take to the water with is...
Junior Fleming & His Glass Bottom Boat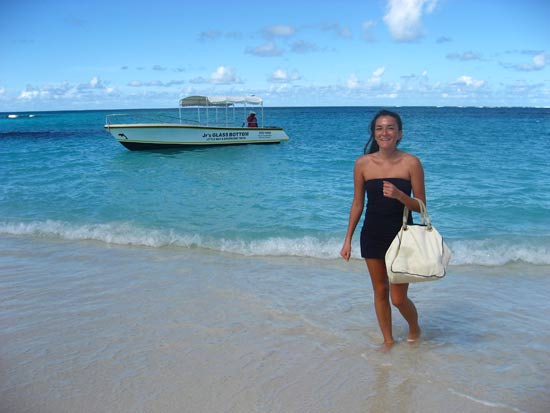 Talk of "Junior's Glass Bottom Boat" has been buzzing in my ears since our very first days after arriving on the island in 2002. "He's the lively fellow in Shoal Bay," people would say. "You've never been on his boat? You've never been snorkeling along The Shelf with him," they would exclaim, "He's practically an institution!"
Junior knows the sea and glass bottom boats, having a lot of experience working with and on glass bottom boats. He even built his own!
Each and every Anguilla vacation an expedition with Junior was on our list, but for one reason or another we always missed him. Some trips he was just too "hot," with too many guests on board. Other times the weather was bad, or we just plain ran out of time on our Anguilla holiday.
Whatever the reason, Junior always escaped us. It was time to catch him!
Climbing Aboard with Junior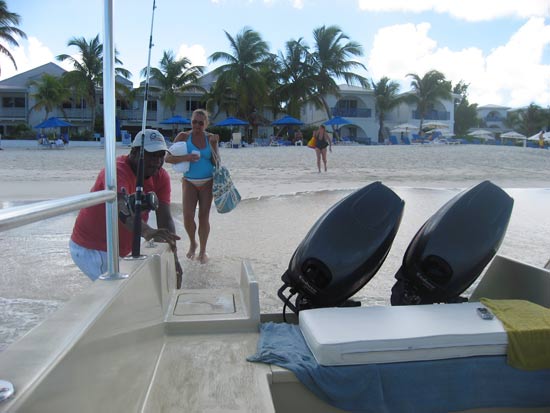 After a lull in our efforts to reach Junior for a few years, I felt a pull to the sea. Without a will to get wet, the glass bottom boat was the perfect solution!
With just one phone call, I set a date with the once ever-elusive Junior Fleming.
We met him on Shoal Bay beach with a couple of other guests that Junior knew well. Calm, cool, relaxed, and friendly and warm as the day itself, he invited us aboard his boat.
Heart beating fast, Junior started up the engine. Off we went, skimming across Shoal Bay's still seas...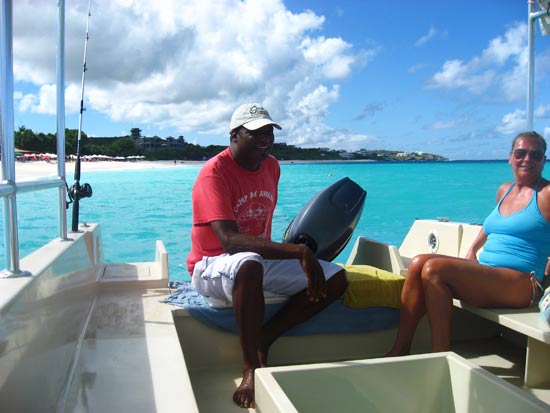 The shore sparkled from the sea as Junior drove his boat out to the reefs. Peaceful and warm, we left the covered part of the boat to bask in the sunny side. We lay, dreaming, chatting, enjoying the ride.
As the sea grew darker, Junior slowed down. We all peered through the boat's glass bottom as Junior pointed out Brain Coral, Parrot Fish, Sergeant Majors and Blue Tangs!
Junior runs a summer camp for children, teaching kids about marine systems and the ocean. I can't think of a man better suited for the job. His childlike passion for the beautiful sea life and vegetation shines through with his wild demonstration. His spirit is contagious! If only I could dive through the boat's glass bottom, plunging into the sea below...
For nearly an hour we zipped back and forth, across Shoal Bay's seas, marveling at the sandy bottom, the corals, the schools of fish, the lush sea vegetation, hunting for even more exciting sights like sting rays and sea turtles.
And then, something caught our eye...

We saw not one but two sea turtles! No sting rays that day, but it is not uncommon to see Spotted Eagle Rays gliding along the beach's sandy bottom. It's truly a magical sight! In fact, a friend even had one jump over his Anguilla sail boat. A little too close for comfort for me. ;-)
Next time with Junior? Junior offered to bring us Anguilla snorkeling later on in our trip, but the seas were too choppy, churning up the sand and would have made for cloudy snorkeling. Next time though, we will be snorkeling with the ultimate snorkel-guide!
Shoal Bay is a great snorkeling spot but these are some other favorite snorkel spots...
Barnes Bay...
We stayed directly on Barnes Bay in August 2002 for the entire month, and grew to knew the beach well. My Dad and I snorkeled around the bay, exploring a lengthy reef that runs parallel to the beach. We swam further and further out until the water got too dark and cold for our liking! Barnes Bay is rich with fish of all kinds, they get bigger the further out you go... I even saw a squid!


Junk's Hole & Savannah Bay...
We haven't snorkeled at Savannah Bay yet, but we always see families with their snorkel gear down here after a lunch at Palm Grove. It is a popular spot for spearfishing too.


Little Bay...
Ideal snorkeling! The bay is so still providing easy swimming and calming conditions. The bay is also a protected marine park, so you are sure to see many beautiful fish hiding amongst the coral and lush vegetation.


Sea Feather Bay...
We know many Anguillian families who spend their afternoons at Sea Feather Bay, snorkel equipment and spearfishing equipment in hand! We haven't tried any snorkel expeditions of our own out here yet.


Off Island - Sandy Island and Prickly Pear
These two off island cays are well known for their great snorkeling and Anguilla diving, rich with fish and a wide variety of marine life!
Junior may be able to arrange snorkel trips to the snorkel spots listed above too.
I can't recommend him enough, especially if you have young children or anyone in your party who has a fear of the fish (like me and Yuki!). He makes the trip fun, educational, and always safe!
How to reach Junior: 264 235 1008
Anguilla Diving
Many find Anguilla waters just right for Anguilla diving too.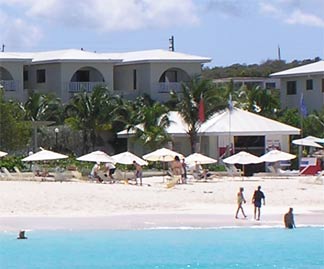 Shoal Bay Scuba office on Shoal Bay Beach
Near Anguilla Hotel Ku
Anguilla is an easy and relaxing spot to learn to dive. The island has a wide variety of Anguilla diving sites, accommodating the beginners and the more advanced.
Many people I know have had wonderful experiences taking their first sea-steps with Shoal Bay Scuba, offering PADI courses and certification. I'm still building the courage to take the plunge! ;-)
Anguilla has nearly 20 dive sites, some going as deep as 100 ft!
Many of my experienced diver friends love Anguilla diving. They have told me that Anguilla's most "unique dives" are the wreck dives. The island has four wreck sites. One of the most popular is the "Osterdeep Wreck". It's a site for more experienced divers, showing off Anguilla's stingrays, snappers, eels, and reef sharks.
An abandoned sunken ship would sure send shivers down my spine!
More Favorite Anguilla Diving Sites
Sandy Deep...
This dive site is famous for its fast, deep 60 foot drop off. The dive features beautiful vegetation with many fish. Many people say this is one of Anguilla's easier dives.

two dive sites, "West Cay" and "Devil's Wall". They are "drift dive sites" home to a vibrant array of marine life. It's no wonder why - being a 20 minute boat ride from Anguilla, it is one of Anguilla's most easterly cays and Anguilla diving sites.


Anguillita...
Off of Anguilla's western tip you will find the tiny little rock of an island, Anguillita. (You can hike out to Anguilla's most westerly beach to see it, click here to read about the trail.) This site is popular with many little caves to explore!


For more Anguilla dive sites...
Don't miss this Anguilla dive journal written by good friend and Anguilla diver, Kristin Bourne. Her dive journal features many unique Anguilla dive spots, and includes full information on the certification process. Click here to read her Anguilla dive journal.
Common sights while Anguilla diving include Spotted Eagle Rays, Tarpon, turtles, lobsters, eels, and at Dog Island brace yourself for shark sightings! Of course, it depends on the time of year. Some people I have met have even seen Tiger Sharks on Dog Island! Others spent the whole day diving without seeing a single shark, but instead got the chance to play with a pod of dolphins! Truly amazing.
The diverse Anguilla snorkeling and diving experiences offer something for everyone, from beginning snorkeler to seasoned diver. Now, to the sea!