Kristin Loves Pamela and her Smoothie Shop!

I write this proudly from my apartment on my favorite island, Anguilla.
I'm Kristin. I was born and raised in Roanoke, Virginia in a loving middle-class family. My family is full of hard workers who helped me extend my education at High Point University in High Point, North Carolina.
After graduation, I taught briefly at a high school and then moved jobless to Atlanta to try to figure out what I was going to do with the rest of my life.
I found my way in to a wonderful growth opportunity, working at an advertising agency. Making my way up the ranks, I liked the experience my job was giving me but little did I realize that I didn't feel as thought I was fitting in with many aspects of the "rat race". It took me years to realize that…
In the middle of this career-climbing and accepting adulthood, I began to take advantage of my vacation time that I had earned.
I've been known to daydream about seeing the world. Since I was young, I've been fascinated with far away places and the differences in culture.
My first big experience outside of the United States was a brief cruise with my family to the Bahamas when I was in college. A couple years later, we repeated, this time seeing much more of the Caribbean: Puerto Rico, Aruba, Curacao, the US Virgin Islands, the British Virgin Islands, St. Maarten.
During this introduction to the Caribbean, I often referenced my book on the Caribbean as I was interested in the different histories of each island. In the entire book, there was one page on the island of Anguilla. I kept going back to that page. I was drawn to it. In time, I often dreamed of Anguilla even though I had never been there.
Having a White Sands Smoothie and a laugh with Veronica at Sea Spray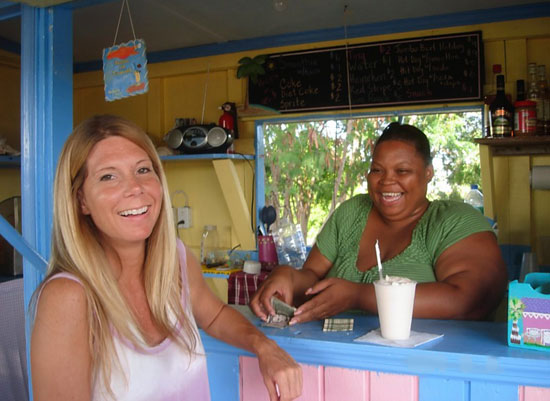 Italy had always been near the top of my list of a place I wanted to visit. My best friend and I had agreed to visit Italy together in 2004. I bought three books on Italy, I planned, I saved money. When it came time to book our flight, my friend said she could only get away from work for a week.
Even though I had not been across the Atlantic yet, I realized the length of travel would chip in to a week, not leaving much time to unwind and explore. Italy was a very expensive flight so I told my friend that perhaps we should do it another time when she could get away for longer.
Feeling a little sorry for myself and having the fire to travel in me… it occurred to me that I could go to Anguilla by myself in a less intimidating manner than going to Italy by myself given that I don't speak Italian and Anguillians speak English.
At my favorite beach, Rendezvous Bay,
surrounded by lovely people

I had a couple more lucid dreams about Anguilla and then I was convinced it was what I needed to do and where I needed to go.
I started investigating Anguilla online. Anguilla-beaches.com was fortunately a nice source for me, it was so warm and personable, it made me feel more comfortable about coming to the island by myself.
Rendezvous Bay Hotel (RBH) and Jeremiah Gumbs' story stood out to me. My budget was small but I wanted to be as close to the beach as possible. When I even considered another spot, I felt a tug at me right back to RBH.
My first passport was already being processed (since I had thought I was going to Italy) and I booked my flight to St. Maarten for the last week in August.
When I arrived in Anguilla via the public ferry, first time out of my own country, by myself, I found that my luggage was not on the ferry.
Knowing this and stepping foot on Anguillian soil for the first time, I felt calm, comfortable, and at home.
As I knew, all was ok. I sat on the steps of Pear's Bar & Restaurant and waited for about an hour until I saw my luggage rolled up to me.
I took at taxi to Rendezvous Bay Hotel and the rest is history.
Since that hot, slow, calm, beautiful week in late August in Anguilla, I didn't go anywhere else other than Anguilla for vacation, when I gathered the time and money. In fact, that is about all I worked toward.
My dreams and the beaches are the reason why I visited the first time, the lifestyle and the people are why I returned time after time, year after year.
I've never been anywhere else where I've felt so at home.
Now, I've walked away from the corporate rat race of the marketing and advertising world and moved to Anguilla with the hope of being genuinely utilized to help share my favorite place and assist the island in any way possible.
When my good friend Nori asked if I would like to help her out with contributing to her far-reaching website on my favorite subject, I was honored and quickly accepted the opportunity to share about my favorite place - Anguilla.