<![endif]-->
Anguilla Events, Music & Nightlife
For the most up to date information on events, click here.
For a tiny island, Anguilla events are in no short supply! Click the links below to find upcoming events (including live music, special menus, boat races, festivals, etc.) happening during your stay.
2017 Special Events
Aug. 28-30 The Outdoor Adventure Camp summer camp for kids 8-11 by the Anguilla National Trust. Call 264 497 5297 for details.


Nov. 2-6 Epicurea
Daily Events
Daily Affordable excursions with Sea Pro Charters (ex., to Little Bay, Scilly Cay, etc.) Click here for schedule
4-6pm Happy Hour at Ocean Echo Click here for the menus.
5-6pm Happy Hour at CuisinArt Bar & Breezes at The Reef (ended for off-season 2017)
5-7pm Happy Hour at Pumphouse Half price on nachos, potato skins, spinach & artichoke dip, onion rings, beef sliders, lobster mac & cheese and 2 for 1 House Highballs, $5 "Zip" wine and $5 shot of the day.
Catholic Church Mass
Tuesday @6:15pm
Wednesday & Friday @7:30am
Saturday @6pm
Sunday @9am
A Note on Live Music in Anguilla!
Many regularly scheduled events and most nightlife revolve around terrific Anguilla music. The island is home to several talented musicians, each with a unique style and vibe. From musicians performing fast-beat soca, which is very popular in the Caribbean, to calypso and reggae, you are bound to find a group who suits your taste.
Bankie Banx is one of the island's most widely loved musicians. He owns the famous Dune Preserve beach bar and performs there weekly. He also hosts the big reggae festival Moonsplash each year.
Other musicians who you may regularly see at bars and restaurants here in Anguilla include Omari Banks (Bankie's son), British Dependency, AIM, Sprocka, Musical Brothers, True Intentions, Keniyah and Boss. Anguilla has a growing DJ scene as well. Often found spinning at five-star resorts and local bars alike, Anguilla's DJs keep happy patrons dancing into the wee hours. DJ Sugar is one of Anguilla's most popular as well as up and coming DJ Kue.
Pantha Vibes is another band that's on high-demand, mostly with locals. It's unlikely to catch Pantha Vibes playing watering holes like Pumphouse or high-end eateries such as Straw Hat, though. Pantha Vibes perform at many of the big beach parties and local events, like Carnival.
So, by now you might be thinking, "Who will be playing while I'm in Anguilla and where can I catch them?"
Before we moved to Anguilla, we always had a hard time keeping track of live music, and other unique attractions that happen on a daily basis. To keep things simple and easy, here is some of the best of what goes on in Anguilla day-by-day...
Sunday | Monday | Tuesday | Wednesday | Thursday | Friday | Saturday
Note: Certain days of the week are known for specific super-popular events. Those events are described in-full at the very top of each day's listing of events. All listings can be found after that description and are listed in chronological order, arranged by their start time.
Off Season Events 2017: Please note, many restaurants listed below have closed for the off season (August, September, October). Be sure to call ahead as schedules below have temporarily changed for these months. For a list of restaurants that are staying open this off season, click here for Anguilla off season listings.
Sunday
Sundays in Anguilla are more commonly known as Funday Sundays ;-)
There is something special in the air in Anguilla come Sunday. The atmosphere is one of total relaxation. Whether enjoying live music beach-side, snoozing in a lounge chair, dining on BBQ, or playing in the sea... Sundays are all about calm and fun.
Two of the best spots to spend a Sunday? The Dune & da'Vida!
Bankie Banx Playing at The Dune on Sunday with Brazilian Visitors...
Even Gypsy, the puppy, "sings" when Bankie plays the harmonica!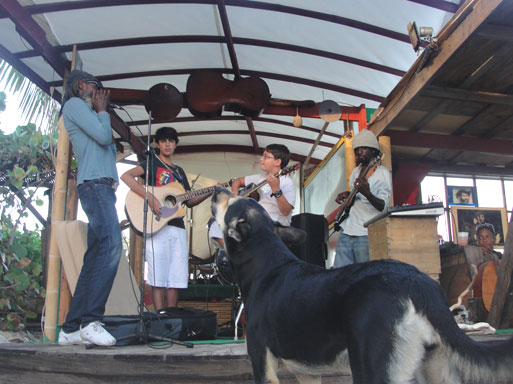 Every Sunday, Bankie Banx's famous Dune Preserve, aka "The Dune", comes alive with local music. Bankie Banx himself, Asher & Keira, John Lloyd and visiting artists are all known to take the stage (depending on who's on-island). Bankie is known to encourage visiting musicians to take the stage, too, if they please.
Famous musicians turn up at the Dune from time to time, too. John Mayer showed up and performed at Moonsplash back in 2011. Lucky guests even had the chance to sit and listen to Bon Jovi's keyboardist, David Bryan, as he joined Bankie and company on the stage one year. This is just a tiny piece of what we love about Anguilla, you never know what the day has in store for you sometimes!
Different musical acts (featured musician changes weekly) perform gigs on the island's other coast at da'Vida on Sundays. This beach party has grown and grown in popularity over the years. With terrific food on the menu and luxurious beach chairs, one thing is for certain, you can't go wrong spending your Sunday afternoon at this Anguilla event. It is a great place to relax, take in the incredible views of Crocus Bay and hear one of Anguilla's most well-known and talented musicians.
All Sunday Events...
Monday
Mondays are tranquil in Anguilla. It is the perfect day for a lazy afternoon at the beach, and a relaxing evening.
Tuesday
Pumphouse kicks the island's vibe up a notch on Tuesday nights with local musician DJ Sugar packing the dance floor. It is the place to enjoy a late night of music and socializing in Anguilla.
The vibe at The Pumphouse on a Tuesday night is a fun one.
The Pumphouse By Day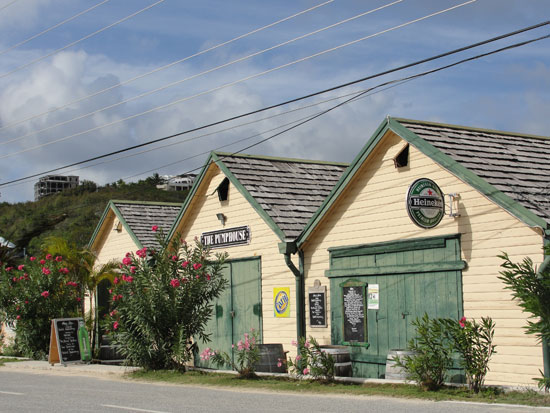 My friend said when her 86-year old grandmother visited in May, she fit right in with 20-somethings, the locals, and visitors as the setting at The Pumphouse truly is one of come one, come all to this fun Anguilla event.
My parents even caught Kelly Osbourne at The Pumphouse on a Tuesday night in late March when the band British Dependency used to play there, as she had been given a tip about how talented the local band, British Dependency was and wanted to see for herself!
The Pumphouse draws both tourists and locals alike and is proven to be a great spot for rum punches and the Sandy Ground sea breeze. We return there time after time and The Pumphouse is always there for you when you feel like having a laid-back dinner, or being a night owl and mingling with familiar faces as well as chatting with first-timers to Anguilla. This is one of the coolest Anguilla bars for music.
Prefer to skip drinks and dancing for fine dining? CuisinArt has you covered! Travelers to Anguilla have been emailing, mentioning that CuisinArt is a can't-miss on Tuesdays when the Anguilla resort holds an all you can eat Lobster BBQ! Yes... You read that right. All you can eat lobster.
For $95 (plus 15% service charge) it's all you can eat all night (a steep price, but a bargain by island standards... Many Anguilla restaurants charge $50/lobster!).
CuisinArt holds their Lobster BBQ Night pool-side by Santorini restaurant, a most elegant Caribbean-casual setting, and live music plays all night long. The restaurant is set up in "stations," including hydroponic salad station, pasta, soup, dessert, and of course the lobster station.
I wonder how many people only go to the lobster station? ;-)
CuisinArt's Tuesday lobster BBQ has moved to Saturday. More on Lobster BBQ.
All Tuesday Events...
Wednesdays
One of our favorite Anguilla events on Wednesday nights? Wings at Ferry Boat Inn!
Wings & A Basket of Fries!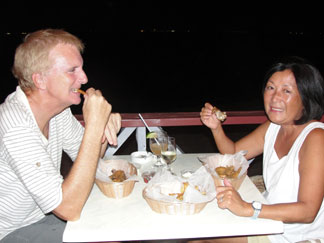 Wednesday Wings Night at The Ferryboat Inn is another great place where locals and tourists mingle.
The Ferryboat Inn, we all call it "FBI", sits on the beach in Blowing Point. My family are regulars to FBI and especially on Wings Night.
Marjorie McClean and her son Christian are gracious hosts. They always have something sweet and witty to say.
FBI tailors their regular dinner menu on Wednesday night as they serve up generously-sized, delicious $1 wings (plain, mild, medium, or hot).
The Wednesday night menu includes a few other FBI favorites, including the best burger on the island and perfect French Onion Soup.
Yuki Working on Her Fried Chicken Burger!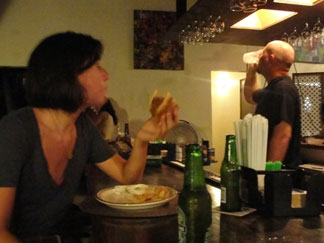 Yuki often asks for their Fried Chicken Burger to be coated in wing sauce and completes it with their yummy blue cheese sauce.
FBI is a great spot for everyone. Singles are comfortable at the bar, there are plenty of tables for 2, and families' kids can entertain themselves in the grassy area just outside the restaurant.
It really is like a big, happy family at The Ferryboat Inn. Lots of smiles and laughs all around! Wings Night is the place to be on a Wednesday night if you are in the mood to have a laugh with Christian, eat as few or as many wings as you please, gaze out at the night lights of St. Martin, or hear the sea lapping the beach just at the restaurant's edge.
Wings Night is one of the most popular Anguilla events, especially in the high season. Make sure you get there early before the Wings fly away! ;-)
All Wednesday Events...
Thursday
Friday
Saturday
Smokey's rules for Anguilla events on Saturdays for location, entertainment, and good food. Anguilla's most popular Soca-Calypso dance band, The Musical Brothers, start up around 1pm and play until around 4pm.
Guests of Smokey's are hosted by the owners, the Gumbs family, and sister Una is often seen there on a Saturday at lunch time.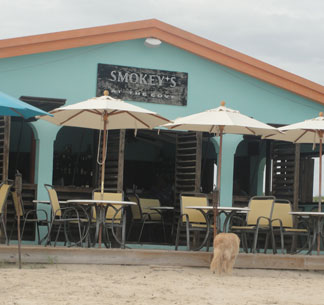 She can share so many wonderful stories about the history of the island.
Her own father, Jeremiah Gumbs, played an important role in the Anguilla Revolution and her parents were considered some of the earlier Anguilla tourism pioneers.
Una grew up in a family very happy to share what they knew to be was a special island.
They pride themselves on providing a memorable Anguilla experience and have for a very long time.
Guests are free to move about, enjoy the beach chairs and umbrellas, take a dip in the turquoise blue and inviting water of Cove Bay, drink an Arnold Palmer or sip a Carib beer under the large beach tent, or get moving and dance right in front of the band.
Smokey's at Cove Bay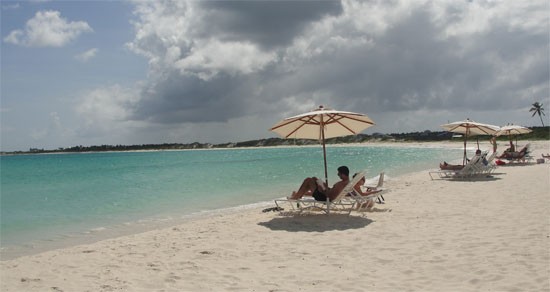 Cove Bay is a fantastic walking beach. Take a stroll around the Cove looking for seashells until it is time to chow down on Smokey's tender grilled ribs and pan-seared local snapper. It is a very popular spot on Saturday so if you are hungry, order when you arrive, then enjoy all that Smokey's has to offer for the remainder of your afternoon.
Many are known to stay until after sunset... it is a happy and fun place to be on a Saturday and the Musical Brothers make it complete as they charm you with island sounds.
All Saturday Events...
Monthly Events
February
Anguilla Fashion Expo - TBA
Flower & Garden Show - TBA
March
April
May
Anguilla Regatta - TBA
Mother's Day Brunch (Fundraiser for Culinary Team of Anguilla) - TBA
Anguilla Lit Fest - May 18-21, 2017
Anguilla Day - May 30th
June
July
August
November
Epicurea - a four day celebration of golf and fine dining held at CuisinArt Golf Resort & Spa
December
New Year's Eve (Old Year's Night) parties (stay tuned for list of NYE celebrations)
Please note that these Anguilla events are subject to change, so please do call ahead to confirm.
If you have other favorite Anguilla activities, events or things to do that occur regularly during the week, or know of an Anguilla establishment with daily, recurring music, events or menu specials, use the form below to share it and we will post it to the site!