Anguilla Music Focus...
AIM
By: Kirmani Honoré
New to Anguilla's music scene, AIM is making waves through the islands!
Three talented musicians, each with years of professional experience behind them, found magic when they first met.
Cee-Will, Evan and Ruel of AIM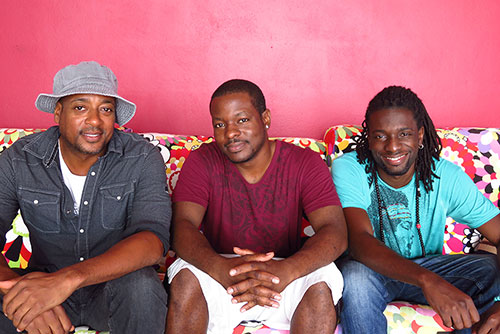 "We all knew there was something special here," Cee-Will explained over an afternoon catching up with the band.
Who is AIM?
A professional drummer, Cee-Will's career began long before his adult years. His talent was noticed at an early age. Before he was a teenager, he was touring the States with high-profile musicians. Everything snowballed from there.
With roots in St. Barths and in Anguilla it wasn't long before he met two rising stars here in Anguilla, Evan Brooks Jr. and Ruel Richardson.
Originally of British Dependency, Ruel felt something he hadn't felt before when playing with Cee-Will and Evan. "There's a certain freedom and flow here," Ruel, always modest and down to earth, calmly explained.
Catching AIM Live!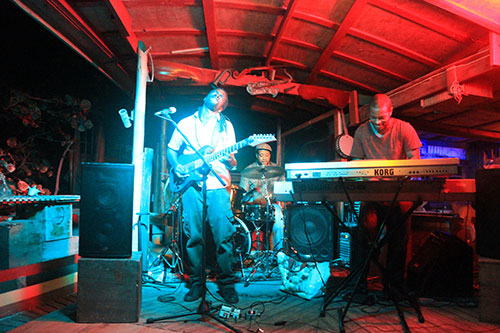 Stepping aside from British Dependency, he felt inspired by the energy between the three of them when they jam. He had to follow that feeling.
Evan echoes that sentiment. With vast experience playing keyboard in churches around the Caribbean, touring and performing is nothing new to Evan. The setting, however, is something completely different. Something he always wanted to take on. And, when he met Ruel and Cee-Will, he knew the timing was right.
With three very different backgrounds behind them, it took just one serendipitous meeting to kick things off.
The result? Progressive drumming, smooth guitar and modern keyboard stylings that makes for a mix smooth jazz and funky reggae beats. The sound is unique with excellent rhythm and hooks.
Take a listen to one of their "jams" here...
Where the Magic Happens
With views out to St. Martin, AIM spends thier time between performances and their recording studio and Villa Kube...
Villa Kube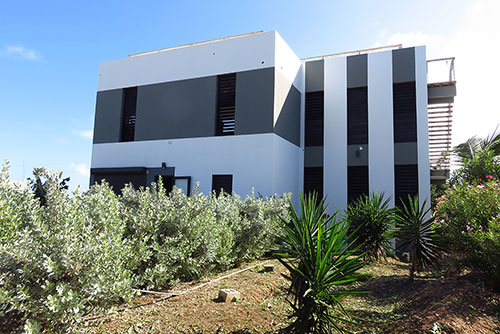 It's a two story, open deck villa over looking the breezy village of Blowing Point.
Breezy and Open

"Soon, we will be inviting people here to hang out, relax, take in our music and the setting," Cee-Will explained.
A chic, modern spot, it will indeed be a beautiful place for music lovers to meet up, kick back and unwind.
Until then, you can catch AIM at da'Vida, The Dune and Veya throughout the week (dates below).
Their rise to popularity sure has been quick, too!
"Playing at Veya with Dustin Hoffman or jetting off to St. Barths to perform on a private yacht, it has been a crazy ride so far," the band laughed.
Live!
We were able to get in on their live energy, too, catching them at the Dune.
If you want to see AIM in their element, the Dune is the venue of choice. Creativity runs wild here.
Listen to one of my favorite songs, here...
Their first E.P titled "Restored" will be released later this year. Stay tuned for updates!
Where to Catch AIM
da'Vida Wednesday nights @7pm
The Dune Thursday nights @9:45pm
Veya Friday nights @7:30pm