Anguilla Golf
Sometimes, when exploring, you come across true surprises.
My Dad, a former golf fanatic, was definitely delighted upon discovering an unknown Anguilla golf course!
Long before the likes of the high-end, PGA CuisinArt Golf Course, there was only one Anguilla golf course. I use the term "golf course" loosely. Today, it is closed, but I have never seen such a simple and rustic one ever before...
Original Anguilla Golf
Anguilla golf.
Ten years ago, we likely would not have made a trip to Anguilla.
Why?
Because those two words, "Anguilla golf," didn't exist together.
My dad used to be an avid golfer. He even gave lessons to a tour professional in Canada. Everything used to be...
"Golf, golf, golf."
Funny thing about Anguilla. Although it caters to what they call the "upscale market," there used to be no such thing as "Anguilla golf."
And then, along came Anguilla's first golf course, sort of...
Pitch & Putt.
Ever heard of that? Short holes, just for hitting short shots, chipping, and putting. Well...
It's Anguilla's first golf course.
Here's how we stumbled upon it...
Our family was enjoying an excellent breakfast at the Roadwell Cafe (near Sandy Ground), when my Dad spotted a little flag.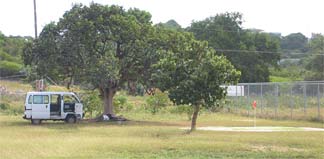 "What's that?" he asked. "Is that a putting green and flag? Is there a golf course across the street?"
"Can't be!"
Oh yes it could.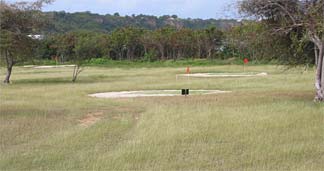 We washed down breakfast with some ice-cold, fresh lemonade. And, of course, even though he is no longer a golf addict, he couldn't not investigate.
It was a "rustic" (a real estate euphemism!) nine-hole course.
Rough-mown fairways and putting greens.
Nevertheless...
"Hey, it is a golf course."
The Anguilla Golf Association founded it in 2001. It remains Anguilla's best kept secret... golf has been on the island for almost the entire millennium!
(We later found out that one of my Dad's friends (Malcolm Hope-Ross) is the chairman of the association. Dad never knew!)
Back to "Anguilla golf." My Dad started looking around for something.
"What are you looking for?" I asked him.
"A wedge."
Too bad. Sad. No wedges to be found. He has yet to hit a golf ball in Anguilla.
My guess is he will soon though.
However, the first Anguilla golf course has some competition...
Say Bye-Bye to the Sonesta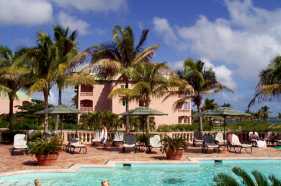 The Sonesta used to be a fancy North-African-style resort. It has been torn down to make room for a super-deluxe five star Caribbean golf complex.
Flag Luxury Properties LLC. is building an 18-hole, professional Anguilla golf course, complete with luxury hotel and estates. The course has been designed by world-famous golfer Greg Norman.
Anguilla golf of this caliber will give the island quite a boost. It should attract thousands of new high-end tourists. But I don't think you'll see my Dad in that neck of the woods (OK, there are no woods in Anguilla!) too often.
His ideal golf course? The under-developed Highlands Golf Course in Cape Cod (before it, too, was purchased by a big company). My Dad and I played two mystical rounds there years ago.
Sparse grass, played over dunes, roaring ocean, and a lighthouse always in view. Just bring a few clubs and a couple of balls at sunrise.
"That's real golf, Nori."
So, when he's in the mood to play some Anguilla golf, expect to see him across the street from the Roadwell Cafe.
Update 2013: Since this article was written the Pitch 'n' Putt course has closed and the Flag Luxury Properties' course has been taken over by CuisinArt Golf Course & Spa. More on that below.
Anguilla Golf Today... CuisinArt & Jumeirah
Over the years, golf has changed in Anguilla. There have now been two big golf courses under development here.
The first is the elegant, PGA course known as the CuisinArt Golf Course, owned by CuisinArt Golf Resort & Spa. It was initially developed by Flag Luxury Properties and St. Regis, later it was affiliated with Temenos and after that, Cap Juluca. More on CuisinArt Golf Resort & Spa formerly known as Temenos.
CuisinArt Golf Resort & Spa Golf Course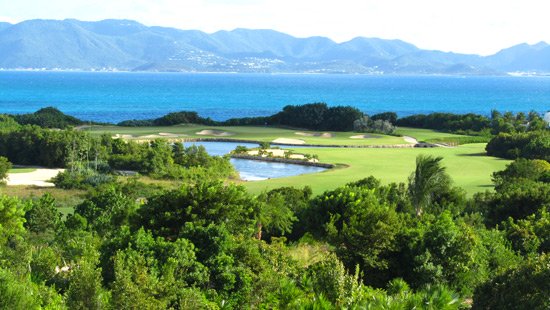 It is a Greg Norman design and overlooks the sparkling Caribbean sea, with St. Martin in the distance. It is a breathtaking course.
It has even been listed by Caribbean journals as being amongst the top 10 golf courses Caribbean-wide! In pristine condition, with PGA-certified golf pros, sweeping views and a clubhouse serving gourmet cuisine, it's not hard to see why.
More on CuisinArt Golf Resort & Spa.
Click here for a tour of CuisinArt Golf Club with Head Professional, Scott DeLong.
The second course is a more links-style course being developed around the Forest Bay area of Anguilla. This course has been designed by Jack Nicklaus.
Fairmont/Jumeirah Course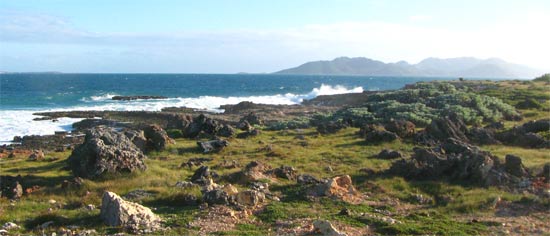 Embracing the rugged feel of this part of the island, the course feels more like a Scottish course. It's one that my Dad is really looking forward to playing. Some of his favorite courses in the world are the ones built right along the wide, open ocean.
The course is still under development. Fairmont had initially started developing it, Jumeirah is continuing it now. More on Jumeirah golf in Anguilla.
We drove around and got a lay of the land. Here is our tour of the Jumeirah course, formerly known as Fairmont.
Golf Events & A Chance At A National Title!
Since CuisinArt took over the Greg Norman course, they have been holding many fun events. One of the most exciting of all? The Anguilla Open!
The very first Anguilla Open, the "inaugural" Anguilla Open, was held in 2012. With many affordable packages (that included accommodations at the luxurious CuisinArt resort) offered to players, it's no wonder The Open attracted so many golfers from around the Caribbean, the US and here in Anguilla, too.
For all of the scratch golfers, it's also an excellent opportunity for a shot at a national title! ;-)
Even if you're not a scratch golfer, you can take part in the Anguilla Open. No regional qualifiers or handicaps required. It is a true "open."
Former Head Golf Pro Ryan Bowey with players in the 2012 Anguilla Open,
including tournament winner Theron Loizos (in purple)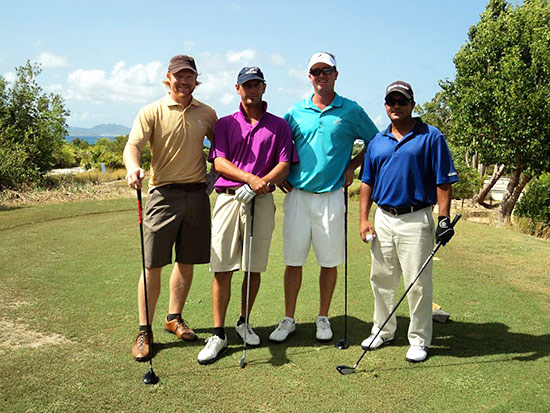 Theron on the course!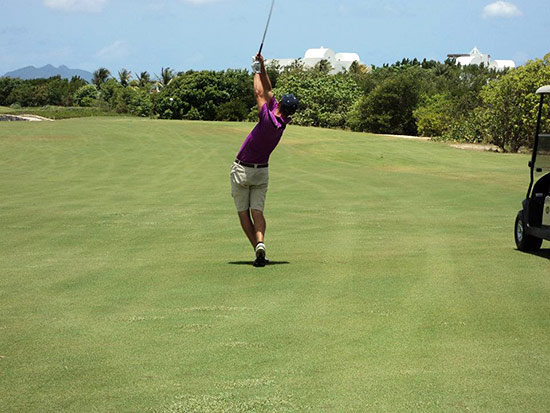 And, everyone played for such a good cause.
50% of all funds raised went to the development of a junior golf program. The funds were put towards acquiring equipment for our local children and the use of the facilities. On that note, Ryan Bowey also established a Play Golf Anguilla program, a free monthly course teaching golf to kids in Anguilla.
Play Golf Anguilla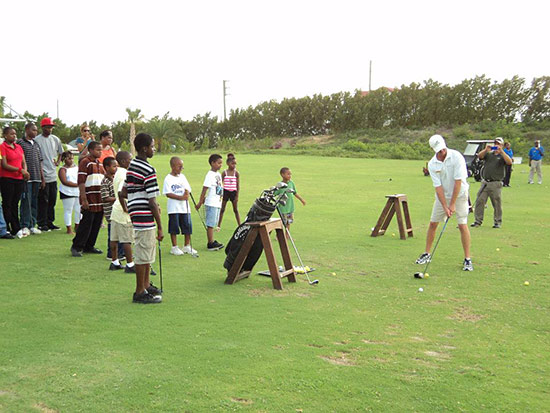 Play Golf Anguilla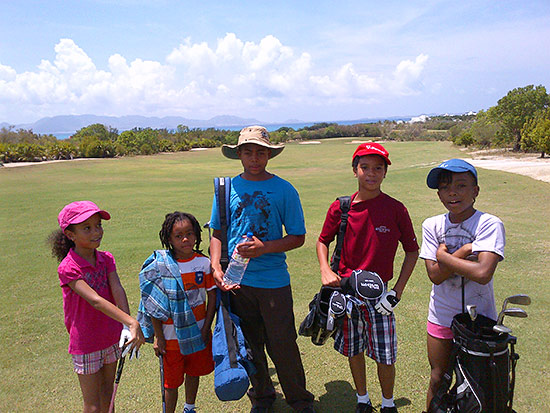 The 2012 Anguilla Open was a huge success, with the 2013, 2014, 2015, 2016 and 2017 events being even bigger than the previous years'.
With some top sponsors, in 2017, the event attracted golfers from around the Caribbean and the States.
The Anguilla Open is truly gaining momentum. I'm looking forward to the upcoming Opens!
More Tournaments
ACOCI's Annual Golf Fundraiser Held annually, the Anguilla Chamber of Commerce and Industry's golf fundraiser at CuisinArt Golf Course is all for an excellent cause... higher-education in Anguilla. All proceeds are granted to the Anguilla Community College and then given to a remarkable scholarship winner. And, with its four-man scramble set up, it's an afternoon of good fun, too!